Testing out the new Thermos filtration bottle in the North Atlantic.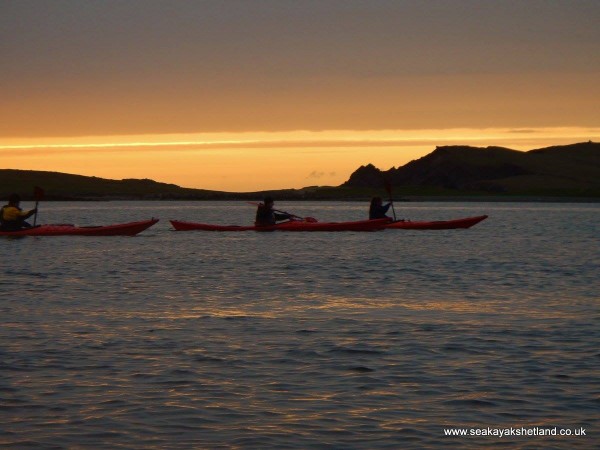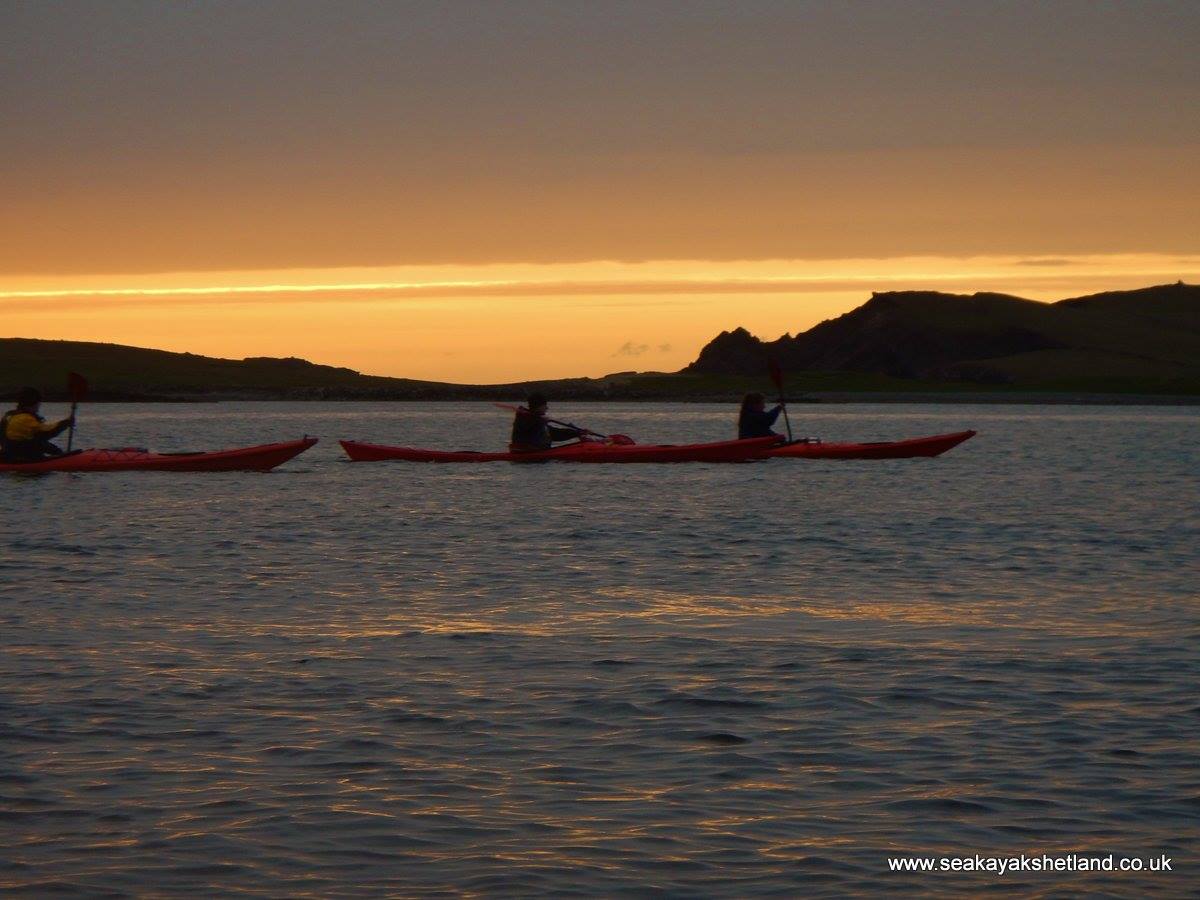 Sea kayaking: my new love.
What a difference six months can make.
Two Springs ago my best friend and I began the Shetland Canoe Club sea kayaking training course, completing a few lessons in the comfortable warm (-ish) waters of the local pool, and then I stood in the path of a rope under strain.
Don't ever stand in the path of a rope under strain. It does bad things to one's body. It's taken these last two years to recover as well as I think I ever will. Permanent structural and nerve damage to my left foot and ankle meant I had to give up my running addiction, and, fed up and frustrated with the nerve pain I was in, I replaced regular exercise with red wine and a bit too much cake. I quickly piled on weight and lost all the muscle tone I'd spent years building up.
I reached a point where I was uncomfortable in my own skin and I had to make a decision: buy bigger underpants or do something about the extra weight.
Six months ago I bought the P90x home fitness program and the lost two stone (30 lbs for my overseas readers) I'd gained. I'm on week 10 of it's successor, the P90X3, packing a whole hour's worth of weight training, core strength training and cardio exercises into daily 30 minute routines. I love it and I get narky if I don't get my daily exercise endorphin fix.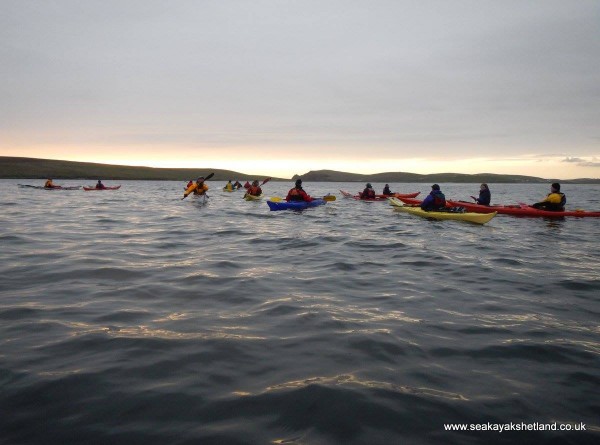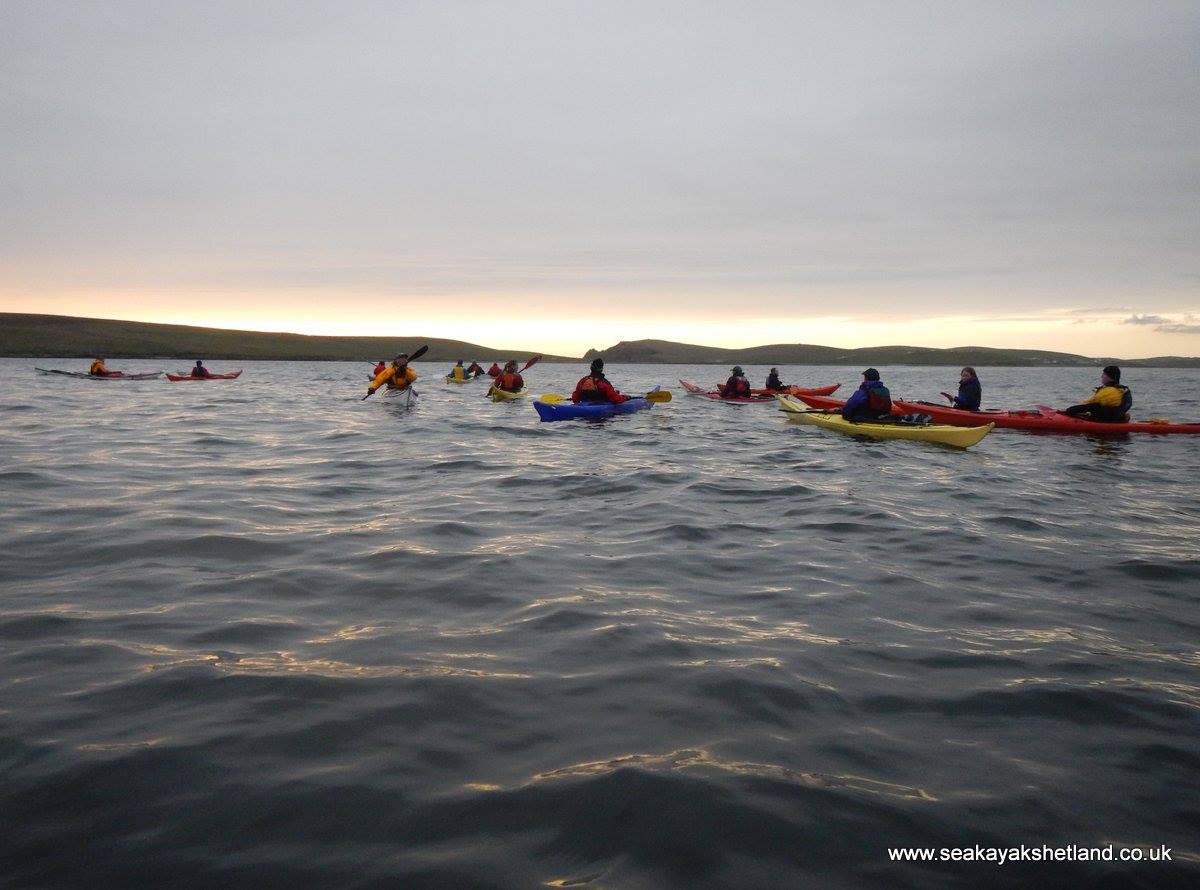 Earlier this year my best friend convinced me to give the Shetland Canoe Club training another go; would I come along with her for moral support. I was unsure at the time that I had the physical strength needed to kayak, and that my ankle would hold out. I need a working ankle to be able to get back into the kayak, should I find myself deposited upside down from it.
I was skeptical, but I was willing to give it a go. I even managed to convince my teenage son to join me. My friend, on the other hand, never showed up for the classes. An unfounded fear of her backside not fitting into the kayak prevented her from taking lessons this year. My son and I persevered.
Last week I passed all the criteria for my one star certificate. Ok, I realise this pretty much just means I can get in and out of a kayak and mostly paddle in a straight line, but I'm really rather pleased with myself. My eldest, on the other hand, has discovered that the paddling during a trip requires effort, and needs a bit more coaxing to come back out with me. Nonetheless, I'm sticking with it – I still have to cross #24 kayak into a sea cave off my 40 Things I Want to Do Before I Turn 40 list.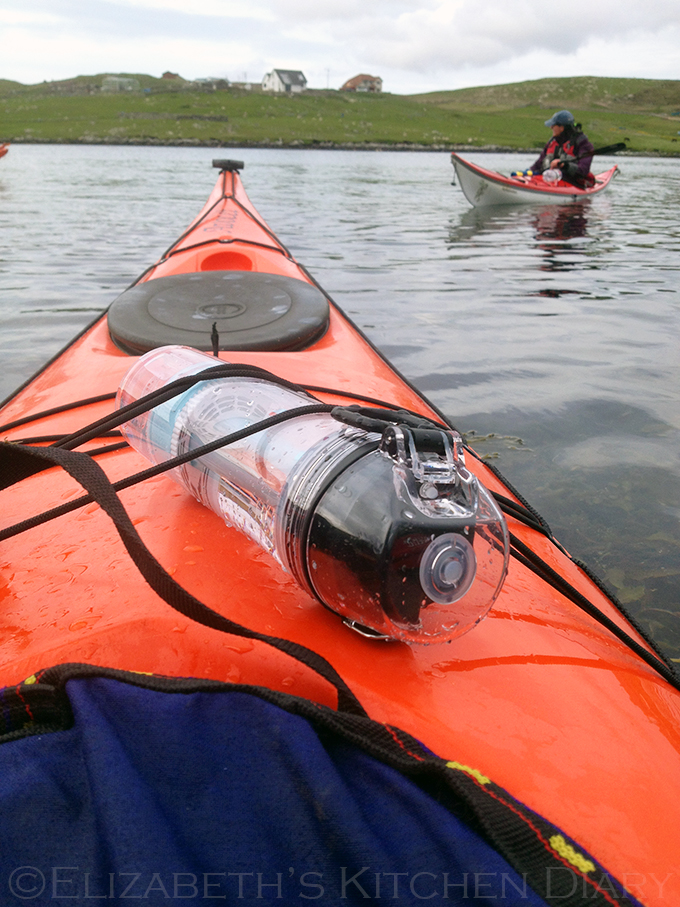 Last week's beginners session was a 5 mile long paddle up the voe so that we could practice our strokes and get a taste of what the swell of the open sea feels like. When you're sitting in a boat only a few inches from the surface of the water, the swell seems huge! Fortunately, thanks to stubbornness and the P90X I've got the strength to do it. Two different folk commented on the strength of my paddle stroke, and I was secretly really chuffed. My hard work is paying off!
You're supposed to bring some provisions along with you on trips: something sugary in case you need a quick energy fix and some fresh water.
So, I took my new Genuine Thermos Brand Filtration Bottle for a test run.

Thermos have been providing people on the move with quality food and drink storage containers for over 110 years. Their latest product features an innovative gravity-fed filtration method, which is NSF/ANSI 42 & 53 certified to help reduce contaminants such as aesthetic chlorine, chloramine, atrazine and particulate class V, as well as eliminate bad tastes and odour from water.
It's a water bottle with a carbon filter, meaning you can take tap water out on adventures with you. Personally, I'm not keen on refilling old used water bottles, or drinking tap water from a flask or plastic water bottle. It just doesn't taste as nice as I want, so I tend to buy bottled water for my outdoor pursuits – not the most environmentally friendly way of going about doing things.
POSITIVE FEATURES
It's sturdy. It is made from BPA-free, impact resistant Eastman Tritan™ copolyester material – so it didn't break after repeatedly hitting it with my kayak paddle (accidentally, of course!)
You can use it with one hand (keeping the other holding on to the paddle). The clip can be lifted and lid release button pressed with one hand, and no sucking is needed to get the water out of the bottle. It just pours out easily from the hygienic spout.
The bottle can be filled up to 128 times before the filter needs to be replaced.
There's a carrying loop so you can attach it to your backback (or kayak, just in case!).
It makes tap water taste nice!
NEGATIVE FEATURES
It's rather expensive. At £25 it's a rather pricey investment.
It's a faff to set up. There are seven different components you need to take apart and wash before first use. The filter needs to be soaked for an hour and then rinsed under cold water for three minutes before you can drink from it. Then, once you've done that you need to fill the bottle, allow it to filter, pour that water out and refill it again before using. I had to repeat this step three times before bits of carbon stopped falling out of the filter.
The filtered water section at the bottom isn't particularly large, meaning you can't take a really big swig of water without waiting for it to filter some more before you can continue. I realise that size of compartment is ok for average sized sips, but sometimes, after massive energy expenditure, you need a really good glug of water.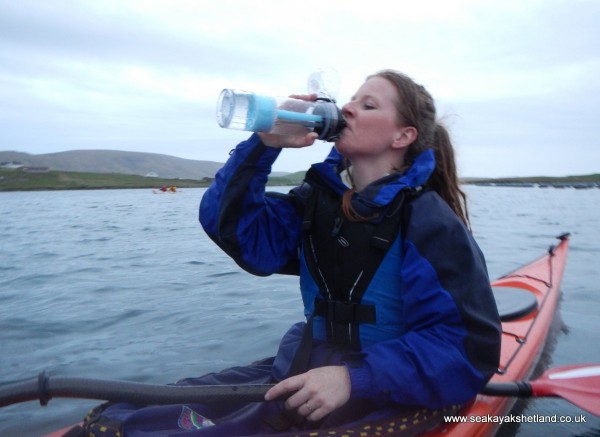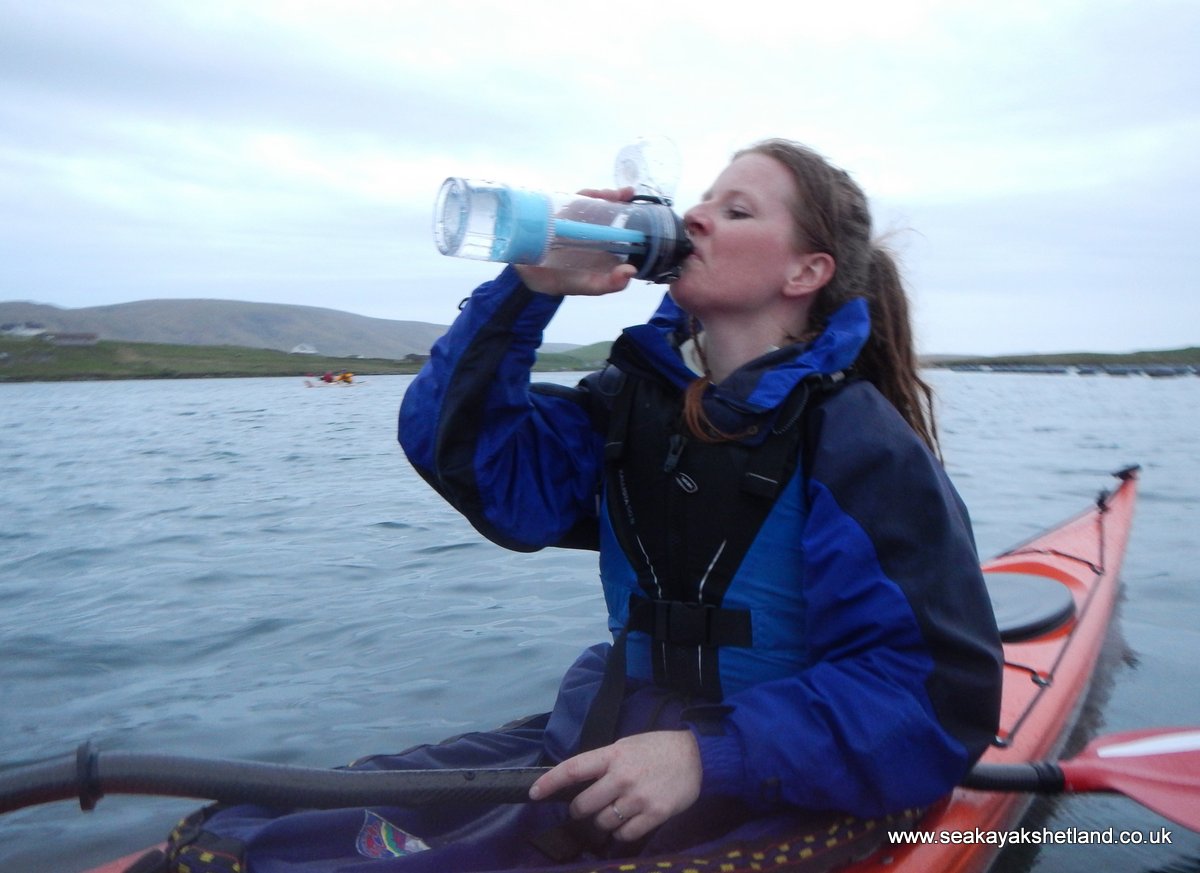 All in all it is a pretty snazzy water bottle, and I think it's well worth the price. £25 for 128 refills. 128 bottles of water at 60 p each would cost over £76! Replacement filters are also available.
You can buy the Thermos Filtration Bottle from the Thermos website, Amazon and John Lewis.
You can find out more about kayaking in Shetland by visiting The Shetland Canoe Club and Sea Kayak Shetland websites, and following them on Facebook (Sea Kayak Shetland)(Shetland Canoe Club).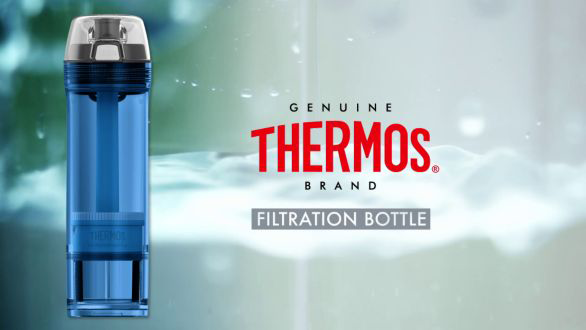 GIVEAWAY
Thermos have very kindly offered the chance for one of my readers to win a Genuine Thermos Brand Filtration Bottle RRP £25 of their very own!
HOW TO ENTER
For your chance to win a genuine Thermos Brand Filtration Bottle RRP £25 enter using the Rafflecopter form below. Come back and tweet about the giveaway every day for more chances to win!
TERMS & CONDITIONS
This giveaway is open to UK entries only. Entrants must be age 18 or over. The winner will need to respond within 7 days of being contacted; failure to do this may result in another winner being selected.
The prize is offered and provided by Thermos. The prize is to win a genuine Thermos Brand Filtration Bottle RRP £25. There is no cash alternative and the prize is not transferable.
There is no entry fee and no purchase is necessary to enter this giveaway. The promoter (Elizabeth's Kitchen Diary) reserves the right to cancel or amend the giveaway and these terms and conditions without notice.
Entry into our giveaways will be deemed as acceptance of these terms and conditions.
If you need some help using Rafflecopter, here's a quick clip to show you how. Rafflecopter will pick the winner at random from all the entries received. I will be verifying entries and any automated entries or those who have claimed they have made the mandatory blog post comment and really haven't will be disqualified. It's mandatory!
Closing date is midnight on Monday 6 July 2015 (GMT) and the winner will be announced shortly afterwards.
Don't forget to visit my Giveaways Page for other fab prizes!
If you want to be kept up to date on my recipes, occasional craft tutorials, adventure stories and giveaways then please subscribe to my weekly newsletter; it gets sent out every Monday morning if there is new content. Your email address won't be passed on to anyone, you will never be spammed and you are free to unsubscribe at any time, no questions asked. Make sure you confirm your subscription or you won't receive the newsletter – if it hasn't arrived check your junk mail folder.
[wysija_form id="1″]
Disclosure: Elizabeth's Kitchen Diary received products from Genuine Thermos Brand as compensation for this post. All views and opinions expressed in the post are my own and no other compensation was provided. With thanks to Angus Nicol from Sea Kayak Shetland for the kayaking photographs.