My very first excursion foraging for wild garlic!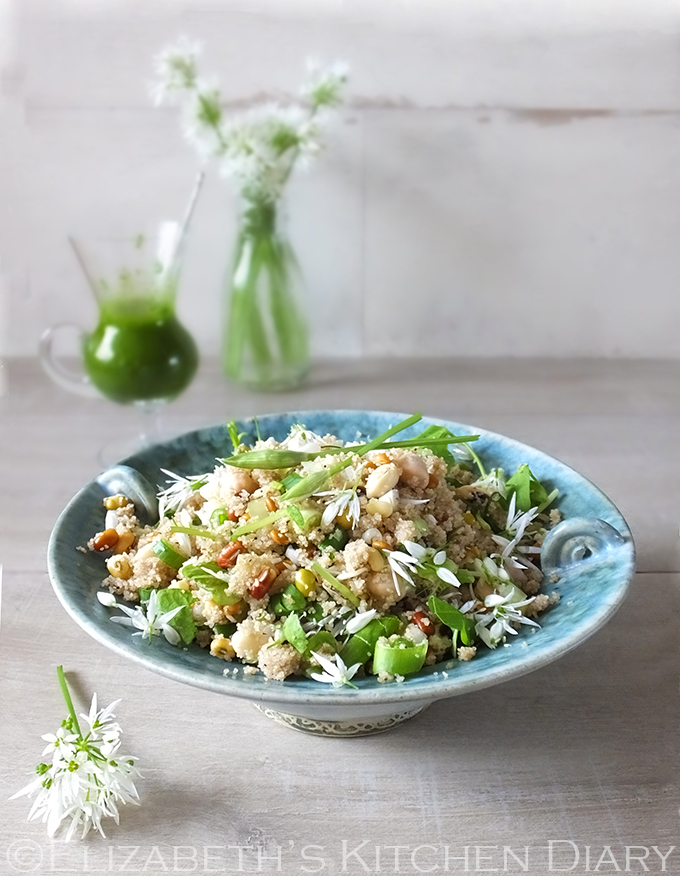 It's funny how things work out.
When I first moved to Shetland in the Spring of 1999, the first book I bought was Shetland's Wildflowers: A Photographic Guide, by D. Malcolm (1998). This well thumbed guide as been my go-to book when trying to identify local plant life.
Wild garlic has been very popular in the foodie scene for some time now, with Aberdonian food blogger Claire over at Foodie Quine tempting me with her beautiful wild garlic recipes and group foraging adventures. Wild garlic was not listed in my plant guide, and no one had ever told me of its existence here in Shetland, so I assumed, given our lack of forests, that it did not grow here.
I was wrong.
I need to buy the current, updated version of D. Malcolm's book!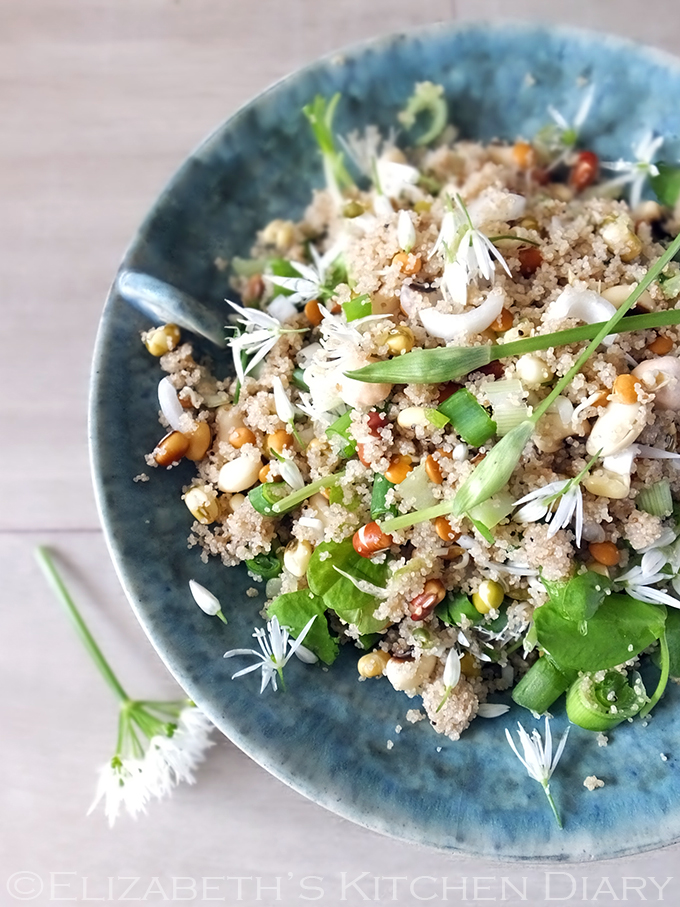 While on a recent Spring break to the Scottish mainland my eldest's granny pointed out all the wild garlic growing in the forest we were walking through. I took plenty of photos, but I didn't harvest any because I wasn't sure which bits were edible, or what to do with it.
A few days after my return to Shetland, what should show up in my Facebook feed but a photo, taken by a friend, of wild garlic growing in a small wooded area here in Shetland, not too far from my house!
Claire of Foodie Quine informed me that all the bits of wild garlic are edible, so I headed to the nearby woods for a spot of foraging.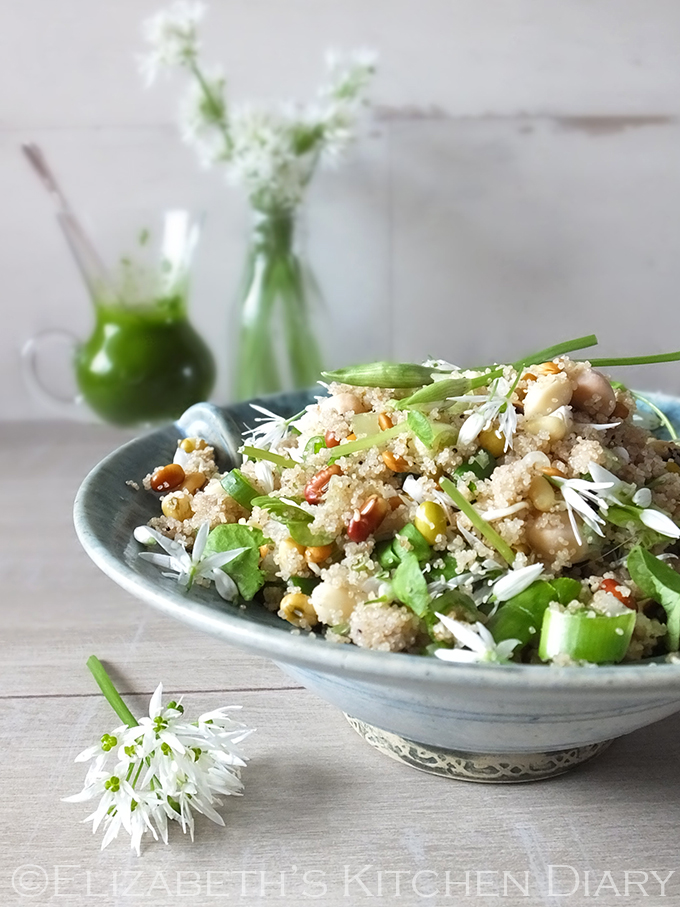 On the way there the warning light came on in my car. The exclamation mark warning light plus the ABS light, and there was this horrible shuddering sensation in the brake as I pressed it to slow down. The car manual said if this second light comes on to stop driving immediately and phone the car people. I phoned the AA for advice as we have break down insurance. My phone ran out of credit midway through the call, and my bank refused to let me buy credit (the fraud department blocked my bank card!). So, stuck at the top of a hill I thought I'd walk to a nearby cafe and use their free wifi to contact my husband. Ten minutes down the road I realised the cafe was shut that day, so I turned around and went back to the car.
Fortunately I obtained a £3 IOU from my mobile provider, so I rang my husband. I learned that our breakdown insurance doesn't cover a courtesy car, so he suggested I just drive home, carefully, and get our local garage to have a look – I was only 15 minutes down the road anyway. The brakes would work, but the ABS wouldn't, so no harsh braking manouvres, I was told.
So, an hour later after the lights came on I pulled out of the layby I was in – and both warning lights promptly went out. Sod it, I was going to fetch my wild garlic for dinner – it was only a few minutes' drive down the road.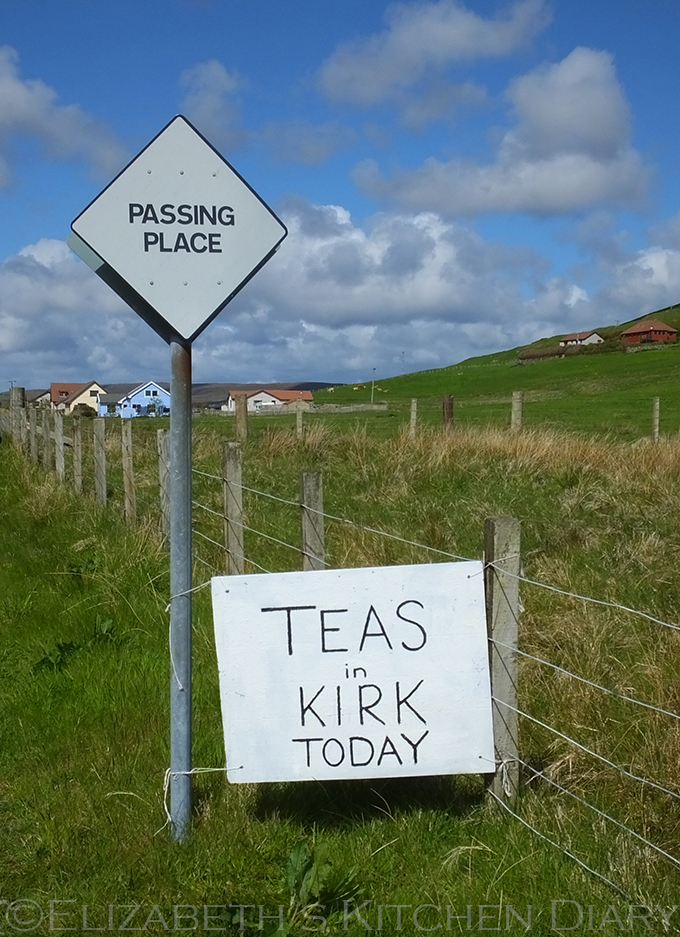 I then spotted this sign by the side of the road. It's all about the food for me, so I turned in to the car park outside the kirk. I wasn't prepared for what I was to experience – such a beautiful, delightful little event! You can read all about it over on my Taste of Shetland post where one of the volunteers shares her pancake recipe.
One of the volunteers, after hearing that I was on the hunt for wild garlic, said she had too much growing in her own garden. If I came back next week she's have some for me to plant in my own (update – I did, and I now have a pot of wild garlic ready to be planted under my own willow trees!). Isn't it funny how things work out?
So, after a very civilised afternoon tea in excellent company (and a foolish excursion into town to get wallpaper and wood filler), I found myself hunting for wild garlic.
It took me around 45 minutes to find it as it wasn't growing in an area I'd never been before. Usually, when I'm in these woods, I am in the upper group of trees, not the lower. I found it, eventually, and foraged a handful of leaves – just enough for a salad.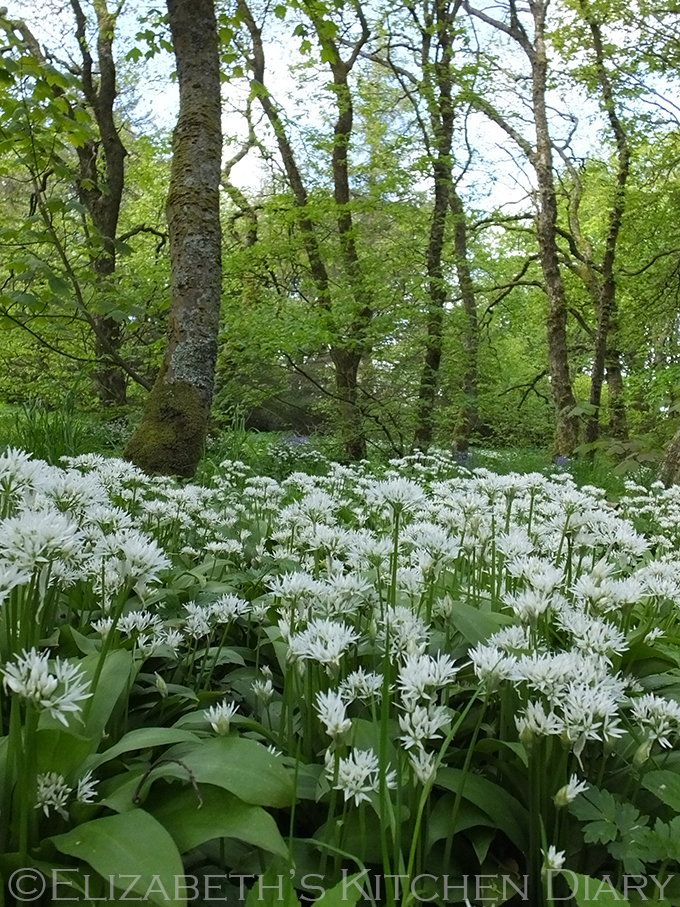 Delighted with myself (and with a belly full of coffee and fancies!) I returned home with my harvest. The sun was shining brightly; it was a beautiful day.
My Optimum 9400 high speed blender made short work of the wild garlic leaves, whizzing them up with ease with some lemon infused olive oil sent to me from Pomora direct from the family growers in Italy and a splash of apple cider vinegar. I really do love my power blender – it's such a versatile machine and makes blending a breeze. You can read my full review here.
The Optimum 9400 is currently selling for £379 and you can get an additional two years' free warranty by using the code 'Special Ambassador Offer' when you check out.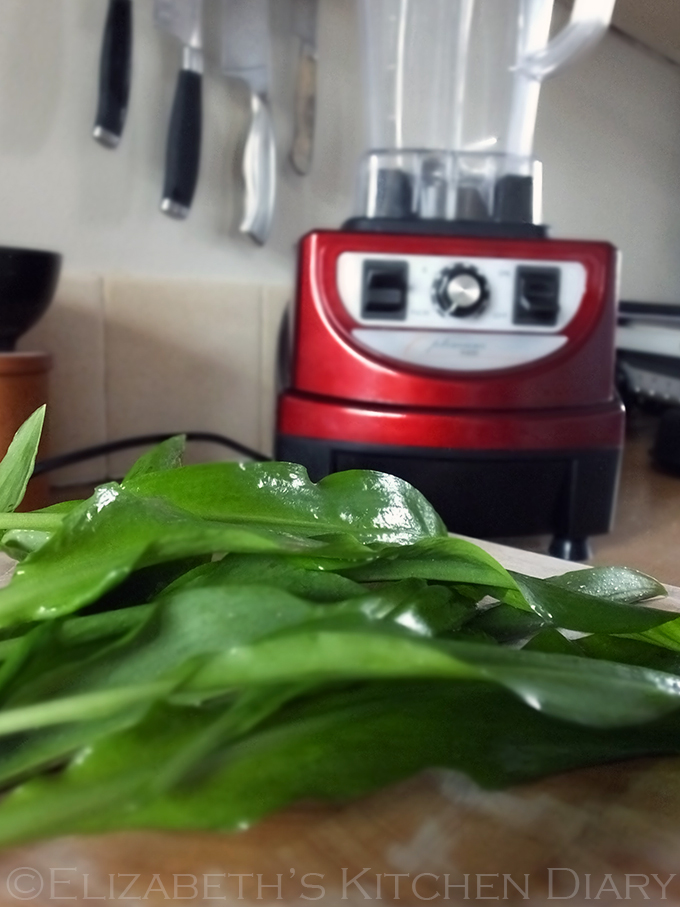 For the salad itself I experimented with some teff grain, one of the world's smallest grains originally from the Ethiopian highlands of Africa. It is usually served as a savoury grain in salads and in stuffing, and when cooked it resembles beach sand!
I tossed the cooked and cooled teff grains with some pea shoots and sprouted beans (both from our village co-operative) and some finely chopped spring onion to make a light, vibrant, summery salad which I served with some barbecued chicken, corn on the cob and Mediterranean bread dipped in olive oil and a very expensive bottle of balsamic vinegar. A glass of white wine finished the meal off perfectly.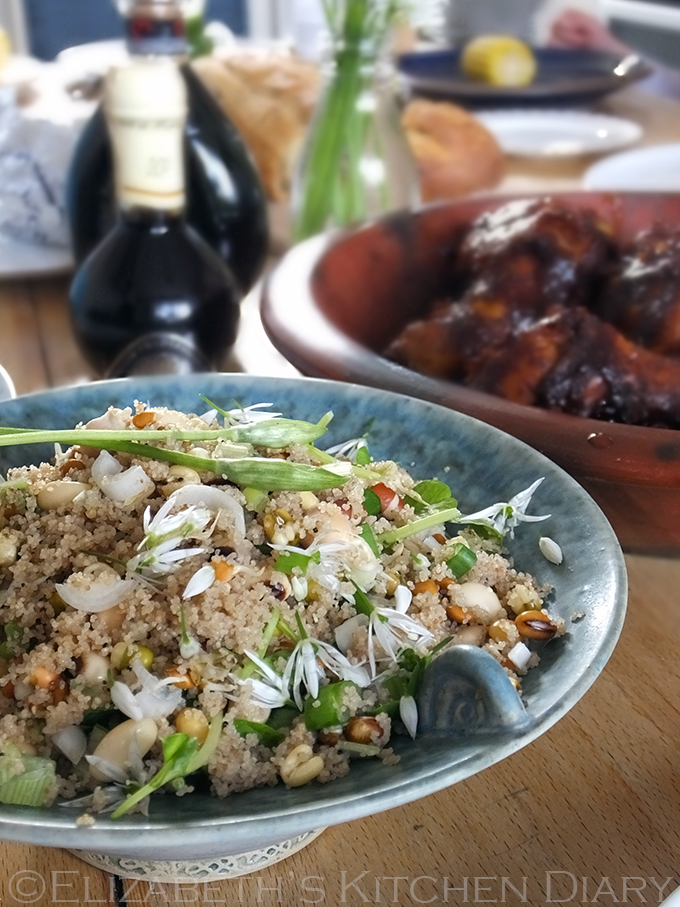 I love the fresh, green taste of wild garlic, and my daughter was delighted to be eating flowers for her dinner! She sat there picking the petals off and eating them one at a time.
There's something intensely satisfying about harvesting your own, wild, dinner – something I haven't done since I left Canada (where berries grew in abundance!). The beautiful sunny day and stumbling upon the most delightful Afternoon Teas made it a rather special day. We'll just ignore the fact I think we have to take our RAV 4 out back and shoot it.
Servings

Prep Time

4

people

10

minutes
Servings

Prep Time

4

people

10

minutes
To prepare the salad, cook the teff grain according to the packet instructions and leave to cool completely.

When ready to assemble the salad, fluff the teff grains with a fork and add the sprouted beans, spring onions, wild garlic flowers and the pea shoots.

To prepare the wild garlic salad dressing, tear up your wild garlic leaves and pop into a blender. Add the lemon infused olive oil and the apple cider vinegar and blend until smooth. If you don't have lemon infused oil, use the best quality olive oil you can get and cover the wild garlic leaves in three parts oil to one part apple cider vinegar or lemon juice, and blend until smooth.

Serve the dressing on the side so people can add as much or little as they like.

The salad goes well with a summery barbecue!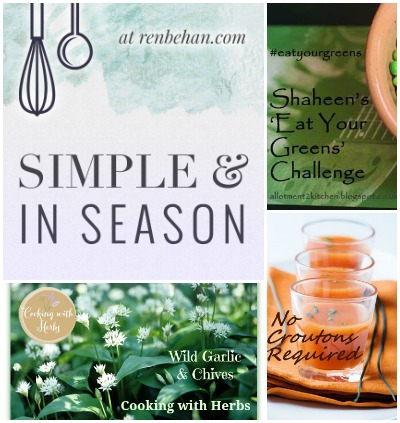 LINKING UP WITH A FEW FOOD BLOGGING CHALLENGES
No Croutons Required by Tinned Tomatoes & Lisa's Kitchen
Simple and in Season by Ren Behan
Cooking with Herbs by Lavendar & Lovage
Eat Your Greens by Allotment 2 Kitchen
OTHER WILD GARLIC RECIPES
Wild Garlic Hummus & Wild Garlic Pesto by Farmersgirl Kitchen
Wild Garlic Scones by Rough Measures
Beetroot, Walnut, Wild Garlic & Goats Cheese Brunch Muffins by Tin & Thyme
Wild Garlic Pesto & Pine Nut Bread by Knead Whine
Loads of Wild Garlic Outdoor Adventure posts by Foodie Quine
FROOTHIE GIVEAWAYS!
Froothie are currently offering Optimum 9400 Next Generation Blender and Optimum 600 Slow Juicer giveaways through their blogging ambassadors. I am giving away a juicer, but at the bottom of the post you will find links to bloggers giving away blenders. For your chance to win visit this blog post and enter!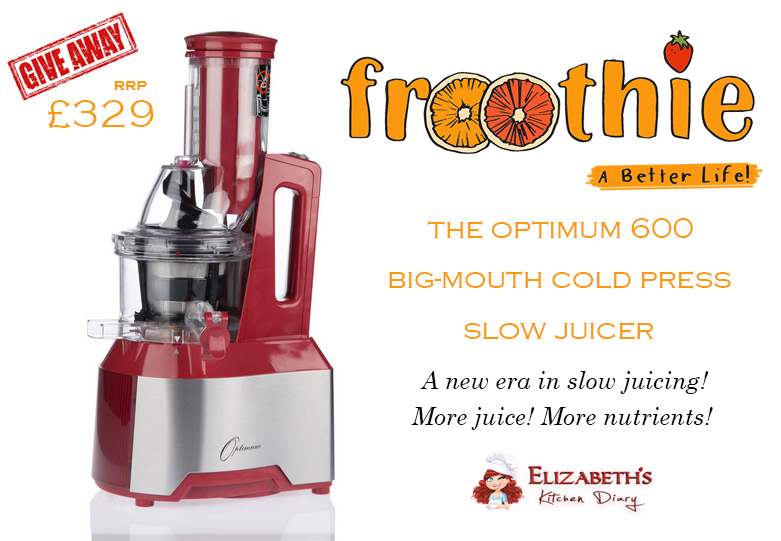 Elizabeth's Kitchen Diary uses the Froothie Optimum 9400 blender, and the Froothie Optimum 600 slow juicer to make her juices, soups and smoothies. These are affiliate links, meaning if you buy a blender or juicer through them we will earn a small commission. This post also contains an affiliate link to Pomora. This is not a paid post and all thoughts and opinions are our own.