We review the Optimum 9400 high-speed blender.
The Optimum 9400 - not just a blender
I am in love with this machine!
It's got curves reminiscent of a 1950's classic car. Its deep metallic red colour is so alluring that I want to get out the wax and start buffing it while Frank Sinatra croons in the background. The knobs and switches remind me of a vintage radio; as if at any moment it may break into song.
Speaking of music – did you watch the video above?
I teamed up with Audioboy Productions and together we worked on this little video project. We are really rather pleased with the results and we had a lot of fun making it. Who says you can't play with your food?! All the sounds for this video were recorded from the Optimum 9400 and manipulated to make the music. We hope you enjoy it!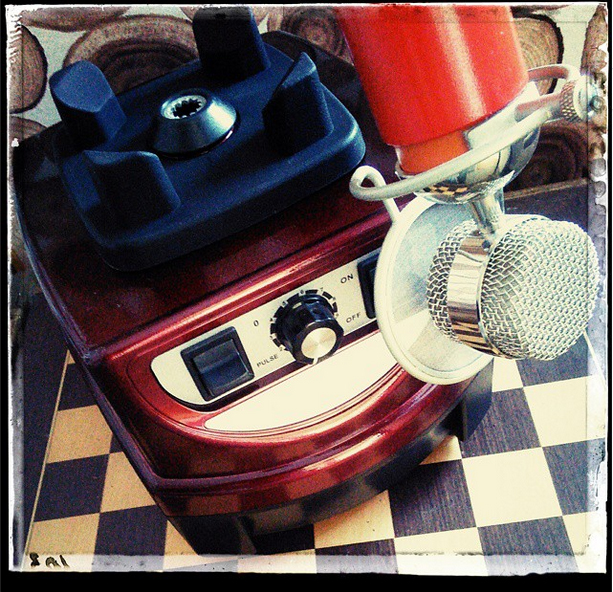 I am delighted to announce that Elizabeth's Kitchen Diary is one of a small group of UK food blogs selected to be Froothie Ambassadors. This means that we each get sent one of these fantastic machines to play around with (and keep!), sharing our experiences (and recipes) with our readers and, if you should be tempted to buy one for yourself through the links on our websites we get a small commission from each sale.
So, what makes this blender so special?
The Froothie Optimum 9400 is a multi-purpose high-performance blender suitable for both home and commercial use. It is a heavy-duty, professional-quality blender which can be used to purée, chop and blend fruits, vegetables, nuts, seeds and grains, make juices and smoothies, crush ice, freeze ice cream, blend and heat soups (through friction heat) and even make omelettes. It's powerful enough to blend paving stones into dust! Fancy throwing some spinach or kale into your green smoothie? Not a problem – it's blitzed in seconds!
This morning I used it to blend soaked cashews into a creamy purée to make into vegan cheese (an experiment – I will report back on this!) and as I type I'm sipping on my deliciously smooth liquid breakfast of 2 whole carrots, 2 whole apples, a handful of spinach, a slice of lemon and water/ice to thin. It took a matter of seconds to make and there are absolutely no lumps whatsoever (although taste-wise it's a bit apple sauce-y, next time I might try just one apple!).
There are several high powered blenders on the market: compare the features of one of the brand leaders, the Vitamix Pro 500, with the Optimum 9400.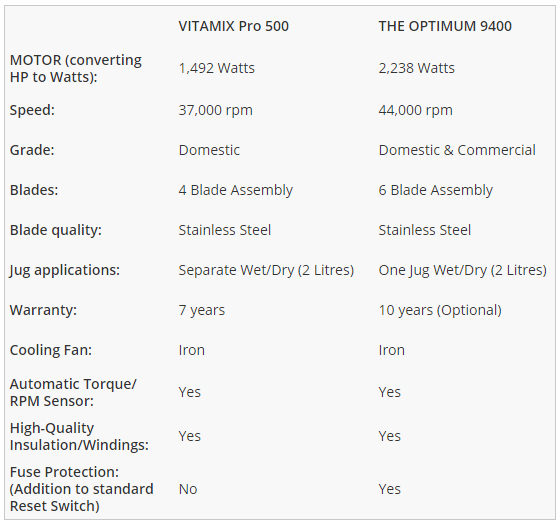 Fresh juice and smoothies are bursting with live enzymes and nutrients which are readily absorbed into the body. Traditional juicers separate the juice from the pulp leaving you with a lovely, fresh juice, but it doesn't leave you feeling satisfied for long, and then you have the whole time-consuming faff of emptying the pulp container, disassembling the machine, cleaning it, drying it and storing it. My old juicer is huge and it gets stored on a shelf in the backroom – despite my best intentions, it is rarely used.
Blending whole fruit and vegetable juices and smoothies in a high powered blender like the Optimum 9400 leaves you with all the fibre (you'll feel fuller for longer) as well as the vibrant juice and it only takes seconds to clean! Partially fill the 2-litre jug with hot water from the tap, a squirt of washing up liquid and switch the machine on high for 60 seconds, empty and rinse! It doesn't take up as much space on the countertop either, meaning you'll be more likely to leave it there and actually use it.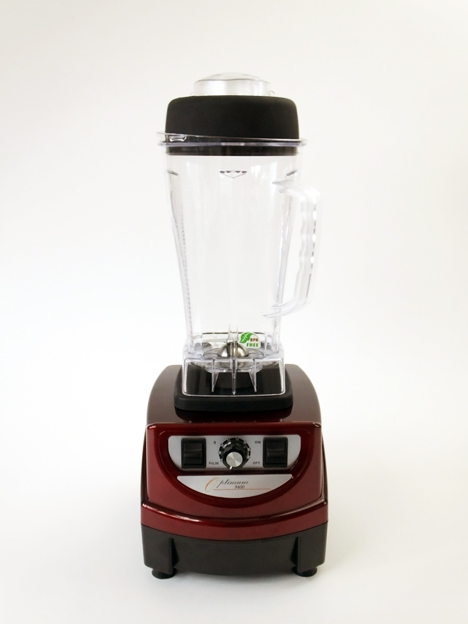 The Optimum 9400 comes in red, white or black and includes an instruction manual, an 82-page inspirational raw foods recipe book, a mesh bag for making nut milk, a sturdy tamper (so you don't have to stick a wooden spoon down the blender jug to get things moving!), a silicone spatula for scraping up bits stuck under the six-blade assembly and a two-litre BPA-free plastic jug suitable for both wet and dry ingredients. It also comes with a 5-year domestic warranty (or you can purchase an extended 10-year warranty).
The blender does cost a pretty penny – for an introductory price of £329 the UK Froothie supplier is offering a free 30-day trial. If you don't like it just send it back for free (not that you will want to)!
The Official Froothie Optimum 9400 product page

FROOTHIE OPTIMUM 9400 RECIPE IDEAS
Not Quite Nutella by London Unattached
Froothie White Sauce by The Crafty Larder
Froothie Lime Curd by Tinned Tomatoes
Mango, Passionfruit & Nectarine Smoothie by Crumbs & Corkscrews
Avocado Chocolates by Elizabeth's Kitchen Diary
Elizabeth's Kitchen Diary was sent a complimentary Froothie Optimum 9400 blender. All opinions expressed are our own and although this is not a paid post it does contain an affiliate link. If you buy a Froothie Optimum 9400 through my website link I will get a commission.