Deliciously dark chocolates with a secret ingredient, or two!
You should make these and sell them at the shop! – two veggie phobic boys, age 6 & 8

We are overrun with courgettes. Not so long ago there was four of them neglected in the bottom of the fridge when another three arrived in my veg box (along with an oversized one – the dreaded marrow!). It feels like we're eating courgettes every single day yet they don't seem to be disappearing! There are six and a half of them in the fridge as I type!
I've been frying one up every now and then with onion and garlic and tossing in freshly blanched broad beans and a splash of tamari soy sauce as a side dish, I've made courgette and feta fritters, I've chopped some up and hidden them in mince and tatties, I've put them in lasagne topped with wild garlic pesto and grilled them for a pizza. Next on my list (possibly today) is to try making courgette 'noodles' with a vegetable peeler. I'm sceptical. We'll see. I'm running out of courgette ideas!
My father's chocolate courgette cake recipe is a favourite way of mine to use up a glut of courgettes as it tastes fantastic and makes two generous sized loaves – one for now and one for the freezer. A few weeks ago I adapted his recipe further by using gluten free flour (only because it was in the cupboard needing used up). I had intentions of making an avocado frosting to top the loaves with and I bought several Hass avocados – 3 for £1 – and then promptly forgot about them, and the cake.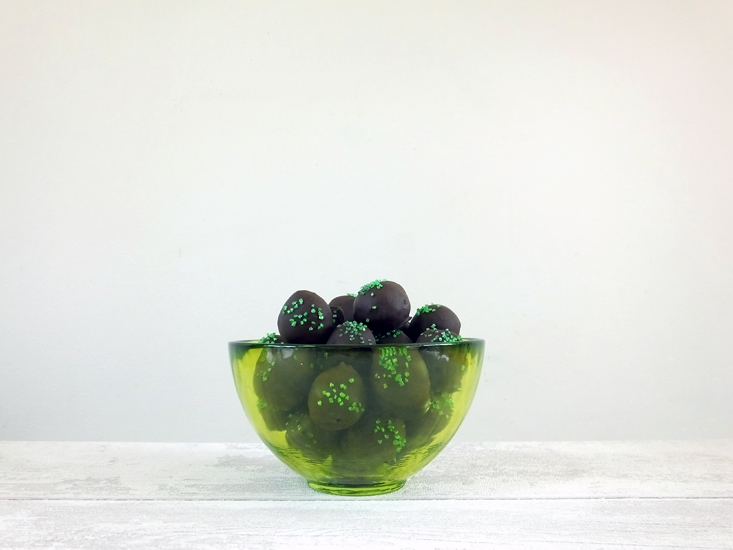 The first cake was eaten up fairly quickly and my family was under strict instructions not to eat the second until I photographed it for the blog. As I said, I forgot about said cake and by the time I got around to slicing a piece off for myself (I gave up with the idea of photographing it) it was several days old and definitely past its best. The gluten free version is definitely best on the day of baking.
What to do? The avocados were ripe and ready and the cake was stale!
Chocolates! I frequently whiz up leftover cake in my blender (I use the Optimum 9400) and stir enough crumbs into frosting to make a roll-able mixture, dipping the cake/frosting balls into dark chocolate for a quick decadent treat. Why not try the same with my initial avocado frosting idea?
I have to say I am rather pleased with myself for this creation! Creamy chocolates dotted with little green flecks of courgette, chopped raw almonds and prunes bound together with a decadent chocolate avocado frosting and encased in a crisp dark chocolate shell. They could almost be considered good for you!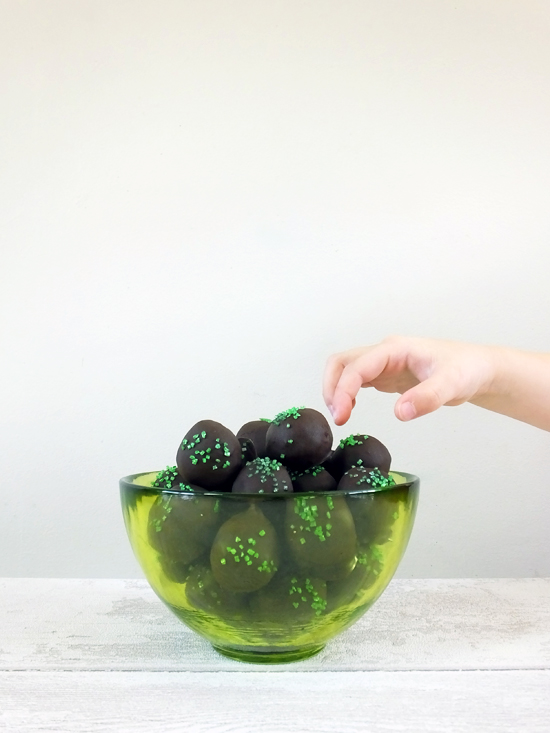 The avocado frosting doesn't harden like a regular butter and icing sugar-laden frosting, but the consistency is quite lovely – creamy and soft – and the contrast with the dark chocolate shell is quite satisfying.
I tested them out on some veggie phobic boys (the kind of veggie-phobes – friends of my children – who insist they will throw up should they ingest a single green pea – I did coax one of them to eat half a fresh-from-the-pod green pea once and, just so you know, he didn't throw up). They kept coming back for more. Even when I told them there were green vegetables in the chocolates they kept eating – all they could taste was chocolate. Win!
For special diets you could always use your own favourite vegan/gluten free/refined sugar free chocolate cake recipe. The one I've provided is gluten and dairy-free.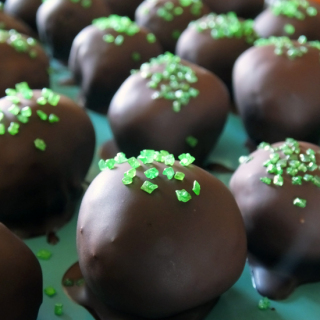 Avocado Chocolates
Deliciously dark chocolates with a secret ingredient (or two) - they could almost be considered good for you!
Print
Rate
Ingredients
Gluten Free Chocolate Courgette Cake
Affiliate Links
This recipe card may contain affiliate ingredient and equipment links. As an Amazon Associate I earn from qualifying purchases.
Instructions
For the cake
Preheat oven to 180 C/ 350 F and grease/line two large loaf tins.

Combine grated courgette, sugar, sunflower oil, vanilla and eggs in a large bowl. Whisk until combined.

Sift in flour, cocoa powder, salt and cinnamon. Stir with a wooden spoon until just combined.

Fold in dried fruit and nuts.

Spoon into two prepared loaf tins and bake for one hour. Leave to cool on a wire rack.
For the chocolates
Pop your leftover cake in a blender and pulse until it forms crumbs. Transfer to a bowl and set aside.

Combine avocado, maple syrup, coconut oil, cocoa powder and sea salt in a blender and pulse until smooth. You'll need to scrape down the sides of the bowl occasionally. Transfer avocado frosting to a large bowl.

Stir in enough chocolate courgette cake crumbs to make a roll-able mixture.

Roll into 1 inch balls (about 15 grams each) and place on a silicone mat on a baking tray that will fit in your fridge. When all the mixture is formed into balls chill in the fridge for an hour or so.

Break the dark chocolate in a heat proof bowl suspended over a pan of barely simmering water. Stir to melt.

Rest the balls on the tines of a fork and dip into the melted chocolate, allowing the excess to drip back into the bowl. Return to the silicone mat.

When the chocolate has hardened slightly sprinkle with glimmer sugar, if using. Transfer to the fridge to harden completely.

Store the chocolates in the fridge.
Notes
Alternatively, the gluten free chocolate courgette cake could be frosted with the avocado frosting!
Environmental Information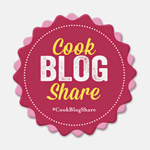 If you want to be kept up to date on my recipes, occasional craft tutorials, adventure stories and giveaways then please subscribe to my weekly newsletter; it gets sent out every Monday morning if there is new content. Your email address won't be passed on to anyone, you will never be spammed and you are free to unsubscribe at any time, no questions asked. Make sure you confirm your subscription or you won't receive the newsletter – if it hasn't arrived check your junk mail folder.
[wysija_form id="1″]
Disclosure: This is not a paid post although it does contain an affiliate link – if you fancy purchasing your own Optimum 9400 through it I will get a commission.