A recipe, review & giveaway in collaboration with Ball Preserves.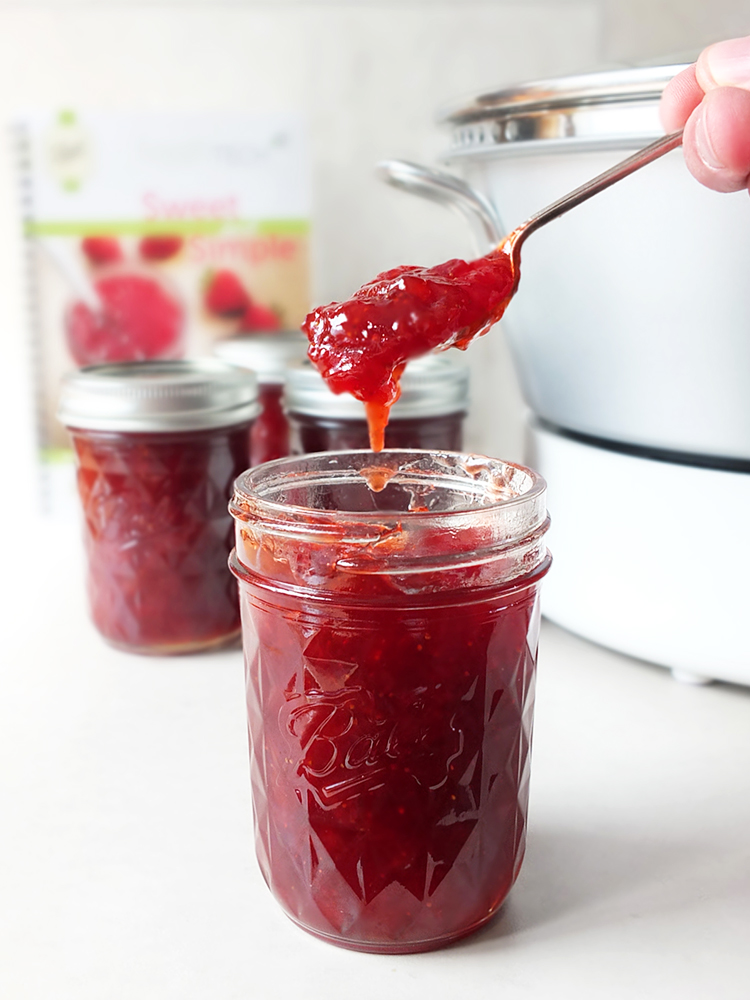 I made jam!!!
For the first time in my adult life I have successfully managed to make jam!
Ok, if I'm going to be completely honest here, I successfully put all the ingredients into my new swish Ball® FreshTech Automatic Jam & Jelly Maker, pressed the button and it made jam, but I put the ingredients in there and spooned the resulting delicious jam into hot sterilized jars, I did!
Growing up in rural East Coast Canada jam and jelly making was part of our daily lives. My mother made the best jams, ever, and an extraordinary amount of my summer holidays were spent under the hot scorching sun picking wild berries – strawberries, blueberries, gooseberries, Indian plums, blackberries… oh don't get me started on the blackberries.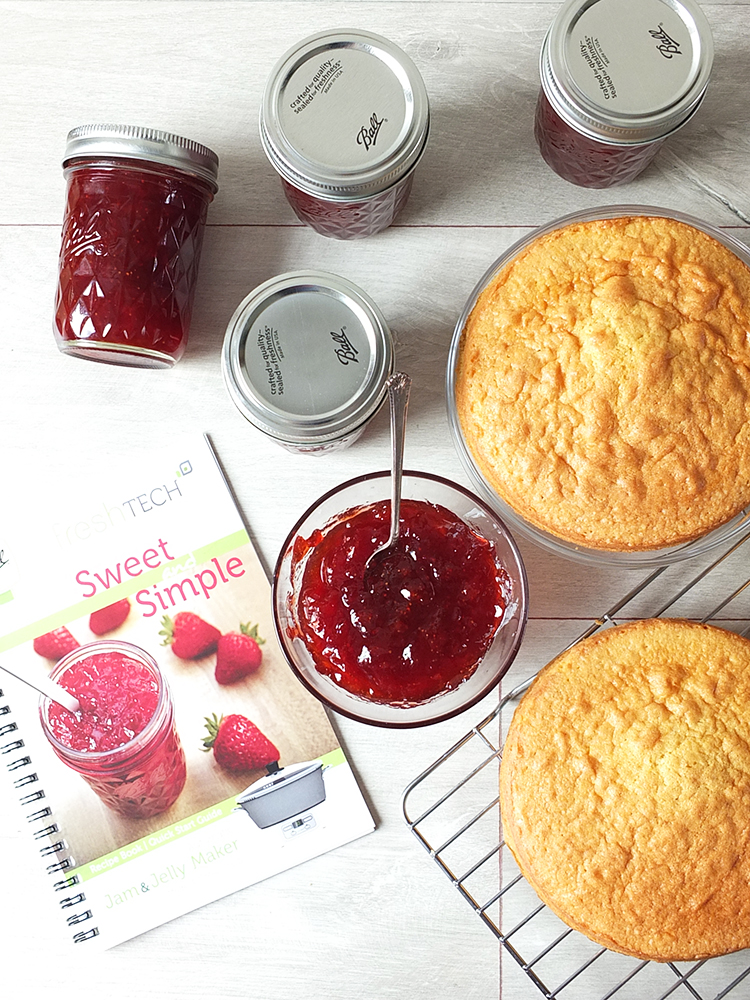 You see, there was one really great wild blackberry patch that we knew of. It was thick and not unlike the bramble forest that enshrouded Sleeping Beauty's castle in the fairy tale. Birds love wild blackberries, so they'd peck at the ones they could get to, leaving the biggest, ripest, juiciest ones in the centre of the bramble forest.
We were sent in, as children, to get those.
The thing is, wasps like those big ripe juicy berries too – and you've no idea how fast you can run, screaming, out of a blackberry patch when a bunch of wasps are stinging you to get you away. Oh the painful memories!
Irregardless, the jams and jellies my mother made out of those berries were second to none.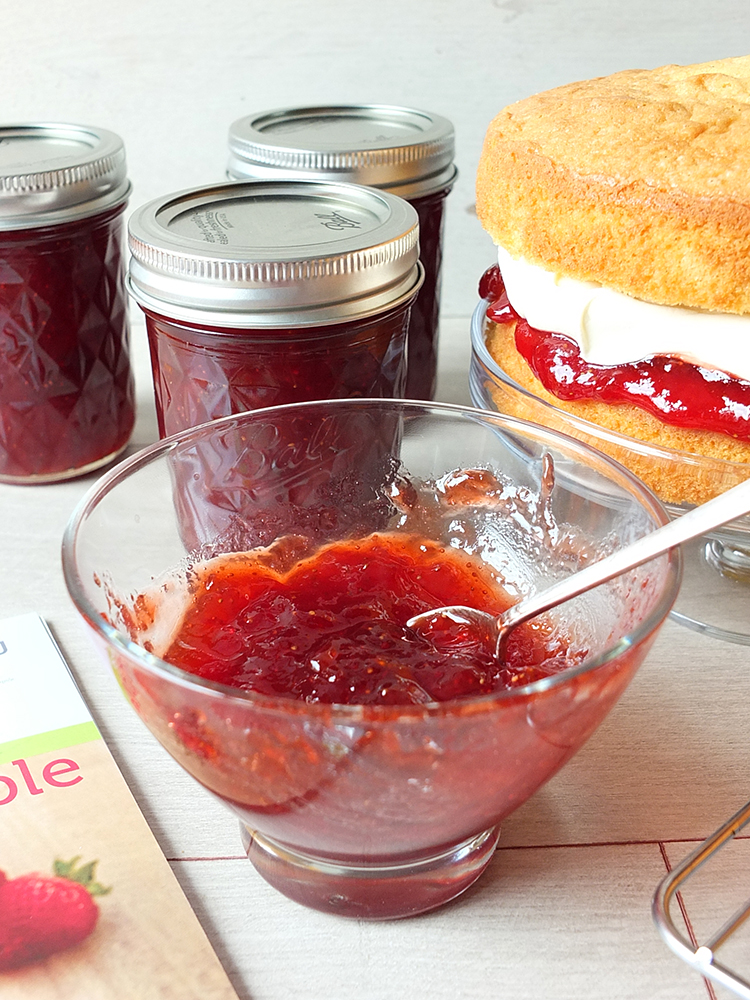 Except for the mint jelly. I could never understand the point of wild mint jelly, and now, in my adulthood, as I savor the most delicious and succulent slow roasted Shetland lamb, I totally get the appeal of mint jelly. We never ate lamb growing up though, and I always wondered why my mother made endless batches of wild mint jelly… perhaps it was just because she could?
But I waffle on.
I've made jam! I made jam before the rest of my family got up this lazy post-Eurovision song contest morning (how did they win?!).
I've got a fantastic new kitchen toy that I am so absolutely in love with – the Ball® FreshTech Automatic Jam & Jelly Maker, which makes jam and jelly making a simple and quick process. Homemade jam in under 30 minutes!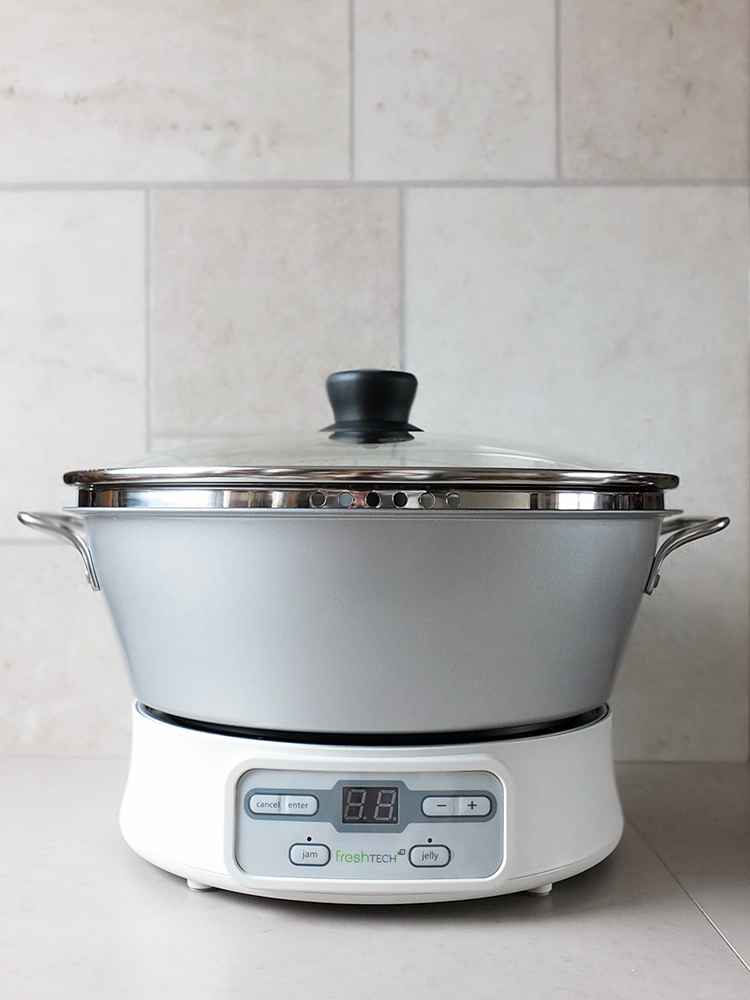 First impressions on the machine were how sturdy and well built it felt as I took it out of the box. It was remarkably simple to put together too – you screw the knob handle onto the glass lid, which sits on top of a large non-stick dishwasher safe pot fitted with a removable stirrer. This unit sits on a base with a detachable cord. No extra fiddly bits to get lost in drawers. It all stores together.
It looks the part too – with a sleek and simple design.
But how does it do when it comes to making jam?
It's so simple to make! All you need to do is crush your desired fruit with a potato masher, sprinkle the Ball Jam Setting Mix with Pectin into the bowl, add the fruit and press enter to start! The machine beeps when it's time to add the sugar, and it keeps everything stirring and cooking at the right speed and temperature to make the perfect jam!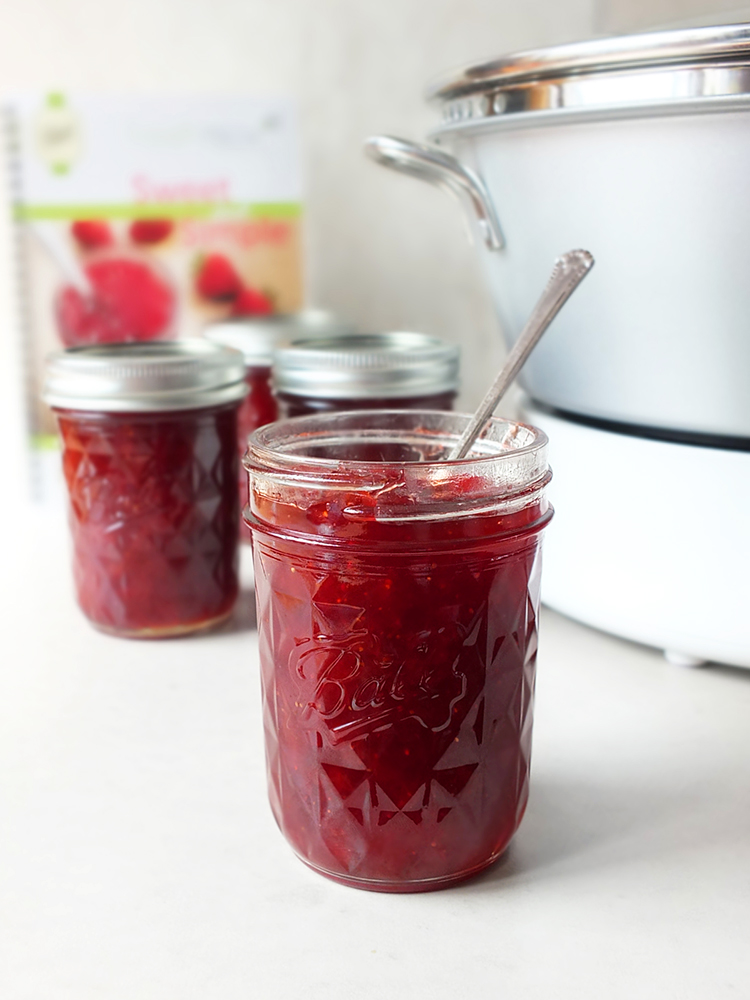 I've tried making my own jam once or twice the old fashioned way, and I was disheartened by the fact that my jams crystallized. I'd done it wrong. Despite having forked out for the preserving jars, jelly nets, tongs, etc (gosh preserving stuff is expensive!) I never got around to trying to make jam again, until now.
This new machine has me converted on the whole homemade jam thing now. I have all sorts of ideas running through my head… what about a nice apple and nettle jelly? I can make my own mint jelly now! I'll keep an eye out in the shops for reduced price fruits too and see what inspiration strikes. I might even have a go at this rather exotic sounding gooseberry and gin jam recipe from Foodie Quine!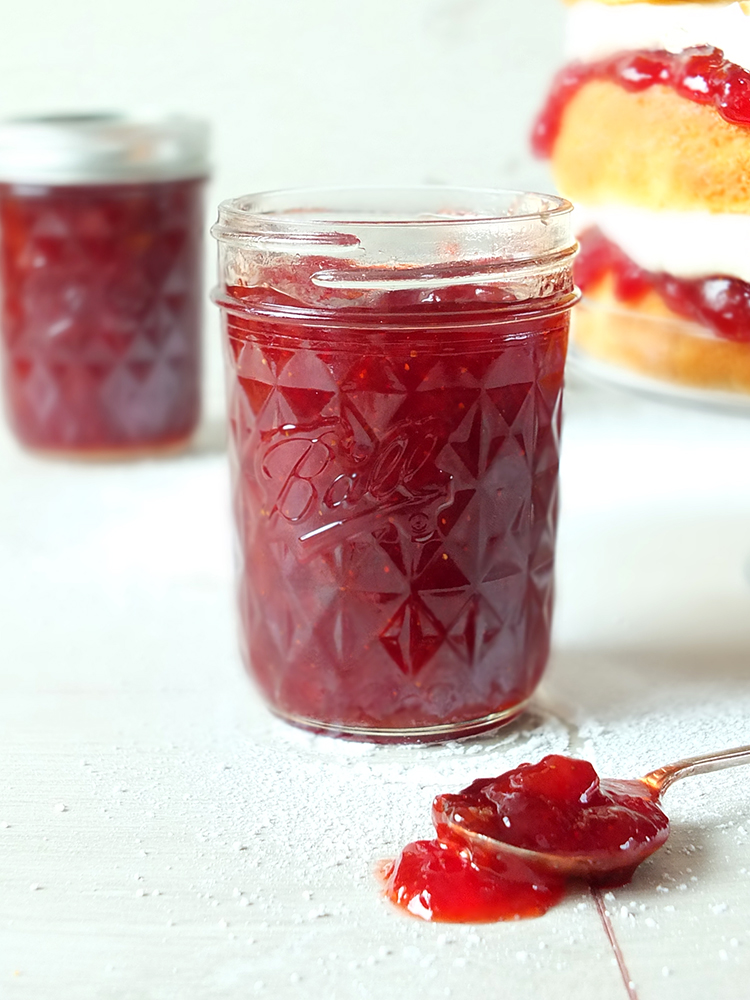 I was quite busy in the kitchen this morning.
The jam quantity was sufficient to fill four Ball Quilted Crystal 240ml Preserving Jars, plus some extra which I left to cool in a little glass bowl. Enough to sandwich together a Victoria sponge cake with jam and fresh cream.
I thought I'd be all arty and make a three tier Victoria sponge as they tend to photograph well.
Not today.
I would not advise to use freshly made room temperature jam to sandwich together a three tier cake. It goes all… wonky. Tastes fantastic, but not so great in the looks (or ease of cutting and serving) department.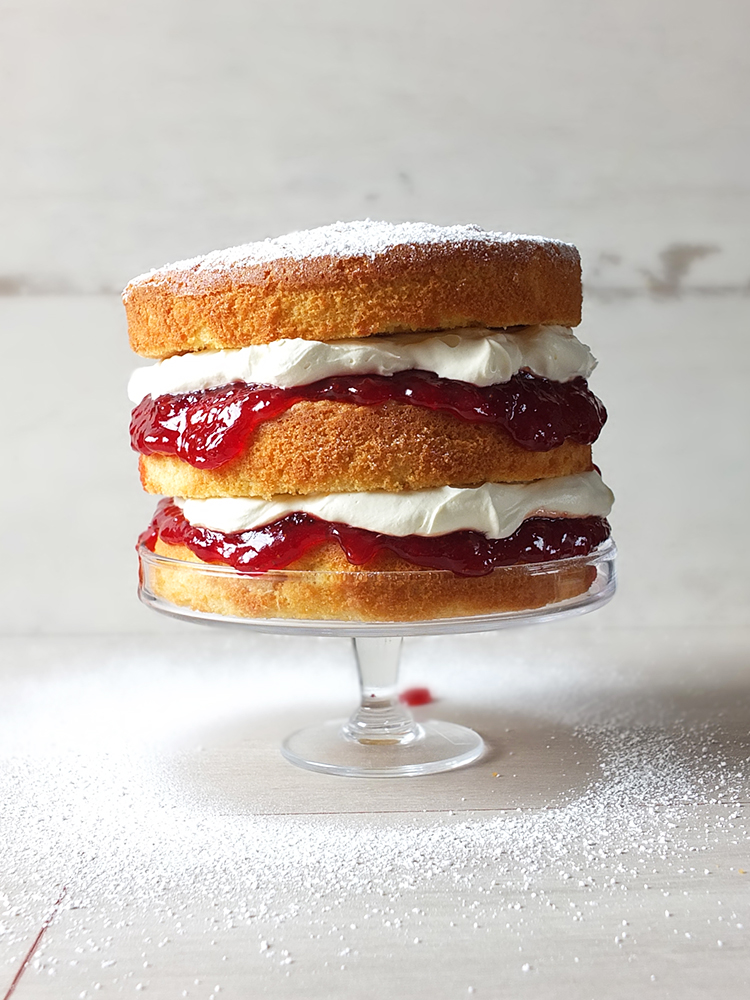 But still, that's me now with the jam making bug – what am I going to make next?!
The Ball® FreshTech Automatic Jam & Jelly Maker is available exclusively from Lakeland for £149.99. They recommend that you use their Ball Jam Setting Mixes (RRP £4.98 each which makes 22 jars of jam). The quilted crystal 240ml preserving jars pictured cost £8.99 for six.
Ball Preserves have kindly offered the chance for one of my UK readers to win one of their Ball® FreshTech Automatic Jam & Jelly Makers – simply fill out the Rafflecopter form below to enter!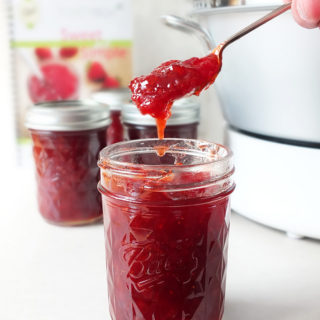 Strawberry Balsamic Jam
A quick and easy jam recipe made in the Ball Automatic Jam & Jelly Maker.
Print
Rate
Affiliate Links
This recipe card may contain affiliate ingredient and equipment links. As an Amazon Associate I earn from qualifying purchases.
Instructions
Wash the strawberries in cool, running water and drain. Remove the stems and hulls. Crush the berries, one layer at a time, with a potato masher. Measure out the required amount of fruit.

Sprinkle the Ball Jam Setting Mix with Pectin evenly over the bottom of the Bell Automatic Jam & Jelly Maker pot fitted with the stirrer. Add the crushed strawberries and the balsamic vinegar evenly over the pectin. Add the butter to reduce foaming.

Press the JAM button - the cook time will automatically default to 21 minutes. Press ENTER to begin cooking. In 4 minutes the appliance will emit 4 short beeps indicating that it is time to add the sugar.

Add the sugar gradually while the stirrer continues turning. Place the glass lid on the pot. The appliance will continue to automatically stir the ingredients while it cooks. Stay within hearing/close proximity of the Jam & Jelly Maker while it cooks. The appliance will beep at the end of the process signalling that the cooking is complete. Press CANCEL and immediately remove the glass lid and unplug the appliance.

Remove the stirrer with an oven mitt. Skim foam, if needed, from the top of the jam.

Spoon the hot jam into hot sterilized glass jars and seal.
Notes
Recipe from the Ball Automatic Jam & Jelly Maker Sweet & Simple recipe booklet.
Environmental Information
Click here for the nutritional information for this recipe.
Make Fresh Berry Jam With The Ball Automatic Jam & Jelly Maker
GIVEAWAY
Ball Preserves have kindly offered Ball® FreshTech Automatic Jam & Jelly Maker RRP £149.99 as a giveaway prize for one of my UK readers. To enter, simply fill out the Rafflecopter entry form below!
HOW TO ENTER
For your chance to win a Ball® FreshTech Automatic Jam & Jelly Maker RRP £149.99 enter using the Rafflecopter form below. Come back and tweet about the giveaway every day for more chances to win!
TERMS & CONDITIONS
This giveaway is open to UK entries only. Entrants must be age 18 or over. The winner will need to respond within 30 days of being contacted; failure to do this may result in another winner being selected.
The prize is offered and provided by Ball Preserves. The prize is to win a Ball® FreshTech Automatic Jam & Jelly Maker RRP £149.99. There is no cash alternative and the prize is not transferable.
There is no entry fee and no purchase is necessary to enter this giveaway. The promoter (Elizabeth's Kitchen Diary) reserves the right to cancel or amend the giveaway and these terms and conditions without notice.
Entry into our giveaways will be deemed as acceptance of these terms and conditions.
If you need some help using Rafflecopter, here's a quick clip to show you how. Rafflecopter will pick the winners at random from all the entries received. I will be verifying entries and any automated entries or those who have claimed they have made the mandatory blog post comment and really haven't will be disqualified. It's mandatory! Please make sure your comment is eight words or longer or Google views it as spam. >>>>> All entries with comments fewer than the mandatory 8 words will be disqualified. <<<<<
Closing date is midnight (that's 00:00 hours, 12 am on Sunday night/Monday morning) on Monday 13 June 2016 (GMT) and the winner will be announced shortly afterwards.
Elizabeth's Kitchen Diary was sent a Ball® FreshTech Automatic Jam & Jelly Maker for review purposes. All thoughts and opinions expressed are our own. This is not a paid post.