A cinnamon scented breakfast muffin recipe packed full of carrots, apples and dates.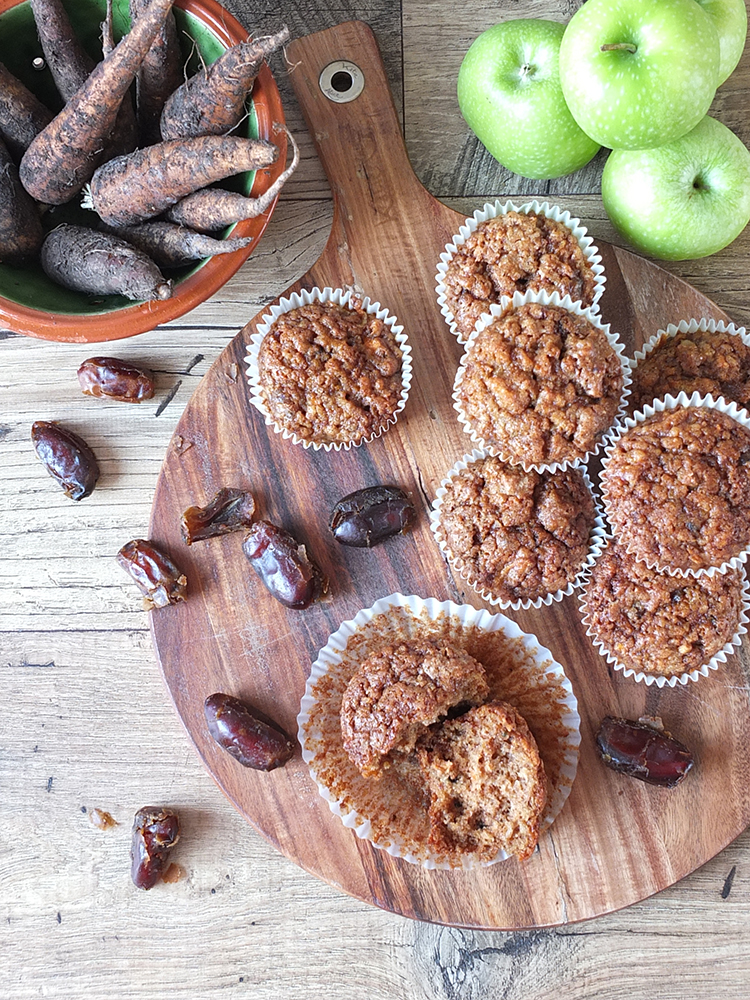 It's become a bit of a yearly tradition now, with my birthday being at the start of December, for my Canadian grandmother to send me a cookery book and a pair of earrings as a combined birthday Christmas gift. With overseas post being as slow as it is, this eagerly awaited parcel usually arrives in late January. That poor fella who has to swim across the Atlantic with it, I feel for him!
Over the years I've amassed a wonderful collection of Cape Breton recipe cookery books – you know those fundraiser cookery books compiled by community groups and organizations? The ones with the tried and tested family recipes in them?
I absolutely love them, and they each have a little message handwritten on the inside page in my grandmothers beautiful cursive handwriting – the kind of handwriting only retired primary school teachers have.
Last years cookery book was the Inverness Cottage Workshop's Favourite Recipes: Volume 1, compiled by the Inverness Cottage Workshop. The Inverness Cottage Workshop provides vocational, personal, and social skills training for adults with intellectual disabilities, and they also support off-site employment and community involvement opportunities. It sounds like a rather fantastic organization.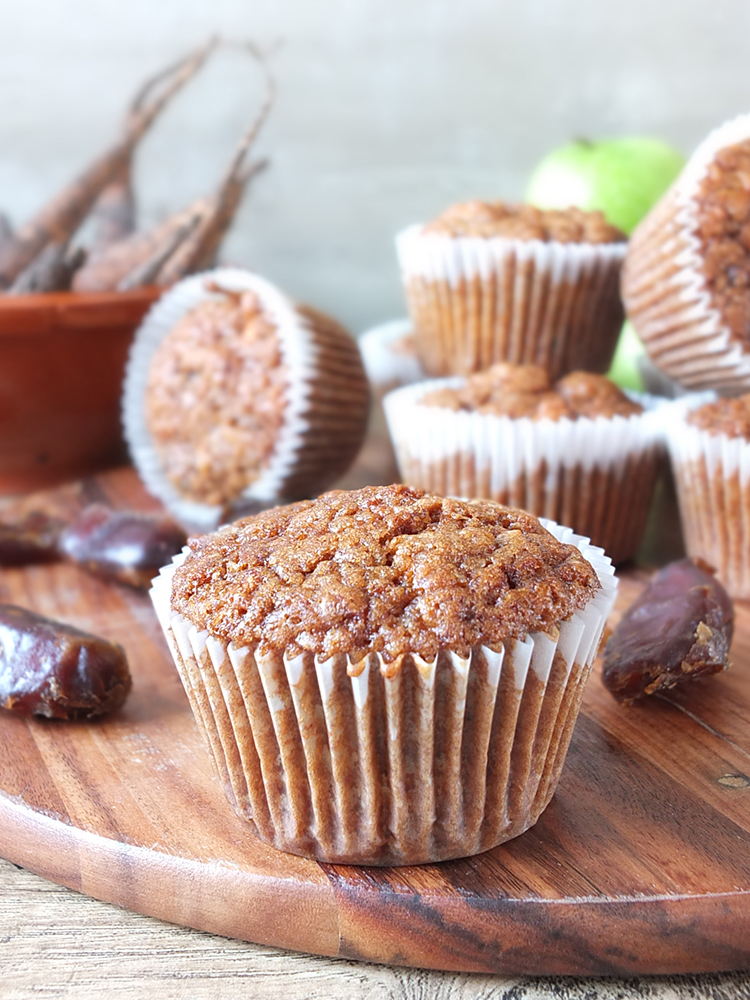 One recipe particularly struck my eye while flicking through the book. Morning Glory Muffins from Cindy O'Neill, the executive director of the Inverness Cottage Workshop. This breakfast muffin with scented with cinnamon and packed with grated carrots, apples and, most interestingly, chopped dates. Carrot muffins of this sort usually have sultanas in them, and I was interested to try the recipe with the dates.
While preparing the recipe (which involved a bit of washing dirty carrots from my organic veg box delivery!) I realised that the recipe was incomplete. She'd mentioned baking soda and salt in the instructions and forgotten to list them in the ingredients list, so I went to the internet to see if I could find it there. There are umpteen zillion online versions of this recipe, so I can't exactly credit the source of recipe development, but I did manage to fill in the blanks with the missing ingredients. And yes, this recipe is usually made with sultanas.
The dates, however, totally work. A fantastic adaptation. This breakfast muffin is deliciously moist and not too sweet despite the sugar and dates. I really like the texture the dates add, and my daughter and eldest son loved them too, requesting them in their school lunchboxes. My youngest wasn't that keen – he knew there were vegetables in it.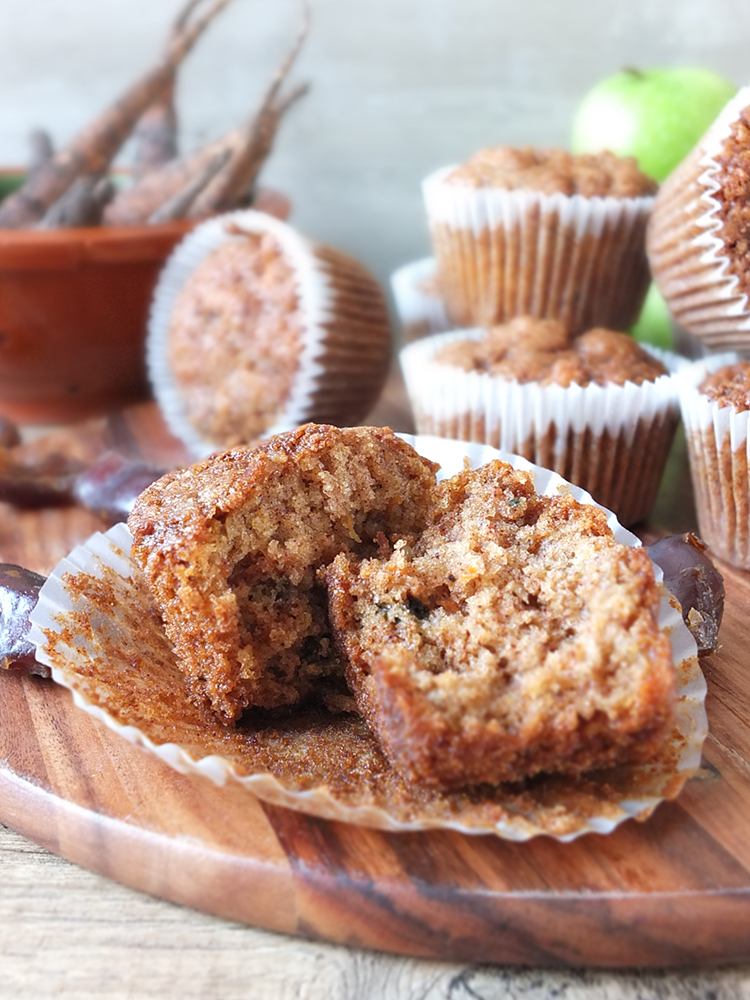 As an aside – when I was preparing to immigrate back across the pond to Scotland back in 1999 (170 years after my maternal MacIntosh family set sail for Nova Scotia from Skye), my mother's words of advice were to stick with visiting places with the same names as those I knew from Cape Breton.
This summer I will be stopping in the Scottish Inverness while on my epic 250 mile mountain bike cycle from Shetland to Fort William to climb Ben Nevis, Britain's highest mountain. A food blogger there has kindly offered my traveling companion and I beds and a shower, which I am sure will be well received after cycling through the highlands!
But I ramble. This recipe, it's lovely. It's not the prettiest recipe in the world to photograph, but these muffins more than make up for it in taste.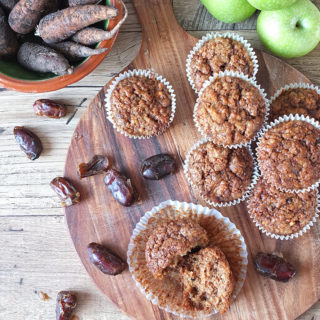 Morning Glory Muffins
Packed full of fibre and flavour these muffins are a delicious way to start the day.
Print
Rate
Affiliate Links
This recipe card may contain affiliate ingredient and equipment links. As an Amazon Associate I earn from qualifying purchases.
Instructions
Preheat oven to 350 F/180 C/ 160 C fan and line 2 x 12 hole muffin tins with paper cases.

In a large bowl mix together the sugar, flour, cinnamon, bicarbonate of soda and salt.

Add the coconut and the nuts.

In another bowl, mix the eggs with the sunflower oil and the vanilla.

Add the dates, grated carrots and grated apple to the egg mixture and stir well to combine.

Mix the wet ingredients into the dry, stirring well to just combine.

Spoon into the prepared baking cases and bake for 35 minutes, until a skewer inserted into the centre comes out clean.

Cool the muffins in the trays for 10 minutes before transferring to a wire rack to cool completely.
Notes
This recipe freezes well. Defrost for an hour before eating, or pop a frozen muffin into a lunchbox for a lunch time treat.
Environmental Information
Click here for the nutritional information for this recipe.
OTHER BREAKFAST MUFFINS YOU MIGHT LIKE
Banana Weetabix Blueberry Muffins from Elizabeth's Kitchen Diary
Rachel Allen Rhubarb Breakfast Muffins from Maison Cupcake
Oaty Cinnamon & Raisin Muffins from The Lovely Appetite
Pear & Pistachio Muffins from The Hedgecombers
Wholemeal Breakfast Muffins from Supper in the Suburbs
Marmalade Breakfast Muffins by Thinly Spread
Banana Bran Muffins by Elizabeth's Kitchen Diary
Spinach & Tomato Corn Muffins by Eats Amazing
Coconut, Blueberry & Banana Muffins by From Plate to Pen
Bucks Fizz Breakfast Muffins by Foodie Quine
LINKING UP WITH SOME BLOGGING CHALLENGES
Inheritance Recipes from Coffee & Vanilla and Pebble Soup
You could help me become an award winning blogger! I've made the shortlist for the Britmums Brilliance in Blogging Awards in the Food category. If you enjoy my blog posts please consider casting your vote for me to reach the finals. Click here or on the image below to take you to the voting page, open until May 18th! Thank you! x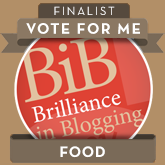 [wysija_form id="1″]