An Optimum ThermoCook recipe.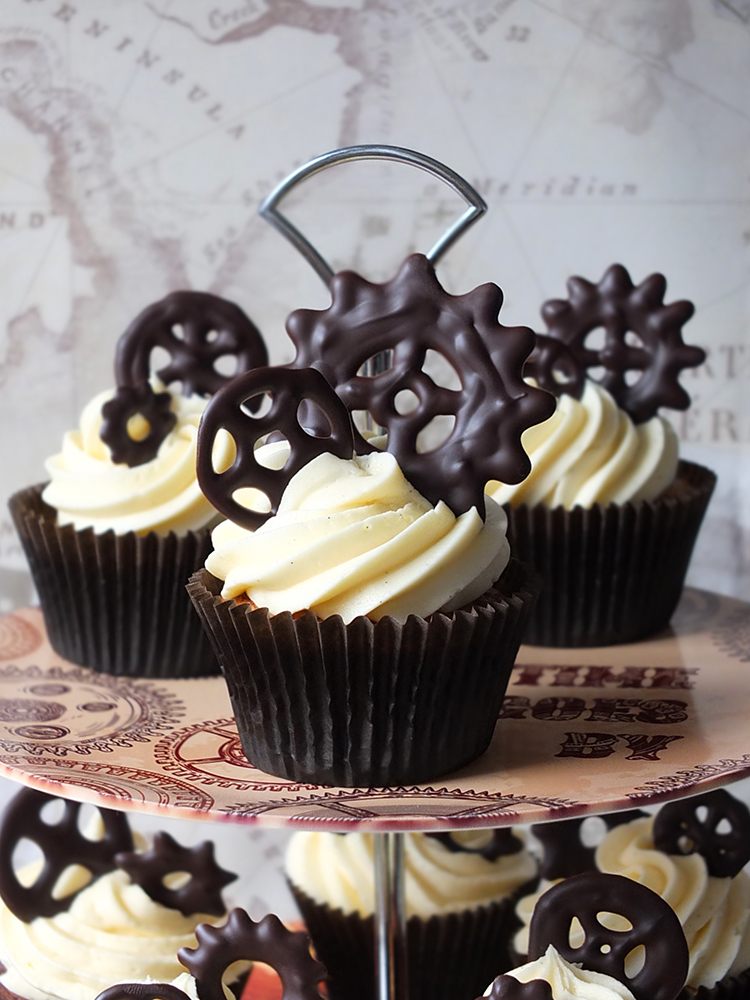 It's our wedding anniversary this coming weekend.
Two years ago in gale-force winds my husband and I got married. It was a small ceremony with close family and friends with an overnight stay in a hotel and a lovely meal afterwards. Nothing too extravagant.
It was a steampunk wedding though. (You can see some photographs here and here!)
To celebrate our anniversary my husband has booked us a night into a local hotel – a rare child free night! I can't wait!
In the meantime, I thought I'd make something a little special to share with the kids beforehand, something edible. Something steampunk themed.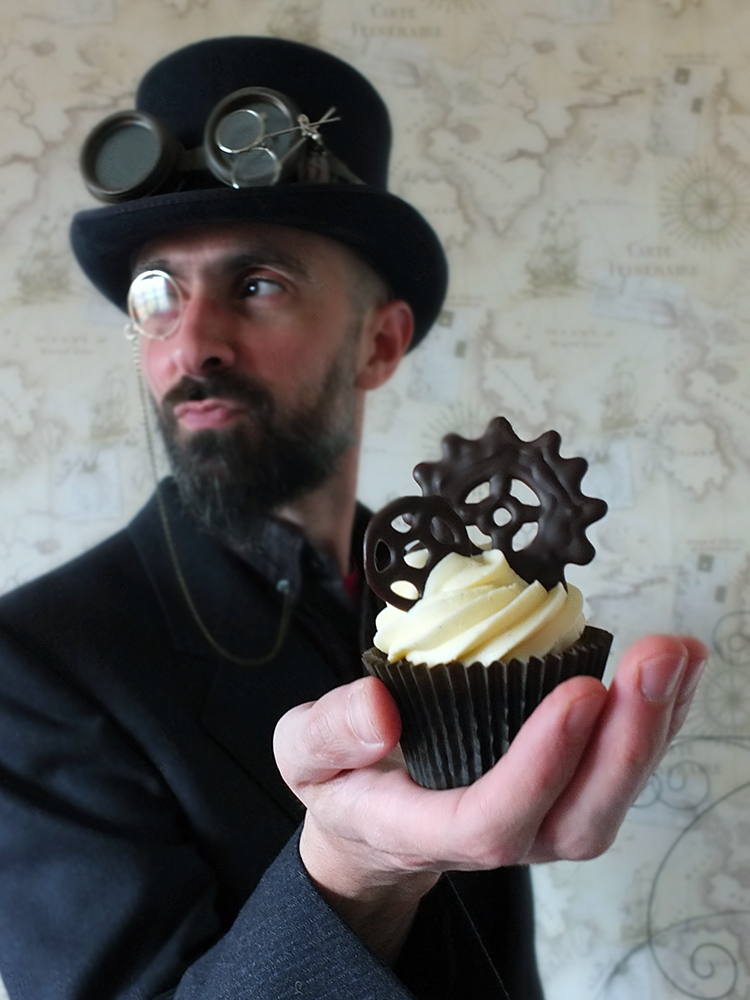 I pondered ideas, and while pacing around the coffee table in the living room trying to meet my daily 20,000 step FitBit goal, the idea of making dark chocolate steampunk cogs and gears to decorate the top of a cupcake sprang to mind.
Some time ago I was sent a nifty little Lekue Decomat to play with – a silicone pot with a nozzle and a clear silicone mat. You place your templates under the clear mat and draw over the top with melted chocolate. Searching google I found some designs I liked and I printed them off. It was rather therapeutic drawing out the designs, and the chocolate solidified fairly quickly after setting it outdoors in the January weather to chill.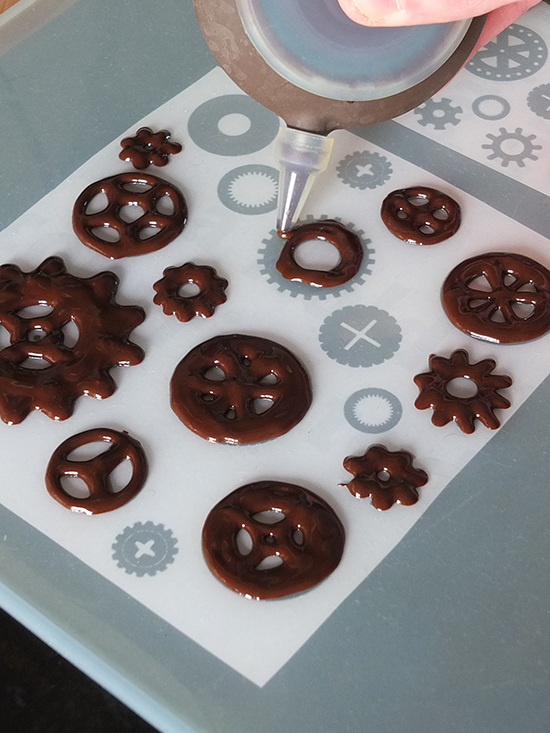 A rather effective technique, I think! I used these little dark chocolate decorations to decorate the top of a chocolate and vanilla swirl cupcake base topped with a bourbon vanilla buttercream.
I used Nielsen-Massey Madagascan vanilla bean paste for the cake and the frosting as I love the little flecks of vanilla seed in it, and using bourbon vanilla seems so appropriately exotic and steampunk.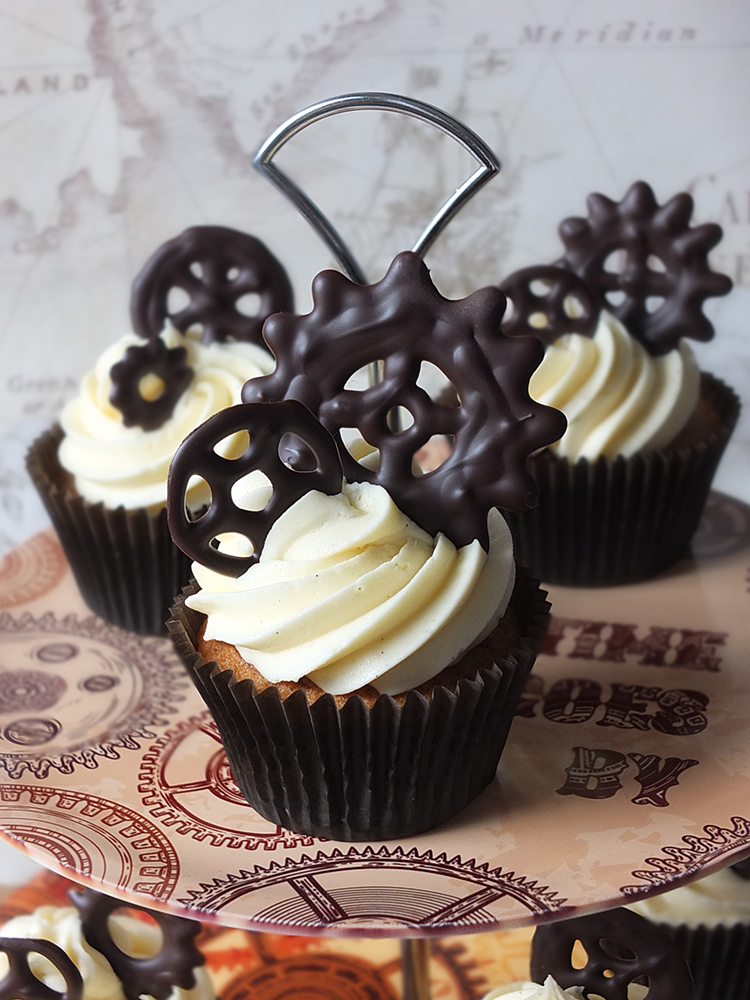 I've also recently decided to become a cake stand collector. This happened while I was out Christmas shopping for my family and I ended up buying two brand new cake stands for myself, raising my tally to four.
A fifth was added shortly afterwards – this fantastic three tiered steampunk cake stand from a company called Bags of Love. They print your own designs on a wide variety of merchandise, from mugs to blankets to cake stands and everything in between. I found a few images from the very talented Nikolayenko Yekaterina on Shutterstock to personalize my cake stand and it turned out rather well, I think!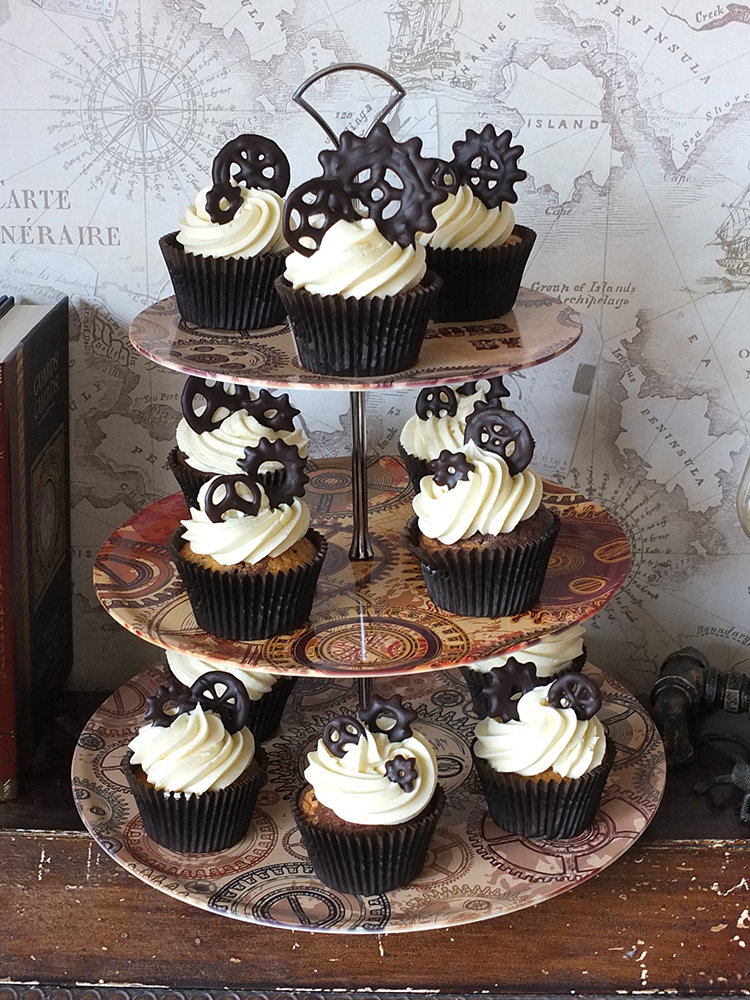 Because I'm rubbish at tempering chocolate (it's something I have yet to master) I have to store these cupcakes in the fridge or the decorations will droop, but my children and my husband (who very kindly obliged and put on his wedding outfit to pose for a few photographs with said cake – doesn't he scrub up well! He got to eat the cake afterwards, fair payment, no?) absolutely loved them. I'm on a fitness training mission (more about that later!) so I didn't get to taste the cakes, but I have it on very good authority that they're really rather awesome.
In a New Year decluttering phase I threw out my knackered and ancient food processor. I only ever used it for creaming butter and sugar together and it was taking up valuable space in my small kitchen. Between my Froothie Optimum 9400 high speed blender and my brand new Optimum ThermoCook I'm covered.
This recipe was made in my Optimum ThermoCook, a rather nifty all-in-one multi-function cooking appliance. I'm still learning about all the things you can do in this gadget but it really does absolutely everything. You can read my review here. It whips up cake batter in no time, you can melt chocolate in the steamer and icing only takes a matter of seconds to make!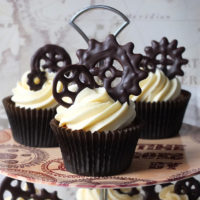 Dark Chocolate & Bourbon Vanilla Steampunk Cupcakes
A chocolate and vanilla swirl cupcake base topped with creamy vanilla frosting and dark chocolate steampunk cogs and gears.
Print
Rate
Ingredients
for the chocolate vanilla swirl cupcakes
for the bourbon vanilla buttercream
for the dark chocolate steampunk cogs and gears
Affiliate Links
This recipe card may contain affiliate ingredient and equipment links. As an Amazon Associate I earn from qualifying purchases.
Instructions
Preheat oven to 180 C/ 160 C fan and line a 12 hole cupcake tin with large cases.

Weigh out the butter and caster sugar in the Thermocook bowl, put the lid on securely and PULSE in 7 second goes, scraping down the sides of the bowl as needed, until the mixture is light and fluffy.

Add the remaining ingredients except for the cocoa powder and extra plain flour and select CHOP for 20 second. Scrape down the sides and CHOP again for a further 5 seconds, if required.

Measure out half the batter (approximately 330 grams) into a medium sized bowl.

Add the cocoa powder to the Thermocook bowl and CHOP for 5 seconds.

Add the vanilla and remaining 25 grams of plain flour to the mixture you've poured out into a separate bowl and whisk until combined thoroughly.

Alternately spoon the mixture into the cupcake cases until they are 2/3 full. Using a wooden skewer, draw lines through the batter until it forms swirls.

Bake for 25 minutes until golden and springy to touch. Transfer to a wire rack to cool completely.

Meanwhile, clean out the bowl of the Thermocook and fill with a few inches of cold water. Select BOIL and switch off when the water has boiled.

Break your chocolate into a small heat proof bowl and cover tightly in foil. You don't want any water to get into the bowl.

Place the bowl into the larger steamer and select STEAM. The automatic setting is for 20 minutes, but you can pause it every now and again, leaving the lid off, so that the chocolate melts.

Search for steampunk gear and cog images on Google and print off designs that you like. Place the print -out underneath the clear silicone mould of your Lekue Decomat (or use greaseproof paper).

Pour the melted, slightly cooled, dark chocolate into the Decomat pen fitted with the small nozzle and trace your cogs and gears. Leave to harden in a cool place (I put mine outside!).

To prepare the Madagascan bourbon vanilla buttercream frosting, place all the ingredients in the bowl of the cooled Thermocook and select CHOP for 20 seconds. Scrape down the sides of the bowl and CHOP for a further 5 seconds.

Frost the cupcakes using a large star shape nozzle and decorate with the chocolate cogs and gears. Store in the refrigerator until ready to serve.
Notes
Calories per cupcake - 533
Environmental Information
Click here to view the detailed nutritional information for this recipe, as analyzed by My Fitness Pal.
OTHER CUPCAKE RECIPES YOU MIGHT LIKE
Wild Blueberry Cupcakes by Tin & Thyme
Rainbow Fairy Cakes by Foodie Quine
Salted Caramel Apple Cupcakes by Elizabeth's Kitchen Diary
S'Mores Cupcakes by Elizabeth's Kitchen Diary
Rhubarb Fairy Cake with Edible Flowers by Tin & Thyme
Roasted Beetroot and Raw Cacao Cupcakes by Elizabeth's Kitchen Diary
Chocolate Coffee Cupcakes with Chocolate and Coffee Swirl Buttercream by Elizabeth's Kitchen Diary
LINKING UP WITH A FEW FOOD BLOGGING CHALLENGES
Tasty Tuesdays by Honest Mum
Tea Time Treats by The Hedgecombers and Lavender & Lovage
Recipe of the Week by A Mummy Too
The #YumTum Linky from The Mummy Toolbox
#CookBlogShare by Sneaky Veg
Bake of the Week by Casa Costello


If you want to be kept up to date on my recipes, occasional craft tutorials, adventure stories and giveaways then please subscribe to my weekly newsletter; it gets sent out every Monday morning if there is new content. Your email address won't be passed on to anyone, you will never be spammed and you are free to unsubscribe at any time, no questions asked. Make sure you confirm your subscription or you won't receive the newsletter – if it hasn't arrived check your junk mail folder.
[wysija_form id="1″]
Elizabeth's Kitchen Diary is a Froothie Ambassador and she uses the Froothie Optimum 9400 blender, the Froothie Optimum 600 slow juicer and the Optimum ThermoCook to make many of her recipes. These are affiliate links, meaning if you buy a blender or juicer through them we will earn a small commission. This is not a paid post and all thoughts and opinions are our own.
This post also contains Amazon affiliate links highlighted in orange. Any purchase made through these links will earn us a small commission and you will be helping to support our family.
With thanks to Lekue for the Decomat and Bags of Love for the cake stand.