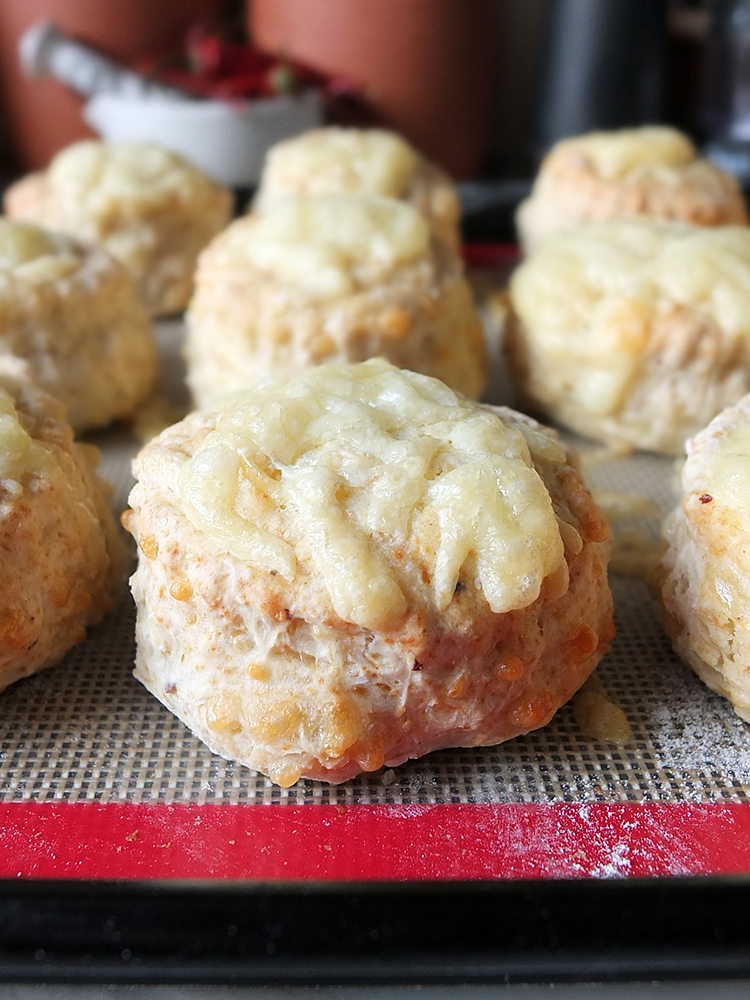 Scones were one of the first recipes I learned how to make as a child. Baking powder biscuits, they were called, back in the rural Cape Breton of my childhood. They were served warm with plenty of butter and, bizarrely enough, lashing of blackstrap molasses.
Oh my goodness gracious me what fond memories I have of those! Buttery fingers with blackstrap molasses dripping down the sides of the scone, waiting to be licked.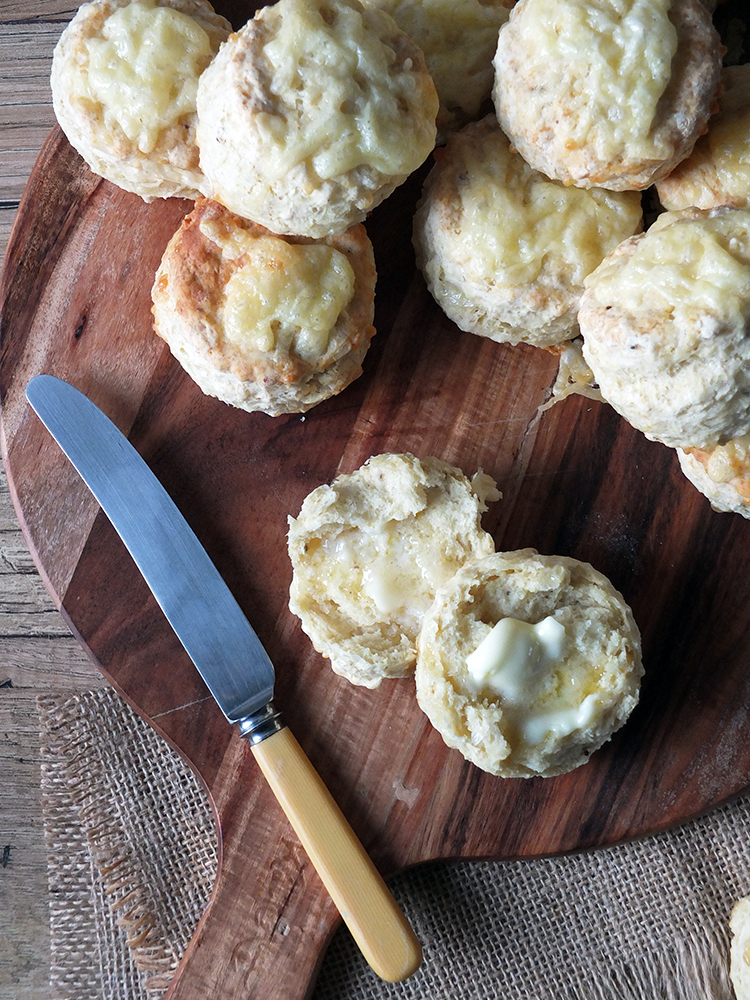 I found myself the other day with a few 100 gram packets of just out-of-date mature cheddar cheese from a Christmas cheese board needing to be used up. I was making some soup for lunch that day and quite fancied a buttery scone to serve, so I whipped up a batch of these mature cheddar and wholegrain mustard scones. By pure chance, there was enough daylight to even take some decent photographs!
The combination of sharp cheddar, wholegrain mustard and a splash of Worcestershire sauce makes for a rather delicious savory scone, ideal served with a hearty soup, or even on its own with an afternoon cup of tea.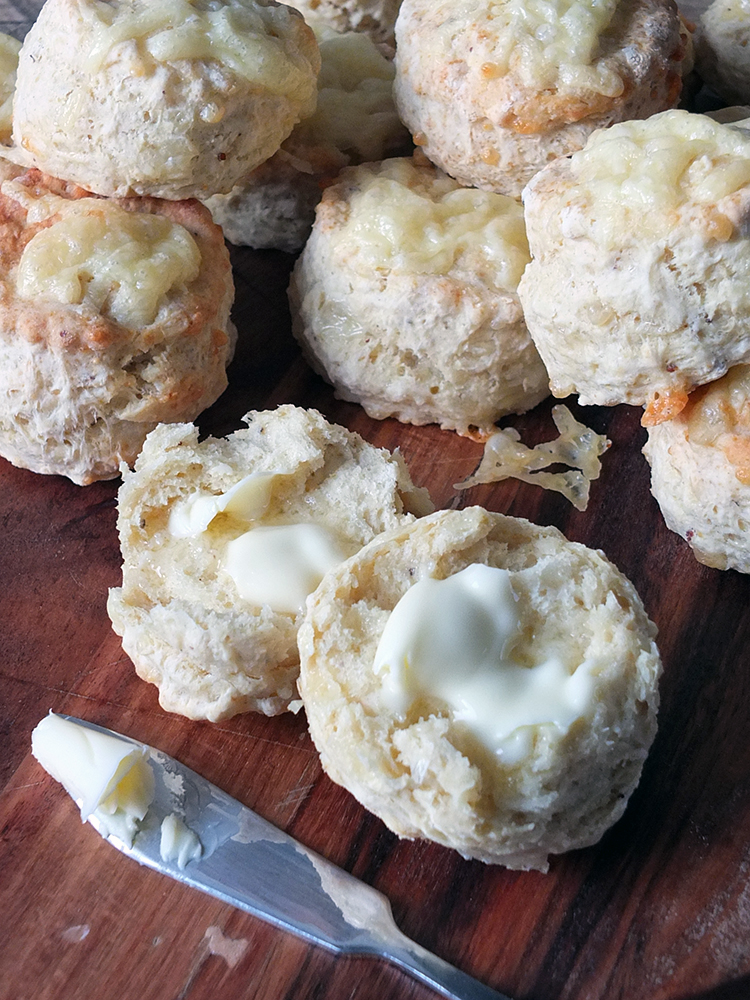 The remaining cheese was made into a mega batch of cheese sauce for the kids and their pasta obsession. I never measure, but it's made with equal quantities of butter, heated until bubbling, plain flour cooked into the butter for a minute, plenty of full fat milk, loads of grated cheddar, a spoonful of wholegrain mustard and a gentle sprinkling of cayenne pepper.
My cheese sauce recipe freezes very well, so there's a few quick meals for the kids made now for those days where I can't be bothered to cook. Simply reheat the sauce from frozen stir it into some cooked pasta and serve with some cherry tomatoes, kalamata olives and a sprinkling of parsley. Their favourite.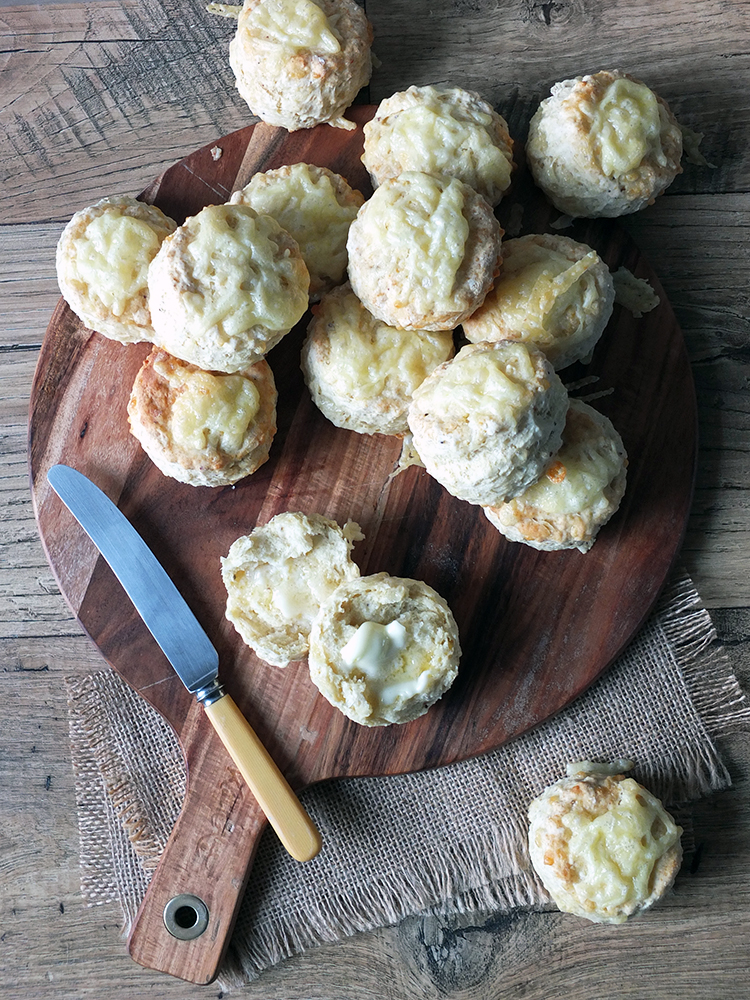 Do you have a favourite scone recipe, or a favourite topping? How do you eat your scones?
Let me know in the comments below!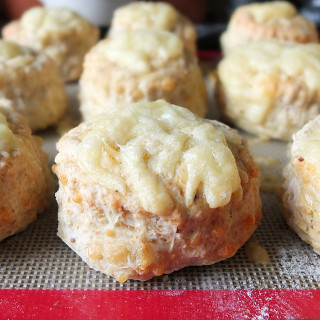 Mature Cheddar & Wholegrain Mustard Scones
A delicious savory scone flavoured with sharp mature cheddar cheese and wholegrain mustard.
Print
Rate
Affiliate Links
This recipe card may contain affiliate ingredient and equipment links. As an Amazon Associate I earn from qualifying purchases.
Instructions
Preheat oven to 190 C/ 170 C fan.

Using your fingertips, rub the butter into the flour until it resembles coarse bread crumbs.

Add the baking powder, bicarbonate of soda, salt, pepper and 100 grams of the grated mature cheddar and stir well.

Add the milk, mustard and the Worcestershire sauce and stir with a wooden spoon until it forms a soft dough.

Knead briefly and roll out to a 1.5 - 2 cm thickness on a floured board. Cut into rounds using a circular cutter and place onto the baking tray.

Sprinkle with the remaining grated cheddar cheese and bake in the centre of the oven for 12-15 minutes, until the cheese on top is golden and bubbly.

Transfer to a wire rack to cool completely and store in an airtight container.
Environmental Information
Click here to view the nutritional information for this recipe.
OTHER SCONE RECIPES YOU MIGHT LIKE
Black Cherry & Cinnamon Scones by Foodie Quine
Baking Powder Biscuits by Knead Whine
Classic Plain Scones by The Coriander Queen
Polenta & Cheese Scones by Family, Friends, Food
Cheese, Ham & Potato Scones by Fab Food 4 All
Raspberry & Almond Scone Slice by Casa Costello
Mrs. Beeton's Scones by Kavey Eats
Cardamom and Lemon Scones by Recipes from a Pantry
Cheese Scones in Cyprus by Tinned Tomatoes
LINKING UP WITH SOME BLOGGING CHALLENGES
Credit Crunch Munch with Fab Food 4 All and Fuss Free Flavours
No Waste Food Challenge by Elizabeth's Kitchen Diary


If you want to be kept up to date on my recipes, occasional craft tutorials, adventure stories and giveaways then please subscribe to my weekly newsletter; it gets sent out every Monday morning if there is new content. Your email address won't be passed on to anyone, you will never be spammed and you are free to unsubscribe at any time, no questions asked. Make sure you confirm your subscription or you won't receive the newsletter – if it hasn't arrived check your junk mail folder.
[wysija_form id="1″]