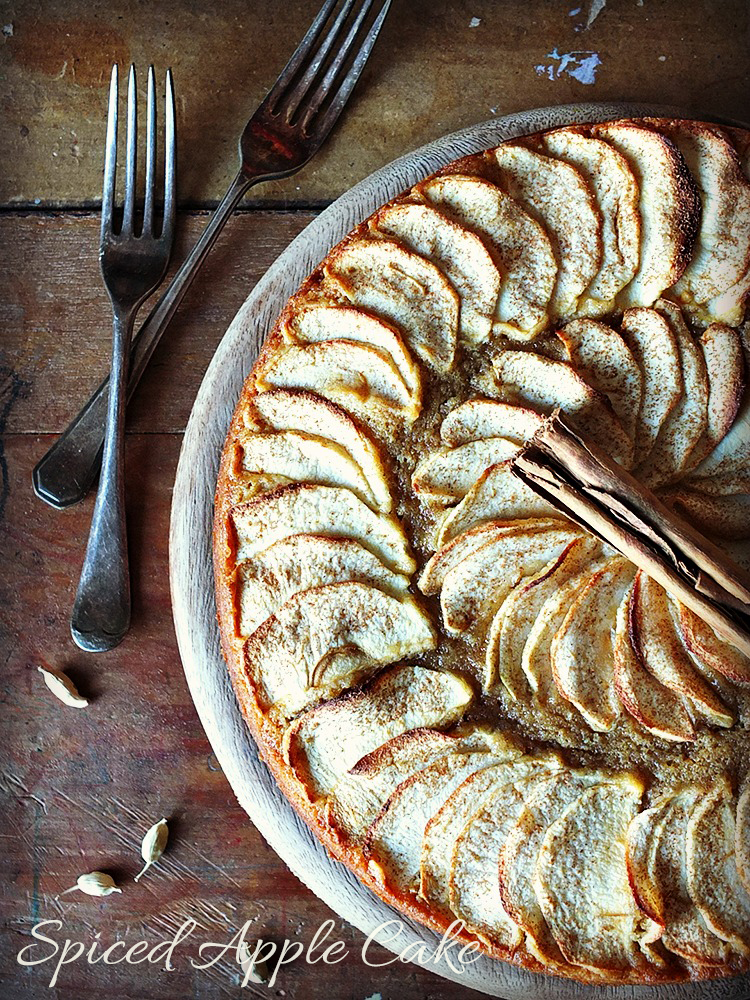 I dreamt about apple cake last night.
True story.
This is likely because I had set aside today, Sunday, to deal with the contents of my refrigerator. This included three beautiful Bramley apples I'd requested my teenage son buy for me the other day for a commissioned recipe, and then decided not to use.
It's been an incredibly busy few weeks here in my kitchen with loads of projects and deadlines. Don't get me wrong, I love the fact that I do this for a living, but right now I'm feeling like everything I've been making and writing about has been brand-led, leaving very little time for just experimenting, playing in the kitchen and blogging for the sheer fun of it.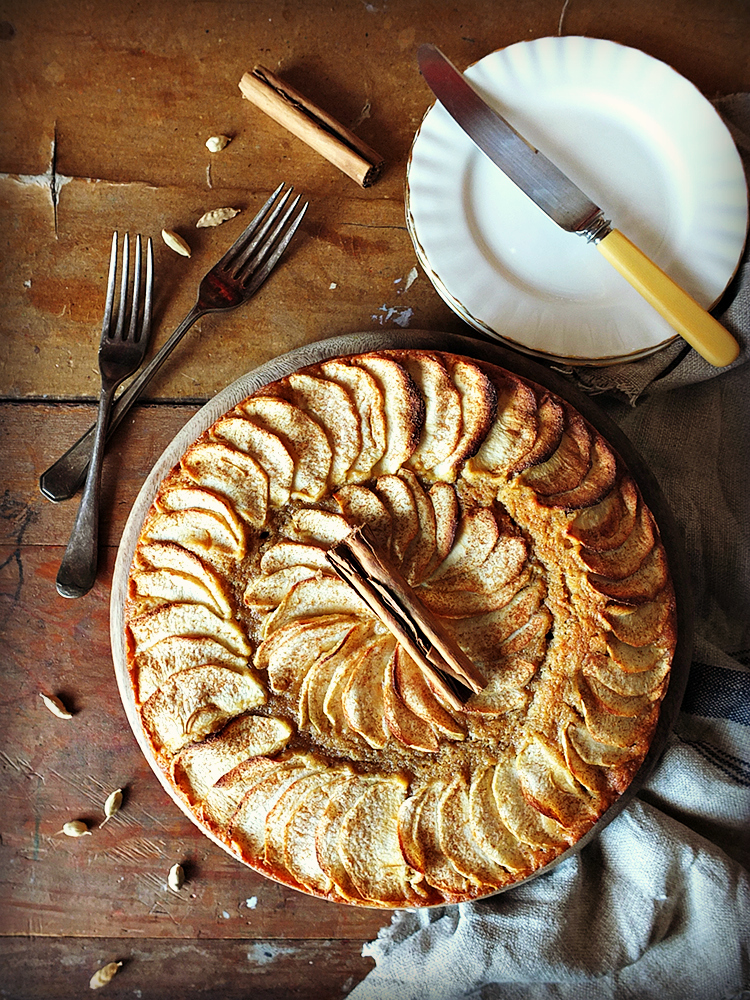 There might have been a fair few frozen pizzas consumed over the last few weeks as I tried to meet deadlines.
Sorry, family.
Nonetheless, I'm reasonably caught up with things now which means more time for getting creative in the kitchen, and using up the contents of my fridge.
I started with this spiced apple cake, a recipe I adapted from one found in Signe Johansen's Scandilicious. The original recipe calls for plain and wholegrain spelt flours and soured cream, none of which I had. I did have plain flour and the very end of a bag of rye flour, and some thick set natural yogurt instead.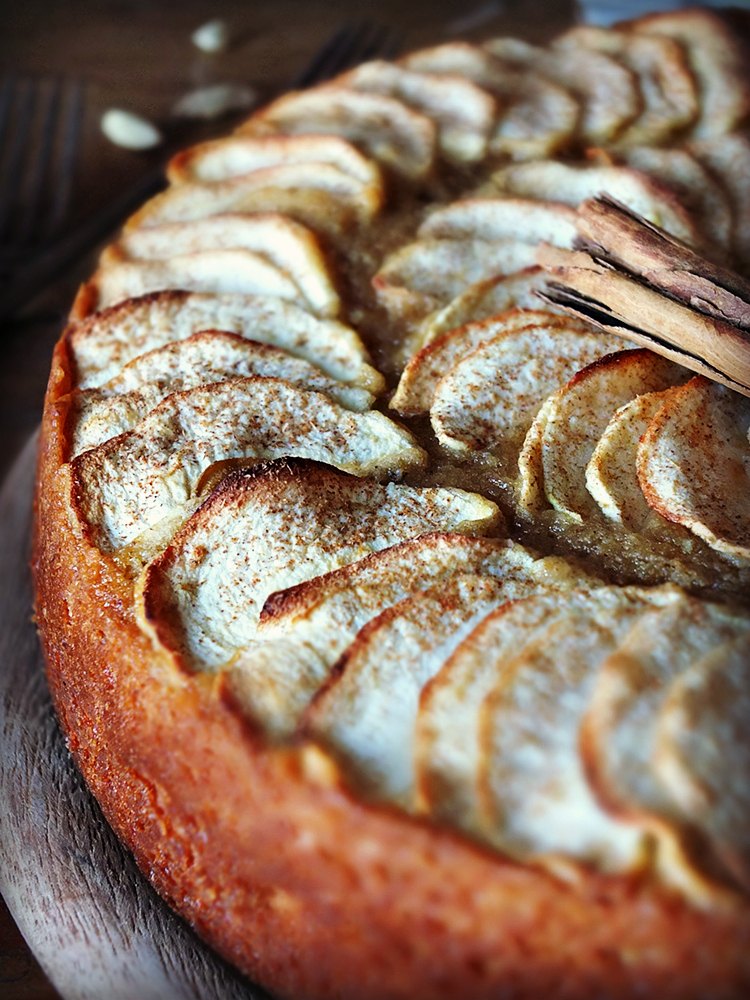 These were wholly successful recipe substitutions, resulting in a deliciously warming spiced apple cake, perfect with an afternoon cup of tea on this dark and stormy Sunday. We're currently being blasted by an ice cold Arctic wind, and a slice (or two) of this cake is just what is needed.
I also used freshly ground nutmeg and cardamom for this recipe. Not because I like making more work for myself, but because I never buy the ready ground versions. For as often as I use nutmeg and cardamom I prefer to keep the whole spices on hand and grind them if and when they are needed.
It totally works.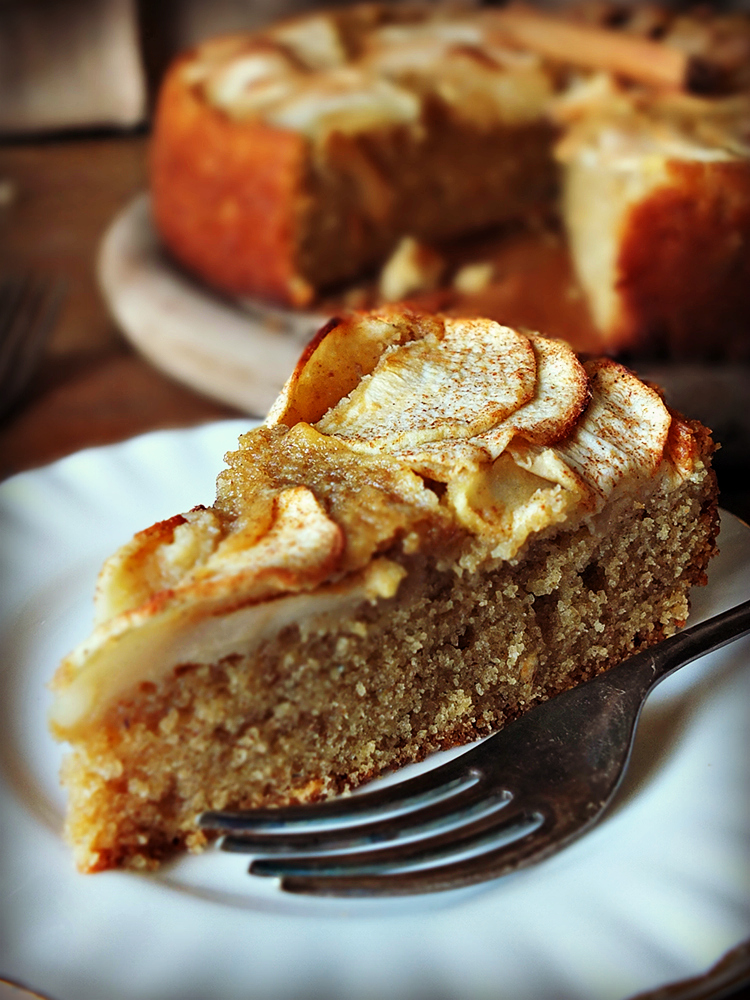 Other things I've made today (I'm feeling all domestic goddess so I want to show off and tell you!):
Shetland hill lamb is currently in the slow cooker with some Shetland grown onions, garlic and fennel. This will be served with some boiled Shetland potatoes and some mashed buttery Shetland carrots and some locally grown steamed spinach on the side (see a theme here? I'm trying to use up the contents of my veg box!).
Beetroot ketchup made with roasted Shetland beetroot, the other half of the Bramley apple left over from making this cake, purple carrot and some beet root tops (not sure if this has worked yet – will have burgers this week and find out!). I adapted Kate's recipe at The Veg Space for my experiment.
Batch cooked tomato pasta sauce using up loads of over ripe heirloom plum tomatoes, leeks, courgette, onion, garlic and the most of two small jars of sun dried tomatoes in oil and roasted peppers in oil (needing used up), as well as some spices. I'll freeze this in smaller batches for use over the winter.
Bread rolls – pictured below, to serve with our lamb dinner.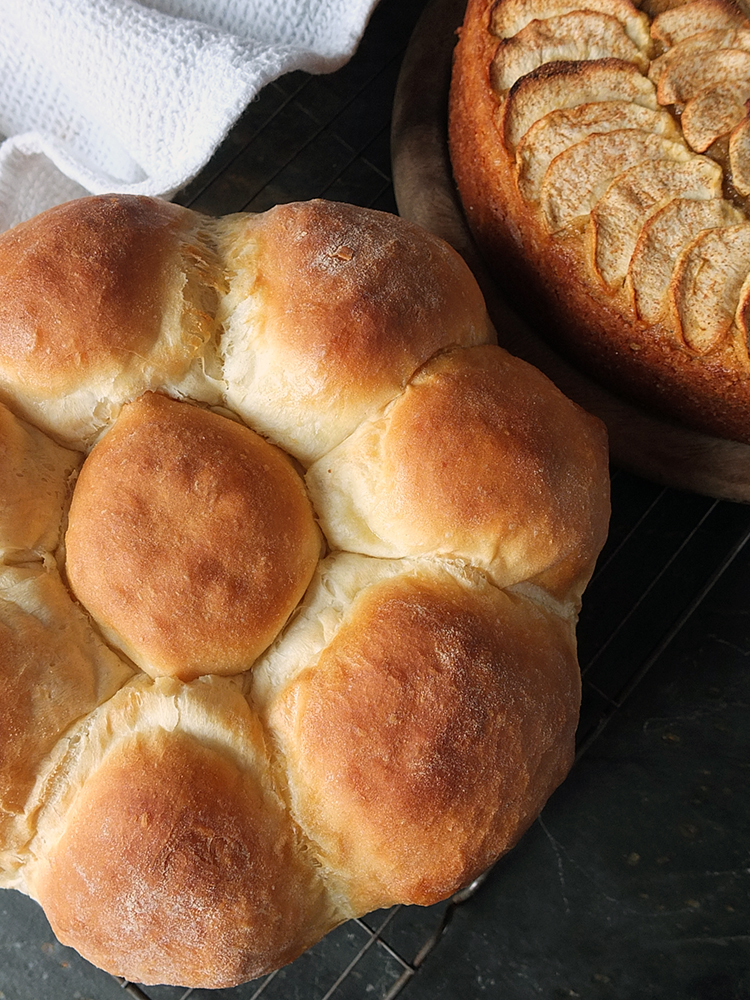 Oh, I should also probably fess up and say I was playing around in PicMonkey with these photographs (all but the bread rolls one). Two clicks – auto adjust and the Urbane filter and bam – instant drool-worthy images from photographs taken in rainy-day poor light.
What are your favourite recipes for using up the contents of your fridge, or for those super cold winter days like today (I know it's only just turned Autumn but it feels like winter!)? Let me know in the comments!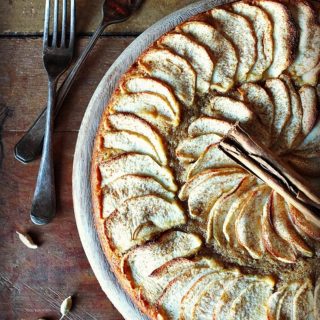 Spiced Apple Cake
A deliciously spiced apple cake recipe slightly adapted from a recipe found in Signe Johansen's Scandinavian cookery book Scandilicious.
Print
Rate
Affiliate Links
This recipe card may contain affiliate ingredient and equipment links. As an Amazon Associate I earn from qualifying purchases.
Instructions
Preheat oven to 160 C fan/ 180 C and lightly grease and line a 22 cm round cake tin.

Cream together the butter and sugar until light and fluffy and then add the eggs, one at a time, with a spoonful of the flour, beating well.

Sift over the flours, raising agents, spices and salt and add the yogurt. Beat well and spoon into the prepared baking tin.

Peel, core and finely slice the apples, arranging in a circular pattern starting from the outside and working your way in to the centre.

Sprinkle with extra cinnamon and bake in the centre of the oven for 30-35 minutes (according to the original recipe). My fan oven required an hour to bake the cake fully.

Leave to cool in the tin for 10 minutes before transferring to a wire rack to cool completely. Store in an airtight tin for 2-3 days.
Environmental Information
OTHER APPLE CAKE RECIPES YOU MIGHT LIKE
Apple Cake by Planet Veggie
Date, Apple & Walnut Loaf by Rough Measures
Oaty Apple Traybake (Vegan) by The Veg Space
Honey Apple Cardamom Mini Bundt Cakes by Tin & Thyme
Apple Cinnamon Streusel Bundt by Casa Costello
Spiced Apple & Ginger Cake by Farmersgirl Kitchen
SHARING WITH SOME BLOGGING LINKIES
Tea Time Treats by Lavender & Lovage, Travels for Taste and Jo's Kitchen
Recipe of the Week by A Mummy Too
No Waste Food Challenge by Elizabeth's Kitchen Diary
Love Cake (Bake Local) by Jibber Jabber UK (my recipe used local eggs)
[color-box]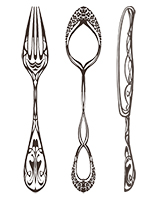 Have you made this recipe?
Take a photo and tag @tangoraindrop or use the hashtag #elizabethskitchendiary and share on Instagram and Twitter. It would make my day to see your creations!
[/color-box]