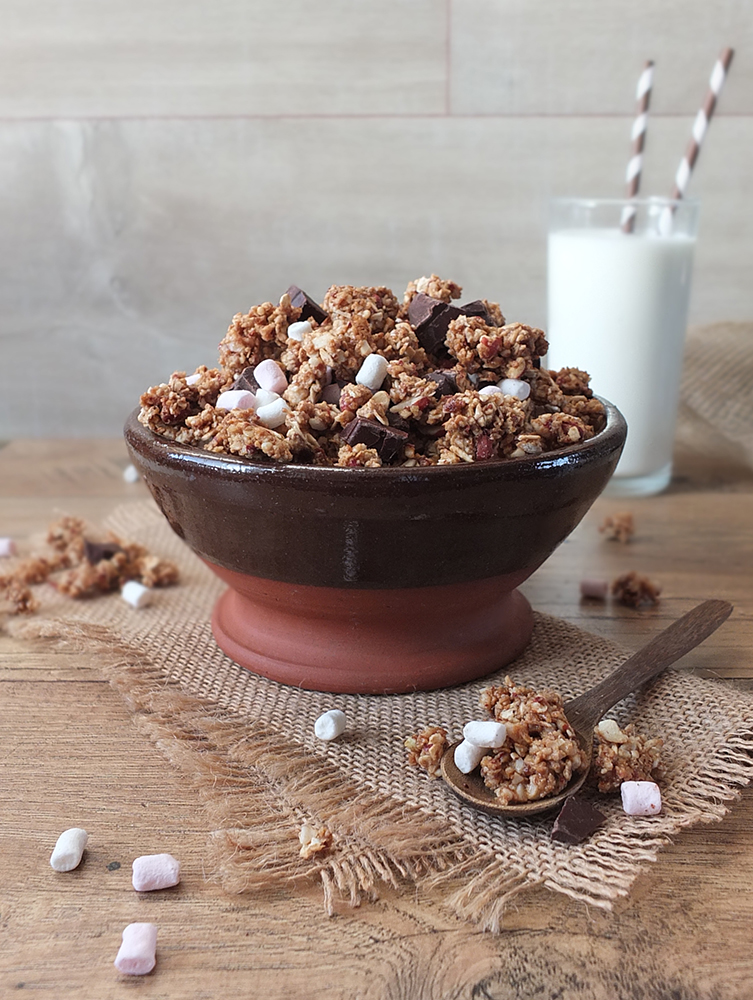 My husband is an ectomorph, bless his 69% merino wool Smartwool socks. This means that it doesn't matter what or how much he eats he just doesn't put on weight.
Sometimes I stare at him from the other side of the dinner table, nibbling on yet another low calorie salad, glaring at him while he, and the kids, enjoy something ooey gooey and smothered in cheese.
Me, I just need to look at a chocolate bar and suddenly my hips are 1.5 inches wider.
It's not his fault, he's just blessed with a high metabolism and good genes.
I'm pretty sure somewhere along the line walrus dna was introduced into my gene pool considering the rate at which I can lay down blubber.
But enough of that.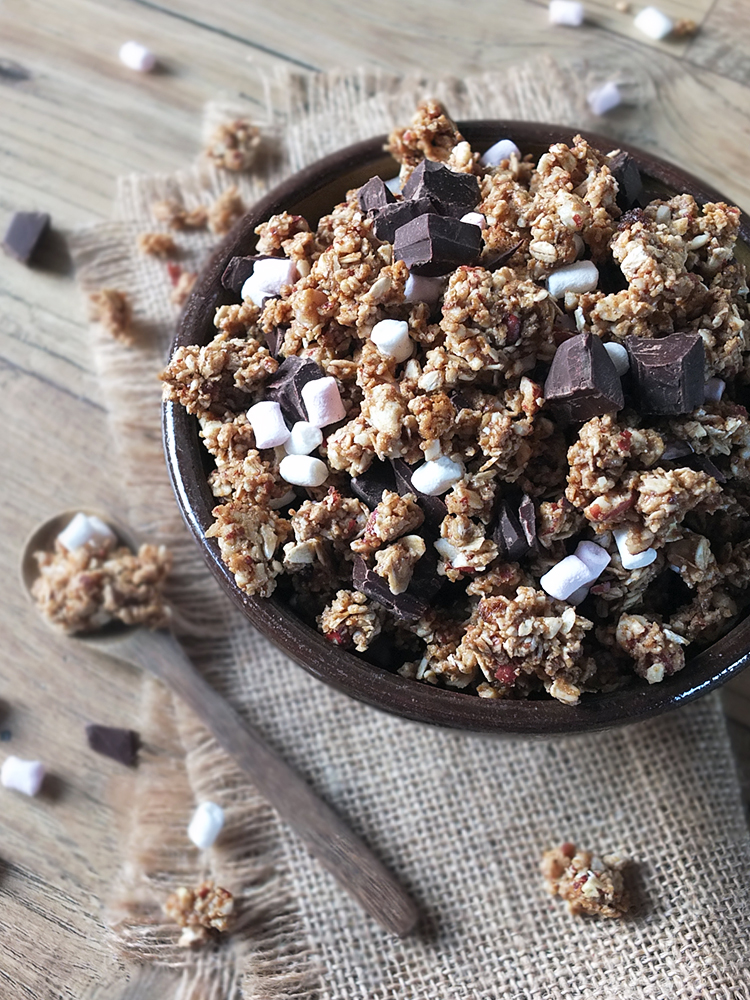 My husband likes granola with his yogurt in the morning. We'd run out of the coconut almond granola clusters with blueberries I made last week. The conversation went something like this:
"Do we have any granola?" he asks. <rummaging sounds emerge from the pantry>
"No, it's all gone," I reply.
<two minutes later>
"Is there any granola left?" he asks again. <more rummaging sounds emerge from the pantry>
"No, it's all gone!" I reply, again.
<even more rummaging sounds emerge from the pantry>
"There's no granola left!!" I say even louder (he's getting older, you see. His hearing isn't what it used to be).
"I know!!!!"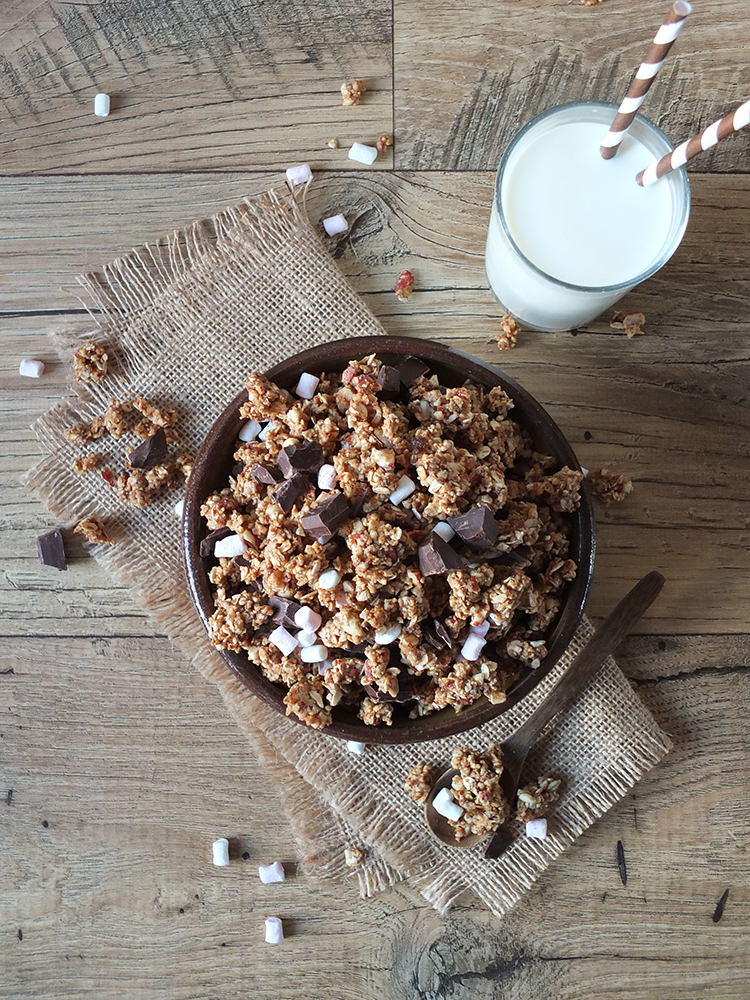 Sheesh. Men!
After dropping the kids off at school I went out for a brisk morning walk in the glorious, glorious sunshine (a rare occurrence this time of year in Shetland). I was in a Fitbit Workweek Hustle Challenge with a bunch of people I don't know in Australia and this guy (Carlos H) kept getting 15- 20,000 steps ahead of me each night as I slept.
I had until 1 pm that day to beat him, so I was determined to get my 20,000 step goal before noon.
While briskly walking I mentally scanned the contents of my larder, wondering what kind of granola I could make for my husband. Something calorific. Something that would appeal to his sweet tooth.
I remembered a container of micro marshmallows I'd bought to make decorate some s'mores cupcakes awhile back and then that was that. The idea for s'mores granola clusters was born!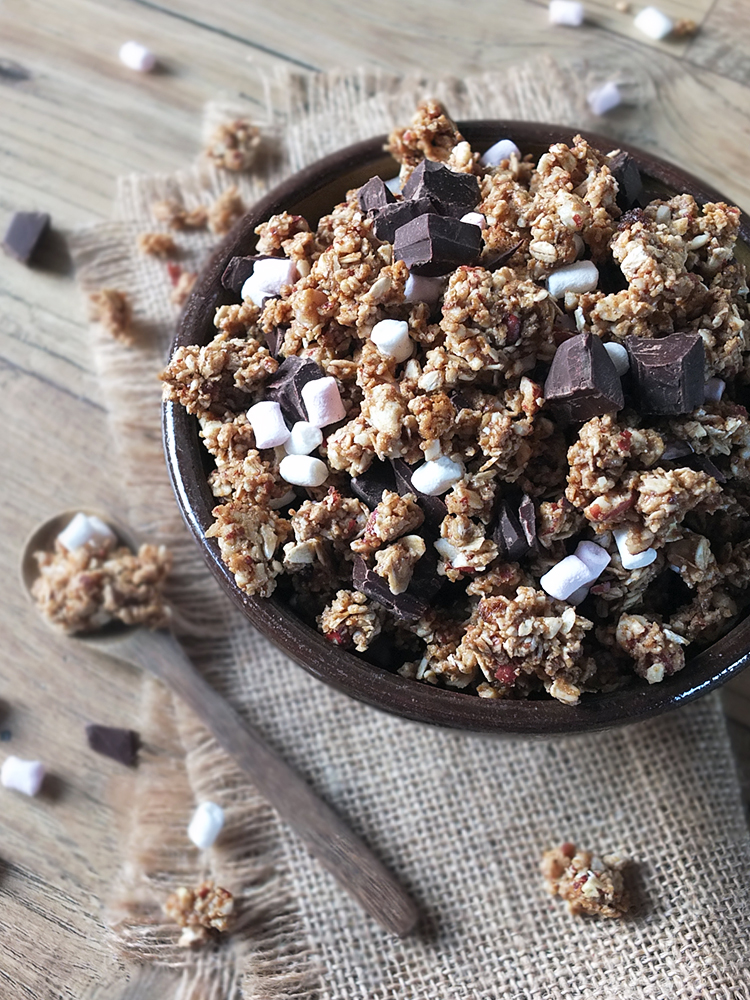 I'm beginning to think that I was taught to make s'mores a little bit differently than a lot of people. The way I was taught, while out camping with a stereotypical North American children's summer camps of my childhood, was to spread peanut butter onto the bottoms of two graham crackers, stick chocolate chips onto the peanut butter and then sandwich some marshmallows in between. Wrap in foil and place close to the flames of your campfire so that everything melts into lovely ooey gooey awesomeness.
A lot of the recipes for s'mores I see on the interwebs don't include peanut butter.
For me, peanut butter is an integral part of the s'more assembly – how else do you get the chocolate to stick to the graham cracker?!
So here's the recipe I came up with for some s'mores granola clusters. My family love it (especially the kids who are delighted to get chocolate in their breakfast!).
ps. I won that Workweek Hustle Challenge by nearly 6000 steps. Not that I'm competitive at all. No. Uh-uh.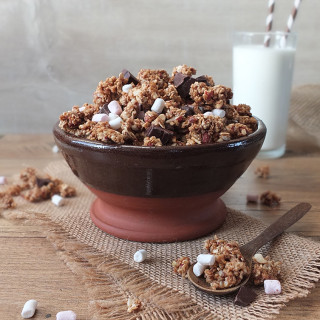 S'mores Granola Clusters
Brown sugar and peanut butter coated oatmeal clusters with mini marshmallows and dark chocolate. An indulgent breakfast treat!
Print
Rate
Affiliate Links
This recipe card may contain affiliate ingredient and equipment links. As an Amazon Associate I earn from qualifying purchases.
Instructions
Preheat oven to 150 C/ 140 C (fan) and place a silicone baking mat or piece of baking paper on the bottom of a large baking tray.

Place the peanuts into a blender and pulse until they are coarsely chopped.

Add the oats, sugar and salt to the chopped peanuts and pulse again for 10 seconds or so until everything is mixed and the oats are chopped but still have some texture.

Whisk the peanut butter into the sunflower oil until smooth.

Whisk the egg white until light and frothy, and stir in the peanut butter and oil.

Add the oat mixture to the egg white mixture and stir to coat well.

Spread out on a single layer on the baking tray and bake for 20-25 minutes, stirring once or twice, until the granola is light golden and holding shape well.

Leave to cool on the baking tray and then stir in the coarsely chopped dark chocolate and the marshmallows.

Store in an airtight container.
Notes
127 kcal per 25 gram serving. See below for detailed nutrition information as analyzed by My Fitness Pal.
Environmental Information
Click here to view the nutritional information for this recipe.
OTHER S'MORES INSPIRED RECIPES YOU MIGHT LIKE
S'mores Cupcakes by Elizabeth's Kitchen Diary
Peanut Butter & Jelly Oreo S'more by Fab Food 4 All
Healthier S'mores Smoothie by Fuss Free Flavours
Scottish S'mores aka BBQ'd Tunnocks Teacakes by Foodie Quine
S'mores Chocolate Fudge by Kerry Cooks
S'mores Bars by Made With Pink
S'mores Banana Boats by Munchies & Munchkins


If you want to be kept up to date on my recipes, occasional craft tutorials, adventure stories and giveaways then please subscribe to my weekly newsletter; it gets sent out every Monday morning if there is new content. Your email address won't be passed on to anyone, you will never be spammed and you are free to unsubscribe at any time, no questions asked. Make sure you confirm your subscription or you won't receive the newsletter – if it hasn't arrived check your junk mail folder.
[wysija_form id="1″]
Elizabeth's Kitchen Diary is a Froothie Ambassador and she uses the Froothie Optimum 9400 blender, the Froothie Optimum 600 slow juicer and the Optimum ThermoCook to make many of her recipes. These are affiliate links, meaning if you buy a blender or juicer through them we will earn a small commission. This is not a paid post and all thoughts and opinions are our own.