In collaboration with Tasty Easy Lamb.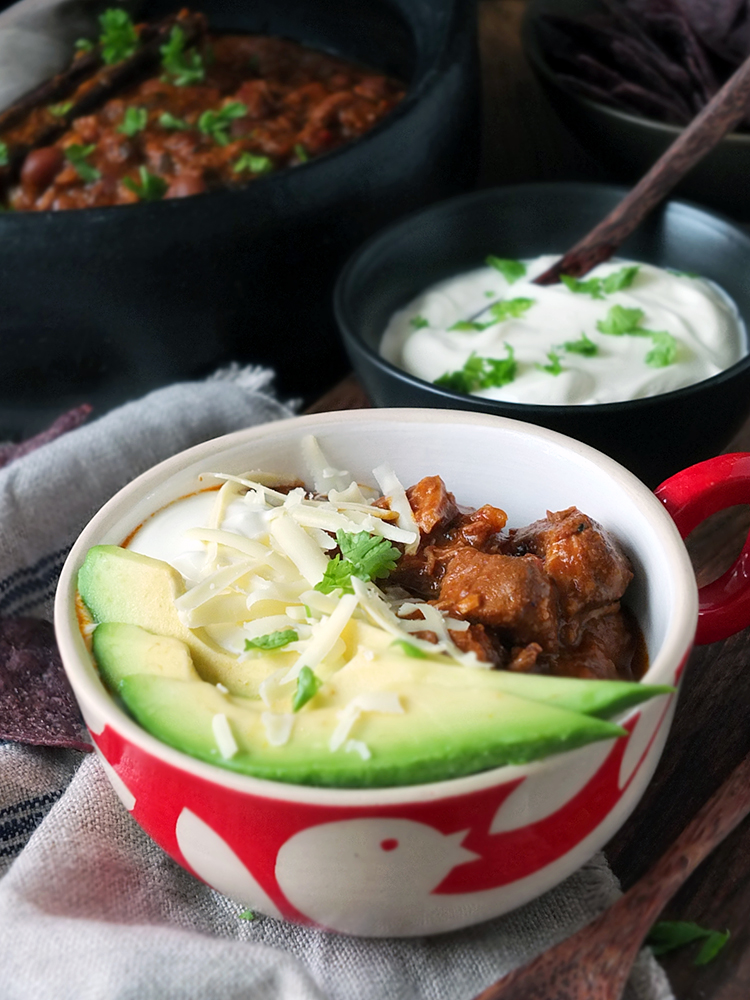 I love a proper, hearty bowl of chilli, me. I also like my chilli to have a rich depth of flavour. It's pointless to just bung loads of hot chilli powder into a beef mince base and chuck in a tin of red kidney beans, I feel. I want layers of flavour. I want texture. I want warmth without an overpowering heat. I also don't want to water down these tastes with plain rice – just give me the meat please.
So, let me introduce you to my slow cooker lamb chilli recipe with pasilla peppers.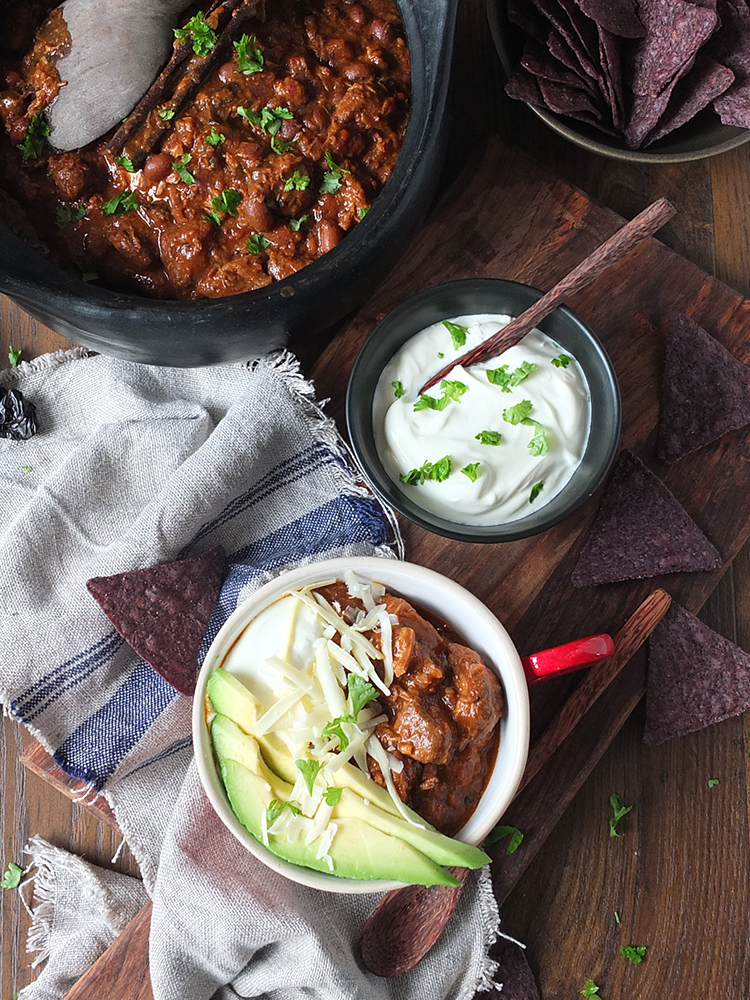 This recipe was borne after I discovered a packet of dried pasilla peppers in the reduced section of my local supermarket. I'd never heard of these chillies before so I immediately bought them. I love trying new things. Pasilla peppers, dried chilaca peppers, originate in southern Mexico where they grow to 8-10 inches long before they are dried and sold throughout the US, UK and Mexico. With a rich, smoky taste it adds a delicious warming flavour to duck or lamb recipes. With a mild to medium heat it lends itself very well to chilli.
I cook a lot of lamb recipes, so I set to experimenting and I have to say, this resulting slow cooker dish is out of this world!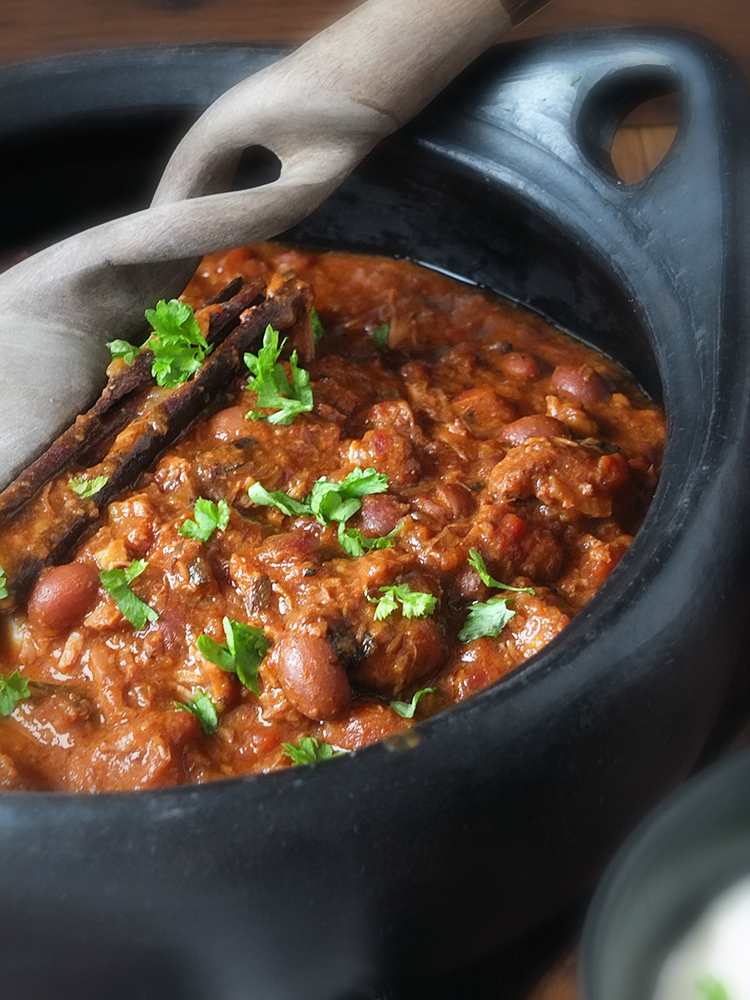 You might be wondering why I've attributed this recipe to being inspired by South American flavours, given that I've used a Mexican chilli. Well, for starters, living on a tiny rock in the middle of the North Sea means I don't have ready access to a wide range of traditional dried South American chillies. The southern part of Mexico was part of Mesoamerica, inhabited by the Mayans way back when, so it's as close as I could get.
The rest of the dish, however, is inspired by the flavours of South America. Chilli con carne, as we know it, has its origins in Texas, but the South Americans have been eating dishes of meat with beans, tomatoes and chilli back to the times of the Mayans, Incas and Aztecs. The Spanish introduced lamb to the Incas when they explored the area, while cargamanto beans, a native of Columbia, are the grandmother of the borlotti bean as we know them. I've used these chubby red beans instead of the usual kidney bean in my recipe, but feel free to use kidney beans if you prefer them.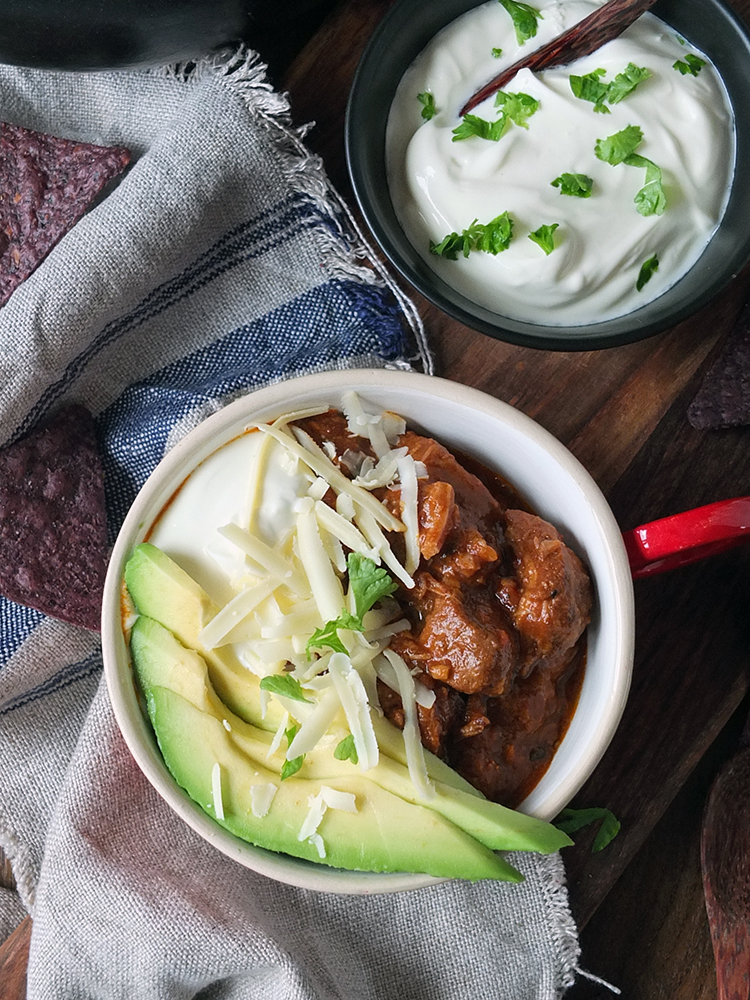 To finish everything off I've added a little bit of dark chocolate to the mixture, an ingredient treasured by the Aztecs and Mayans.  I confess that the soured cream and grated mature cheddar toppings are not particularly authentic, but that's how I like my chilli, served with a few slices of avocado and some tortilla chips.
I even managed to find some blue corn tortilla chips in my supermarket recently, a crop originally grown in South America. Win!
All in all, I have to confess this is one of the best chilli recipes I have ever, ever made. Rich, warming and delicious even the children had seconds (and thirds!). When using a slow cooker I believe in making a big batch and freezing any extras into individual portions, hence my use of a kilo of lamb. Leftovers defrost and reheat very well.
For more lamb recipe inspiration visit the Tasty Easy Lamb website, and follow them on Facebook, Twitter or Instagram.
What's your favourite chilli topping? Let me know in the comments!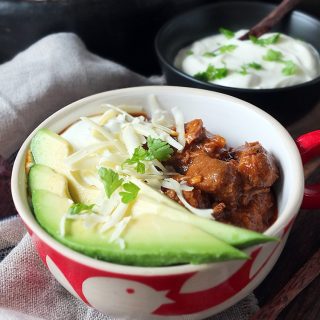 Slow Cooker Lamb Chilli with Pasilla Peppers
A rich and delicious lamb chilli recipe inspired by the flavours of South America.
Print
Rate
Affiliate Links
This recipe card may contain affiliate ingredient and equipment links. As an Amazon Associate I earn from qualifying purchases.
Instructions
Boil a kettle and pour enough hot water over your dried pasilla chilli to cover. Set aside to rehydrate for 15 minutes while you prepare the rest of the ingredients.

Place the flour in a large bowl and season well with sea salt and freshly ground black pepper.

Dredge the pieces of cubed lamb shoulder in the seasoned flour and set aside.

Heat 10 grams of the butter in a large saute pan and brown 1/4 of the meat on all sides. Transfer to a slow cooker. Repeat with the remaining meat.

Heat the remaining butter in the saute pan and add the onion, garlic and cumin seeds. Fry for five minutes or so until the onion begins to soften.

Add the tomato puree and lamb stock and stir well, scraping up any browned bits that might have stuck to the bottom of the pan. Add the tinned tomatoes and stir well.

Transfer the tomato mixture to the slow cooker and add the cinnamon sticks.

Drain and finely chop the rehydrated pasilla chilli, discarding the stem. Pop the lid on the slow cooker and set the timer on low for 6-8 hours.

15 minutes before you are ready to serve add the drained and washed borlotti beans and dark chocolate, broken into pieces, and allow it to melt into the chilli, stirring well.

Serve the chilli in bowls with a spoonful of soured cream, some sliced avocado and some mature cheddar cheese with some blue corn tortilla chips on the side.
Notes
Make your own lamb stock. It's cheaper to buy a whole lamb shoulder in the bone rather than ready cut cubed lamb. Carefully cut the lamb off the bone and use it in this lamb chilli recipe. Meanwhile, preheat your oven to 200C/400 F/gas mark 6. Arrange the bones with little bits of meat still stuck to them on a roasting tin. Halve two unpeeled onions (or quarter them, depending on the size), and add to the tin. Halve two carrots, lengthwise, and a few stalks of celery. Roast everything for 45 minutes. Transfer to a large stock pot, cover with cold water, bring to the boil and then skim. Reduce the heat and simmer with the lid on for 6-7 hours (or until your chilli is done). Strain and freeze the lamb stock in 300 ml batches for use in your next chilli recipe.
[amazon_link asins='B0077B5L8Q,B00L2YGEQ2′ template='ProductCarousel' store='elizskitcdiar-21′ marketplace='UK' link_id='de0d6832-2f36-11e8-a0e7-d5af6e73fe82′]
[color-box]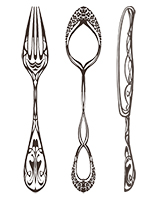 Have you made this recipe?
Take a photo and tag @tangoraindrop or use the hashtag #elizabethskitchendiary and share on Instagram and Twitter. It would make my day to see your creations!
[/color-box]
OTHER LAMB RECIPES YOU MIGHT LIKE
Argentine-inspired Lamb Chops with Chimichurri
Lamb Casserole with Ale
Pistachio & Orange Crusted Lamb Mini Roast
Mamta Gupta's Meatball Curry
Slow Cooked Shetland Lamb Casserole with Creamy Herbed Polenta
Pastitsio – Greek Macaroni Pie
OTHER CHILLI RECIPES YOU MIGHT LIKE
Slow Cooker Beef Chilli con Carne by Supper in the Suburbs
Chicken Chilli by Recipes from a Pantry
SHARING WITH SOME LINKIES
Slow Cooked Challenge by Farmersgirl Kitchen and BakingQueen74
SHOP THIS POST
4.7 Litre Crock-Pot Slow Cooker
Whole Dried Pasilla Chillies
Blue Corn Tortilla Chips
Tierra Negra Casserole Dish
Hand-crafted Handled Soup Bowl
Coco Wood Spoons
This is a commissioned recipe post for Tasty Easy Lamb, although, as always, all thoughts and opinions expressed are our own. Thank you for supporting the brands who make it possible for me to do what I love – mess up my kitchen and share recipe stories.