Ready in under 20 minutes this chocolate chip skillet cookie recipe hits the spot when you get that craving for warm, homemade chocolate chip cookies, but you don't want a whole batch.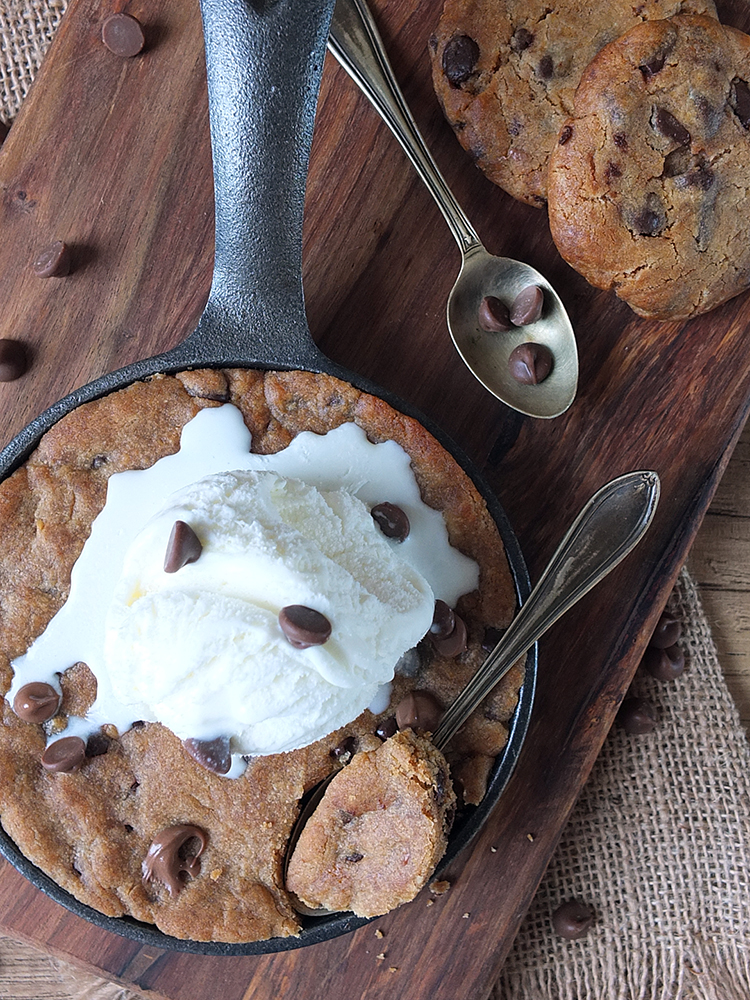 This is my contribution to the online recipe bank for Valentine's Day this year. A chocolate chip skillet cookie recipe, ready in under twenty minutes, for two. Or one, because sometimes it just needs to be done. Maybe you don't have anyone to share a Valentine's Day dessert with. Maybe you don't want to share your Valentine's Day dessert with anyone. It happens. It's ok.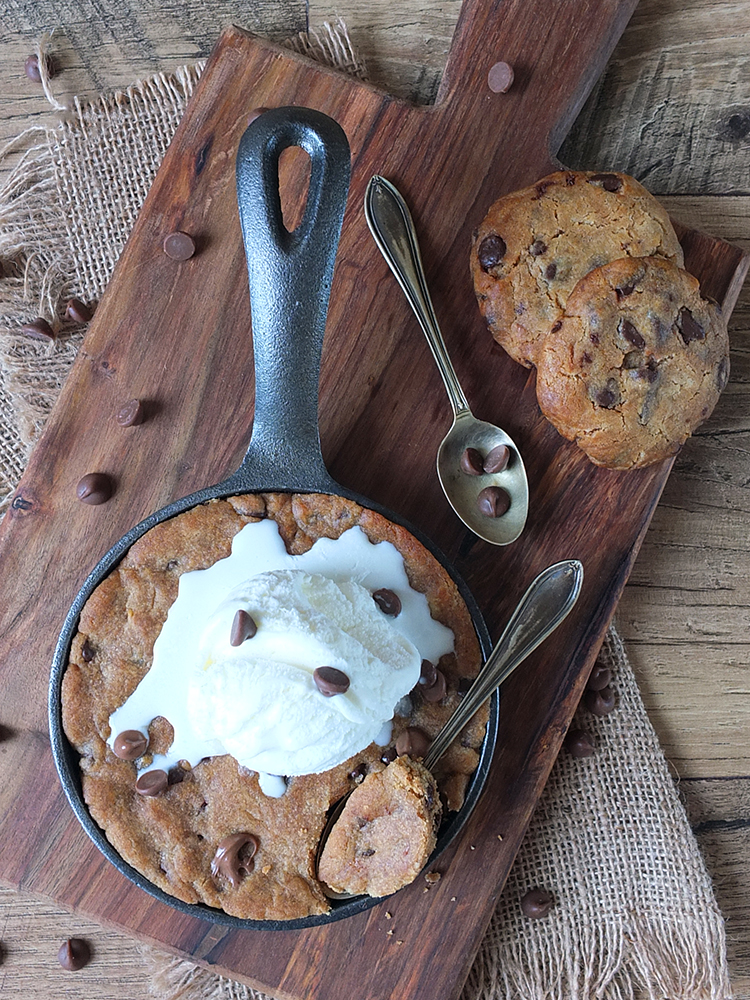 I have a great fondness for cast iron, so last year while browsing the shops in town for stocking fillers for my family, I found this adorable little five inch cast iron skillet; part of a baking kit from a well-known chocolate company. I promptly bought it for myself. I ate the chocolates and resolved to experiment with skillet cookie recipes.
Skillet cookies are, intriguingly, a thing. I've been seeing them all over the internet these last few years and have watched, with perplexed interest. Why would you make a giant cookie in a skillet? Why not just bake them on a tray like normal?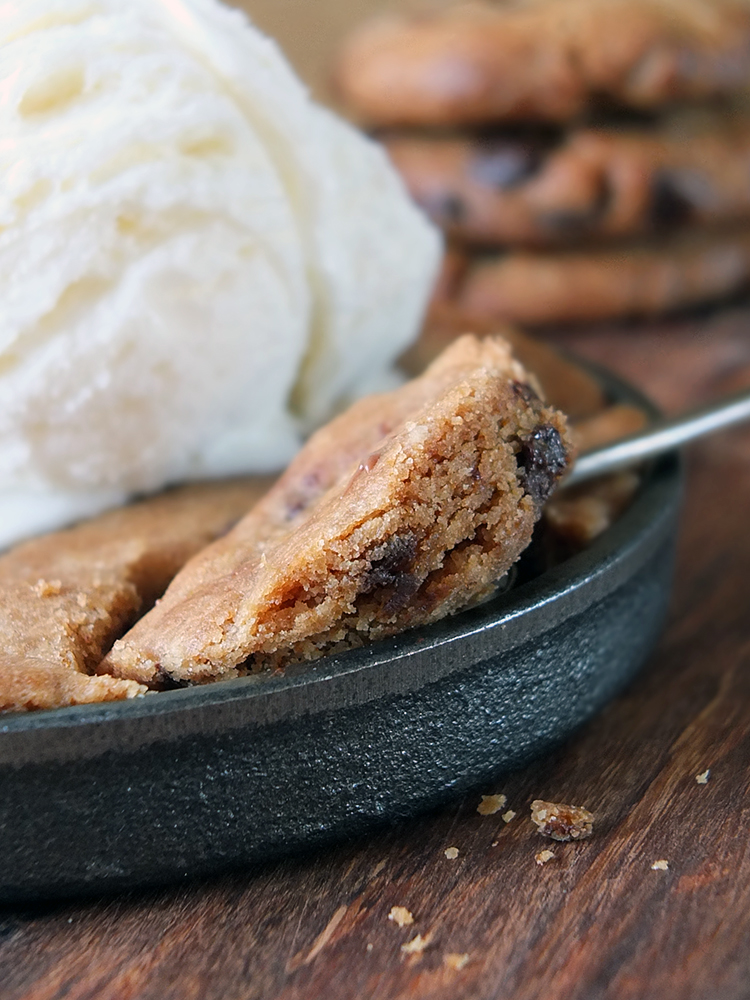 We are all well aware that warm chocolate chip cookies are a thing to. Well, they're a thing for me, at least. So, resolving to give this whole skillet cookie a try I tweaked the original recipe that came with my cookie skillet and this chocolate chip skillet cookie for two (or one!) was born.
This recipe takes only minutes to prepare. Say, it's late evening and you've wandered to the kitchen with a little cookie craving. You pop the kettle on and browse the cupboards – there's nothing there to be scoffed except some slightly stale rice cakes (it happens!). Make this cookie. Measure out the butter, leave it to soften for a minute on the cooling down hob you've just boiled your kettle on while you prepare the dry ingredients. Twenty minutes later you'll have a freshly baked warm chocolate chip cookie in a pan you can eat straight out of.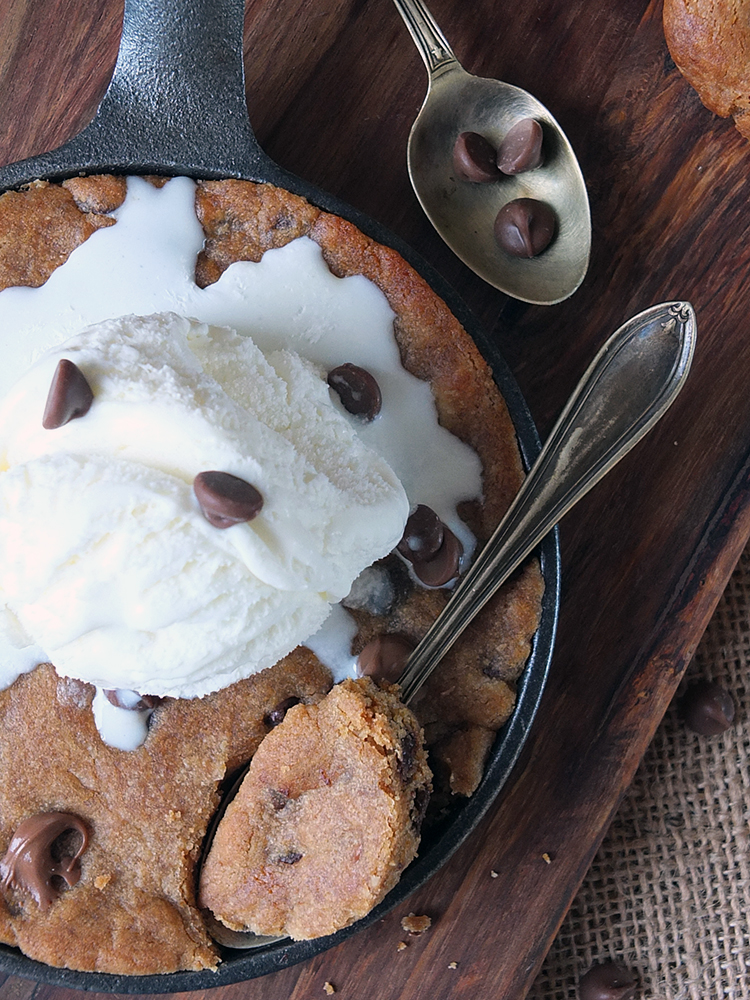 Serve warm with a scoop of vanilla ice cream, a squeeze of chocolate sauce or anything else you fancy. Eat the cookie straight out of the pan it's cool enough to handle – lay the skillet on a serving platter to make this easier if you want.
Note – these cookies do not keep. They do not contain egg so they are a crispier cookie than usual if left to cool. They're meant to eat still warm, just out of the oven.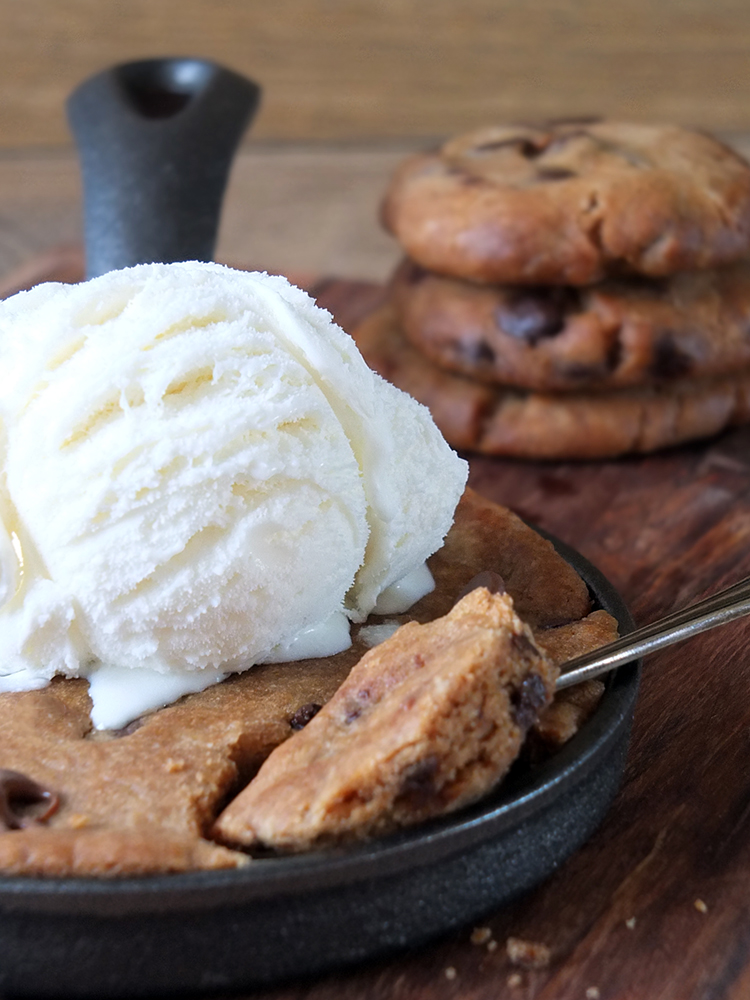 If you don't own a small enough cast iron skillet you could just divide the dough into four pieces and bake on a cookie tray as usual. Leave them rounded for a thicker cookie with a softer, more chewy centre, or flatten them to make a crispy chocolate chip cookie perfect for dunking into tea or hot chocolate (as pictured above).
What's your favourite late night quick and easy go-to baking recipe? Let me know in the comments!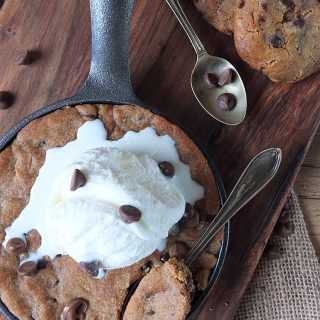 Chocolate Chip Skillet Cookie for Two
Ready in under 20 minutes this chocolate chip skillet cookie recipe hits the spot when you get that craving for warm, homemade chocolate chip cookies.
Print
Rate
Affiliate Links
This recipe card may contain affiliate ingredient and equipment links. As an Amazon Associate I earn from qualifying purchases.
Instructions
Preheat oven to 170 C fan/ 190 C/ 375 F/ Gas mark 5. Lightly grease a five inch mini cast iron skillet with a little vegetable fat.

Mix together the flour, bicarbonate of soda and brown sugar.

Add the softened butter (half melted works fine - just pop it onto the hob after you've boiled a kettle for a cup of tea for a minute to two while you're preparing the dry ingredients), the vanilla and the golden syrup.

Using a fork, combine the ingredients until they form a dough.

Add the chocolate chips and, using your hands, smoosh it together to form a chocolate chip cookie dough ball. If it looks a bit too moist (ie: you melted all of the butter instead of just melting half and leaving the other half really soft) pop it into the fridge for ten minutes or so.

Press the dough into the prepared skillet and bake in the centre of the oven for 12-15 minutes, until the edges of the cookie are golden.

Leave the cookie to cool in the skillet until it's warm enough to touch, and then serve with a scoop of vanilla ice cream, extra chocolate chips, chocolate syrup, oh, whatever takes your fancy. Share with someone else (or not!).
Environmental Information
Click here to view the nutritional information for this recipe (cookie only)
[amazon_link asins='B000LXA9YI,B0000VLU1W,B004IT5F6S' template='ProductCarousel' store='elizskitcdiar-21′ marketplace='UK' link_id='85da8721-37f0-11e8-b360-03f52ebd16f2′]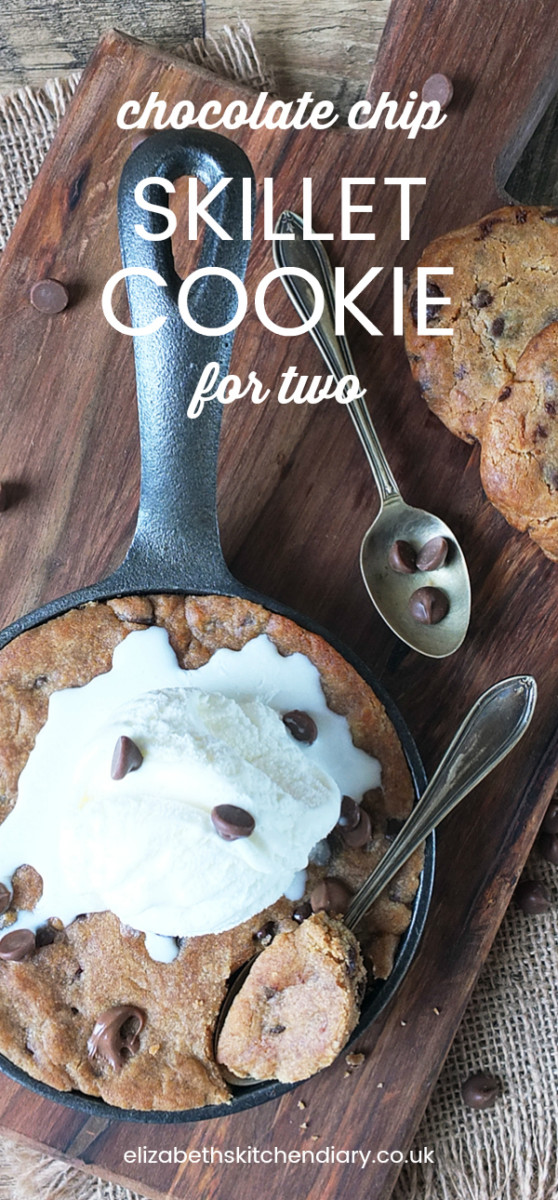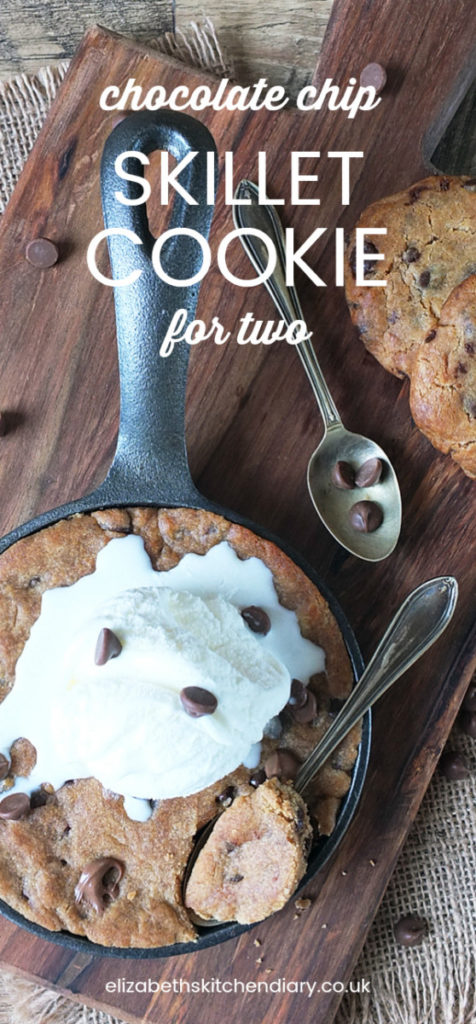 [color-box]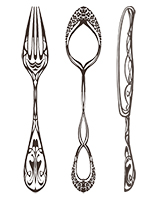 Have you made this recipe?
Take a photo and tag @tangoraindrop or use the hashtag #elizabethskitchendiary and share on Instagram and Twitter. It would make my day to see your creations!
[/color-box]