A recipe using the new Knorr Flavour Pots.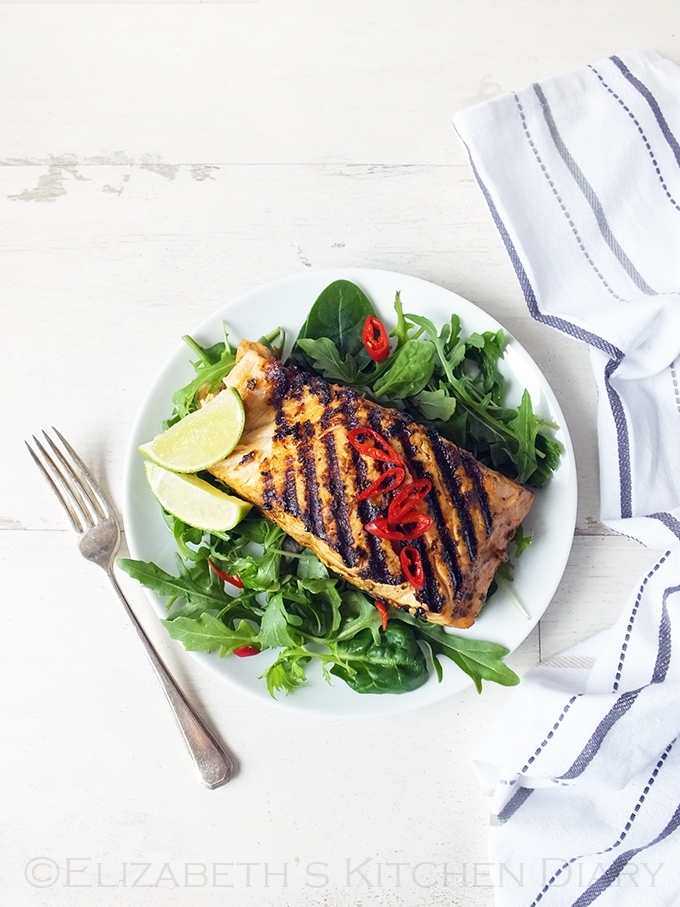 There are times when something quick and nutritious is needed for dinner. After a long day's work the last thing you want to do (ok, the last thing I want to do!) is start faffing about with preparing a long list of ingredients. Although I usually prefer to cook from scratch it is not entirely unknown for me to open a jar or sauce, or utilise some other time saving technique in the kitchen, so when I was recently sent a selection of the Knorr Flavour Pots to play with I was absolutely delighted!
I'm on a mission to eat healthier and lose the few extra pounds I put on last year, so my meals these days tend to be quite simple and lower on the calories (it's easier to keep track that way!). This morning I picked up a piece of gorgeous Shetland salmon in my rural local shop – salmon grown, harvested and processed here on my island home. It's the finest salmon out there, I insist, but then I'm a bit biased living here.
The Knorr Flavour Pots are part of their seasoning range, developed to capture the flavour and intense aroma of fresh herbs and spices in a convenient pot.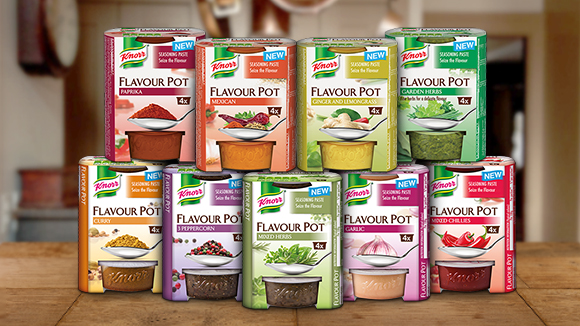 Knorr Flavour Pots have just collected first prize in the Sauce & Seasoning category for this year's Product of the Year awards. The range features nine different tantalising flavours, including Mixed Herbs, Three Peppercorn, Curry, Garlic, Mixed Chillies, Garden Herbs, Ginger & Lemongrass, Paprika, and Mexican.
To celebrate this Knorr has challenged selected food bloggers to take part in their Knorr Flavour Pot – Product of the Year challenge! To get us inspired we were sent a food hamper filled with the whole new range of flavour pots and assorted ingredients (see my Instagram snap of my hamper contents!), plus a supermarket voucher to buy extra ingredients.
I'll likely be getting creative with the rest of the flavour pots, but the first one I tried was the Ginger and Lemongrass – and oh wow, what a success for so very little effort!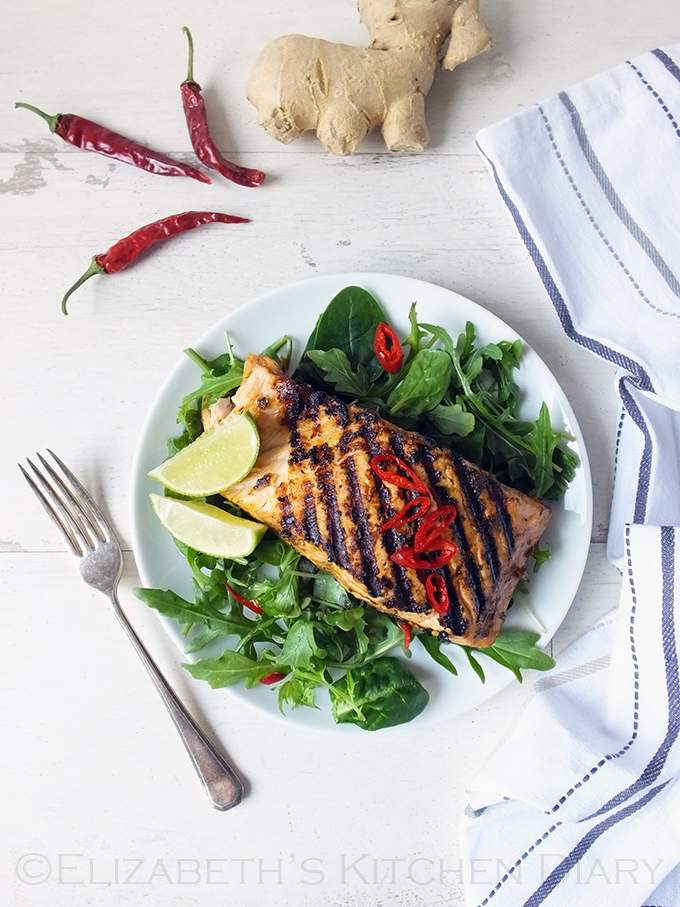 The ginger and lemongrass Flavour Pot is a blend of ginger, garlic, cayenne, coriander, cardamom, onion, Kaffir lime, aniseed, lemongrass and chilli. Its suggested use is to season Asian-style dishes or to replace ginger or lemongrass in recipes. To make a marinade for my Shetland salmon I mixed the contents of one flavour pot (which is rather thick) with flavourless oil and a splash of tamari soy sauce. Both salmon and marinade were placed in a ziplock bag to infuse for an hour or so while I got on with the housework, and then all I needed to do was heat a lightly oiled grill pan, sear on both sides and serve with a simple leafy rocket/arugula salad, sliced red chilli and lime wedges.
It was so good I may have thought about licking the plate! My recipe serves two, but the marinade would easily serve four, but depending on the size of your salmon fillets you might need to add a drop more oil to make sure everything gets covered.
Knorr Flavour Pots can be found on most supermarket shelves next to the spices and stock cubes.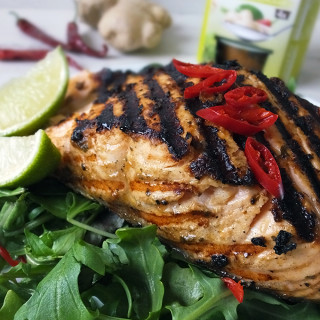 Grilled Shetland Salmon with Ginger & Lemongrass
A quick midweek dinner idea using the new Knorr Ginger & Lemongrass Flavour Pot
Print
Rate
Ingredients
275

grams

Shetland salmon fillets

1

tbsp

sunflower oil

rocket and baby leaf salad

to serve

1

lime

cut into wedges, to serve

1

fresh red chilli

finely sliced, to serve
Affiliate Links
This recipe card may contain affiliate ingredient and equipment links. As an Amazon Associate I earn from qualifying purchases.
Instructions
Combine contents of the Knorr Ginger & Lemongrass Flavour Pot with the oil and soy sauce in a small bowl. Whisk until combined and spoon into a ziplock bag.

Add the salmon fillets to the bag, push the air out and seal, making sure the salmon is well coated.

Leave to marinade for an hour or so.

Brush a cast iron grill pan with a little oil and heat on medium-high.

Place the salmon fillet, skin side up, on the hot grill for 4-5 minutes. Turn and cook on the other side for another 4-5 minutes, depending on the thickness of the fillet.

Serve immediately with a fresh rocket salad, lime wedges and finely sliced red chilli.
Environmental Information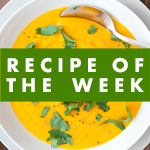 OTHER SALMON RECIPES YOU MIGHT LIKE
Steamed salmon and cauliflower risotto from Fuss Free Flavours (also, read her review of the Flavour Pots!)
Marinated Norwegian salmon with asparagus, shiitake mushroom, sesame seed and rice noodle salad by Signe Johansen
Saumon en papillote by Croque Maman
Norwegian Gravalax  or Quick Herbal Pepper Salmon by Coffee & Vanilla
Easy Lemon, Garlic & Rosemary Salmon by Hungry, Healthy, Happy
Bacon Wrapped Salmon by Fab Food 4 All
If you want to be kept up to date on my recipes, occasional craft tutorials, adventure stories and giveaways then please subscribe to my weekly newsletter; it gets sent out every Monday morning if there is new content. Your email address won't be passed on to anyone, you will never be spammed and you are free to unsubscribe at any time, no questions asked. Make sure you confirm your subscription or you won't receive the newsletter – if it hasn't arrived check your junk mail folder.
[wysija_form id="1″]
Elizabeth's Kitchen Diary received a hamper of ingredients including the whole range of Knorr Flavour Pots and a supermarket voucher to write this post. All thoughts and opinions expressed are our own. This post is my entry into the Knorr Flavour Pots #ProductoftheYear competition.