In collaboration with Heinz [Seriously] Good Mayonnaise.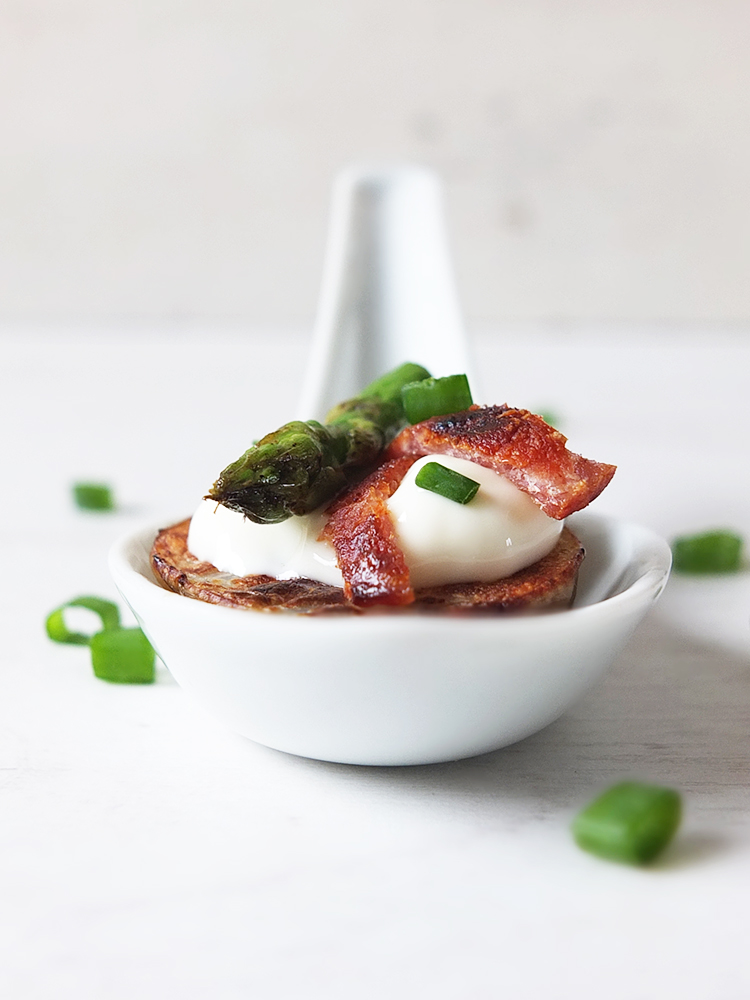 I confess, when I was growing up in Canada mayonnaise was not one of those things that regularly appeared on the menu. In fact, I actively avoided it as it was this strange, unsual condiment and I really had no idea what I was supposed to do with it.
It wasn't until I immigrated to the UK and was introduced to the concept of dipping one's hot chunky oven chips into a great dollop of cold, straight out of the fridge, mayonnaise, that I became a firm convert.
Mayonnaise is one of my store cupboard essentials. I use it in tuna sandwiches, for making devilled eggs, for mixing with low fat yogurt to make a soured cream subsitute (I can never get soured cream in my village shop) and, of course, for dunking oven chips into. Nothing else will do, except for perhaps Heinz tomato sauce.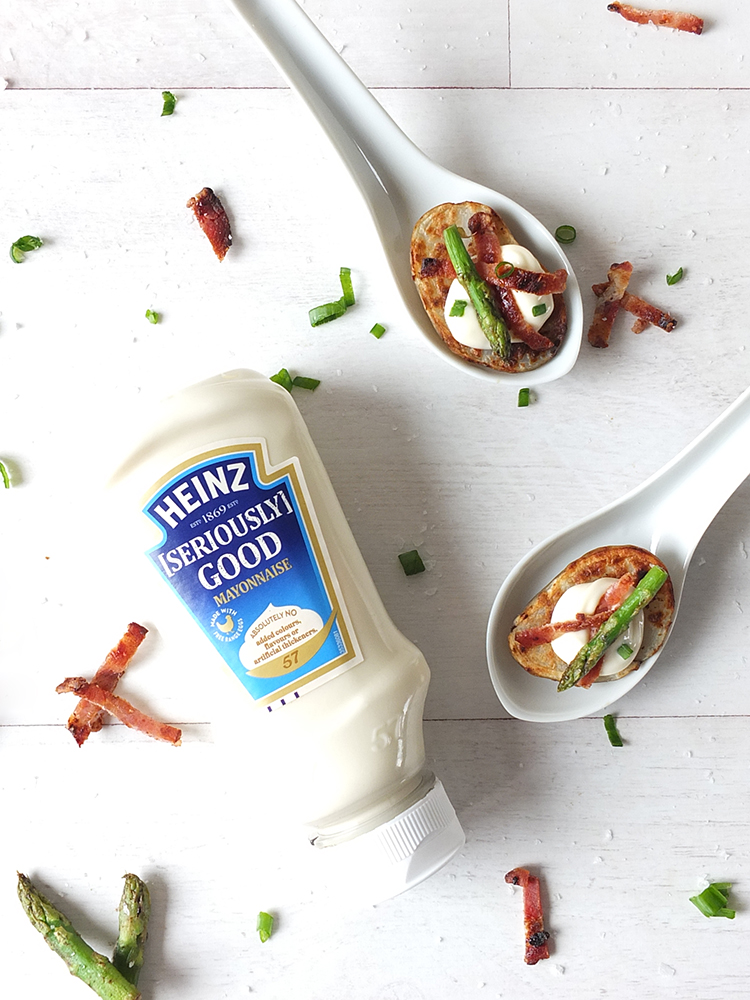 Heinz have recently launched their own [Seriously] Good mayonnaise in supermarkets up and down the country (Tesco, Asda and Sainsburys, to be specific), and let me tell you, it really does live up to its name.
Smooth, deliciously thick and creamy with a rich mayonnaise flavour it's ideal for all your favourite sandwiches, potato salads and, of course, chip dunking. Containing only high quality ingredients and absolutely no added colours, flavours or artificial thickeners this mayonnaise can transform everyday meals into something [Seriously] amazing.
To celebrate the launch of their mayonnaise Heinz are on a nationwide search for the best tasting recipes. They want to know if you've got what it takes to create a delectable dish that will fit on a spoon – a tasty mouthful, if you please.
To find out how to enter visit seriouslygoodspoonfuls.co.uk.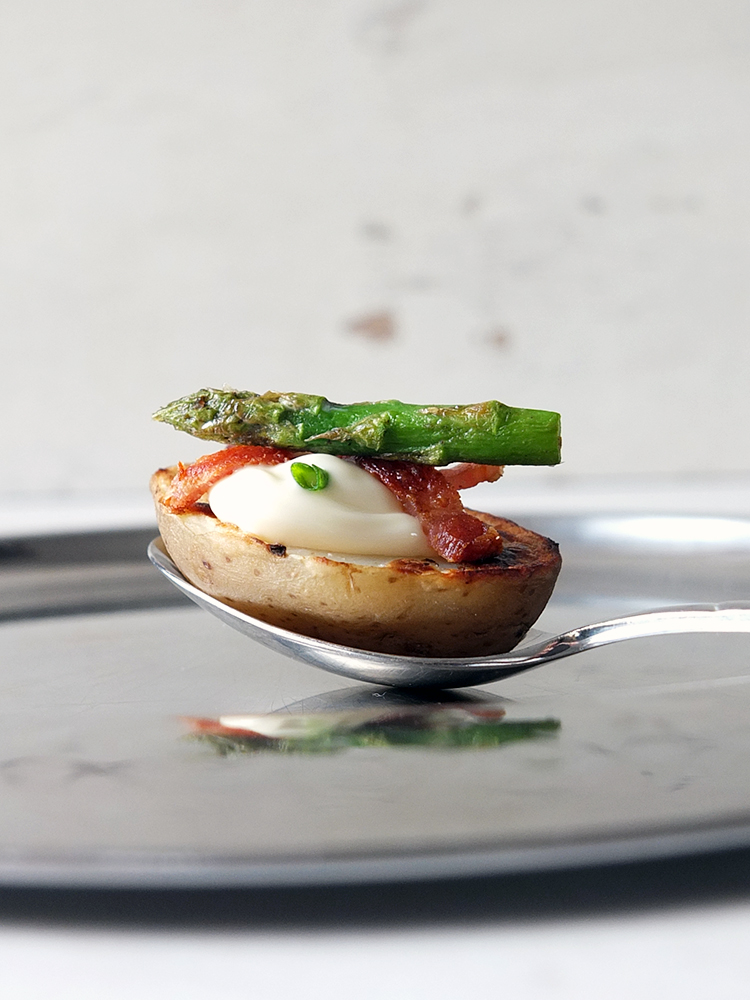 Me, I've gone for a new potato canapé with bacon and asparagus. Keeping it simple. When you've got mayonnaise this [Seriously] Good you don't need anything extra. The flavours speak for themselves.
For this recipe new potatoes are boiled until tender in salted water and allowed to cool. I fried up a few rashers of bacon, set them aside to cool, and then fried asparagus tips in the hot b
acon grease in plenty of Maldon sea salt. The cooled potatoes were then halved and the cut sides were fried in the salty bacon grease and then turned upright, squirted with a dollop of delicious creamy mayo and topped with bacon and asparagus. Spring onions were sprinkled over as a garnish.
Delicious, hot or cold!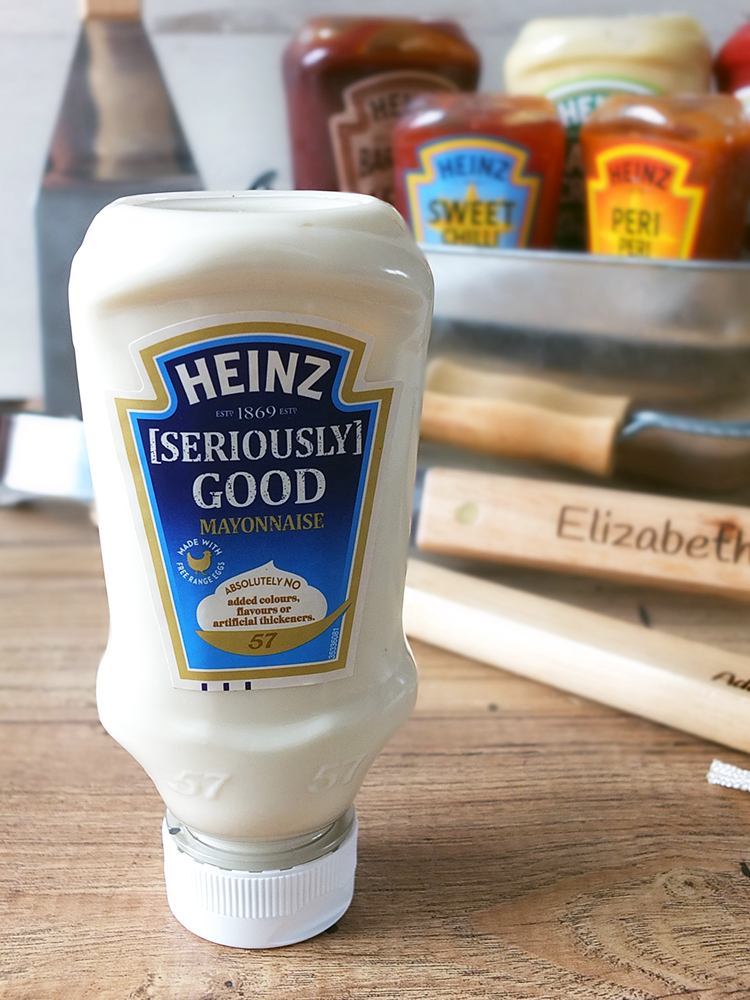 Have you tried the new Heinz [Seriously] Good mayonnaise? What did you think? What's your favourite way to serve mayonnaise? Let me know in the comments!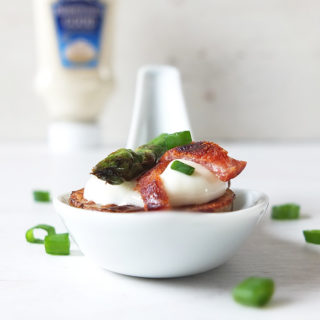 Potato Canapés with Bacon and Asparagus
A simple canapé for a BBQ, serve hot or cold!
Print
Rate
Ingredients
24

asparagus

tips only

2

spring onions
Affiliate Links
This recipe card may contain affiliate ingredient and equipment links. As an Amazon Associate I earn from qualifying purchases.
Instructions
Place the potatoes in a pot of cold, salted water and bring to the boil. Simmer for 10-15 minutes until the potatoes are tender, then drain and set aside for at least half an hour to cool.

Fry the bacon in a non-stick pan until crispy. Set aside to drain on kitchen towel and slice into 1/4 inch strips when cool.

Place the asparagus tips in the frying pan with the bacon grease and sprinkle liberally with sea salt. Fry for a few minutes until they begin to soften but still retain their crunch. Set aside on kitchen towel to drain.

Halve the cooled potatoes lengthwise and place, cut side down, into the hot frying pan you've just cooked the bacon and asparagus in. Fry for a few moments just to brown the cut edge of the potato. Transfer to a plate.

To assemble the canapes squirt a little dollop of Heinz [Seriously] Good mayonnaise onto the browned cut edge of the potato. Top with two strips of bacon and one asparagus tip. Sprinkle with spring onions and serve.

You can serve these warm just after the potatoes have been fried, or cold.
Environmental Information
OTHER SERIOUSLY TASTY MOUTHFULS
Rainbow Devilled Quail's Eggs by FoodieQuine
Rosemary Potato Stars with Lemon Mayonnaise by Veggie Desserts
Crispy Fish Balls with Easy Tartare Sauce by Hedgecombers
Micro Quail Egg & Smoked Ham Open Danish Sandwich by Fab Food 4 All
This is a paid post, although all thoughts and opinions expressed are our own.