A quick and easy BBQ recipe featuring seasonal Cornish new potatoes, asparagus and succulent salmon fillets seasoned delicately with lemon, white wine and thyme. Sponsored by Branston, supplier of Cornish New Potatoes to Tesco.
It's nearly summertime! We've had such an extraordinary spell of good weather here in Shetland (bar those few days when we got battered by Storm Hector). My husband was remarking that even if it rains for the rest of the season, folk will still call this the summer of '18 as we've seen an unusual amount of sun, and warmth!
Sun and low wind speeds mean one thing for us: we get that BBQ going! Ok, truth be told it's more of a firepit in the middle of our garden than a BBQ, but we do like our grilled meals eaten al fresco.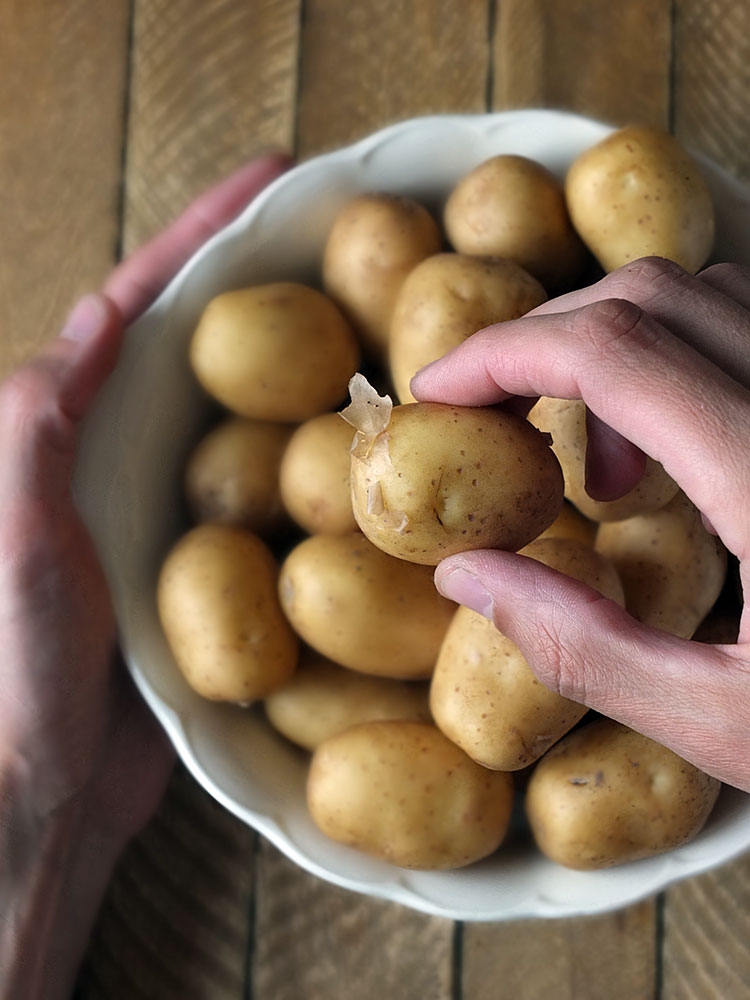 Summertime also means new potatoes!
I have a little confession to make. I have a soft spot for new potatoes. I like to cook up an entire pack and leave them to get cold in the fridge. They get turned into all sorts of things: fried new potatoes with black mustard seeds and cumin, potato salad with plenty of crunchy celery and a dollop of mustardy mayo and (and this is my confession), eaten straight from the fridge late at night with a smear of butter and sprinkling of coarse sea salt. Best. Thing. Ever.
Did you know that Cornish new potatoes are the first UK mainland crop of the year? Signalling the start of summer, these potatoes are usually available from the first week of June throughout August (a little sooner if you live in Cornwall). They're also naturally fat-free and have are lower in calories than many other popular wholegrain carbs. You don't even need to peel them – just give them a quick wash and a light rub and cook them in their skins.
Cornish new potatoes also wicked on the BBQ. For my recipe, I've made little foil parcels with Cornish new potatoes, seasonal asparagus and some succulent salmon fillets. It's all delicately seasoned with fresh lemon, white wine and a drizzle of good quality olive oil. Fresh thyme finishes it off, and the resulting BBQ parcels are incredibly tasty.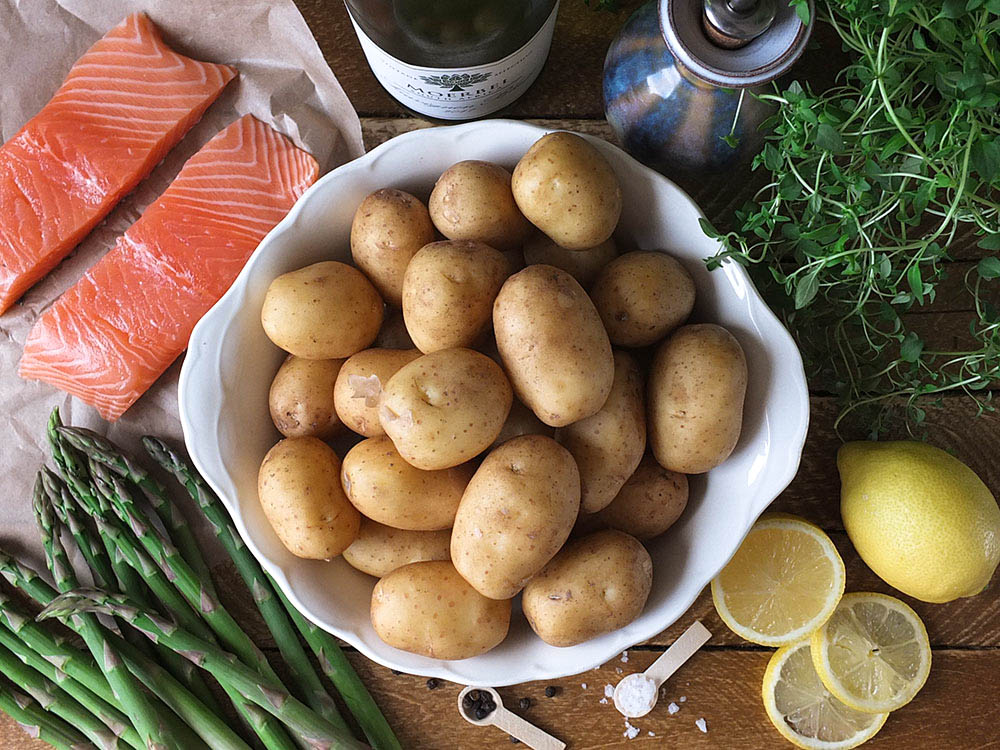 INGREDIENTS NEEDED FOR BBQ SALMON PARCELS WITH CORNISH NEW POTATOES
Cornish new potatoes – find them in Tesco stores in 750-gram packs and loose from June until August
salmon fillets
asparagus
lemons
good quality olive oil
white wine
fresh thyme
sea salt
freshly ground black pepper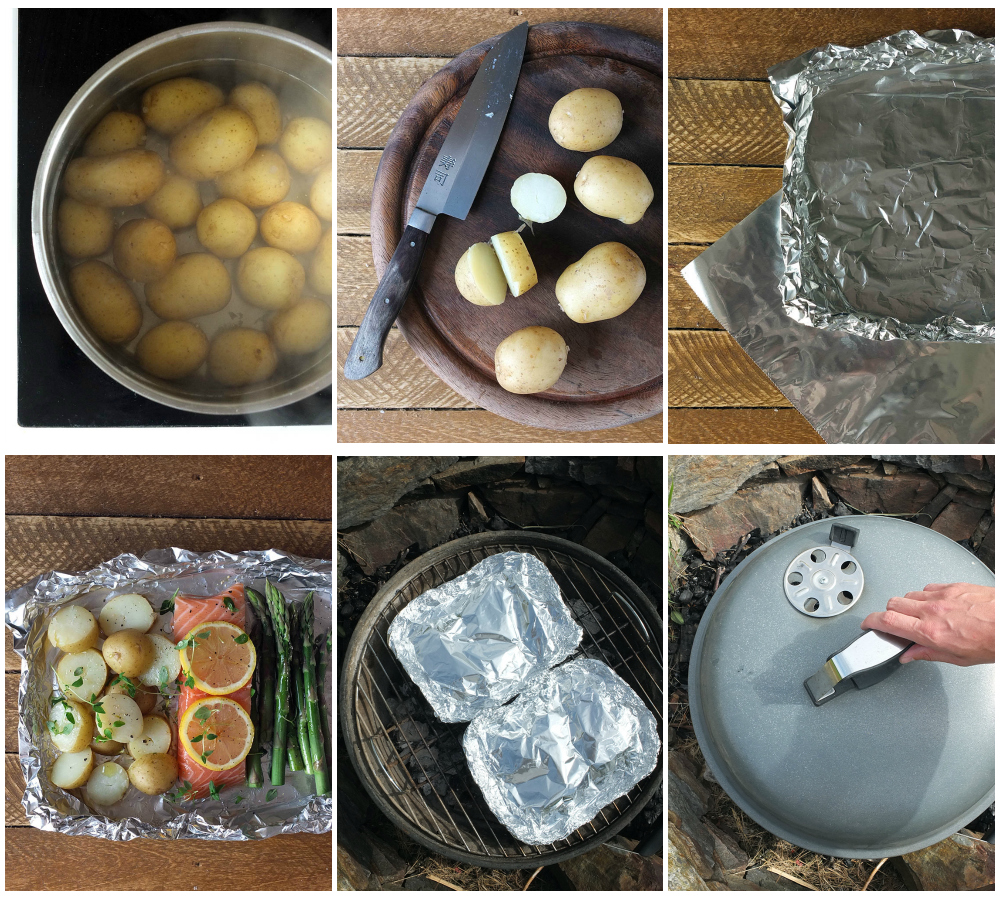 HOW TO MAKE BBQ SALMON PARCELS WITH CORNISH NEW POTATOES
Step 1: cook your new potatoes in boiling, salted water until tender. Drain and leave to cool.
Step 2: slice your cooled Cornish new potatoes into 1 centimetre thick slices.
Step 3: tear off two pieces of aluminium foil and make a lipped tray using the bottom piece.
Step 4: arrange your Cornish new potatoes, salmon and asparagus on the bottom tray. Cover the salmon with a few lemon slices, drizzle everything with the olive oil and white wine, season with salt and pepper and scatter with thyme leaves.
Step 5: top tightly with the second piece of foil and pop on the BBQ (or cook on a preheated baking tray in the centre of the oven).
Step 6: pop the lid on the BBQ and cook for 10-15 minutes, depending on how thick your salmon is.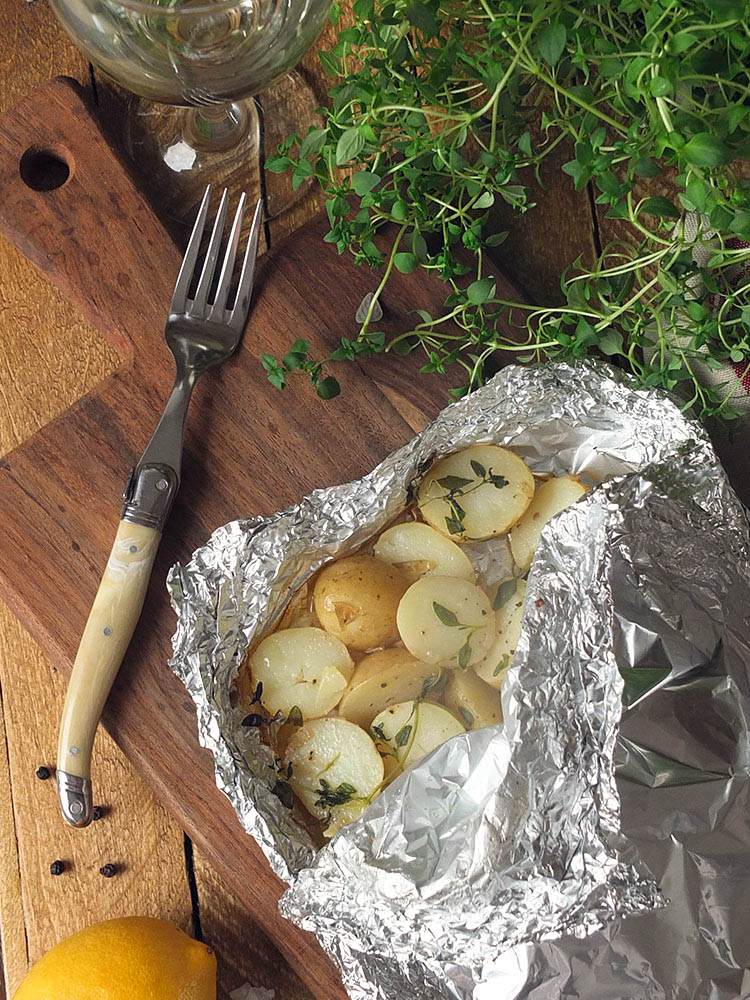 Carefully peel back the top layer of your foil to reveal the gorgeously steaming hot Cornish new potatoes and the melt-in-your-mouth salmon fillets.
Cooking times for salmon vary depending on thickness, but you shouldn't need any more than 15 minutes for this recipe, as the foil packet steams everything and it cooks faster.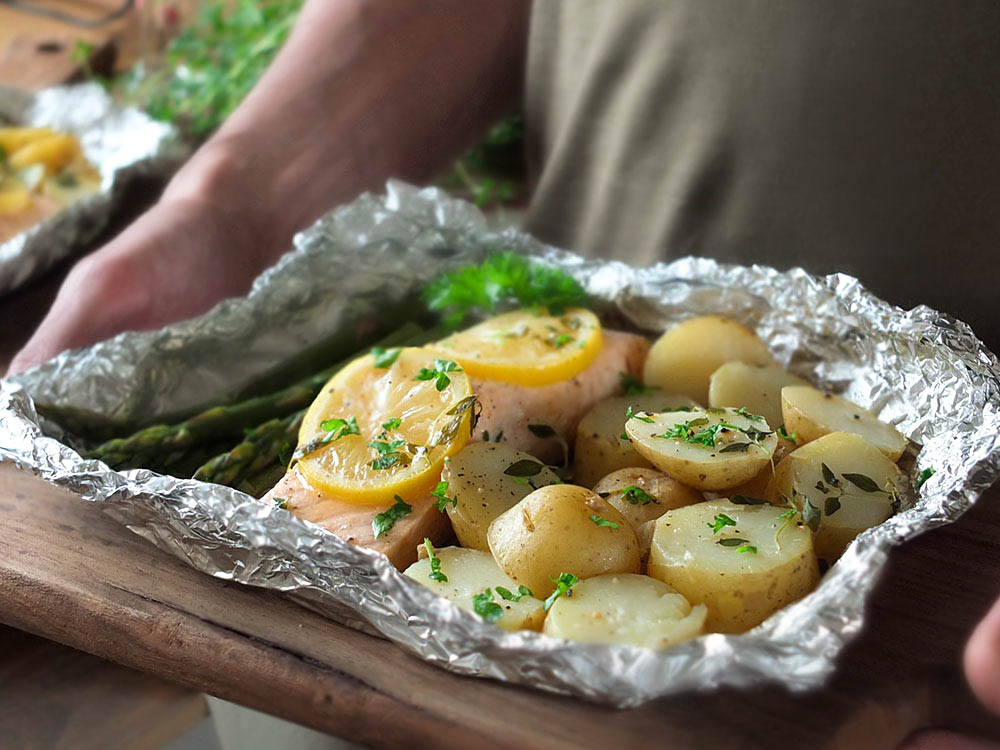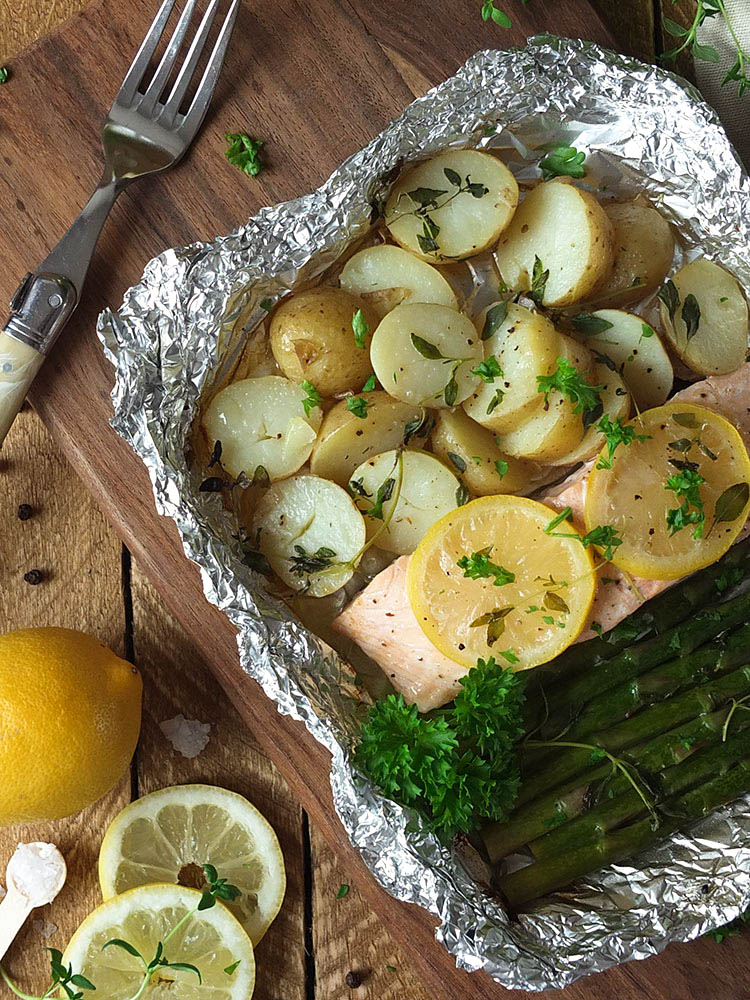 What's your favourite way to cook Cornish new potatoes? Let me know in the comments! In the meantime, keep an eye out in your local supermarket for these gorgeous potatoes!
Servings

Prep Time

Cook Time

2

servings

5

minutes

30

minutes
Servings

Prep Time

2

servings

5

minutes
Simmer the whole new Cornish new potatoes in salted water for 10 minutes, until tender but still retaining some texture. Drain and allow to cool.

Tear off two 12 inch square sheets of aluminium foil. Scrunch up the edges to form two lipped trays so that any liquids put in the centre won't drain away.

Arrange the salmon fillets in the centre of each tray.

Slice the cooled Cornish new potatoes into 1 centimetre thick slices and arrange to one side of the salmon fillet, and arrange the asparagus on the other side.

Top the salmon fillet with a few thin slices of fresh lemon.

Drizzle the whole tray with olive oil and white wine. Season well and scatter the thyme leaves over the top.

Tear off two smaller pieces of aluminium foil to make a tight lid for the tray.

Heat your BBQ coals until they turn grey. Carefully place the foil packets on the BBQ, pop the lid on and cook for 10-15 minutes, depending on the thickness of your salmon.

Alternatively, heat a baking tray in the centre of a 200 C oven, slide the foil packets onto the tray and bake for 12-15 minutes.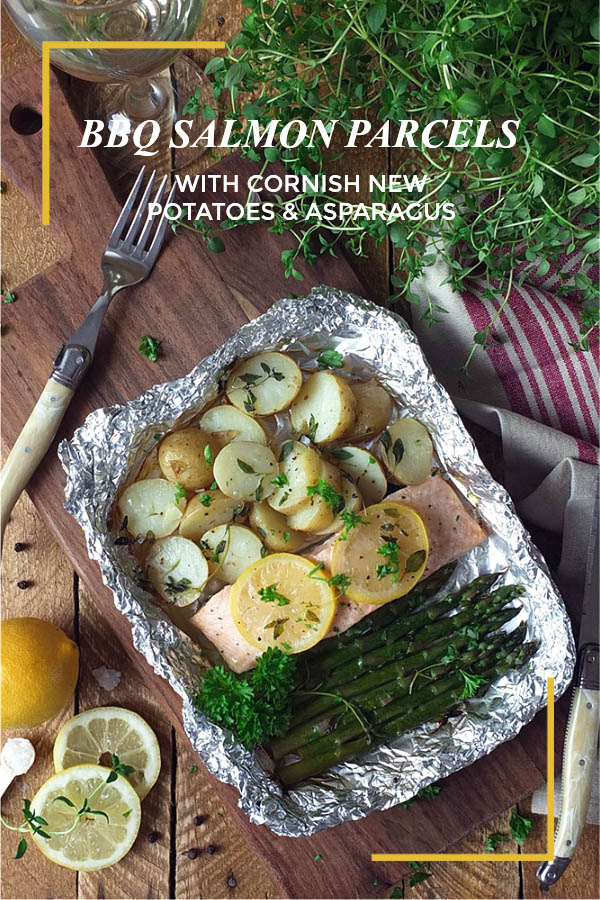 This is a sponsored recipe post in collaboration with Branston, supplier of Cornish New potatoes to Tesco. All thoughts and opinions expressed are our own. Thank you for supporting the brands who make it possible for me to do what I love: mess up my kitchen and share recipe stories.