A delicious frozen summer treat made with fresh blueberries and double cream ice cream dipped in white chocolate and finished off with Midnight Magic Sprinkles.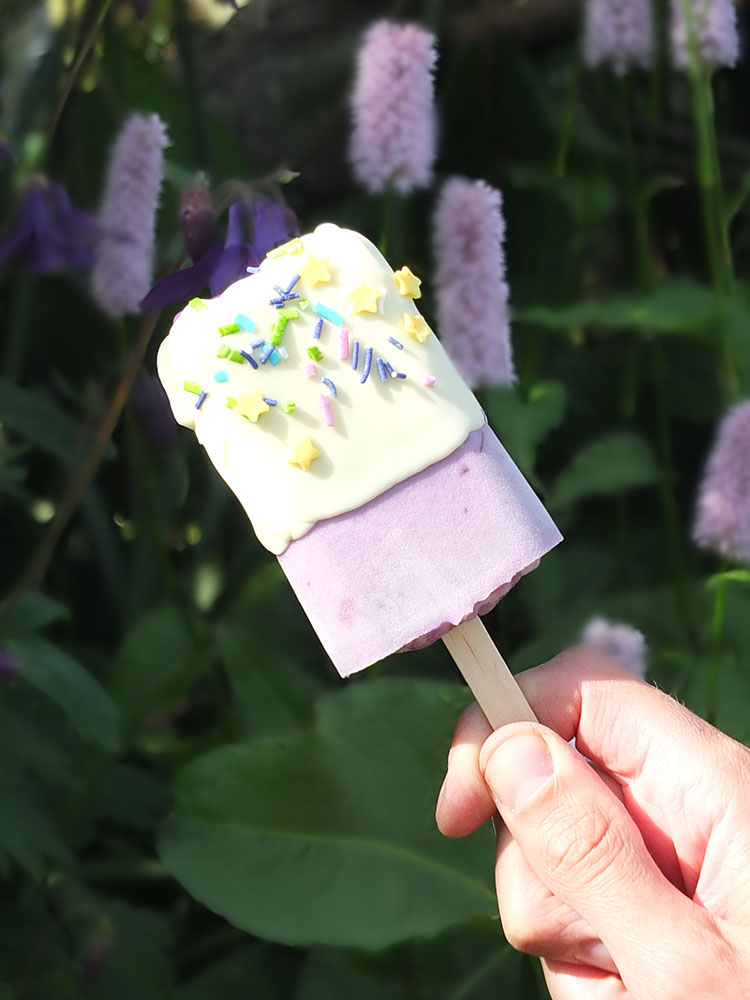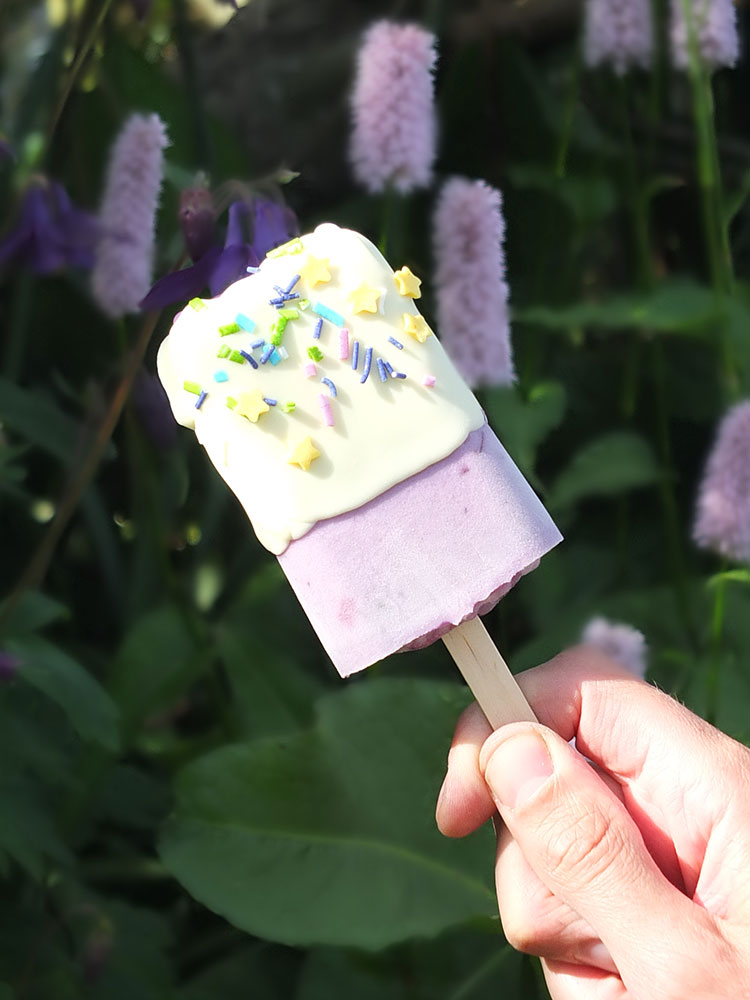 You know when you buy a punnet of blueberries, and your fruit-mad children eat nearly all of them as fast as they can, but for some reason, they leave just a few lingering at the bottom of the packet? Those few get neglected (despite being perfectly edible) and the next thing you know you're picking out the semi-mouldy ones trying to figure out of the remaining 'too soft' blueberries can be made into something besides a smoothie?
This, coupled with the fact I had most of a pot of double cream and some white chocolate left remaining after making the frosting for my Midnight Magic Unicorn Cake with Candy Bark, set me a challenge.
These blueberry and white chocolate ice cream lollies were born out of needing to use up these leftover ingredients, and they were a resounding success! So much so, I went out and bought more ingredients so I could make them again right away!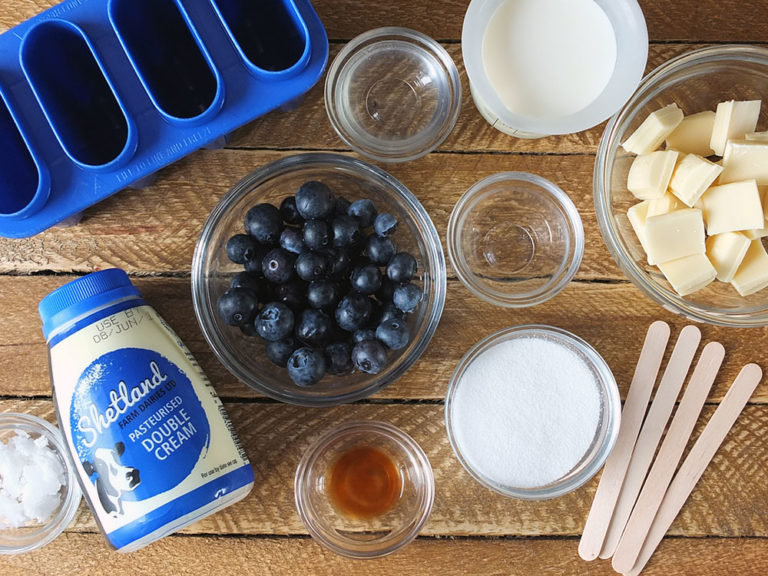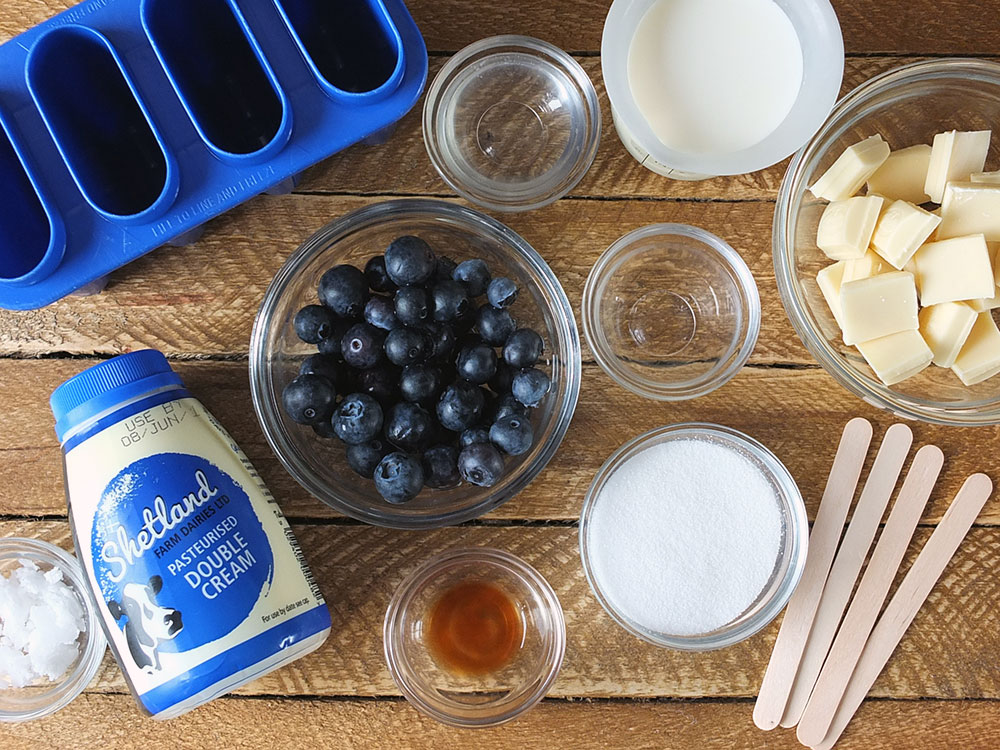 INGREDIENTS NEEDED TO MAKE BLUEBERRY AND WHITE CHOCOLATE ICE CREAM POPSICLES
fresh blueberries washed with any leafy bits and stalks removed
caster sugar (granulated would do too if you're overseas)
a little bit of water, to make the blueberry puree
double cream (aka heavy cream) – remember to support your local small dairy!
full-fat milk
vanilla extract
vodka or gin – this helps the mixture to not crystalize while freezing, keeping it light and creamy
good quality white chocolate
coconut oil – to help soften the white chocolate coating
sprinkles, to decorate
a popsicle mould and wooden popsicle sticks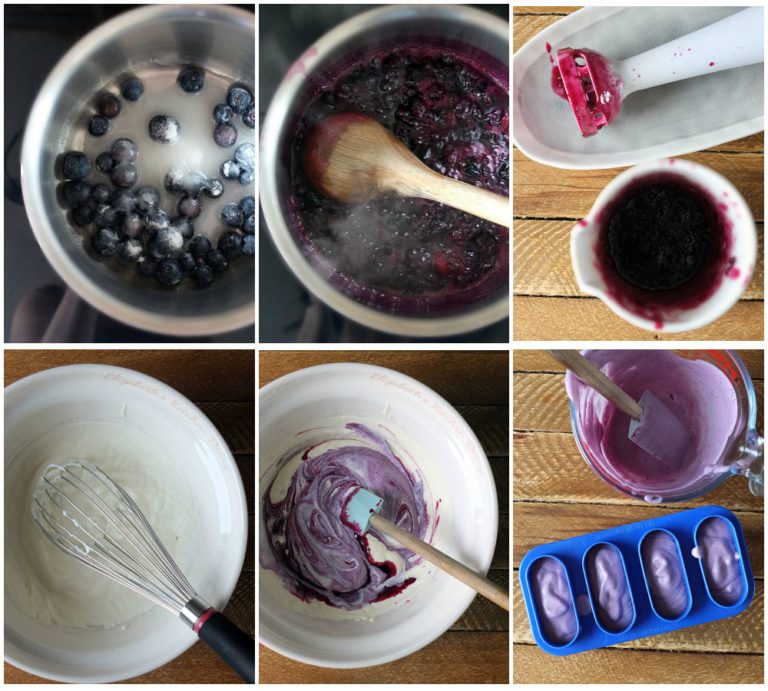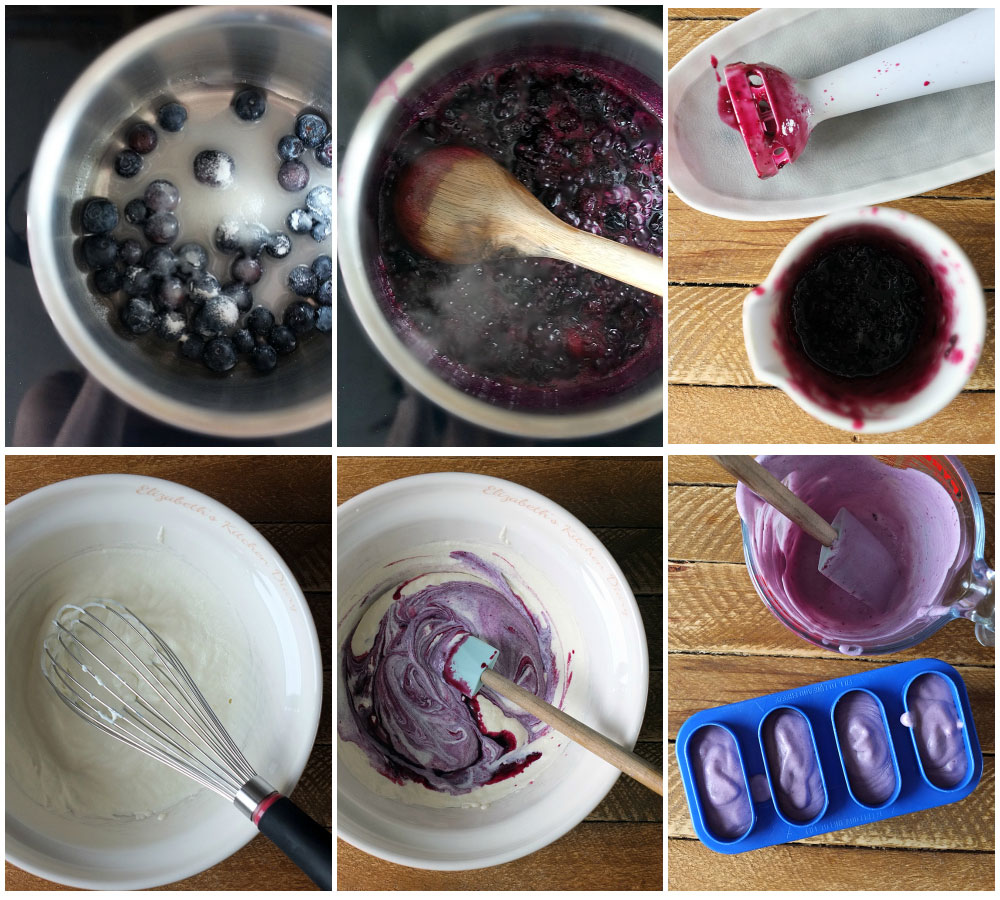 HOW TO MAKE BLUEBERRY AND WHITE CHOCOLATE ICE CREAM POPSICLES
Step 1: place the blueberries, sugar and water in a small saucepan over a medium high heat
Step 2: simmer until thickened
Step 3: puree with a hand blender and cool. Note – I had a moment taking this photo; I won this hand blender in a Pregnancy magazine competition before my firstborn, now 18, was born. He's recently moved out on his own – the blender has been with me longer than he has!
Step 4: beat the cream and milk together until light and fluffy. I used the whipping attachment in my Breville Blend Accessory Pack to do this – it took seconds.
Step 5: mix the blueberry puree, the whipped double cream and the vanilla and vodka, if using. The vodka keeps the mixture from crystalising, resulting in a softer lolly.
Step 6: transfer the mixture to a measuring cup and pour into your ice lolly moulds.
Step 7: freeze for half an hour to set the mixture before adding the wooden popsicle sticks. If you're using the plastic lolly sticks that came with your mould just put them in right away.
Step 8: melt the white chocolate and coconut oil in a heatproof bowl suspended over a pan of barely simmering water. Make sure you cool the melted chocolate to room temperature before you attempt to coat the ice cream because if you don't the hot chocolate will melt the outer layer of the ice cream and the whole chocolate coating will slide off (I've learned, from experience!). You don't have to add coconut oil if you don't have any, but I thought this would give the white chocolate coating less of a hard crunch and more of a soft white chocolate layer.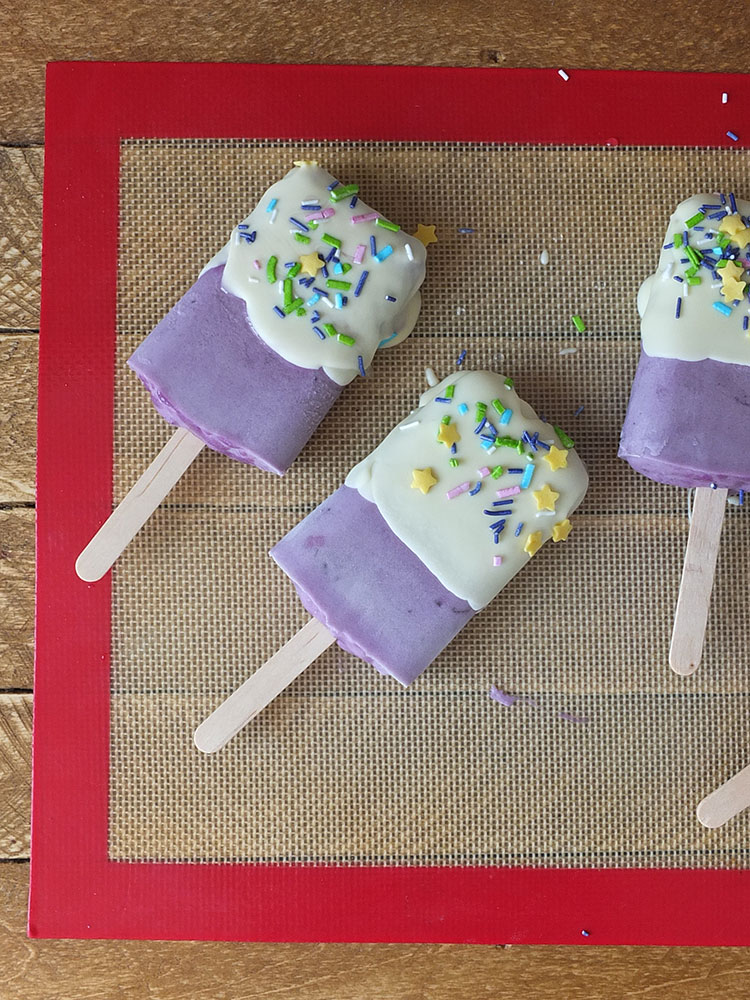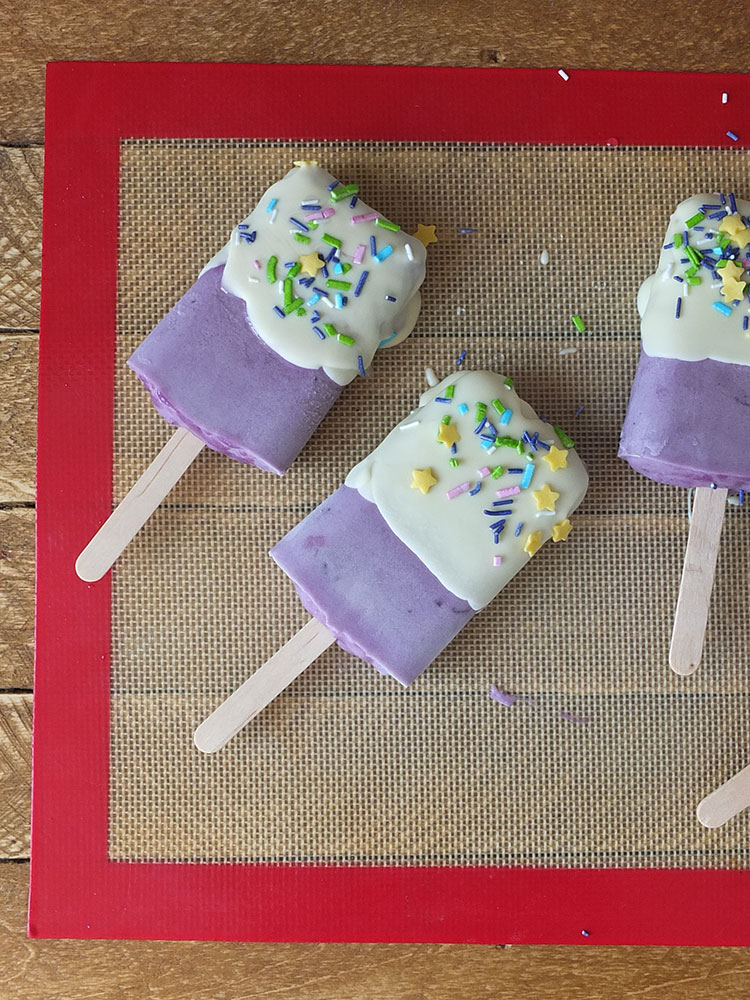 To decorate, I've used the new Midnight Magic sprinkles from Dr Oetker, which, frustratingly, aren't listed on Amazon yet (I'll update the post when they are). You can find them in your local supermarket though. Note – if using those sprinkles remove the black and silver balls from the sprinkles you use to decorate the ice lollies – they're just too hard for a frozen treat, while the stars and sugar strands work perfectly.
Pop them on a silicone mat or piece of baking paper to harden (it doesn't take long), and either eat right away or pop back into the freezer until needed. They'll keep for a week or so in a freezer-proof container.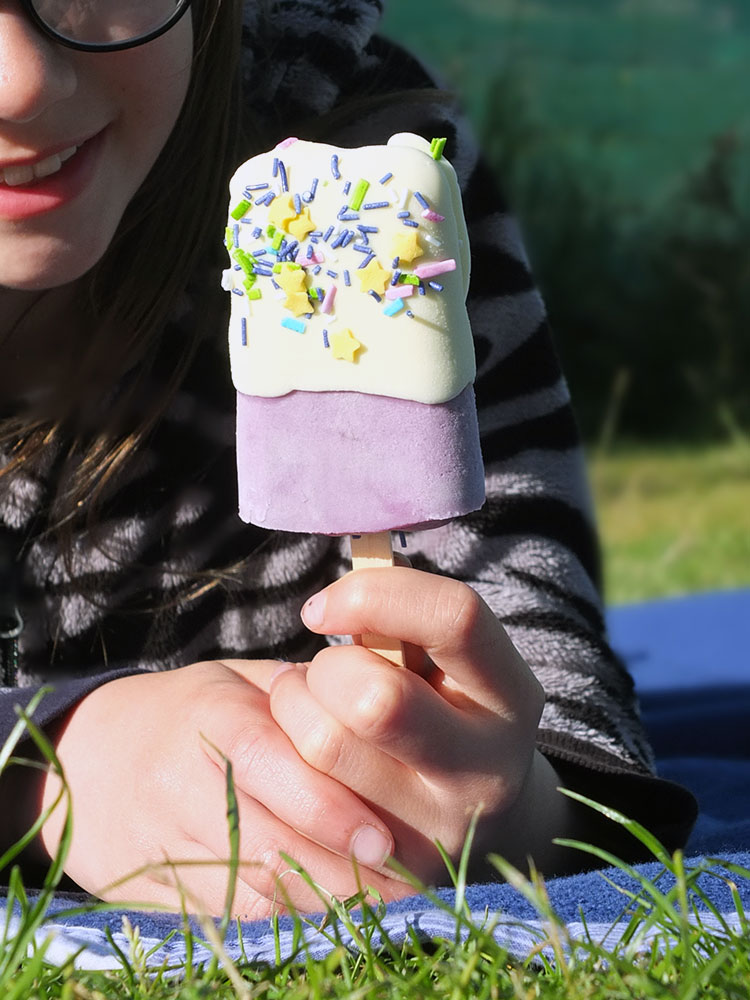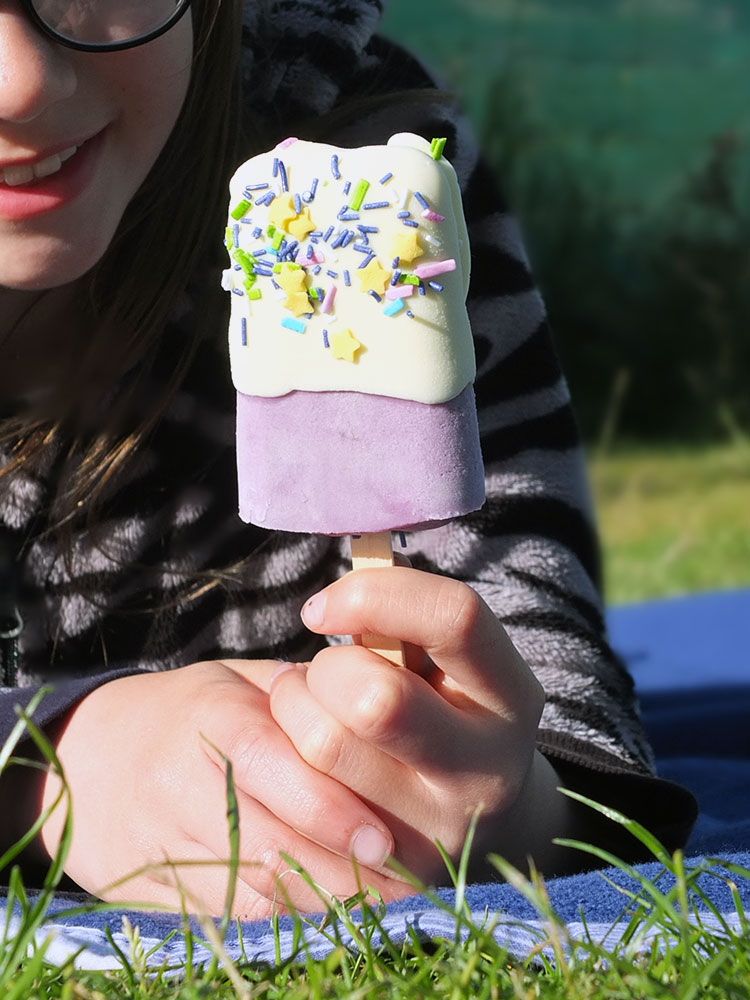 These blueberry and white chocolate ice cream lollies are officially my daughter's favourite homemade ice lolly now. I think they'd work well with cherries too.
They're perfect for nibbling on while lying in the garden on a blanket soaking in the summer sun, as we were doing for quite some time late May/early June. The weather seems to have turned back to typical Shetland winter weather lately though, with gales and heavy rain. Fingers crossed we still get some more summer this year!
Do you make your own ice cream lollies? What's your favourite flavour? Let me know in the comments! Linking up with this month's We Should Cocoa, a food blogging challenge all about chocolate. Don't forget to check out my article 'How to make your own ice cream' posted on the Learning with Experts website too!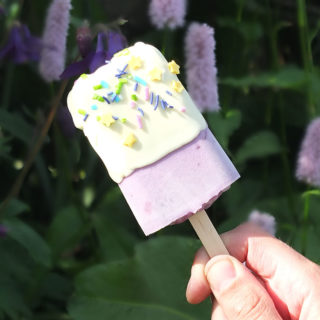 Blueberry & White Chocolate Ice Cream Popsicles
A delicious summer treat made with fresh blueberries and double cream ice cream dipped in white chocolate and finished off with sprinkles.
Print
Rate
Affiliate Links
This recipe card may contain affiliate ingredient and equipment links. As an Amazon Associate I earn from qualifying purchases.
Instructions
Heat blueberries, caster sugar and water together in a small saucepan until simmering. Cook until the blueberries have broken down somewhat. Remove from heat and puree. Set aside to cool.

Add the double cream and milk to a small blender with the whip attachment, and whip until thick. Alternatively, whisk with a hand whisk and elbow power.

Stir in the cooled blueberry mixture, the vanilla and the vodka if using.

Spoon into four ice lolly moulds and freeze for half an hour before inserting wooden lolly sticks. Freeze until solid.

Break the white chocolate into pieces and place into a small heatproof bowl along with the coconut oil. Suspend over a pan of barely simmering water until melted. Allow to cool to room temperature.

Loosen the ice cream lollies from the moulds by running under cool water.

Dip the ends of the creamy blueberry ice lollies into the white chocolate mixture and transfer to a silicone mat or piece of greaseproof paper. Decorate with the sprinkles before the chocolate sets.

These ice cream lollies will keep for up to a week in the freezer in a freezerproof container.
Environmental Information
[amazon_link asins='B01IDDOJ2K,B07B61CLWT,B00CM69J3E,B073NNC44J,B071HHR6GM' template='ProductCarousel' store='elizskitcdiar-21′ marketplace='UK' link_id='e4150bab-770b-11e8-9252-e9ca6b203369′]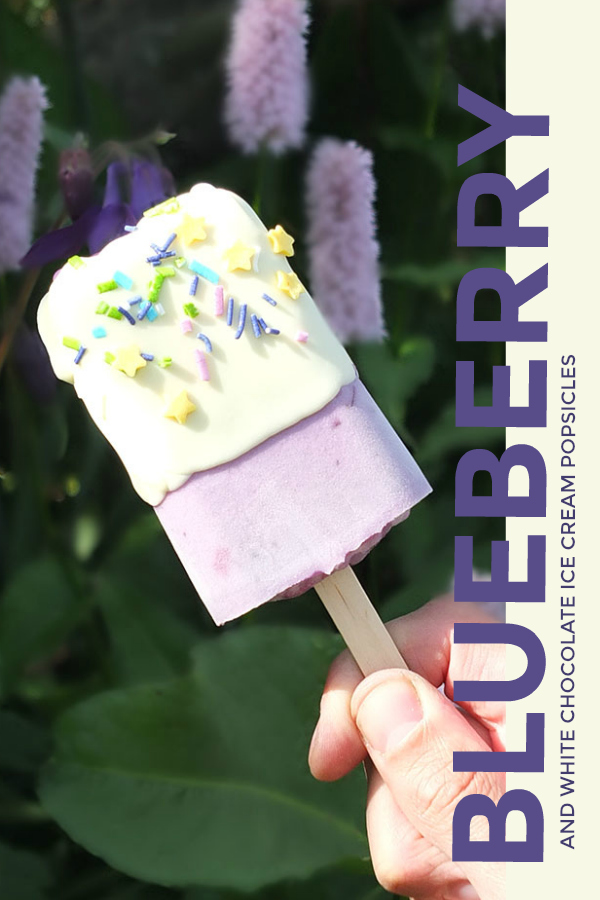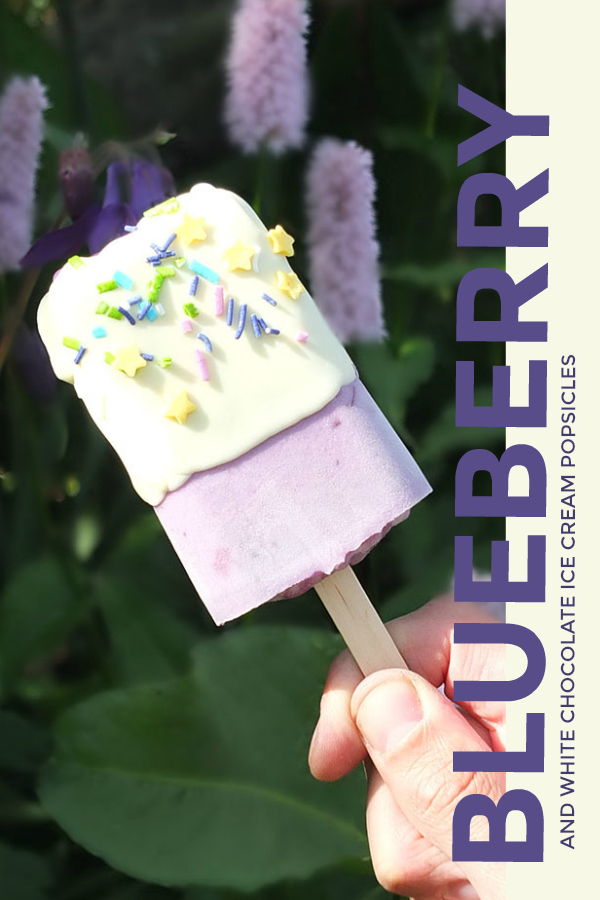 If you like this recipe, you might also like my Midnight Magic Unicorn Cake with Candy Bark recipe! Three layers of vanilla buttermilk cake sandwiched together with purple tinted white chocolate buttercream. A candy melt drip decorates the top along with shards of unicorn candy bark and plenty of Midnight Magic Sprinkles.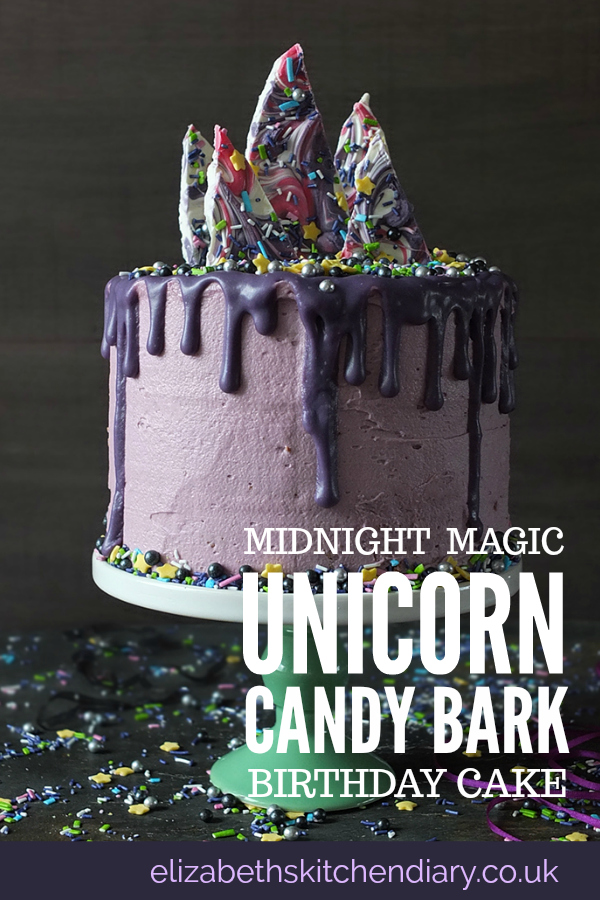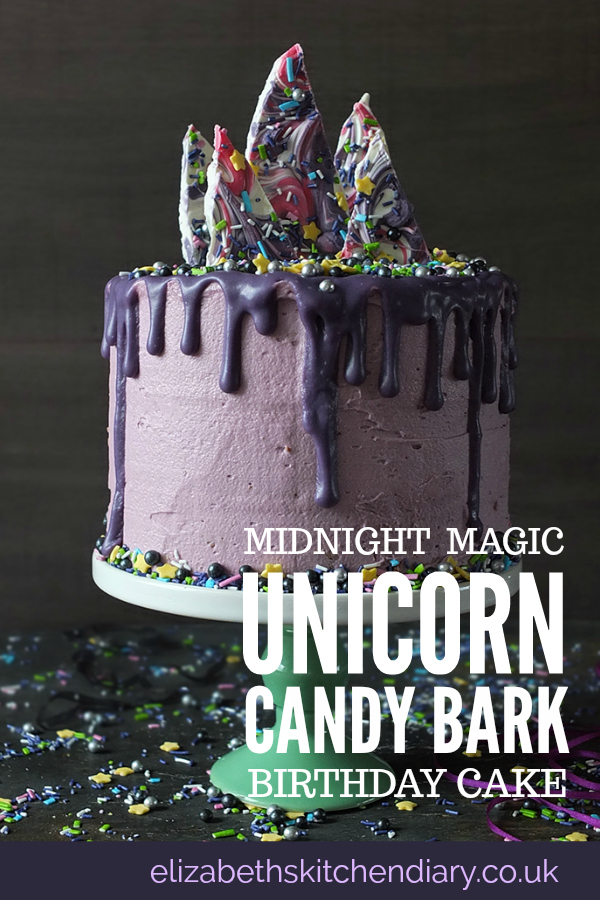 [color-box]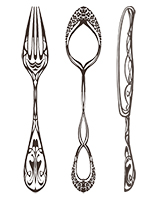 Have you made this recipe?
Take a photo and tag @tangoraindrop or use the hashtag #elizabethskitchendiary and share on Instagram and Twitter. It would make my day to see your creations!
[/color-box]