In collaboration with P&O Ferries.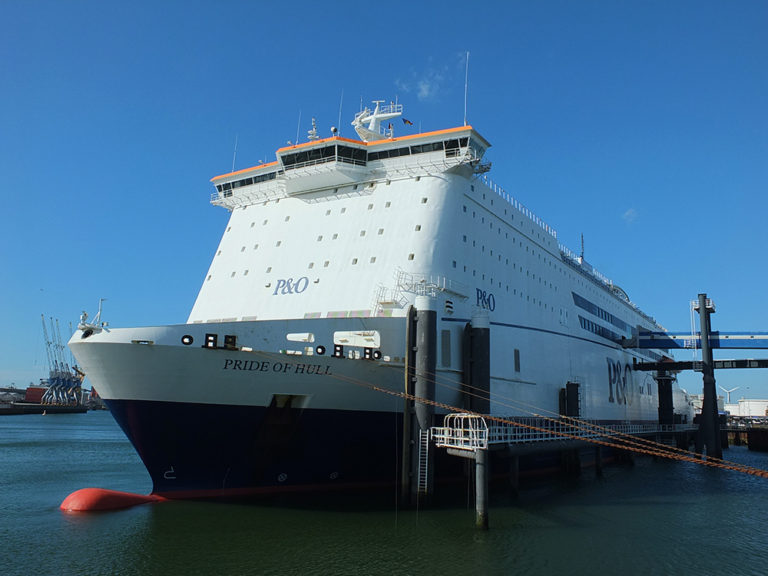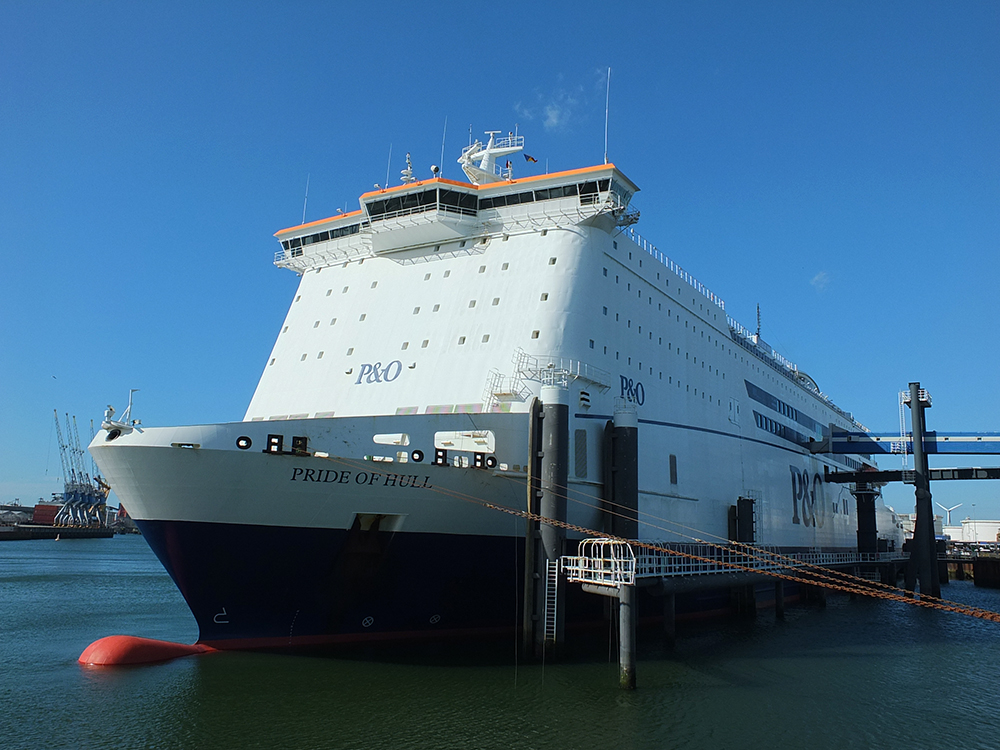 My first ever experience on a P&O Ferry was in the Spring of 1999. I'd only a few days beforehand landed in Glasgow, via Iceland, with an Army Surplus rucksack on my back containing all my worldly possessions and just shy of £200 in traveller's cheques in my pocket.
I hadn't booked my ferry to Shetland from Aberdeen in advance; I'm not even sure there was online booking in those days. I merely showed up on the pier, boarded the first P&O Ferry I could find and asked if I could catch a lift that night to the islands. This was on the freight service, St. Rognvald, which sailed to Shetland via the Orkney Islands. This was my first time on board an overnight ferry and I, in all honesty, couldn't spend any longer than 10 seconds standing without the world tilting and swirling about me. I spent the whole journey laying down for fear of the most dreadful seasickness.
Fortunately, 18 years of  living on a remote North Sea island have forced me to develop sea legs, and I now find sailing a rather enjoyable experience.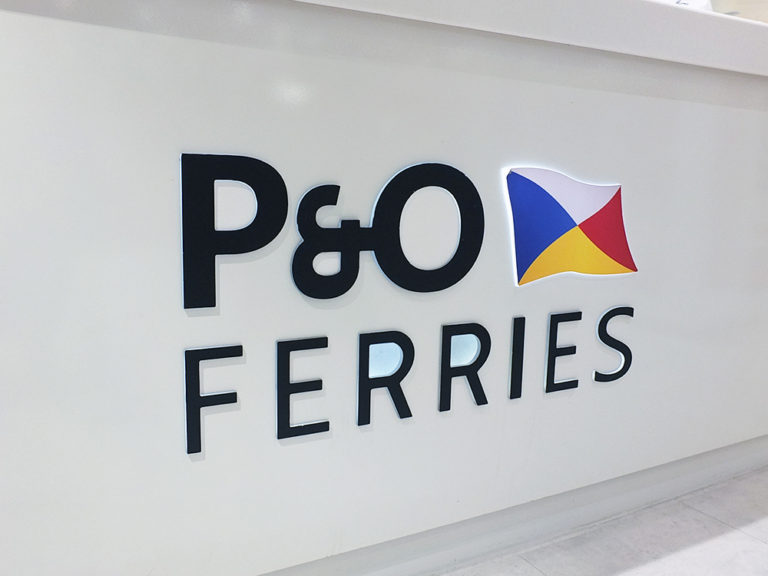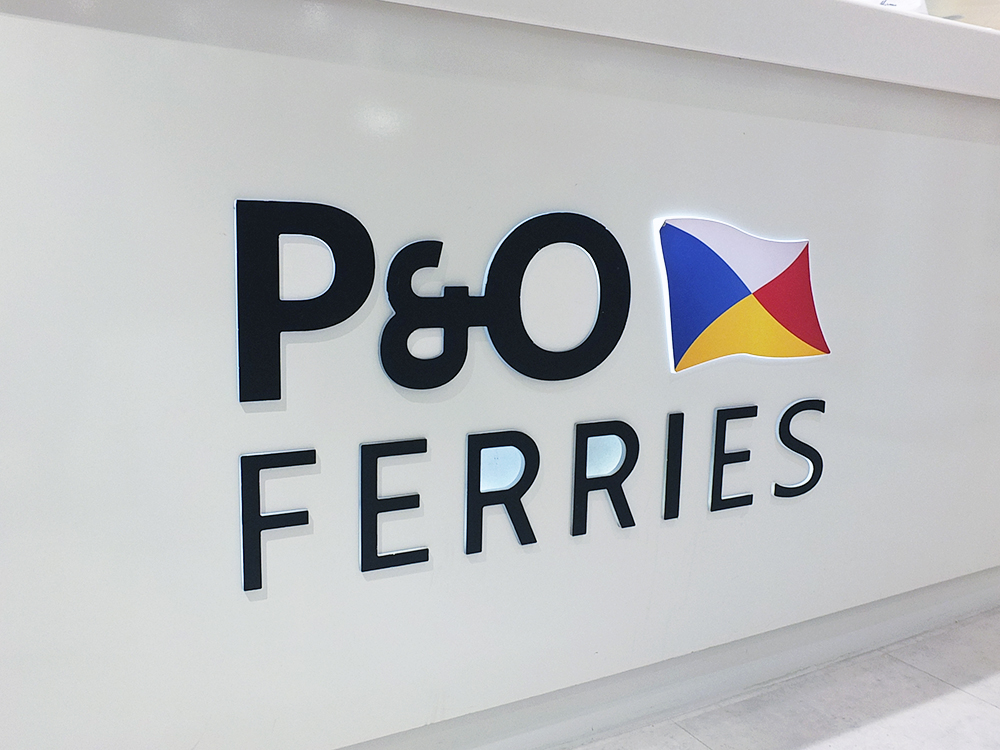 P&O Ferries is a well known household name here in the UK, operating a fleet of more than 20 ships with over 30,000 sailings every year through the English Channel, Irish Sea and North Sea. Each year they carry more than 10 million passengers, 1.6 mllion cars and 2.2 million freight units. When it comes to transport, they certainly know their stuff.
Recently, myself and my family were invited on board the P&O Ferry Pride of Hull for a trip to Belgium and a most delicious weekend Belgium Chocolate Experience.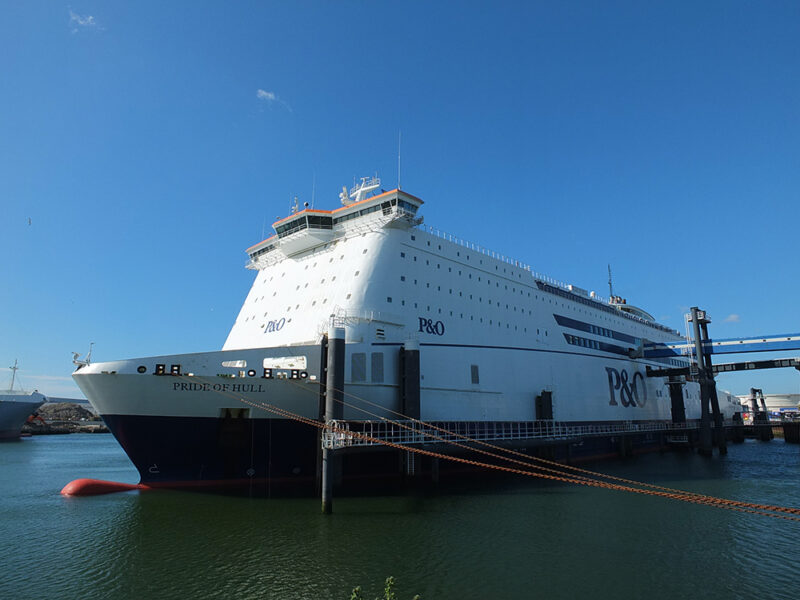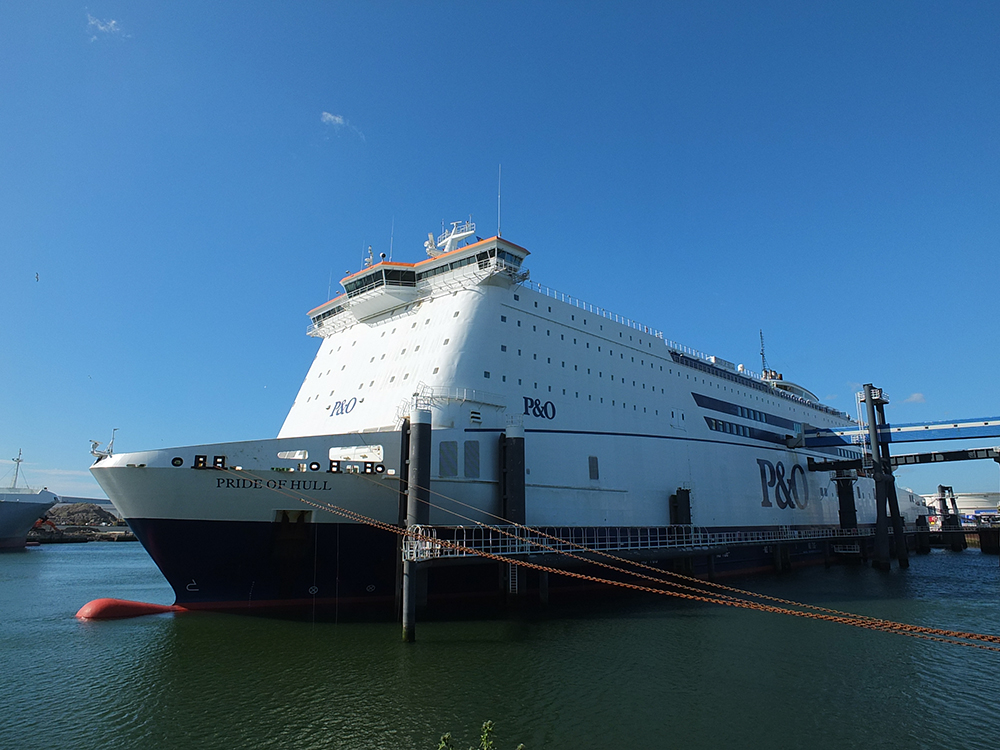 HISTORY & SPECIFICATIONS
The MF Pride of Hull is a Bahamas registered passenger and cargo ship with a roll-on/roll-off service launched on the 11 April 2001 to provide a transport link between Hull, on the west coast of England and Europoort in the Netherlands.
When she entered service she was, along with her sister ship the Pride of Rotterdam (servicing the Hull – Zeebrugge route) the joint title holder of world's largest cruiseferry, a ship which is both a passenger ferry and a roll on cargo ship.
Measuring over 215 metres long and 12 decks high she is certainly the largest ship I have ever set foot on.
ACCOMMODATION
Check in was very quick and pleasant on both the outbound and inbound journies with staff being very friendly, welcoming and accommodating, especially as we were travelling with rather energetic young children.
530 cabins sleeping 1,360 passengers are spread out across Deck 10 (with some on Deck 9) including 6 suites, 9 deluxe, 5 family and 6 disabled cabins. Navigating through Deck 10, I have to confess, reminded me of a garden maze with its green patterned carpet and green tinted walls. I did actually find myself lost on more than one occasion. Thankfully there are regular maps on the walls to set you right!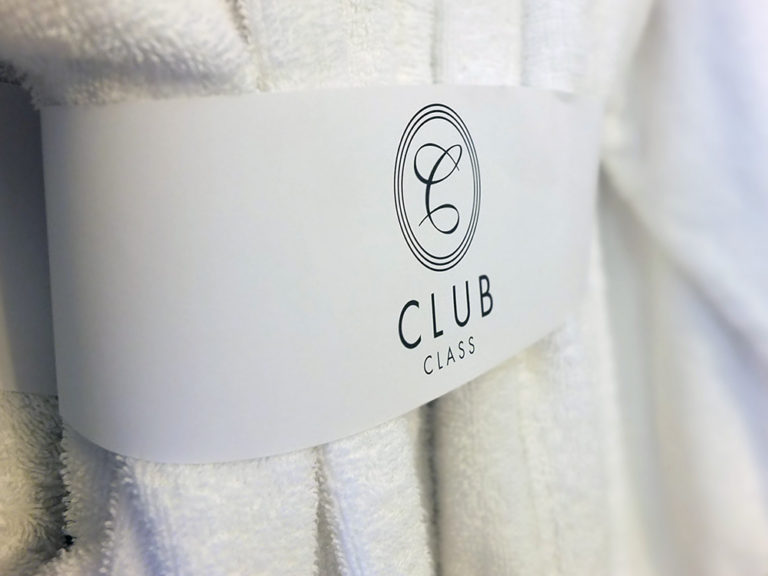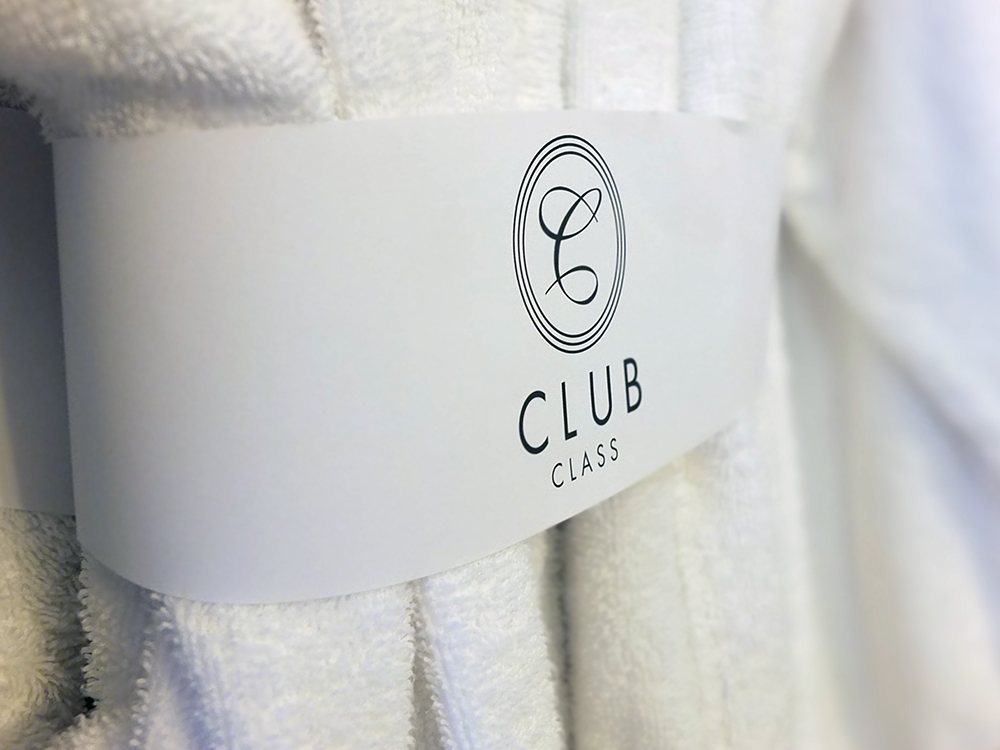 On the outbound journey the five of us were divided between two rooms – a four bed outer berth with a fantastic sea view and a two bed standard inner berth across the hall, both with an en suite toilet and shower facilities.
I noted that neither of these rooms had tea and coffee facilities (I am a caffeine junkie – I need to know where my morning coffee fix is coming from!). The cabins were very basic, but clean and comfortable accomodation. We had a very peaceful sleep that night with my husband and I sharing the four berth with the two younger children and The Teenager was happy to have a room completely to himself.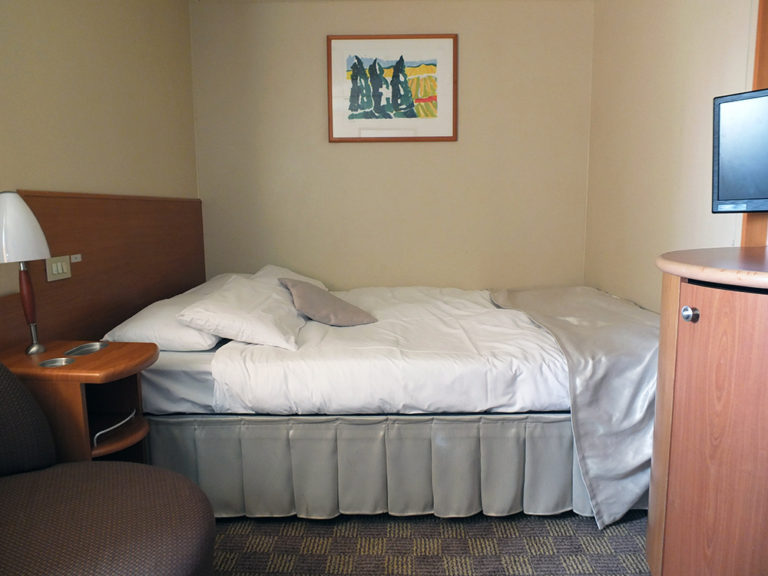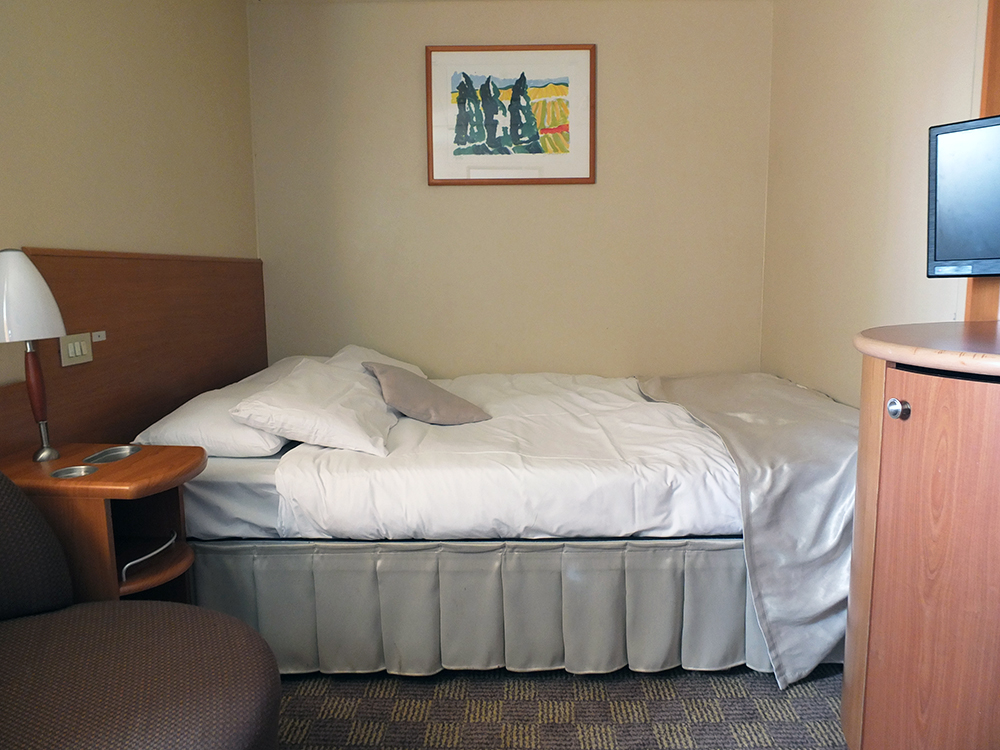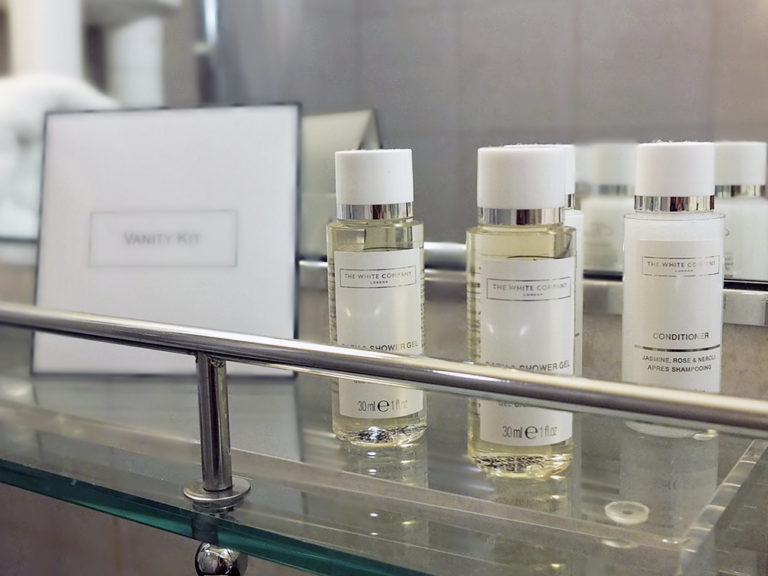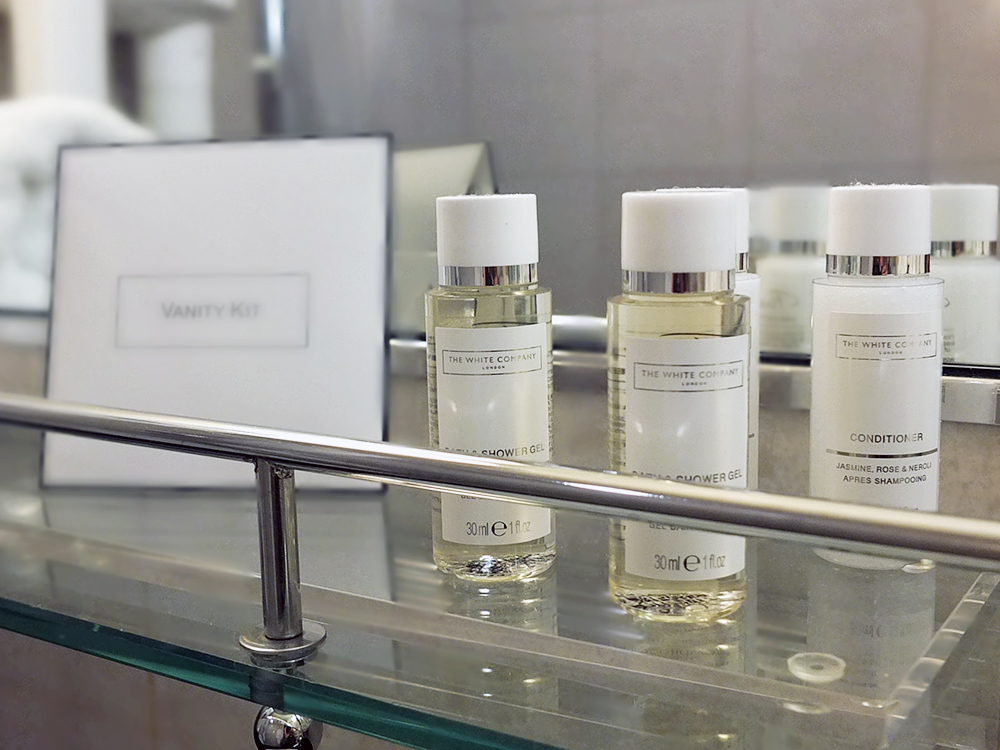 On the return journey we were treated to a Club Class family room sleeping all five of us. This was an incredibly spacious room again with fantastic sea views. Features included a flatscreen TV (we might have watched the last of the Germany/Italy Euro2016 football semi-finals on this!), a telephone, a stocked mini fridge, tea and coffee making facilities, continental plug points, a trouser press, clothes hooks and hangers, air conditioning, reading lights, bedding and towels and some really rather lovely toiletries from The White Company. Oh, and we can't forget the soft and cosy bath robes! A complimentary box of Belgium chocolates and a voucher for a glass of champagne for my husband and I was a really nice added touch.
There was an incredibly cosy double bed, just like a hotel bed, as well a single bed that converted into a couch for comfortable seating in addition to the two armchairs. We were rather impressed that two extra single beds were conveniently stored in the ceiling (see above photo, right) making the best use of the space available.
FOOD & DRINK
The Pride of Hull features two restaurants, The Kitchen and The Brasserie, as well as a coffee shop serving Starbucks coffee, and a number of bar areas serving a range of alcoholic and non-alcoholic drinks.
During our outbound journey we dined in The Kitchen, a buffet style restaurant boasting a wide range of family favourites from around the world. There was something for all of us at this restaurant, and despite the rather long queue to get in (a great opportunity to chat with your fellow passengers!), it was affordable eating, and you could keep going back for more if you wanted.
I was impressed when the waitress brought colouring activity books and coloured pencils over for the children to keep them entertained.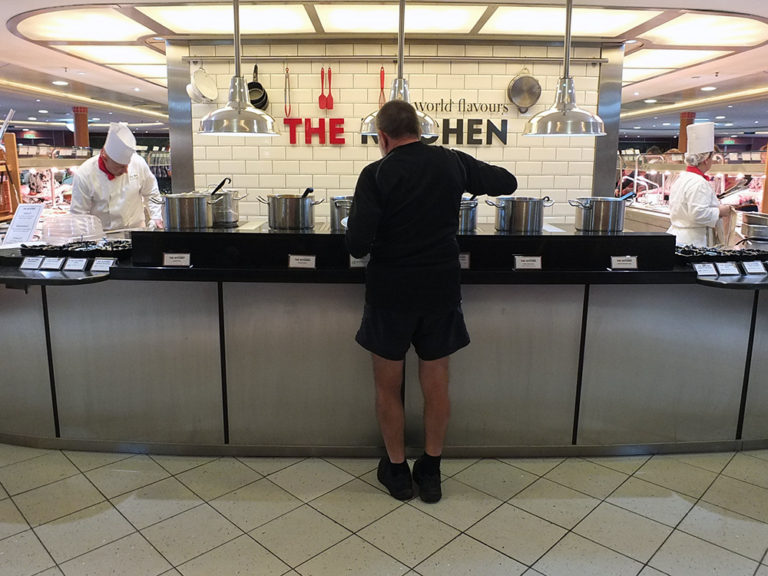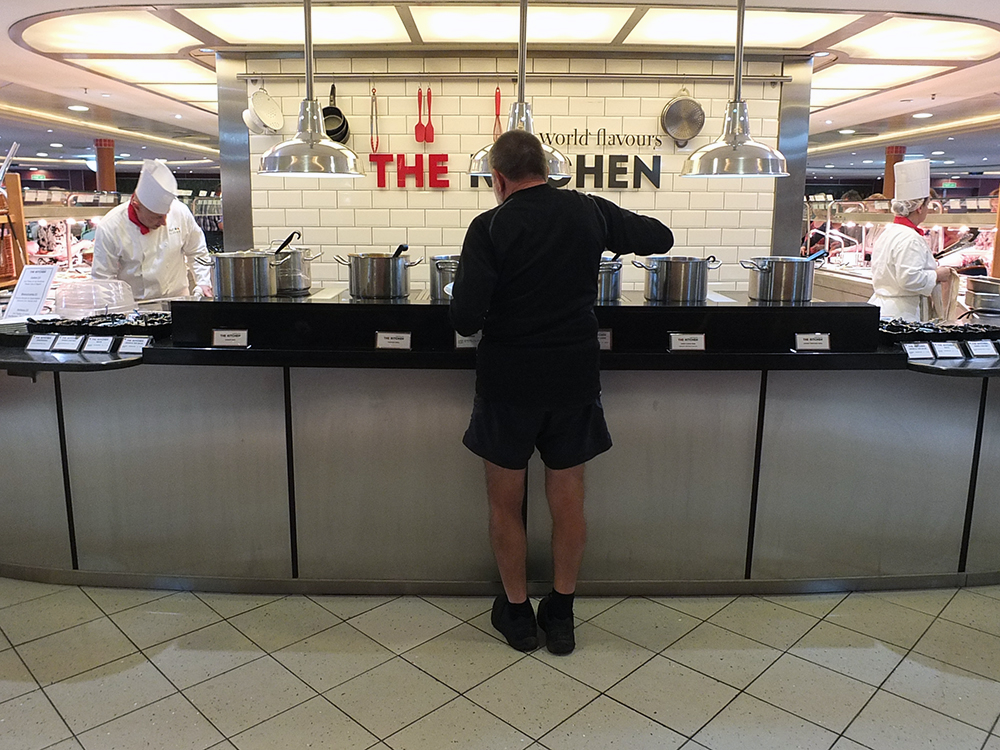 We had breakfast in The Kitchen the following morning and again, there was a long queue but a wide and varied breakfast menu from toast and cereal to a full English breakfast.
On the return journey we prebooked our evening meal and breakfast in The Brasserie, a very comfortable and quiet restaurant with no queues. Table service was attentive and of the highest standard, and our meals were brought to us fairly quickly.
The evening menu was varied with something for each of our tastes –  my husband had slow cooked roast poussin infused with lemon, garlic and herbs, while The Teenager enjoyed an all British steak burger served in a brioche bun with oozing Red Leicester cheese, crispy onion rings and chips. Our younger two children had macaroni cheese and cheese pizza from the separate children's menu.
I opted for the seafood option – papillote of sea bream – a fillet of sea bream cooked with prawn, greenlip mussels & clams baked in parchment. Utterly delicious, especially when washed down with a complimentary glass of champagne. As an aside, I noted that the menu included wine pairings for each of the dishes, something someone like me who doesn't really know much about wine, appreciates.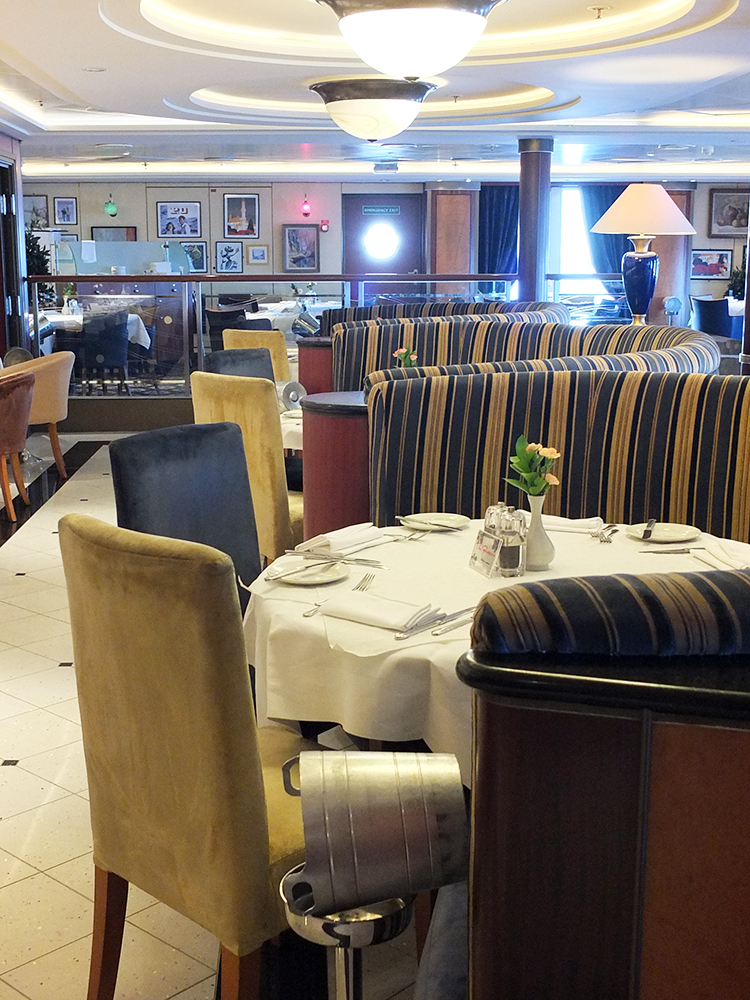 After our main meal we were served a delicious citrus sorbet, an intermezzo meant to cleanse the palate between courses.
For dessert we enjoyed a clotted cream cheesecake topped with strawberries, sticky toffee pudding served with a creamy custard and an indulgent chocolate soufflé served with a clotted cream ice cream. The younger children had ice cream from the children's menu. All in all it was a thoroughly enjoyable meal. I apologised to our waiter after a particularly rambunctious burst of laughter was emitted from our group, and he smiled and replied, "No worries at all. It's very nice to hear a family enjoying themselves!"
The breakfast menu was much more limited than the menu in The Kitchen, but it was worth it for the view, the comfortable seating, the quiet and the fact that there were no queues.
Top tip – when you get on board the ship make your way to the Brasserie restaurant and prebook your meals early as tables can fill up very quickly.
ENTERTAINMENT
There is plenty to see and do on board to keep yourself, and the children, entertained during the voyage. Once we arrived on board we had a quick look around and, after a long and exhausting journey to get to the Hull ferry from Shetland, we treated ourselves to some drinks. I had my first ever Pina Colada (how has it taken me so long to have one of these?!) while the children had their first taste of virgin mocktails. They loved the mini umbrellas!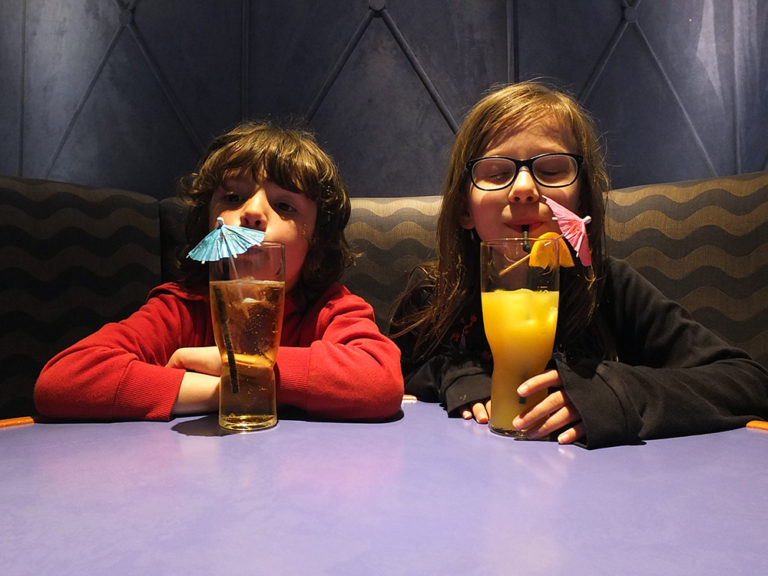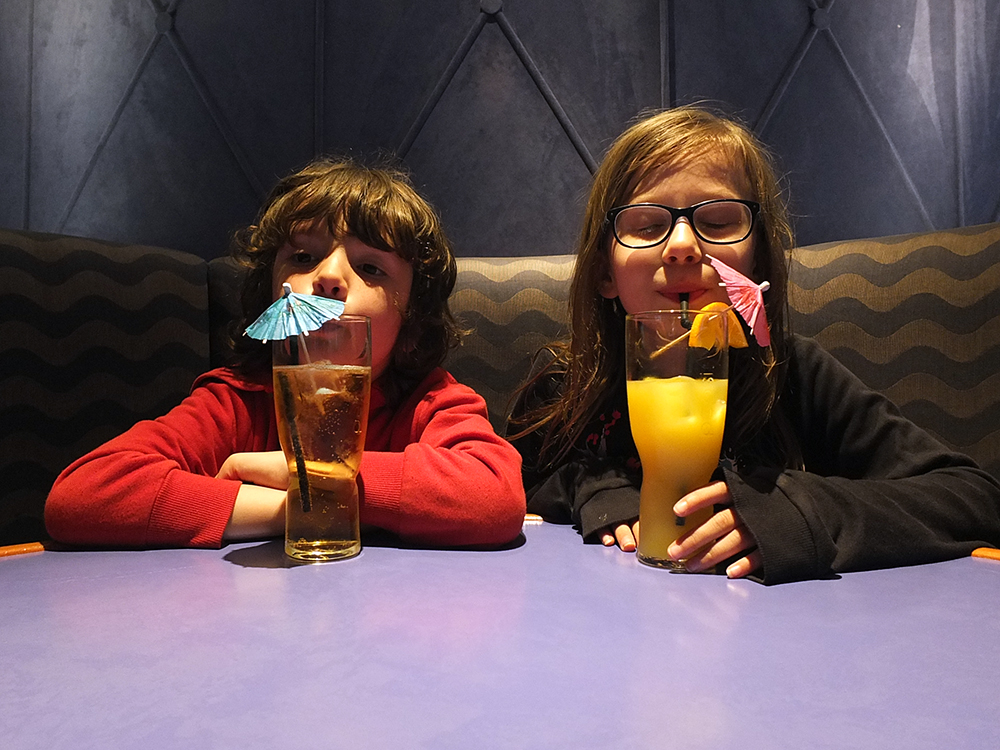 The Pride of Hull boasts two cinema screens, each playing three current films throughout the evening, while the Show Lounge, spread across two decks, features a wide variety of entertainment from cabaret singers, live bands and, if it's the right time of year, football matches on the big screen!
On the top deck you'll find a bar and the onboard pianist who croons to a rapt audience throughout the night with classic tunes that make you want to get up a dance a quickstep or rhumba!
There is a children's play area if you've got small children with you (for under 7's only), and a games arcade for those who are a bit older. We might have spent a lot of time (and £1 coins) in the arcade!
As far as shopping goes the Pride of Hull has you covered with offers of up to 40% off high street prices for fragrances, cosmetics, skin care, fashion, alcohol, sweets and souvenirs. Our daughter was most impressed with the jewellery, selecting a few pieces as a souvenirs for herself and a school chum, while our youngest son spent a considerable amount of time sniffing all the perfume samples with great delight (who knew he was such a perfume fan!).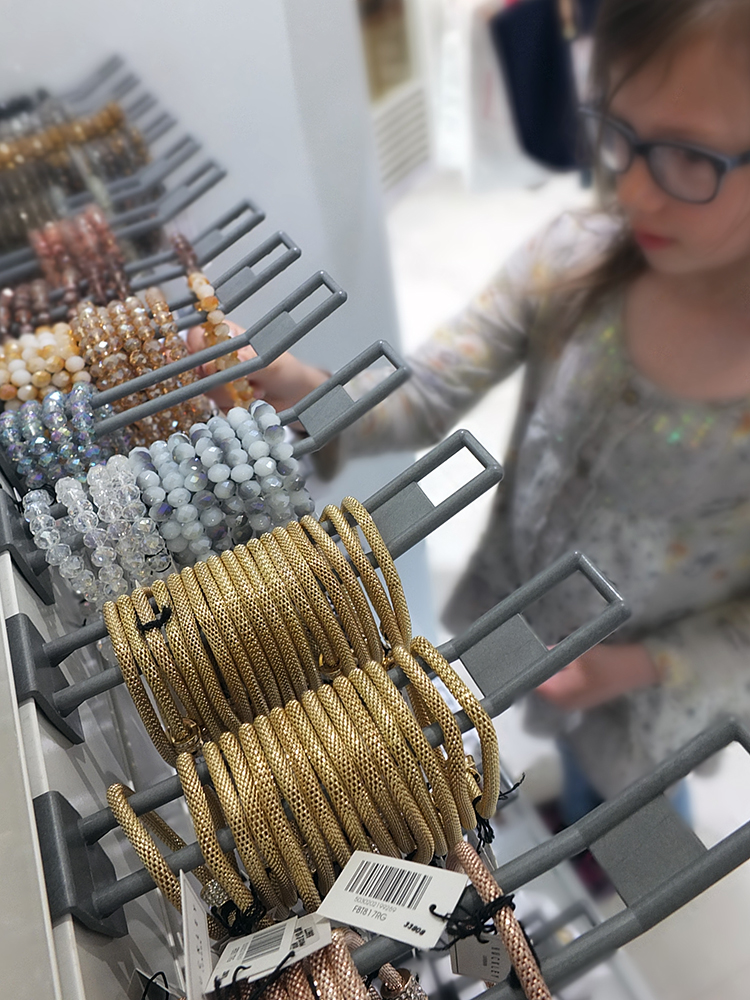 Then there's the Sundeck – a fantastic outdoor deck with tables, chairs and a bar with the most gorgeous sea views. The perfect place to watch the sun set while sipping on a cocktail (but also very stressful for a fretting mother whose children won't stop climbing the railings to have a better look over the sides!).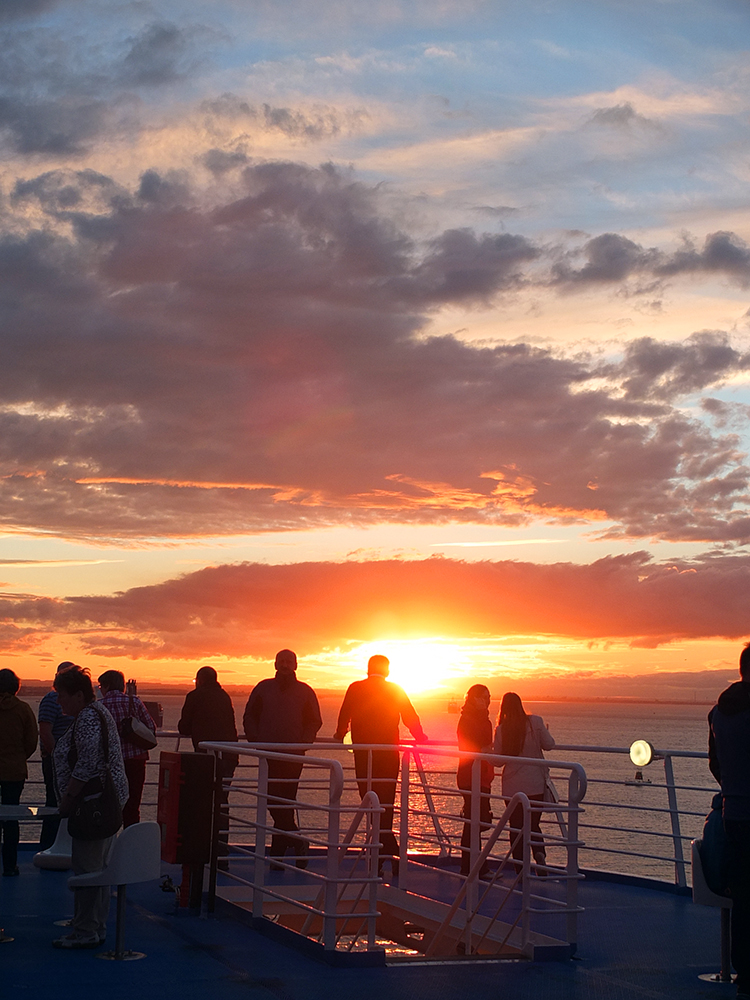 TRAVELLING ABROAD WITH CHILDREN WITH A DIFFERENT SURNAME
Oh, an important note for those of you with children from a previous marriage! If both parents still hold parental responsiblity you need a letter of permission from the absent parent to take a child out of the country. This applies until the child is 18, and if you don't have this letter and try and remove a child from the country it's considered child abduction! We completely forgot about this legal requirement as it's been 13 years since I last took my eldest out of the country (and I'm not sure I needed a letter of permission then) and we were very nearly denied entry into the Netherlands! Fortunately, the border control officer deemed my 16 year old of an age to speak for himself, and went with his response that yes, indeed, his father knew he was on this trip with us and it was all ok. It was a close call though!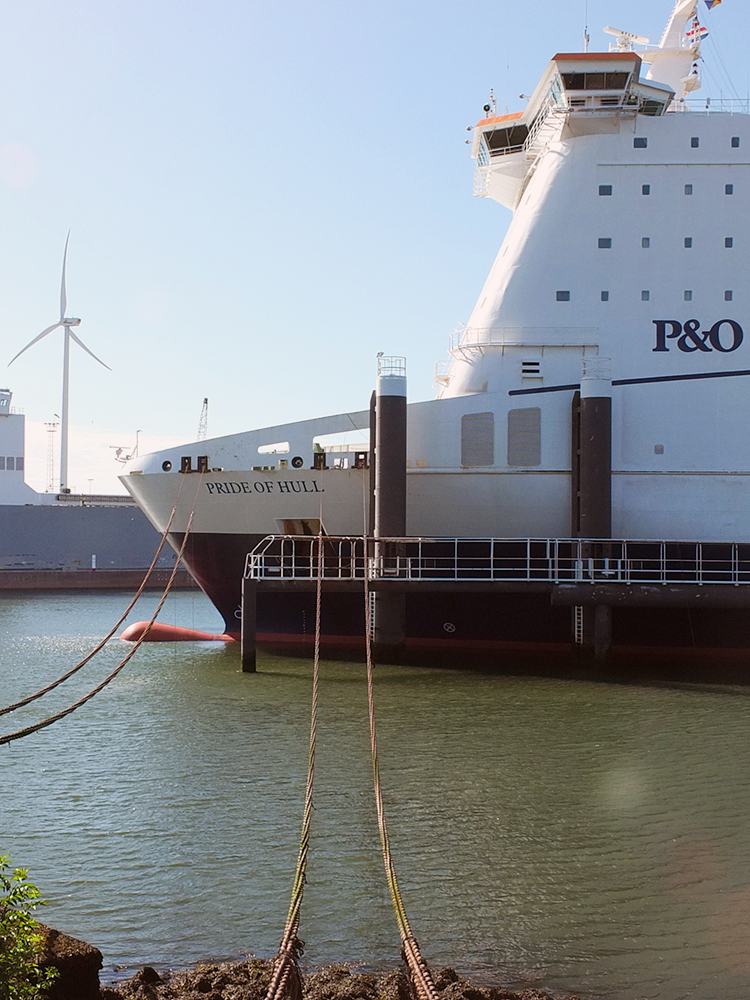 OBSERVATIONS & THOUGHTS
Our journey to and from Europoort, and onwards via bus and train to Brussels for our weekend Belgium Chocolate Experience was a thoroughly enjoyable one. We hardly felt that we were on board a ship for both journeys (with regards to seasickness and the ships movements) and we were well rested for our onward travel.
There is only 30 minutes of free wifi included in the ticket price – you can purchase vouchers for more at the Reception desk, but I can't vouch for how good it is as I never used it. It was really nice just to go offline for awhile!
Standard cabins are included in the ticket price, which starts from £169 each way (at the time of writing). You can upgrade to Premier or Premier Plus (the Club Cabin we stayed in) which include meals at either The Kitchen or The Brasserie, depending on ticket type.
All in all, the voyage on board the Pride of Hull was a memorable one and it was our first taste of what a cruise ship can offer. I'm seriously contemplating going on a full cruise abroad one day!
MORE READING
P&O Ferries – The Hull to Rotterdam Route
Things to Do in Brussels
A Belgium Chocolate Experience – our weekend chocolate adventure in Belgium
Boulets a la Liègeoise – a traditional Belgium meatball recipe
Permission to take a child abroad  – legal information about travelling with children
Make Your Break a SuperBreak – accomodation provider offering low cost hotels abroad
We were guests on board the Pride of Hull although all thoughts and opinions expressed in this post are our own. With thanks to SuperBreak who provided our accomodation while in Brussels, and a huge thank you to P&O Ferries for the opportunity to travel through the Netherlands and to Brussels.