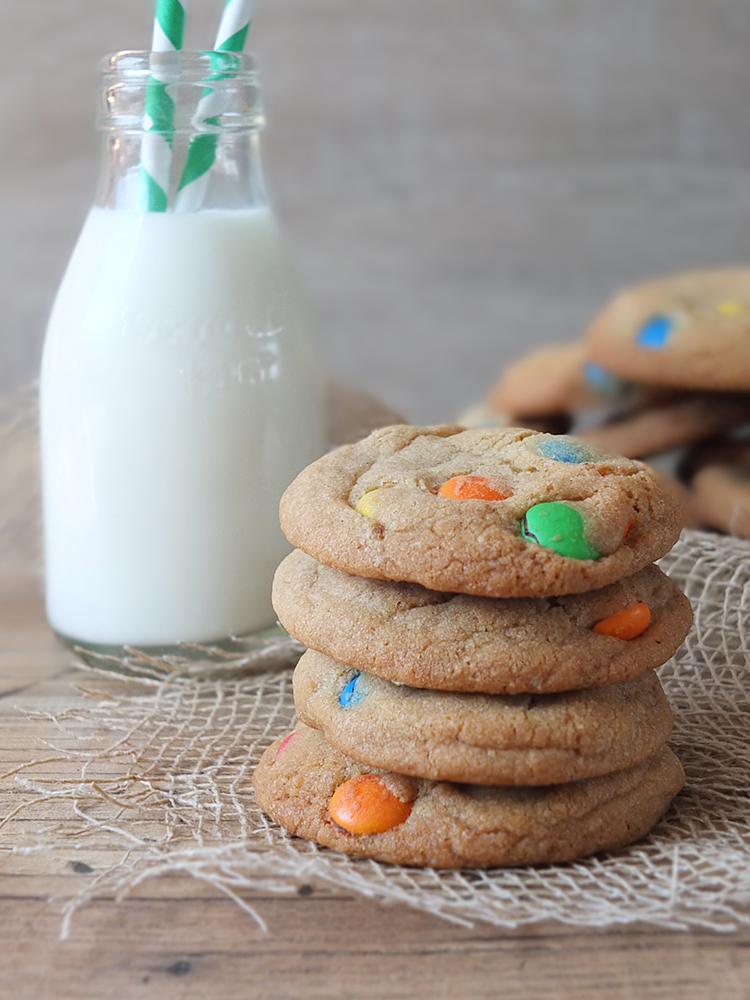 My house looks like a Mountain Warehouse has exploded inside of it.
It's an organized chaos, I swear. There is camping and cycling gear on nearly every surface as I try and figure out what to pack for my epic cycling trip next week. As I am pottering about the house I'll glance upon a specific item and remember I'll need something else to go with it and I'll add it to the pile.
I picked up miniatures of things in town the other day – a tiny travel toothpaste, a lightweight travel towel (seriously – it weighs 70 grams!), Smidge spray for those pesky Scottish midges, stuff like that. When you're carrying everything you need for two weeks camping in panniers on your bike every gram is sacred.
I stood there in the supermarket staring at those fantastic little porridge pots in the cereal aisle. You know those 'just add water,  stir, pop the lid on and in five minutes you've got piping hot porridge' pots. They're great for camping, but for bike packing with limited space there's all that empty air in the top – I didn't want to waste the space.
I had an idea. I could make my own! My experiment was wholly successful and yesterday I spent some time preparing several vaccum sealed sachets of porridge for my travels. A recipe post will follow upon my return – I need to road test it first!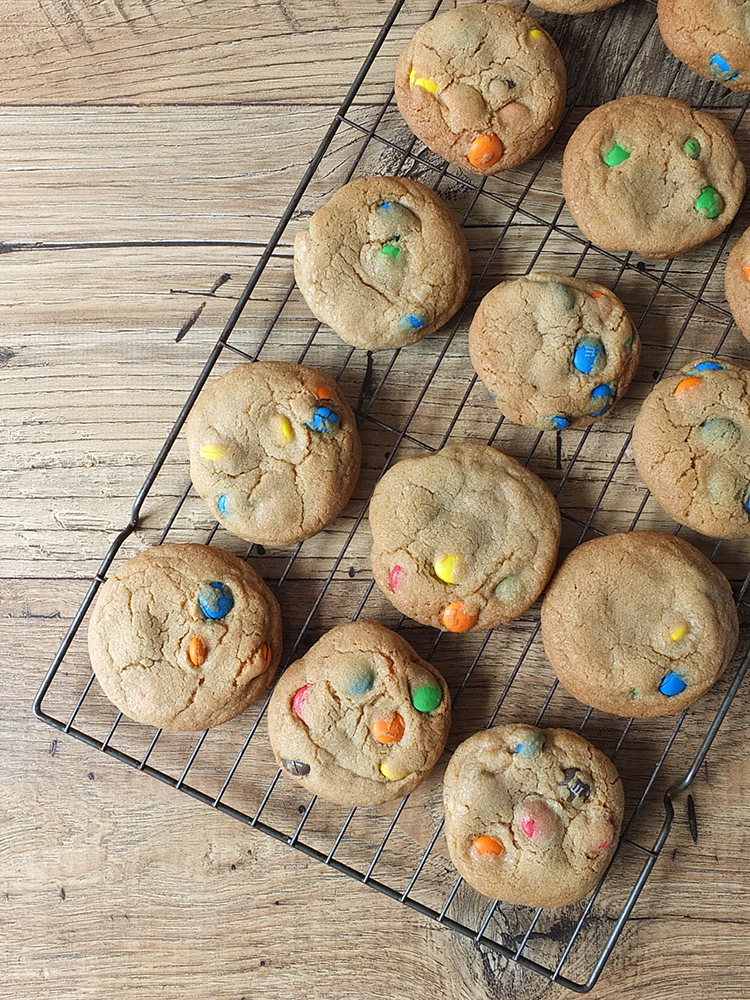 As I lay drifting off to sleep the night before I was struck with the realisation that departure time south is imminent. We're leaving on a weekday which means that my children will be in school when I set off from Britain's most northerly RNLI lifeboat station on my epic 300+ mountain bike cycle through Orkney and the highlands of Scotland, finishing in Fort William where I'll be climbing Ben Nevis via the north face and the carn mor dearg arete.
I had that pang when I realised I was going to be away from my children for an extended period. I've never been away from them for so long before. It's only a fortnight, but still. I had that pang of missing them (they were peacefully sleeping in their beds) and then the Mum-guilt for leaving them and going off on my mid-life crisis adventuring.
So the following day I made them some cookies as an after school treat. My way of making it up to them, somehow.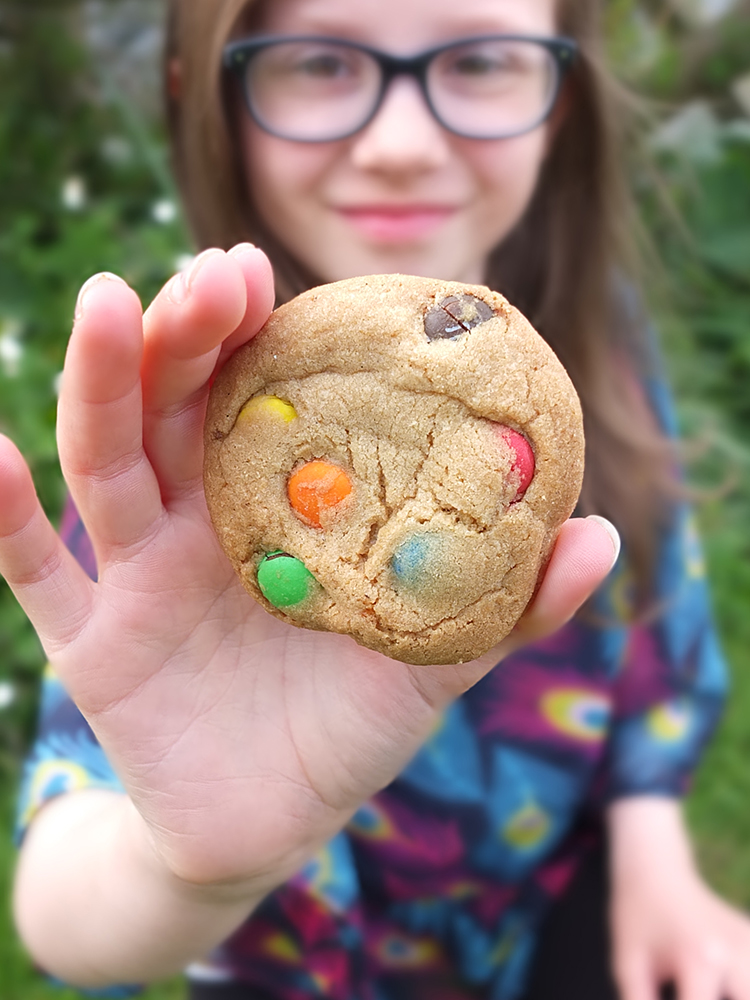 In all honesty they'll be fine. I'll be phoning home regularly, and I've got grand hopes that the entire of the Scottish mainland has 3G and I'll be able to message frequently. But still, Mum-guilt, eh?
I adapted this recipe from a Smarties recipe I found in a little Canadian recipe booklet my grandmother sent me for my birthday last year. To be honest all I've done is change the Smarties to M&Ms (because they were less expensive!) and UK-ify the ingredients list. I don't use American cups any more. Grams all the way for me!
The kids loved them, and I felt slightly less guilty about leaving. I think I'll put up a map of Scotland on the fridge so the kids can cross off the places I've gone through so they know where I am in the world on my trip.
You too can follow me on my adventures on Instagram. I'm raising money for the RNLI with this cycling and climbing challenge – so far I've raised £515, which I'm really, really pleased about. You can sponsor me over on my Virgin Money Giving Page, if you fancy. For any locals, there's a paper sponsor form in my village shop. It tends to get lost underneath the Shetland Times newspaper pile, but it's there.
In the meantime, here's some cookies. 🙂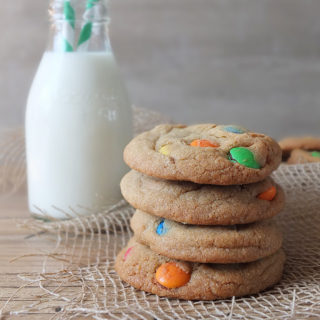 M&M Cookies
A colourful treat for the kids - quick and easy to make too!
Print
Rate
Affiliate Links
This recipe card may contain affiliate ingredient and equipment links. As an Amazon Associate I earn from qualifying purchases.
Instructions
Preheat oven to 350F/180C/170C fan and line a baking tray with baking paper or a silicone mat.

Cream together the shortening and sugars until light and fluffy.

Beat in the eggs and vanilla.

Sift in the flour, baking soda and salt and stir with a wooden spoon until well combined.

Fold in the M&Ms.

Using your hands pinch off bits of dough about the size of a walnut. Roll into a ball and place on the prepared baking sheet, flattening slightly.

Bake for 10-12 minutes, until light golden. Leave to cool on the baking tray for a few minutes before transferring to a wire rack to cool completely.

Store in an airtight container.
Environmental Information
Click here to view the nutritional information for this recipe.
OTHER COOKIE RECIPES YOU MIGHT LIKE
Soft Monster Cookies from Little Sunny Kitchen
Oreo Button Cookies from Elizabeth's Kitchen Diary
Camp Aitebreagh Chocolate Chip Cookies from Elizabeth's Kitchen Diary
Bear Paws (Old Fashioned Molasses Cookies) from Elizabeth's Kitchen Diary
LINKING UP WITH A FEW BLOGGING CHALLENGES
Treat Petite 'Fit for a Queen' by Cakeyboi and The Baking Explorer
Recipe of the Week by A Mummy Too
No Waste Food Challenge guest hosted by Utterly Scrummy for June and July (the shortening I used was out of date the following day and the eggs were already past their best before).