In collaboration with Davidstow Cheddar.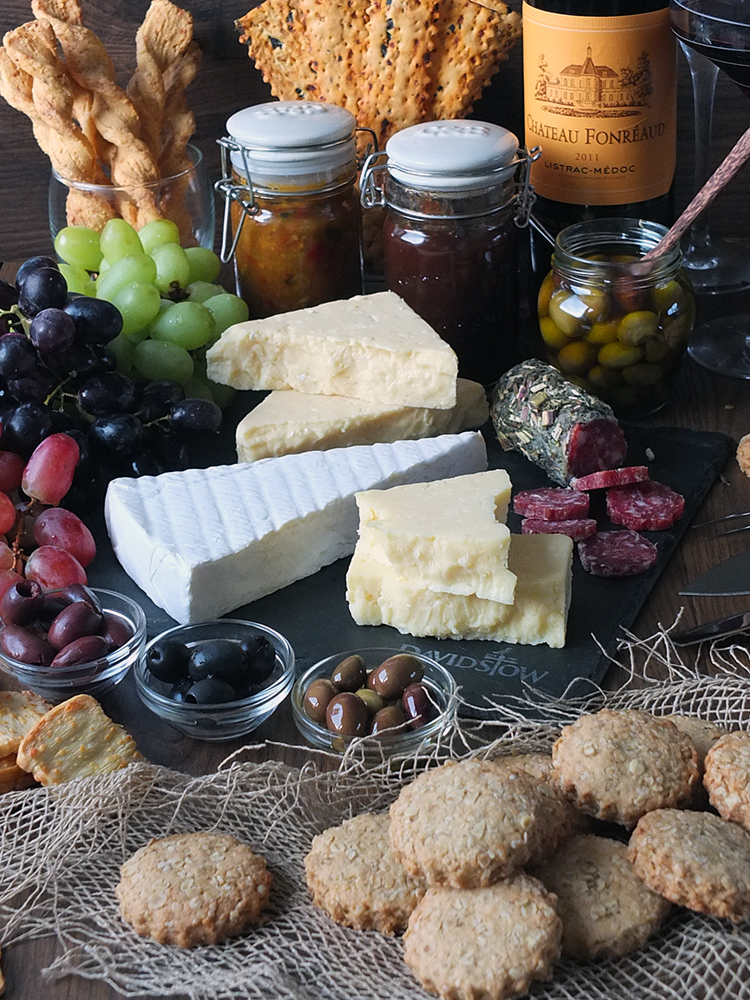 I love a good cheeseboard, me. They can be as simple as apple wedges and grapes served with a wedge of cheese and a packet of crisps for a quick and easy snack or lunch, or something as extravagant as several cheeses, olives, cured meats, a selection of crackers and savouries and a few chutneys. Oh, and we can't forget the red wine either.
I don't claim to be an expert at creating the perfect cheeseboard, I just know what I like. One thing I do like is a nice oatcake to go with my cheese. An oatcake that's not too sweet, not too savoury and with just the right amount of crunch and crumble. You want it strong enough to be able to deliver the cheese to the mouth, but light enough to eat it with ease.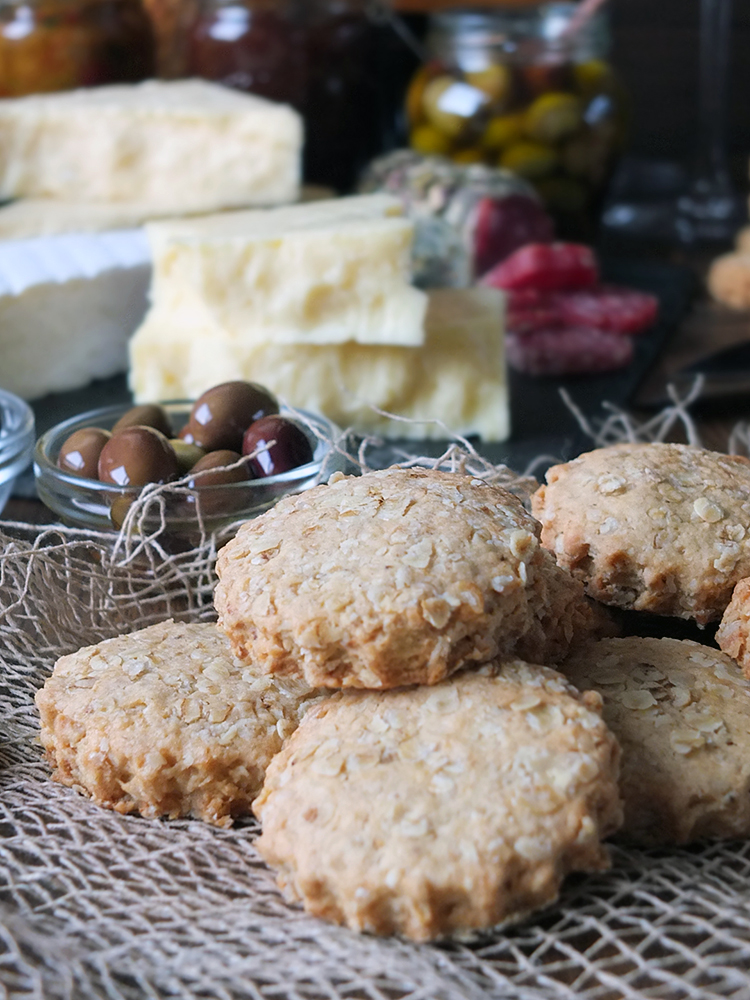 These oatcakes are made with a combination of stoneground oatmeal – the kind of oats those hearty Scots used to make their traditional porridge from – and rolled quick oats, the oats us busy Mums use to make our porridges.
It's not quite a traditional oatcake in that it also includes flour, a touch of brown sugar, plenty of butter and a beaten egg to bind, but it makes a lovely rustic looking oatcake for a cheeseboard. Plus, it tastes great. My kids, especially, love them.
They're easy enough to make that the kids could even get involved. Simply place all the dry ingredients into a bowl, rub in the butter, add the egg and stir. I find chilling the dough for twenty minutes or so helps with the rolling out stage, although sprinkling the work surface and the top of the dough liberally with extra rolled oats helps too. It also gives the oatcakes that lovely rustic look.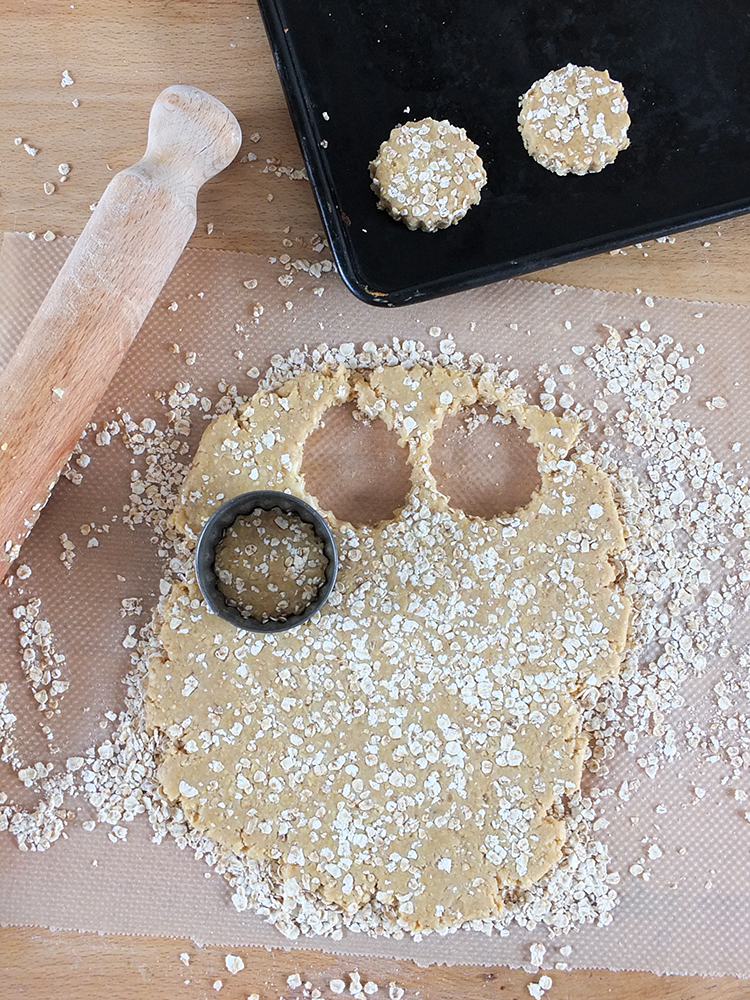 THE COMPONENTS OF OUR CHEESE BOARDS
Our cheese boards tend to have four key components.
First, good cheese – at least three different kinds. We always feature at least one cheddar, the more mature the better, along with a soft cheese and a hard cheese. I like a soft goats cheese while my husband prefers the harder Nordic varieties.
Secondly, carbohydrates – namely crackers or bread. If it's bread we're having I always serve a little bowl of good quality olive oil with a drizzle of balsamic vinegar in it to dip the torn pieces of bread into. If it's crackers, there's always a selection which includes oatcakes.
Third – something with crunch. This varies depending on the time of year. During the height of the growing season we often have a cheeseboard for our Friday night dinners, when our weekly veg box has been delivered. The crunch is provided by fresh peas eaten straight out of their pods, cucumbers, tomatoes and carrot sticks. There's always a selection of grapes too. For this Christmas season grapes will feature, as will warmed, spiced and toasted nuts.
Fourth, accompaniments – I love onion marmalade with my cheeseboard, or piccalilli or an ale based chutney. A selection of olives, sun-dried tomatoes, or even cheese stuffed mini peppers also regularly feature with our cheeseboards as does a cured meat, or two. Oh, and there's always a bottle of good quality wine too.
I love encouraging my younger children to try the different food combinations – a certain cheese with a certain cracker or bread, and a dollop of chutney. Then, pop that olive into your mouth and then take a bite of that other cheese and eat a grape. See how the different tastes and textures really work well together? It's wonderful seeing their eyes light up when they understand what I mean, and then they try it again and again.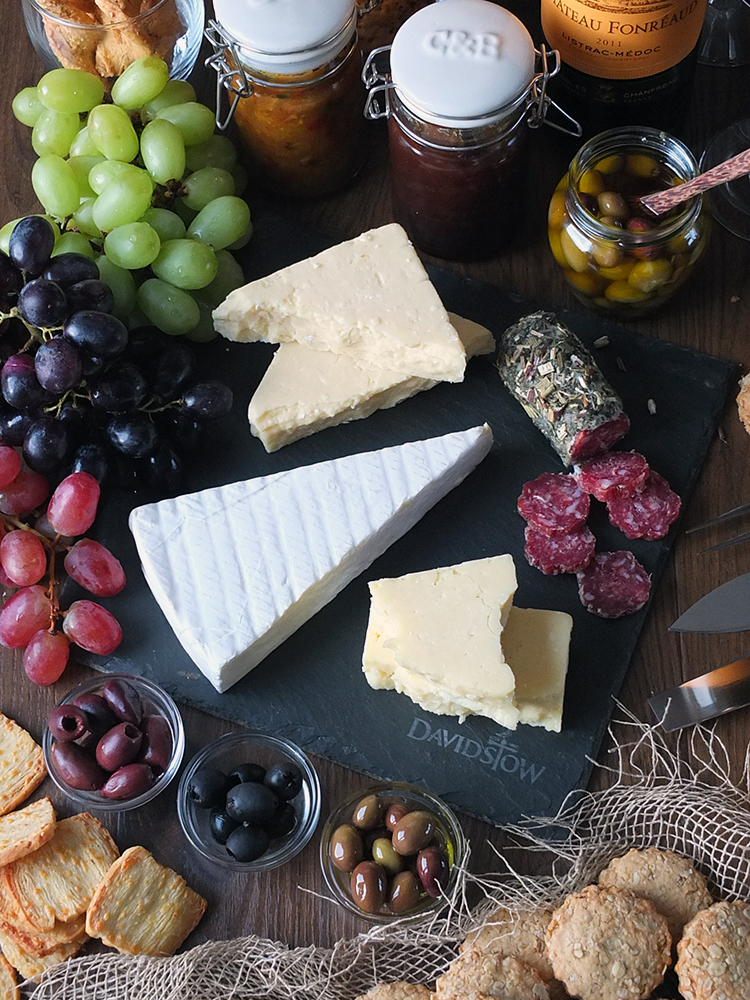 DAVIDSTOW CHEDDAR
When it comes to cheese I'm an extra-mature cheddar kind of girl. I love the sharp flavour of a well aged cheddar, like the multi-award winning Davidstow® 3 Year Vintage Reserve Cheddar and Davidstow® 18 Month Extra Mature cheddars.
These two cheeses are made with passion and pride by the master cheese makers at the Davidstow® Creamery on the rugged North Cornish coast. Using locally sourced milk, Davidstow's cheesemakers have maintained the principles of traditional cheddar making, combining it with modern technological precision for a perfect batch each time. The process is carefully overseen by their Master Cheese Grader, Mark Pitts-Tucker, who ensures the depth of complex flavours and award winning quality never falters.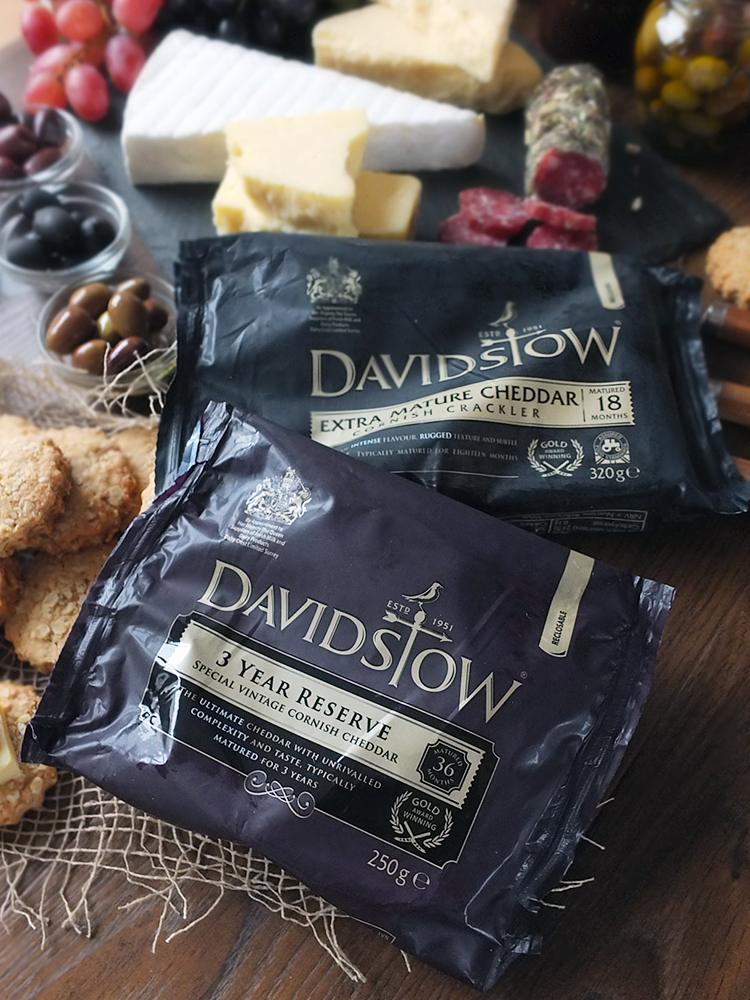 Davidstow® 3 Year Vintage Reserve is matured for a minimum of three years, giving this award winning cheese its distinct firm yet crumbly texture and unrivalled complexity in taste and crystalline appearance. It is beautifully creamy with a rounded, yet intense, long-lasting flavour. Serve this cheese with oatcakes and a good quality ale (or ale based chutney) for a full taste experience.
Davidstow® 18 Month Extra Mature is a very intense, yet pleasantly sweet, cheese with added layers of complexity and concentrated bursts of flavour from the naturally occurring crunchy crystals that it acquires with age. I love these crunchy crystals – they offer a rather sharp contrast of taste and texture that really gets the saliva flowing. The perfect accompaniment for your Christmas cheeseboard this season. Why not serve it alongside a slice of dark, sticky fruit cake?
Davidstow®'s 3 Year Vintage Reserve is available exclusively from Ocado and Davidstow® 18 Month Extra Mature is available from Tesco Extra, Sainsburys, Asda, Morrisons & Ocado.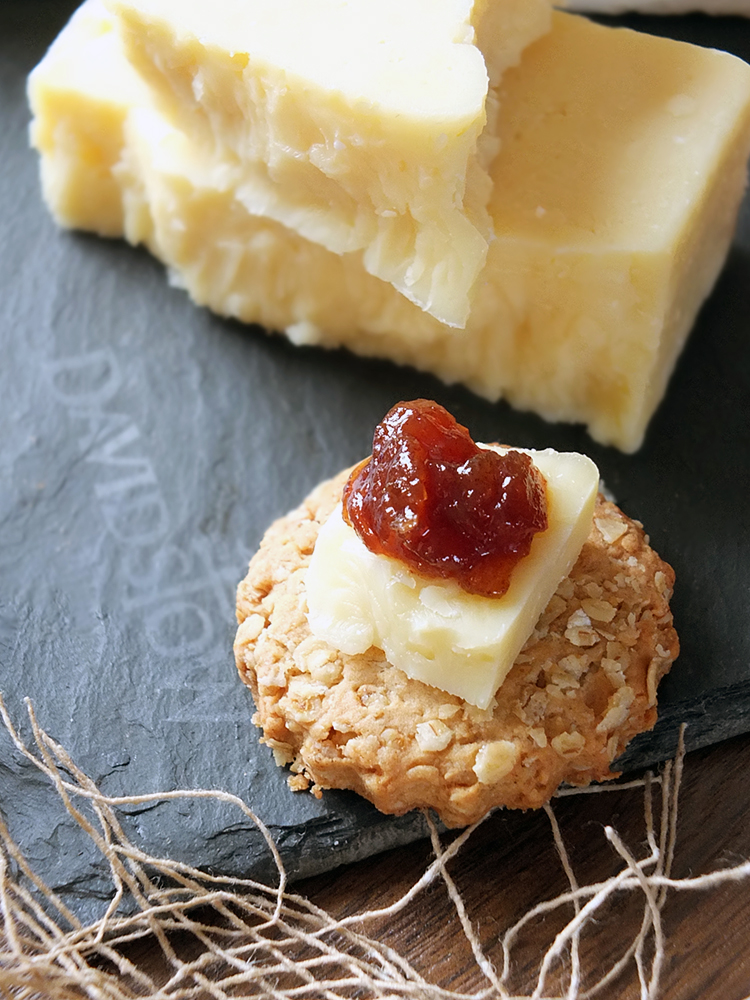 CHEESEBOARD STYLING TIPS FROM DAVIDSTOW
• Never have more than four cheeses on the board and vary them to incorporate different textures and styles. Davidstow recommend one soft, one goats, one hard and one blue.
• Pairing cheese with the right accompaniments will bring out its unique flavours.
• Partner Davidstow with a fruity or ale-based chutney and crunchy oatcakes. These help provide a sweet balance to the sharp bite of the cheese.
• Serve cheese at room temperature to bring out its full flavour – allow a minimum standing period of 20 minutes.
• Never pre-slice cheese as it will cause it to dry out.
• Present cheese on either a large, flat slate, marble tile or a wooden cheeseboard.
How do you style your cheeseboard? What's your favourite cheddar pairing accompaniment? Let me know in the comments!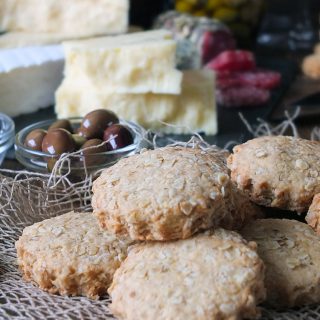 Homemade Mini Rustic Oatcakes
This oatcake recipe is slightly sweet, yet savoury - perfect for serving with mature cheese and chutney.
Print
Rate
Servings:
40
mini oatcakes
Affiliate Links
This recipe card may contain affiliate ingredient and equipment links. As an Amazon Associate I earn from qualifying purchases.
Instructions
Preheat oven to 180 C/ 350 F/ 170 C.

Combine the oats, flour, sugar and salt in a large bowl and rub in the butter with your fingertips until it resembles coarse breadcrumbs.

Add the beaten egg and combine well with a wooden spoon to form a dough.

Divide the dough in half. Wrap each half in cling film and chill for 20 minutes.

Dust your work surface with some porridge oats and roll out the dough to a 1/4 inch thickness, sprinkling more porridge oats over the top of the oatcakes to help the dough roll out. Cut out your oatcakes with a 5 cm round fluted cutter.

Carefully transfer each oatcake to an ungreased baking sheet, placing about an inch apart as they don't spread much.

Bake for 15 minutes and transfer to a wire rack to cool completely.

Store in an airtight container until needed.
Environmental Information
RECIPES FOR CHEESEBOARD ACCOMPANIMENTS YOU MIGHT LIKE
Figgy Christmas Chutney by The Veg Space
Katie's Chuck-it-all-in Chutney by Tinned Tomatoes
Best Beetroot Chutney by Tin & Thyme
Crunchy Rough Scottish Oatcakes by Greedy Gourmet
Kavey's Cheeseboard & Chutney Quiche by Kavey Eats (uses up cheeseboard leftovers!)
Christmas Chutney by Hungry, Healthy, Happy
Mixed Tomato Chutney by Fab Food 4 All
This is a commissioned recipe for Davidstow, although all thoughts and opinions expressed are our own. Thank you for supporting the brands who make it possible for me to do what I love: mess up my kitchen and share recipe stories.
[color-box]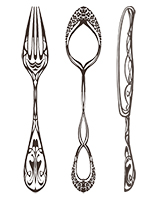 Have you made this recipe?
Take a photo and tag @tangoraindrop or use the hashtag #elizabethskitchendiary and share on Instagram and Twitter. It would make my day to see your creations!
[/color-box]