In collaboration with Love Food Hate Waste.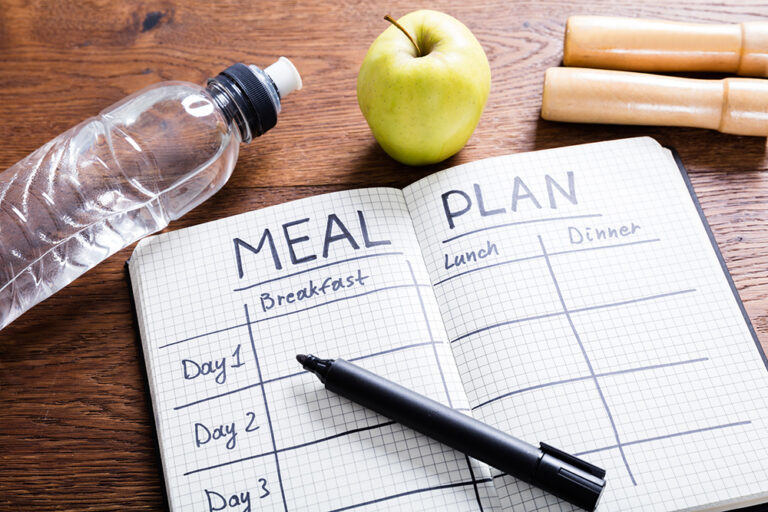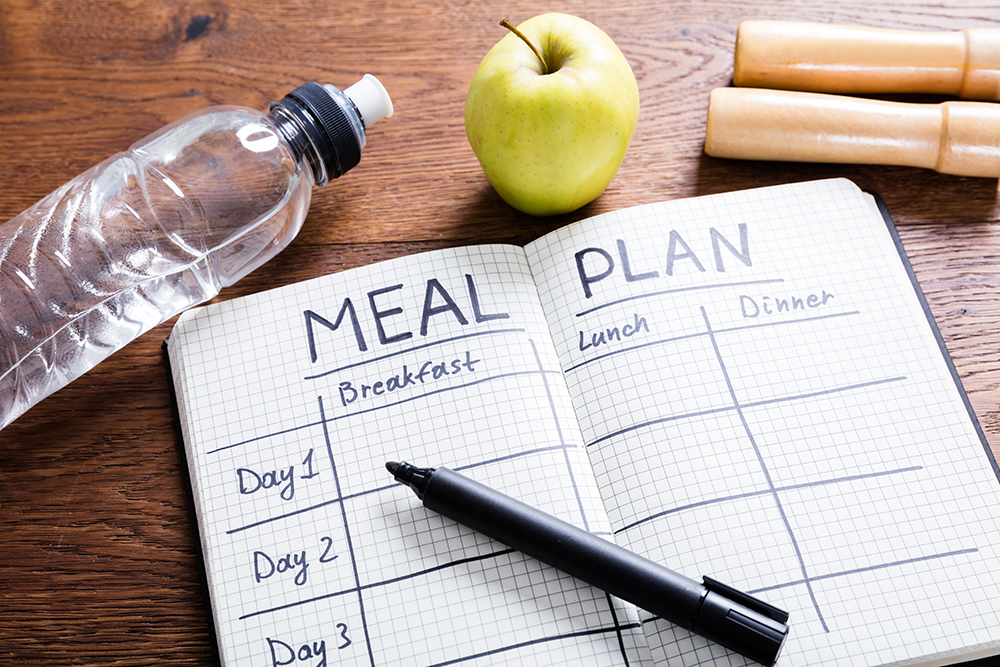 I have a confession to make: I have never meal planned before. Ever. In fact, I've previously scoffed at the idea because, well, I like to think I'm a bit too spontaneous for such organization and attention to detail. What if, three days after I've planned and shopped to make a pasta dish I don't want a pasta dish? What if I'm craving grilled chicken and couscous instead?! What if I meal plan to have salmon on a particular night, but when I get to the shop the haddock is on sale for a third of the price? Do I stick with the original plan or can I allow for some flexibility?
This Lent the Love Food Hate Waste charity campaign have launched a #GiveUpBinningFood campaign. Instead of giving up chocolate or wine for Lent, like many of us do, why not give up something that's going to create new lifelong skills and habits as well as reduce food waste and save us a few pennies too?


This six-week long campaign is broken down into weekly themes to make reducing food waste at home a more attainable goal. These themes are:
1st March (week 1) Meal planning – when's this for?
8th March (week 2) Storage – where should I put this?
15th March (week 3) Fridge focus – how do I make the most of my fridge?
22nd March (week 4) Portioning – how much should I use?
29th March (week 5) Food labels – what does this mean?
5th – 13th April (week 6/7) Leftovers – what can I do with my ingredients?
So this week, we at Elizabeth's Kitchen Diary attempt Meal Planning for the very first time ever. I've had a good old rummage around our well-stocked freezer, nearly empty fridge and overflowing pantry. Seriously, there's so much food back there you'd think I was stocking up for a food shortage! How does that even happen?!
I'll tell you how it happens: my shopping strategy tends to be "oh, that's on sale, I'll get a few of those, this, that and the other thing" and then I open my fridge and cupboard and try to get creative with what I see. There's no rhyme nor reason to it. I also tend to stock up during the winter months just in case there is a prolonged ferry disruption which limits our food supply from the mainland.
It's time to empty those cupboards and freezer!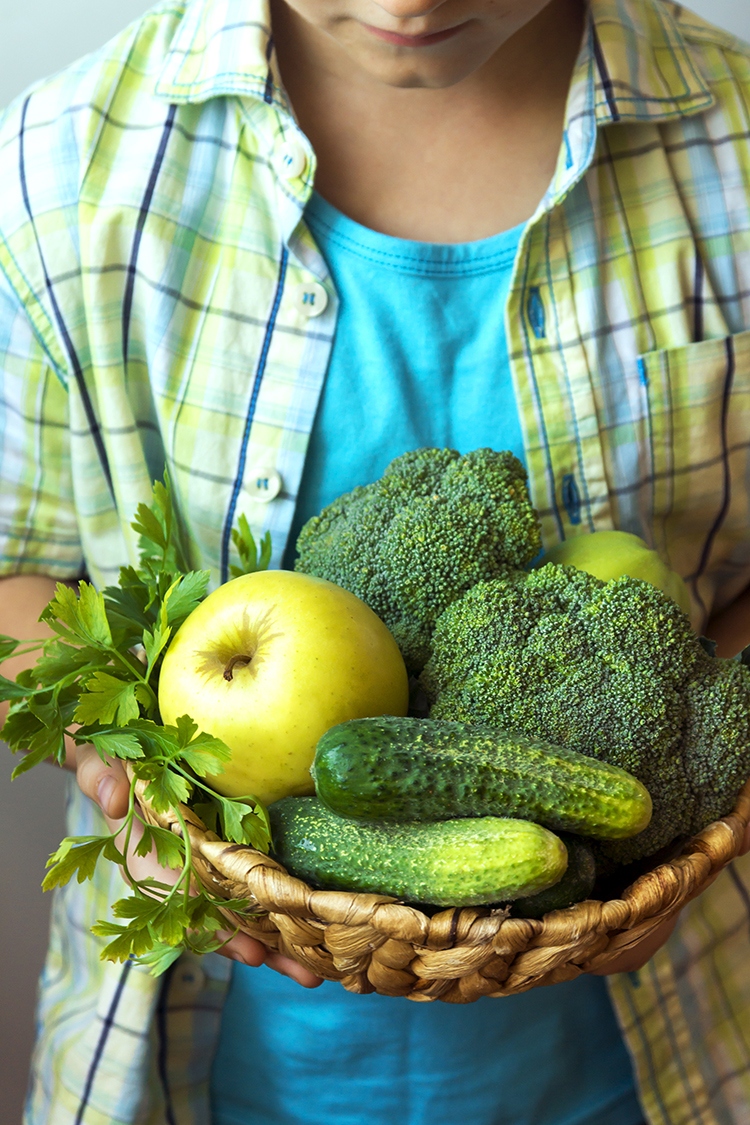 DAY 1 MEAL PLAN – WEDNESDAY
Breakfast – porridge; natural yogurt, fresh fruit + granola; cereal with milk; coffee
Lunch – school dinner (kids); ham & cheese salad wrap (husband's packed lunch); ham & boiled egg salad (me)
Dinner – homemade hidden veg cheesy lasagne (use leftover Christmas cheddar from back of fridge); salad
DAY 2 MEAL PLAN – THURSDAY
Breakfast – fruit smoothies (frozen fruit); cereal with milk; coffee
Lunch – school dinner (kids); ham & cheese salad wrap (husband's packed lunch); blender vegetable soup, salad + remaining ham (me)
Dinner – Shetland seafood pie (monkfish, salmon & cod from freezer); salad
DAY 3 MEAL PLAN – FRIDAY
Breakfast – Birthday pancakes with all the trimmings; coffee
Lunch – school dinner (kids); tuna salad wrap (parents)
Dinner – Birthday dinner – eating out to celebrate; homemade birthday cake & ice cream
DAY 4 MEAL PLAN – SATURDAY
Breakfast – porridge; yogurt, fruit + granola; coffee
Lunch – tuna salad wraps + crisps (it works!)
Dinner – homemade pizza (homemade sauce in freezer); salad; leftover birthday cake
DAY 5 MEAL PLAN – SUNDAY
Breakfast – Poached eggs on ciabatta toast (found 2nd BOGOF ciabatta in freezer); coffee
Lunch – tinned tomato soup (pantry) with cheese toasties with leftover bacon jam & remaining ciabatta
Dinner – roast Shetland lamb + all the trimmings; leftover birthday cake
DAY 6 MEAL PLAN – MONDAY
Breakfast – porridge; natural yogurt, fresh fruit + granola; cereal with milk; coffee
Lunch – school dinner (kids); puy lentil, veg & turkey salad (leftover Christmas turkey in freezer)(parents)
Dinner – Leftover roast dinner hash
DAY 7 MEAL PLAN – TUESDAY
Breakfast – porridge; cereal with milk; natural yogurt, fruit + granola; coffee
Lunch – school dinner (kids); homemade soup + ham, cheese & apple wrap (parents)
Dinner – Homemade cheeseburgers with leftover homemade bacon jam; chunky oven chips (in freezer)
So there you have it! My very first ever meal plan. It took me a couple of hours (and a fridge tidy later!), but I really enjoyed compiling this. I can see this becoming a regular thing! Note, I am no nutritionist so don't expect my meal plan to be a perfectly balanced menu, especially given that recent media coverage has told us that we need to be eating 10 portions of fruit and vegetables a day to stave off disease. Ten! Snacks throughout the week will include plenty of fresh fruit, assorted product review samples, and protein post workout bars and shakes.
My friend Michelle over at Utterly Scrummy Food for Families wrote a 10-day menu plan recently to feed her family of six for only £90. It's very inspiring! She manages to cram all ten daily fruit & veg portions for all six of them into that plan! Alex over at Gingey Bites also has a rather educational post on menu planning on a budget.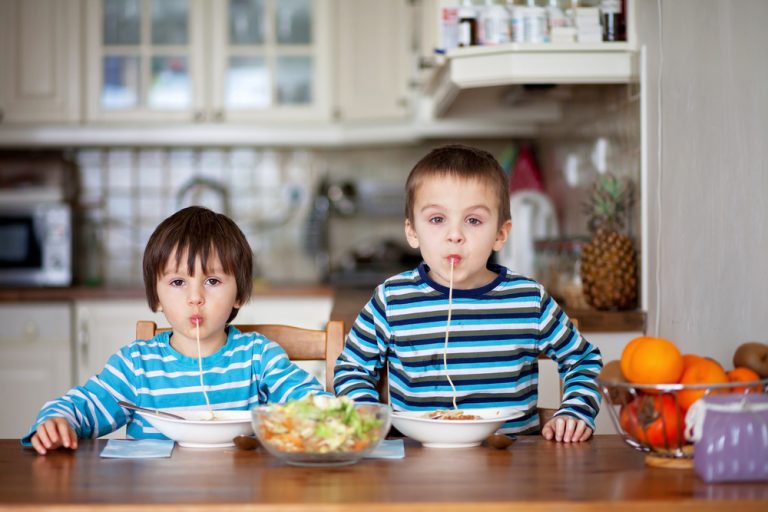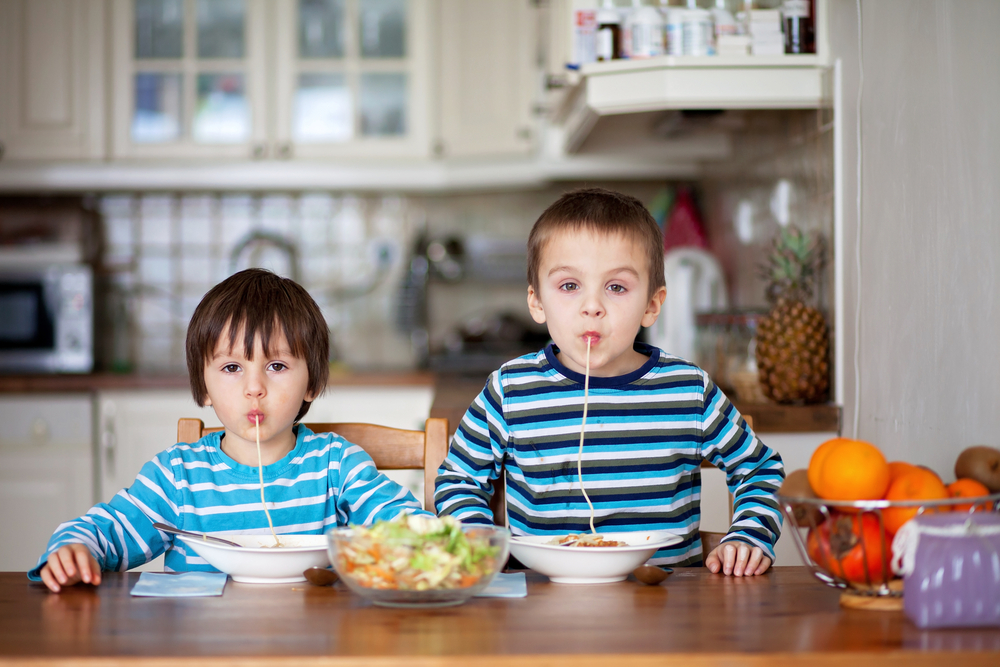 LOVE FOOD HATE WASTE TIPS FOR MENU PLANNING
Thinking ahead about what you want to cook each week is one of the easiest things you can do to take the hassle out of cooking and shopping. Taking just 10 minutes to write a short plan could save you several trips to the supermarket, last minute dashes to the convenience store for missing ingredients and will also help you feel on top of things.
There are so many ways to approach it, like writing shopping lists and planning recipes, that after practicing just once or twice, you'll begin to find what works for you and your family too. It saves time and money. Get this first step right and you're in good stead for a happier kitchen and happier you!
Decide on a day and time when you have 10 minutes free to write your plan. This could be during your lunch hour, on the train or during down time. Set a reminder on your phone.
Create a master list of your grocery essentials and favourites, then update it each week for speed and convenience.
To make things even easier, download free apps with handy lists and menu plans ready for you to use, e.g. Yummly, Meal Plan or AnyList.
To keep things interesting, go with themes, e.g. soup night, pasta night, rice night, then just jazz the dishes up with different ingredients each time.
Have a quick scan of the fridge after your morning cuppa to check you've taken out the frozen meat you had planned to cook that night.
Have fun with it! Write up 'today's specials' on a chalkboard in the kitchen. Get the kids involved and play guessing games with clues.
Don't forget to plan for leftovers. Enjoy no-cook nights by using up the week's unfinished food that you've stored in the fridge or freezer.
Take a 'shelfie' of your fridge/freezer so you can see what you have/is missing while you shop.
Sign up for the Love Food Hate Waste newsletter to receive regular food waste prevention updates!
NO WASTE FOOD CHALLENGE
Regular readers will know I host a monthly #nowastefoodchallenge, designed as a place for folk to share their inspiring recipes made with ingredients which might otherwise end up in the bin. The challenge is now in its 5th year and I am always amazed at the creativity of the entries. In February 14 bloggers linked up, and here are their gorgeous recipe creations!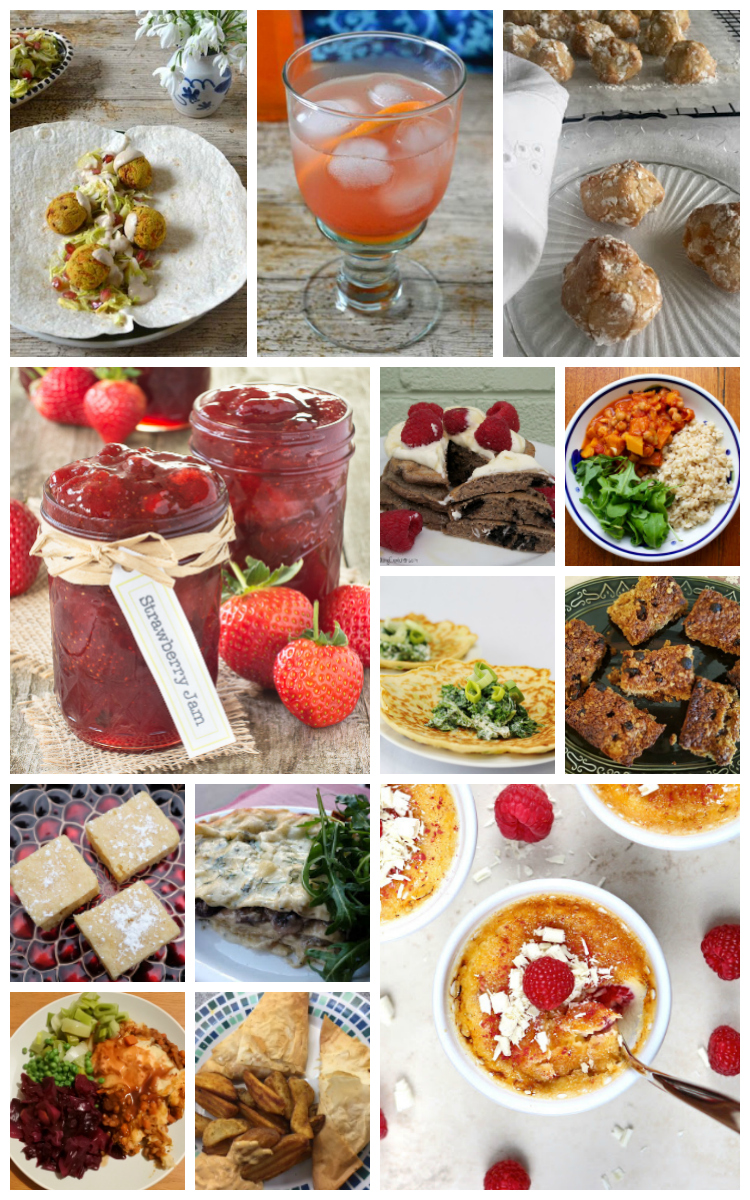 Blood Orange Squash (used up all of the orange peel) by Tin & Thyme
White Chocolate & Raspberry Creme Brulee (used up leftover egg yolks) by the Gluten-free Alchemist
Chickpea, Peach & Pumpkin Curry (used up stewed fresh peaches) by Green Gourmet Giraffe
Green Lentil & Vegetable Cottage Pie (chuck in neglected veg) by Roast Chicken & a Country Walk
Oreo Pancakes with Raspberries & Creme Fraiche (leftover Oreos) by The Baking Explorer
Almond & Apricot Amaretti (uses up egg whites) by Leeks & Limoni
Leek Pancakes with Spinach, Kale & Ricotta (uses up loads of greens) by Searching for Spice
Creamy Chestnut Mushroom Blue Cheese Dill Lasagne (leftover cheese) by Allotment 2 Kitchen
Parsnip White Chocolate Blondies (leftover parsnips) by Seasonal Shaheen
Homemade Strawberry Jam (use up a glut of strawberries) by Charlotte's Lively Kitchen
Chicken & Chorizo Filo Parcels (leftover pastry) by Caroline Makes
Apple & Cinnamon French Toast Casserole (stale bread) by Elizabeth's Kitchen Diary
Lemon Raisin Flapjacks (store cupboard bits & bobs) by the Good Egg Foodie
Air Fryer Carrot Falafels (freeze leftovers) by Tin & Thyme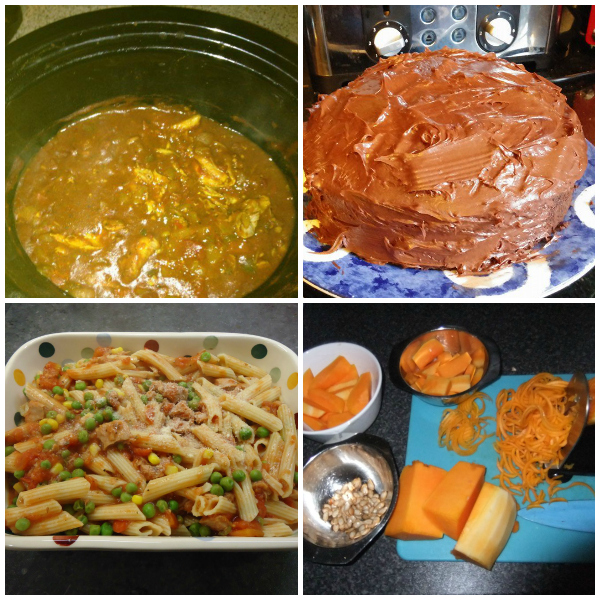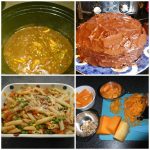 READER RECIPES
Turn leftover Sunday roast into a midweek curry by Tracey A
Use up flour and bake a chocolate cake by Tracey A
Tuna pasta bake with leftover veg by Sandra C
The whole squash can be used up for meals later in the week by Heather H
MY FAVOURITE READER TIPS FROM LAST MONTH
Definitely plan ahead so all your meals are sorted, that way you don't end up with unwanted food which goes out of date and is wasted! This way you make delicious home cooked meals and save money, Now any leftovers you do have can be frozen and used to make delicious soups or broths! – Alison A

I stock rotate my fridge often this minimises what goes in the bin -hardly nothing now and same with my cupboard and sometimes you find something which you have forgotten about which is tasty,also any leftover I freeze and take to work – Gemma R

Invest in an energy efficient freezer, freezer bags, plastic containers, labels. I always cook more than hubby and I can eat for one meal but freeze for use on a day when I haven't got time to bake from scratch. We never throw food away. – Patricia A

PLAN AHEAD !! I do a roast chicken on a Sunday " use breasts for lunch , on a Monday I strip the chicken – give some nasty bits to the dog keep all good bits to put in a pasta bake or a one pot pasta dish , Boil bones for stock " use this for soup or to use in a one pot pasta bake . Even if I have pork or beef on a sunday I use this for meals for the week , like beef stroganoff " on Monday even veg can be used so I make a little more on sunday for soup in the week and for bubble & squeak … Always always plan a head and the veg peelings are boiled for the chickens !! so no food is wasted in my home. – Sharon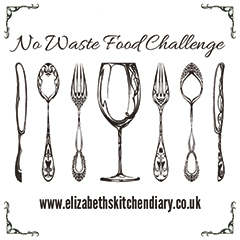 JOIN US WITH THE NO WASTE FOOD CHALLENGE
I challenge you, dear reader, to share your own recipes and tips to help prevent food waste! Do you meal plan? Teach me how! You don't have to have a blog to enter, simply let me know your recipe or tip in the comments below and fill out the Rafflecopter form. You can share an image of your dish, if you like, on Twitter as an extra entry option. Tag me @tangoraindrop and use the hashtag #nowastefoodchallenge to help spread the word! I will include a selection of my favourites in next month's round up, where we'll get to do the challenge all over again! Bloggers – link up with the linky tool as usual to be included in the round up – click here for the full No Waste Food Challenge rules. If you want to enter the giveaway, leave a comment and enter via the Rafflecopter form.
HOW TO ENTER
For your chance to win a £25 Amazon Gift Voucher enter using the Rafflecopter form below. Share your recipe, meal planning or food waste prevention tip in the blog comments. Come back and tweet about the giveaway every day for more chances to win!
TERMS & CONDITIONS
This giveaway is open to UK entries only. Entrants must be age 18 or over. The winner will need to respond within 30 days of being contacted; failure to do this may result in another winner being selected.
The prize is offered and provided by Elizabeth's Kitchen Diary. The prize is to win a £25 Amazon Gift Voucher. There is no cash alternative and the prize is not transferable.
There is no entry fee and no purchase is necessary to enter this giveaway.
The promoter (Elizabeth's Kitchen Diary) reserves the right to cancel or amend the giveaway and these terms and conditions without notice.
Entry into our giveaways will be deemed as acceptance of these terms and conditions.
If you need some help using Rafflecopter, here's a quick clip to show you how. Rafflecopter will pick the winner at random from all the entries received. I will be verifying entries. Any automated entries or those who have claimed they have made the mandatory blog post comment and really haven't will be disqualified. It's mandatory! Please make sure your comment is eight words or longer or Google views it as spam and this negatively affects my spam score. All entries with comments fewer than the mandatory 8 words will be disqualified and deleted.
Closing date is midnight (that's 00:00 hours, 12 am on Tuesday night/Wednesday morning) on Wednesday 8 March 2017 (GMT). The winner will be announced afterward.
Last month's winner was: Susan H.
This is a sponsored post in collaboration with Love Food Hate Waste. Thank you for supporting the brands who make it possible for me to do what I love: mess up my kitchen and share recipe stories.
Meal plan, child holding vegetables and boys eating spaghetti images via Shutterstock.