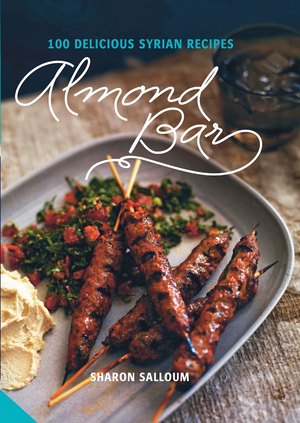 I'd like to take this opportunity to introduce you to the latest addition to my cookery bookshelf: Sharon Salloum's first publication: Almond Bar. Previously released in her home country of Australia in 2013 where Sharon and her sister Carol run the successful Almond Bar restaurant, the book has been made available in the UK this February, published by Jacqui Small @JacquiSmallPub.

I am in love with this cookbook! From the well written introduction you are drawn into a world of flavour, spice and beauty and Sharon's true love for her ancestral Syrian food shines through on each and every page. You experience some of her family traditions as each recipe is accompanied by an evocative memory. The stunning, mouthwatering photography by Rob Palmer draws you in: you can almost taste and smell each dish through his photos. There are over 100 classic and contemporary Syrian recipes in this book, and each one looks like a gem!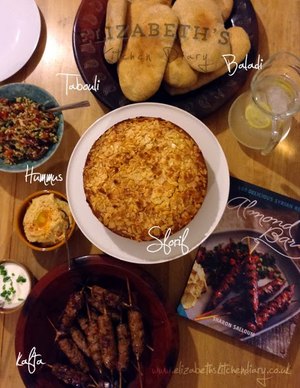 I couldn't wait to start cooking when I received my copy ofAlmond Bar to review and I began with kafta: minced lamb, parsley and onion skewers (pictured on the cookbook cover) with all the accompaniments the author insists you must serve along with them: namely hummus and tabouli. Sharon mentions Middle Eastern bread throughout her book, but I was disappointed to see that a recipe for this wasn't included, so I made my fail safe baladi bread to serve (although further reading of her cookery book reveals that Middle Eastern bread is supposed to be a flatbread!)
Although the meal involved quite a bit of chopping, grating and grinding, it was very therapeutic and I felt very Domestic Goddess while toasting and grinding my own seven spice mixture for the kafta (a blend of black pepper, sweet paprika, cumin, coriander, cloves, nutmeg, cinnamon and allspice – the latter of which is optional). My house was infused with the aroma of the Middle East, much to my husband's delight when he returned home from a day at work.
The kafta were remarkably easy to make (although grating an onion is a fairly tear-inducing procedure). Even though kafta should be cooked over a barbecue I popped them under the grill (winter in Shetland is not ideal barbecue weather!). I'm looking forward to having these outdoors during the summer months though. The hummus and tabouli are indeed the perfect accompaniments and I do believe I am now a convert to tahini-containing hummus. The recipe I've been making for the last ten years has no tahini in it and I do believe I've been missing out! There was a whole lot of Mmmmm-ing happening at my kitchen table during this meal!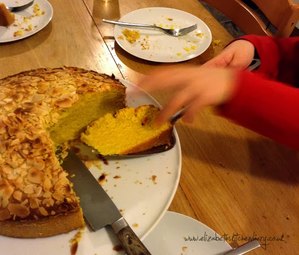 For afters I made sforif (turmeric cake), a gorgeously flavoured egg-free cake made with semolina. Tinted with the characteristic yellow of turmeric Sharon says this cake is usually available in Middle Eastern sweet shops. Right now leftovers are available in my kitchen and I was nearly tempted to have a slice for breakfast!
I know this is a book I will be going back to over and over again. I want to make everything contained within its pages!
Jacqui Small, the UK publisher, has kindly given me permission to share one of the recipes from the book, so am sharing the recipe for kafta. They've also offered discount for my readers, should you wish to own the book yourself.
To order Almond Bar at the discounted price of £20.00 including p&p* 
(RRP: £25.00), telephone 01903 828503 or email mailorders@lbsltd.co.uk and quote the offer code APG71 
Alternatively, send a cheque made payable to:
Littlehampton Book Services Mail Order Department,
Littlehampton Book Services,
PO Box 4264,
Worthing, West Sussex
BN13 3RB.
Please quote the offer code APG71 and include your name and address details.
*UK ONLY – Please add £2.50 if ordering from overseas.
Book: Almond Bar
Author: Sharon Salloum
ISBN: 978-1-909342-57-6
Publication Date: February 2014
Cover: Hardback
RRP: £25-99
Kafta – Minced lamb, parsley & onion skewers
by Sharon Salloum
A delicious Syrian recipe from the Almond Bar cookery book published by Jacqui Small
Ingredients
1 kg / 2.25 lb minced (ground) lamb
1 brown onion, grated
large handful of flat-leaf parsley, finely chopped
1 red (bell) pepper, seeds and membrane removed, flesh grated and drained in a sieve
3 teaspoons salt flakes
1/2 teaspoon freshly ground black pepper
1 tablespoon seven-spice mix
2 tablespoons olive oil, plus extra for cooking
hummus and tabouli, to serve
Instructions
1. Place the lamb in a medium bowl with the onion, parsley, red (bell) pepper, salt, pepper and seven-spice mix and knead together until well combined.
2. To shape the kafta mixture onto the skewers, pour the olive oil into a shallow bowl and use it to lightly coat your hands to stop the lamb sticking to them.
3. Hold a skewer in your left hand (if you are right handed; vice versa if you are left handed). Pick up a portion of kafta mixture slightly larger than a golf ball in your right hand and pierce it through the centre with the sharp end of the skewer until the ball is about 3 cm (1 1/4 in) from the point.
4. Using the same hand, shape the kafta into a sausage, ensuring it remains evenly wrapped around the skewer.
5. Leave another 3 cm (1 1/4 in) gap at the bottom of the skewer. You can leave more if you like but don't make your kafta too thick otherwise they might not cook through.
6. Repeat with the remaining mixture to make 20-25 skewers.
7. Preheat your barbecue for about 10 minutes and lightly oil the grill (broiler).
8. Cook the kafta on three sides (that is, turning twice) for 3-4 minutes each side or until browned. If you cook them on all four sides you risk overcooking the kafta, causing them to dry out.
9. Serve immediately – always with hummus and tabouli. They are a team that cannot be separated!
Details
Prep time: Cook time: Total time: Yield: Serves 6
Recipe taken from Almond Bar by Sharon Salloum, published by Jacqui Small.

Elizabeth's Kitchen Diary was sent a review copy of Almond Bar by Jacqui Small Publishers. All opinions expressed are my own. This is not a paid post.