I'm not a very big fan of leftovers. With so many wonderful recipes out there to try the thought of eating the same old thing three days in a row really doesn't appeal to me. I often freeze leftovers, especially roast beef or lamb, to be recreated into a different dish weeks down the road, that way it doesn't feel like leftovers since it's a completely different dish!
We get plenty of fantastic potato varieties in our veg box. This time of year there are pretty slim pickings for green things, but there have been plenty of potatoes, eggs and celeriac delivered (plus the most gorgeous wholemeal Westside Cob bread). There's always a little brown paper bag with some sort of potato in it in my cupboard. I had a few bags of potatoes needing used up (they'd started sprouting so I boiled them whole) and half a leftover Shetland beef roast in the fridge, so I combined the two into this fantastic quick and easy mid-week dinner dish.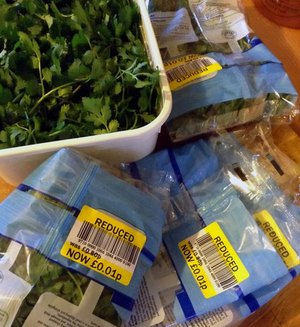 Money Saving Tip: keep an eye out for reduced price
herbs in the supermarket – they can be frozen!
The recipe is adapted from Madhur Jaffrey's Til ke aloo, or potatoes with sesame seeds (Madhur Jaffrey's Indian Cookery 1982), one of my favourite ways to cook cold, boiled potatoes. There's just something about the crispy browned potatoes flavoured with cumin, black mustard, sesame and cayenne that leaves me wanting seconds and even thirds!
Combine this with some leftover roast beef (or even lamb if that's what you have on hand) and oh my… leftover heaven!
I finished off this dish with a handful of coriander leaves from my freezer. Several weeks ago I picked up nine packets of fresh coriander leaves from my local supermarket reduced down to 1 pence each – a savings of  £7-11. I washed them and popped them into the freezer in an old ice cream tub for later use.
As this dish uses up leftovers and reduced price produce I am linking up with Credit Crunch Munch, a frugal foodie challenge co-run by Helen over at Fuss Free Flavours and Camilla at Fab Food 4 All. This month the lovely Angela over at My Golden Pear is guest hosting.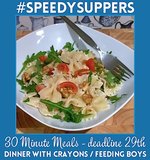 I'm also linking up with a new challenge, Speedy Suppers, co-hosted by Sarah over at A Dinner with Crayons and Katie at Feeding Boys. This challenge asks us to share our speedy meal ideas that take less than thirty minutes to prepare. As this dish uses up leftovers and takes only 15 minutes to cook I believe it qualifies! This challenge is a blog hop, so scroll down to the bottom of this post for some other speedy supper ideas! (edit: once I get the code!)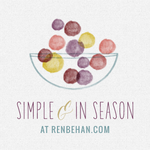 Lastly, I am linking up with Ren Behan's Simple and in Season challenge. Beside celeriac, potatoes are the only thing arriving in my veg box through these winter months, so they must be the only thing in season here!
I'd also like to take this opportunity to rave about my sauté pan (those who know me personally know I do this a lot!). Last summer the fine folk at Proware Kitchen sent me a selection of their copper tri-ply pots and pans (available exclusively from Lakeland) and their 24cm saute pan makes quick work of this recipe. The stainless steel interior, evenly heated up by the copper and aluminium layers on the outside of the pan, create perfect crispy edges on the potatoes without the use of harmful non-stick chemicals. It's big enough that you can cook enough for a family of five without having anything fall out over the edge of the pan too. It's just such a pleasure to use – and doesn't it look fantastic! Look at that gorgeous tarnished copper colour!