In collaboration with Zyliss Fresh and Fresh and Naked salad.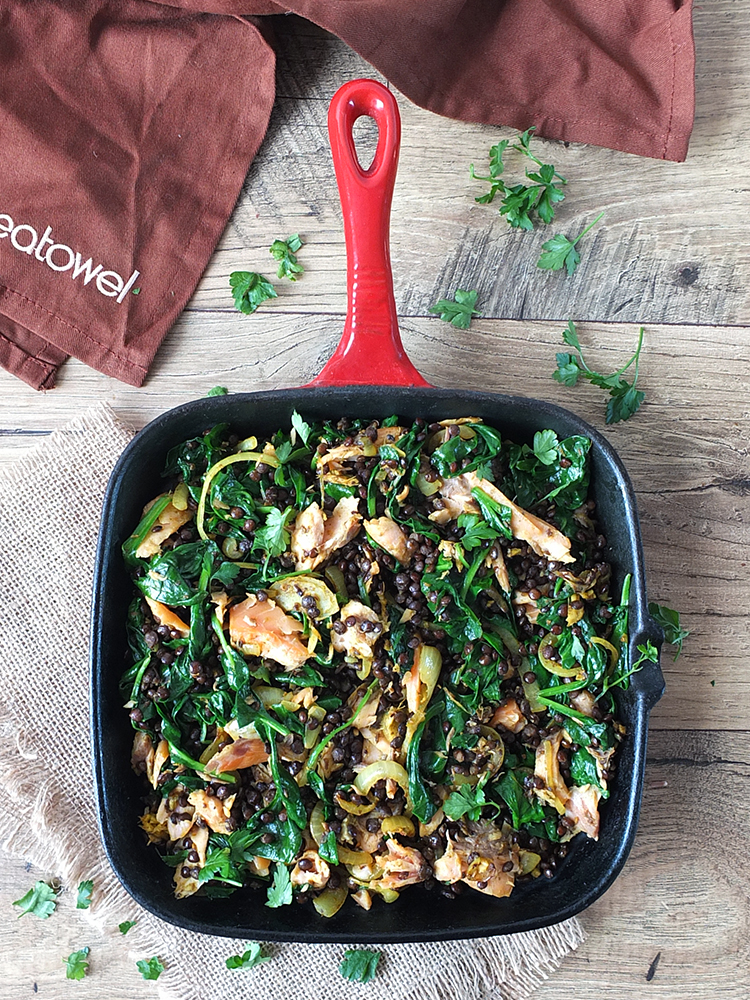 I might have mentioned it before that I am all about the protein right now. I'm doing some intensive training for some upcoming events (more about this later – I promise!) and so I am paying close attention to what goes into my body with regards to micro and macro nutrients.
Intensive exercise requires plenty of protein to help repair muscle and encourage growth, so I've been eating a lot of hot smoked Shetland salmon lately. It's one of my favourite ingredients at the moment – so quick to prepare, incredibly delicious and nutritious to boot. All those healthy fats!
Sometimes I eat the hot smoked salmon cold in a salad, like the hot smoked peppered salmon salad with quinoa, grains and red rice I blogged about last week.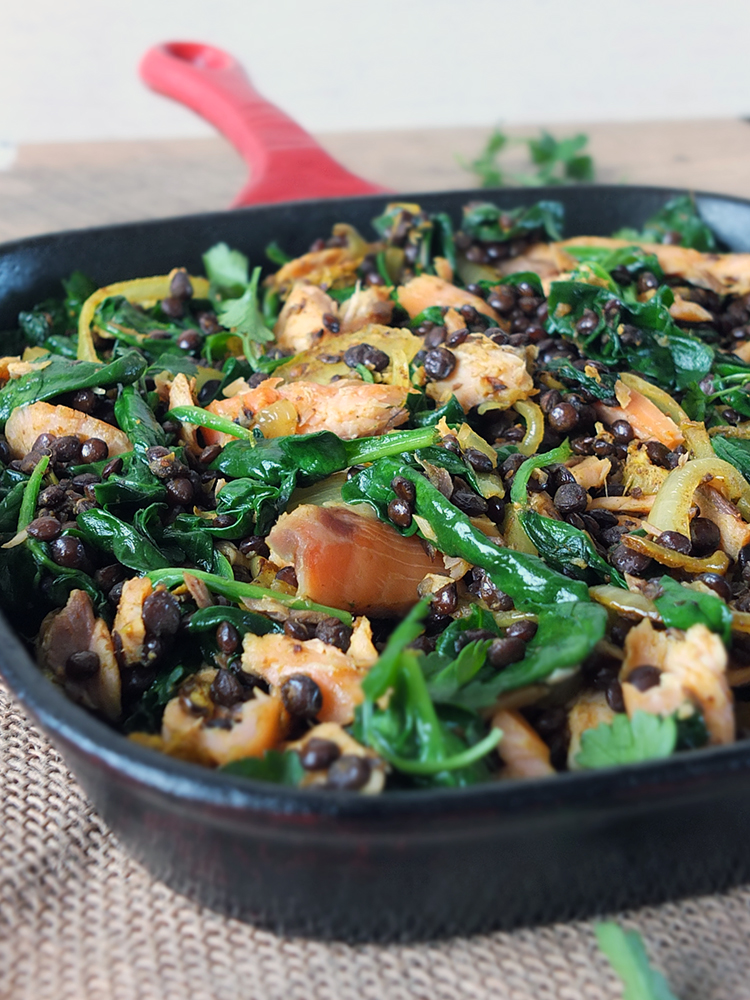 Sometimes I want all the components of a salad, but I want something hot – so this is my go-to dish at the moment – a spiced onion and puy lentil base with plenty of baby spinach leaves and flakes of hot smoked salmon stirred through until heated.
This is total filling comfort food scoffed, usually, while plinking away on my laptop at lunch time. Sometimes working from home comes in handy. 🙂
I usually only make a single serving of this recipe, meaning the other half of the packet of Merchant Gourmet ready to eat puy lentils needs to be stored in the fridge and used up in the next two days. The new range of Zyliss Fresh plastic storage containers come in handy here.
Did you know that transferring food from its original packaging into storage containers can prolong their shelf life by up to 16 days? The new Zyliss range is quite swish with its built in seal – food doesn't get trapped underneath the plastic seal like in other brands, and it's BPA free, 100% mildew resistant and can be popped into the microwave, dishwasher and freezer!
It also keeps salad fresher for longer too – so if, like me, you've always got a bag of green leaves like the super new range from Fresh and Naked lurking in your fridge, this can be quite handy. No more soggy green bagged spinach!
My recipe – it's super quick to make and packs a whopping 29 grams of protein per serving. It's super tasty too. 🙂
Zyliss Fresh and Fresh and Naked Salad have teamed up to provide a fantastic giveaway of their products – click here to enter! Giveaway ends on Monday the 7th of March.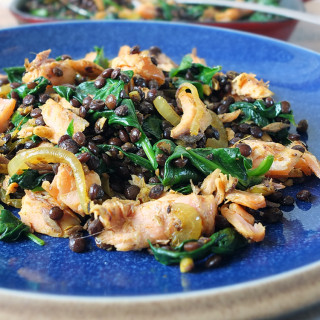 Hot Smoked Shetland Salmon with Puy Lentils & Spinach
A quick and easy high protein lunch recipe ready in less than 15 minutes.
Print
Rate
Affiliate Links
This recipe card may contain affiliate ingredient and equipment links. As an Amazon Associate I earn from qualifying purchases.
Instructions
Heat the oil in a large skillet and fry the onion until it begins to soften. Add the garlic, ginger and spices and cook for a further minute.

Add the cooked puy lentils and cook for a further minute to heat through.

Add the spinach leaves and cook until wilted.

Finally, add the hot smoked Shetland salmon, flaked, and season well with salt and pepper. Cook until the salmon is hot and serve immediately.
Environmental Information
Click here to view the nutritional information for this recipe.
OTHER QUICK LENTIL RECIPES YOU MIGHT LIKE
Middle Eastern Rice & Lentils by Family, Friends, Food
Halloumi, Puy Lentil & Beet Salad by The Crafty Larder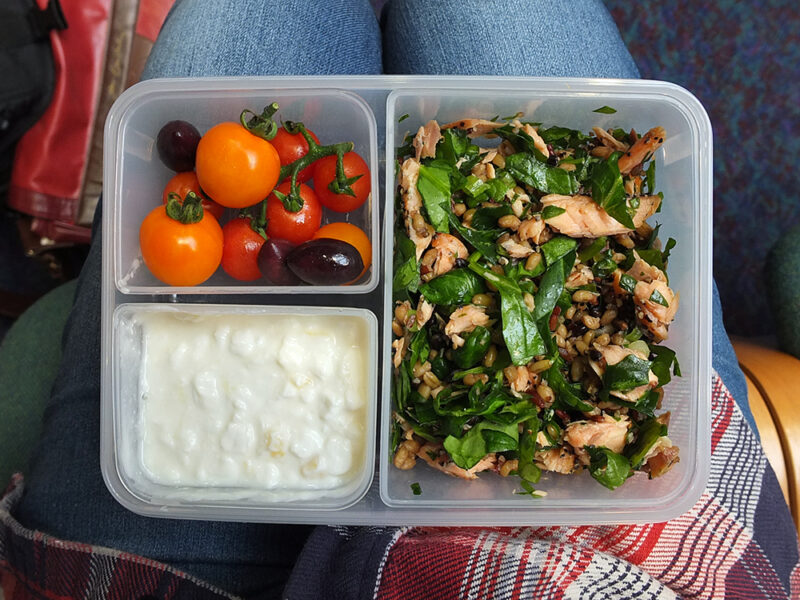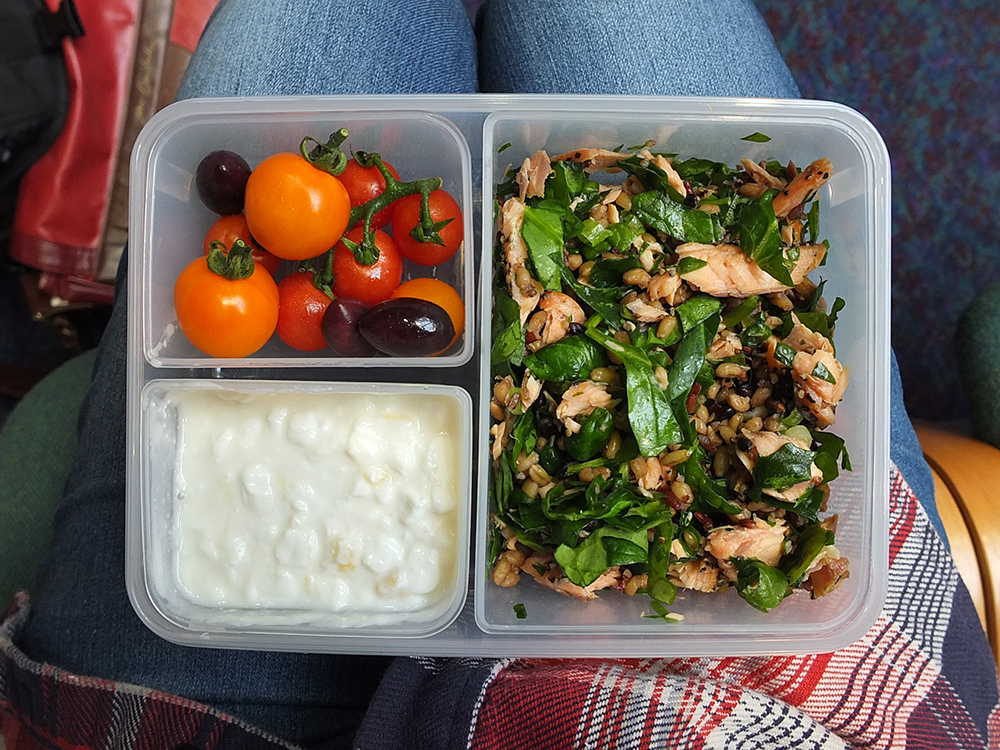 If you want to be kept up to date on my recipes, occasional craft tutorials, adventure stories and giveaways then please subscribe to my weekly newsletter; it gets sent out every Monday morning if there is new content. Your email address won't be passed on to anyone, you will never be spammed and you are free to unsubscribe at any time, no questions asked. Make sure you confirm your subscription or you won't receive the newsletter – if it hasn't arrived check your junk mail folder.
[wysija_form id="1″]
This is a commissioned post from Zyliss and Fresh & Naked, although all thoughts and opinions expressed are our own.