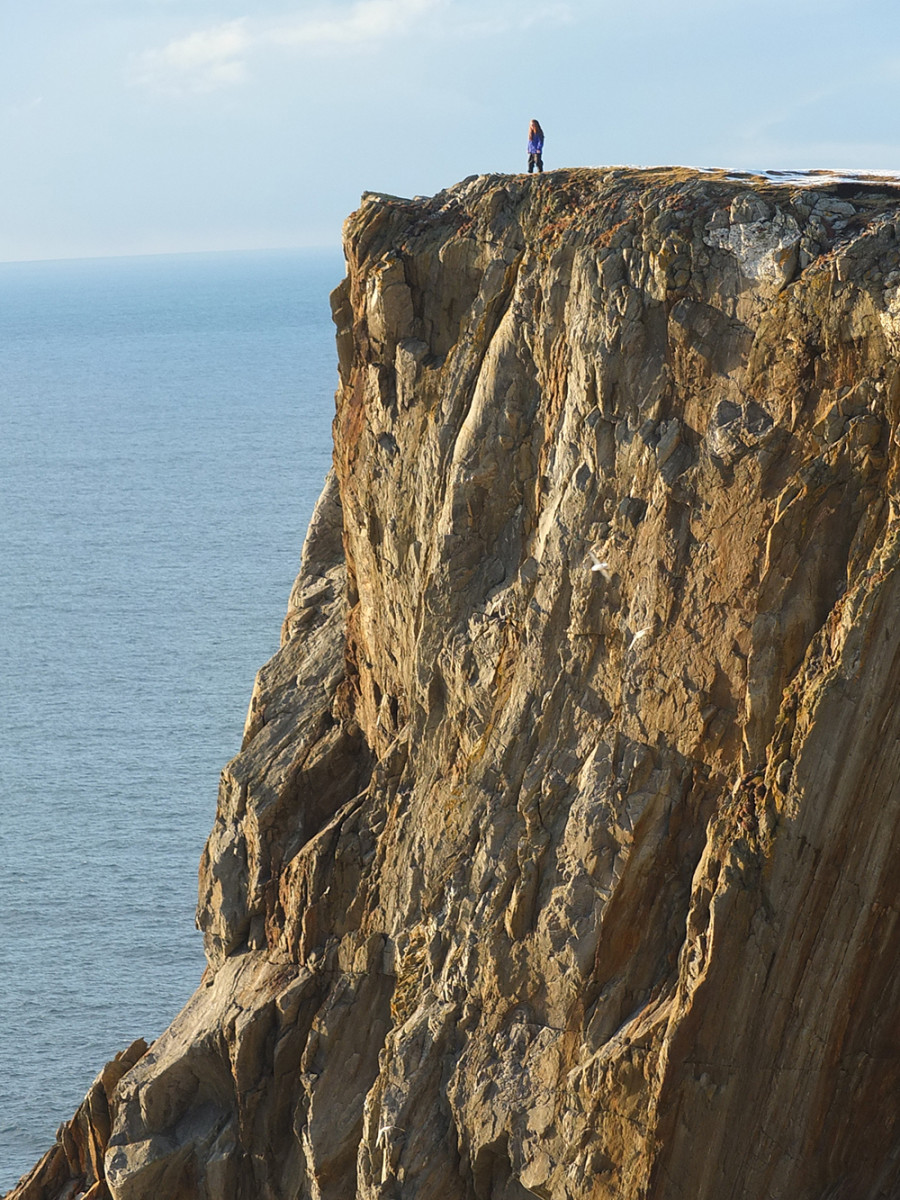 I had one of those I love my life moments yesterday.
That's me standing on the edge of that cliff you see there.
Taking advantage of the predicted fine weather and the long school holiday weekend, DD and I packed a packed lunch, gathered our provisions and met up with a friend for some coastal exploration.
We went to explore a stretch of coast on the island of Yell, one of Shetland's outer islands. If I am to be completely honest, Yell has always just been a dull stretch of flat road with unappealing flat hills on either side that we drive through really quickly in order to catch the next ferry to the island of Unst, Britain's most northerly inhabited island (and one of my most favourite places on the planet!).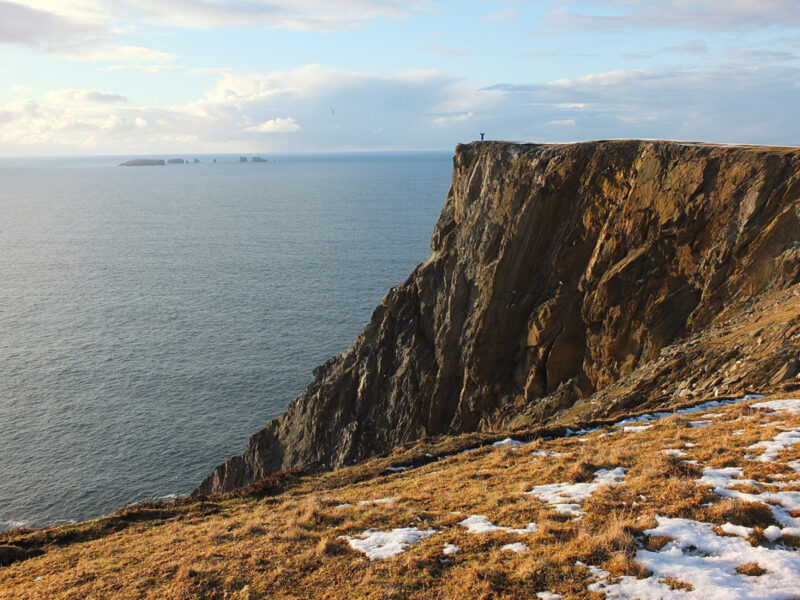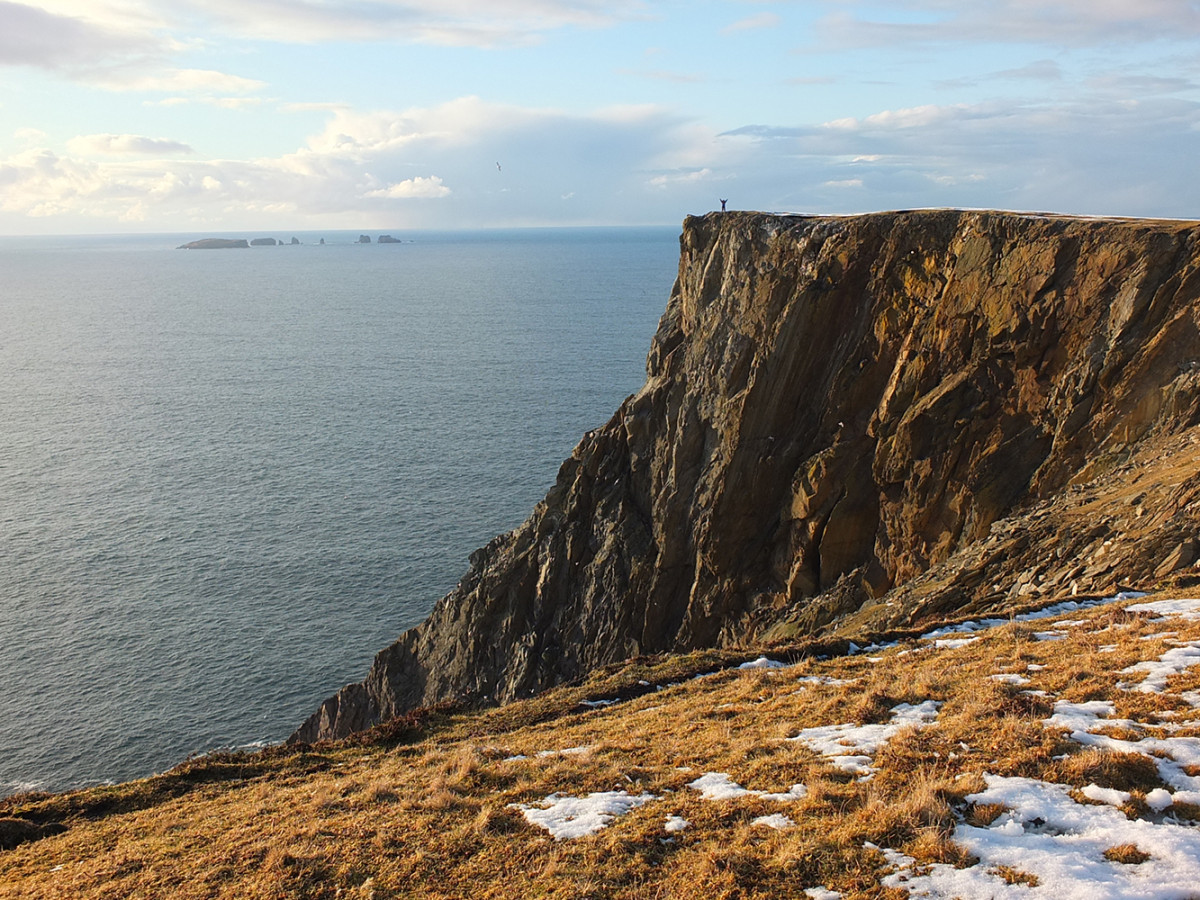 My opinion of it has changed, substantially, now. Maybe it was the blanket of snow covering the dull brown hues, or the fact we deviated from the main road for the first time ever, or the fact after spending a few hours trekking through boggy snow covered heathery hills, we stumbled across The Eigg.
The Eigg is a promontory on the north west of the island pointing due west. I'm a bit rubbish when it comes to estimating the height of cliffs – but I reckon this was at least 100 feet of sheer drop into the sea.
The feeling, standing on the edge of this cliff was that of sheer exhilaration and delight to be alive mixed with a touch of vertigo. Just a touch.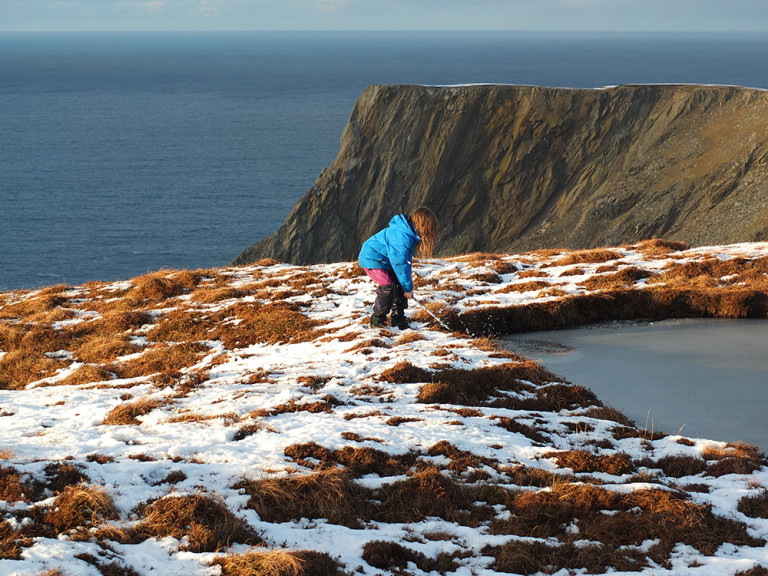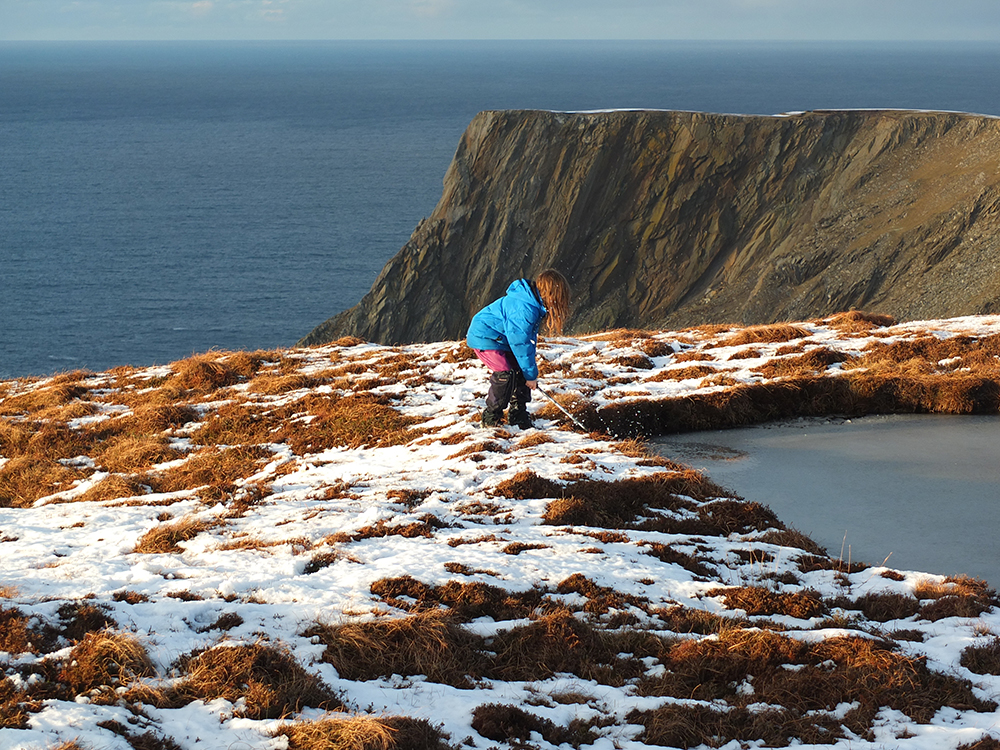 Madam was most unimpressed by the cliffs though, and chose to spend her time trying to break the ice in a small pond with her walking stick! Dramatic sea cliffs and stunning views? Never mind – there is ice to break!
If you want to read more about this winter walk and see more photographs of the area, visit my blog post on Shetland.org (you'll love it, honest!). You can also see some photographs of the small island group you see in the background in the second photo above on my Fethaland post.
I do so love my island home!
If you want to be kept up to date on my recipes, occasional craft tutorials, adventure stories and giveaways then please subscribe to my weekly newsletter; it gets sent out every Monday morning if there is new content. Your email address won't be passed on to anyone, you will never be spammed and you are free to unsubscribe at any time, no questions asked. Make sure you confirm your subscription or you won't receive the newsletter – if it hasn't arrived check your junk mail folder.
[wysija_form id="1″]