Exploring the city of lights one geocache at a time…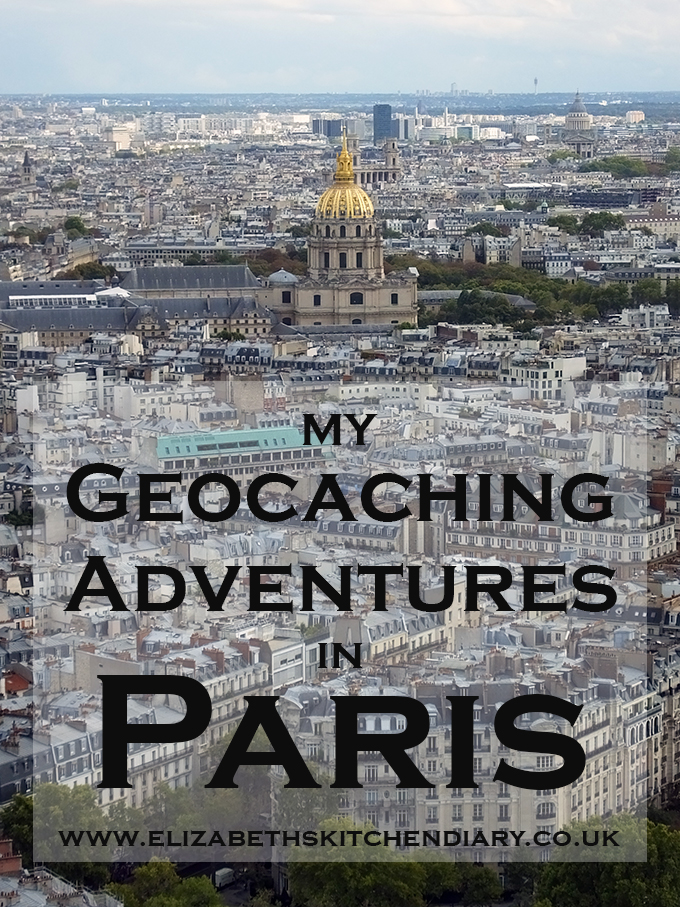 It's funny how one thing can lead to another. How chance encounters and random events can shape our lives and create lasting memories.
Earlier this spring I found myself bumping across the North Sea in a tiny seven seater aircraft returning from the most fantastic trip to Fair Isle, a remote island 25 minutes south-west of the Shetland Islands. This adrenaline-filled trip renewed my zest for life and reminded me that there is still so much more I want to do with my remaining days.
WHY PARIS?
I've got a big birthday coming up – the big 4-0. So I created a list of 40 Things I'd Like to Do Before I Turn 40. I love crossing off lists, so this was a good incentive for me to do the things I've always wanted to do instead of just lounging on the couch drinking wine and reading my book.
#2 on this list was to drink coffee in Paris. Just because. Why not?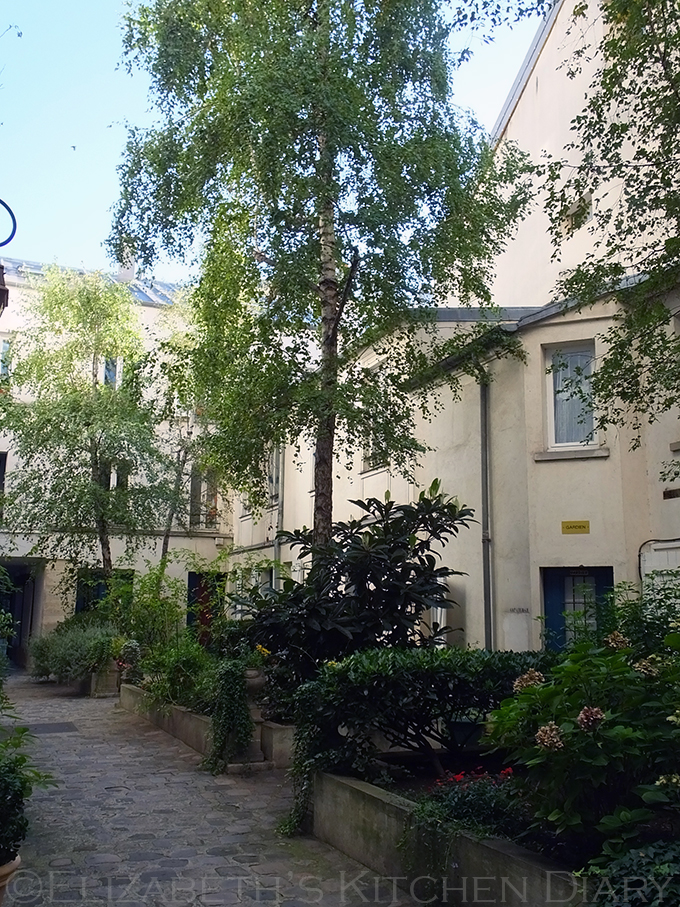 Inspired by a memoir I'd read recently, The Temporary Bride: A Memoir of Love and Food in Iran by Jennifer Klinec, I decided I was going to visit Paris on my own and I signed up for a French cookery class.
I booked myself into a little studio apartment at Studio Reuilly, a half an hour's walk from the city centre (pictured above – a very reasonable £240 for five nights), and I booked my flight from Aberdeen (only £24 plus £60 taxes!).
Other than than the cookery class (a separate blog post on this fantastic, perfect morning will follow soon!) I hadn't planned anything else to do in the city. I was just going to wing it.
Ok, I did plan one other thing.
I planned on locating ten geocaches in the city centre; I was going to explore the Île de la Cité geocache by geocache. As an aside, I have to confess I had no idea Paris was an island until my husband and I were watching the tv series Vikings, when our Viking hero, Ragnar Lothbrok, declared his intentions to invade the island of Paris. The island of what? My husband and I looked at each other and opened Google. Yep. The original city of Paris was founded on an island in the Seine river. I had no idea!
So I planned my ten geocaches, printing off the co-ordinates and information sheets. I was going to take my trusty old Garmin eTrex handheld GPS with me, plotting in the co-ordinates by hand once I got to Paris.
GEOCACHING – A QUICK EXPLANATION
Rewind here a bit – are you familiar with geocaching? If not, it's a fantastic global treasure hunt with nearly 3 million 'treasures', usually click-lock boxes with swap-able items or microcaches with only enough room for a tiny scroll of paper inside. You go to the official geocaching website, sign up for a free account and look for caches nearby to you using GPS co-ordinates.
In between printing off the information sheets and getting to Paris I was introduced by a friend to the geocaching app. The free intro app is fine, but I paid the £6.99 for the full featured app which lets you download cache co-ordinates for offline use – ideal for when you don't have constant access to the internet.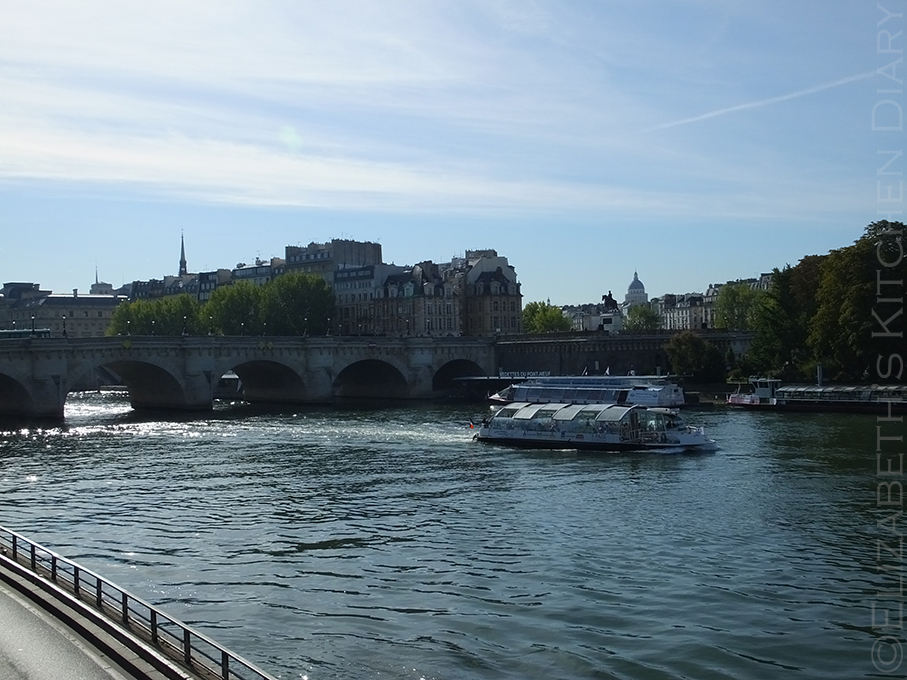 So, my first day in Paris dawned bright and gloriously sunny. I headed into the city following the north side of the Seine, my first stop being the view Ragnar would have seen when he came to invade. No sign of Ragnar, but the view was spectacular. I headed across Pont Neuf to the isle.
My first stop was a multi-cache designed specifically to get you exploring the history of the isle. In a multi-cache you're given the first set of co-ordinates and you have to solve a problem in order to get one of the numbers to the final set of co-ordinates. I found the first answer, but, alas, using the GPS app I couldn't figure out how to plot the next waypoint, so I couldn't complete this cache (upon returning home I learned how to do this, so this won't happen again!).
Slightly disappointed I moved on to the second cache.
A POLICEMAN FINDS ME MY FIRST FRENCH GEOCACHE
Geocaching in a crowd was proving to be a rather interesting experience. As caching is a 'top secret' pastime, you're supposed to act all nonchalant and pretend you aren't doing anything unusual within view of the muggles (aka: non geocaching folk). When it comes to trying to find a hidden cache in a public place this can prove to be somewhat difficult! I ended up getting some really rather odd looks and a few chuckles!
While searching for the second cache a gentleman approached me with a pen.
"Do you need a pen?" he asked with his French accent.
"Are you looking for the same thing I am looking for?" I asked, surprised, but smiling.
"No, but I know what you are doing. I am a policeman." He moved closer for a better view of my iPhone. "Can I help you find it?"
We spent the next ten minutes searching the area for the cache, and he eventually found it dangling from the end of a piece of thick fishing line over a high wall. A very clever hide!
I signed the logbook with my new pen (he said I could keep it), thanked the police officer profusely, and we parted ways.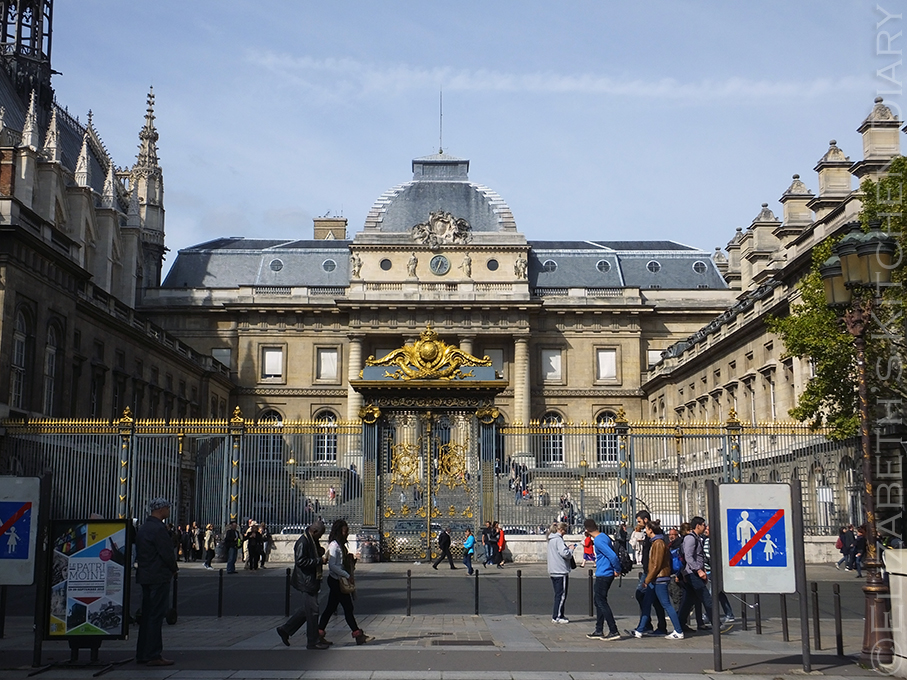 I AM SMUGGLED INTO THE PALAIS DE JUSTICE
So, on to the third cache location! As I was walking by the front gates to the Palais de Justice, the gps pointed inside. On the other side of the gate. A quick glance behind me revealed a long queue of tourists waiting to go inside.
I don't queue.
Well I will queue if I have to, but there are other things I could be doing other than spending ages waiting in a line of tourists with selfie sticks. My heart sunk.
I thought that, perhaps, the cache might be on the other side of the building, so I walked around it…
… and bumped into the policeman again!
"OOoh what one are you looking for now?" he asked, delighted.
I explained that it was a puzzle cache and the first co-ordinates were showing to be inside the palace gates and that there was a big long queue.
"Come with me!" he gestured.
A few minutes later I found myself going through the scanner in the side entrance and the next thing you know I'm inside the Palais de Justice admiring the grand architecture (I didn't take any photos – I was too busy gawping!), led by a policeman insistent that I find this geocache.
It being a puzzle cache (you had to solve a puzzle – in French) I couldn't figure it out, and neither could the policeman nor one of his work colleagues! I spent a good 40 minutes in there as we tried to sort it out. One of the policemen even brought us to his desk where he used his desktop computer to try and solve it – to no avail.
I was feeling bad for keeping the policemen from their work, but the first officer said he wanted to show me one more thing – the oldest clock in Paris. Located on the north-east corner of the facade of the Palais de Justice it is a remarkable piece of artwork dating back to 1350.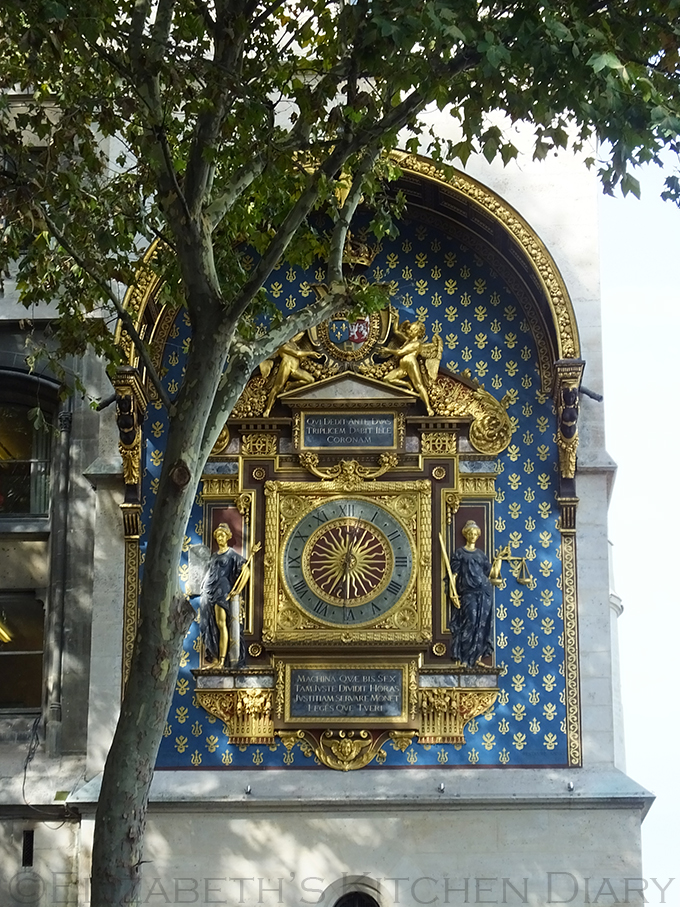 EXPLORING THE ISLE DE LA CITE
The policeman and I parted ways again.
I went on to explore the isle and search for the other seven caches. I couldn't find any of them! I did find the remains of one of them (it had either been muggled or a previous cacher hadn't screwed it back together properly).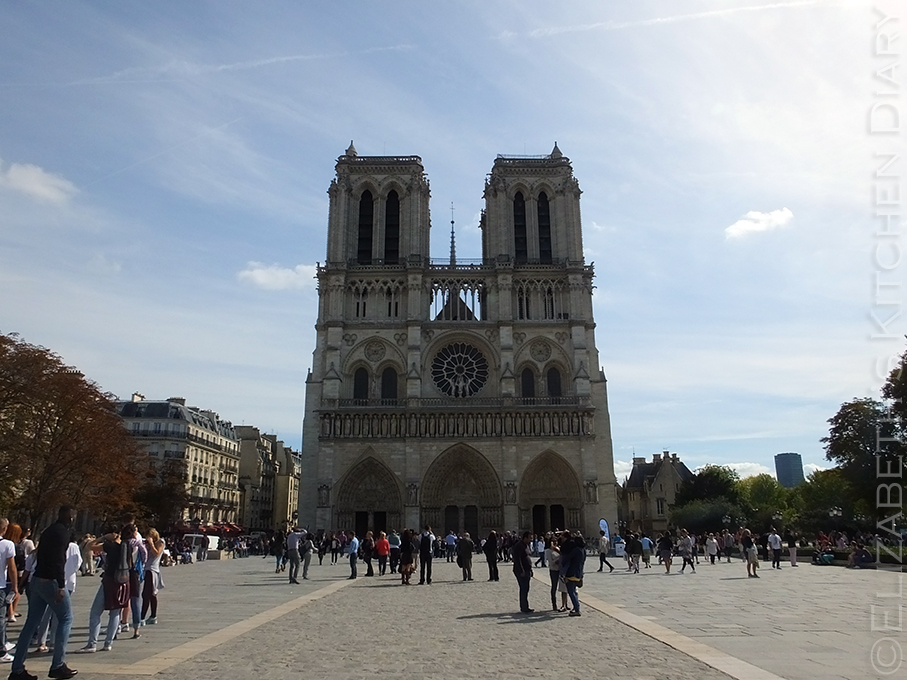 Photo (above): Notre Dame Cathedral. This is an Earth Cache. You have to answer a series of geography orientated questions about the place and log your answers to claim the find. Apparently there is a hint of a fossil shell in one of the blocks outside the cathedral. Apparently. Three times I went back looking for it on two different days. I found a smudge which might, perhaps, be interpreted as a hint of a fossil, but I'm so annoyed by it I refuse to log it as a find even though I answered the rest of the questions. I don't think there's really a fossil there. Google certainly doesn't think so.
Left to right: The Bridge of Locks (soon to be covered in perspex so folk stop adding locks to it), the muggled geocache (evidence that I did find it!), Notre Dame again, a bride posing for her wedding photos, Notre Dame again and Saint Denis holding his head at the portal of Notre Dame. He was martyred back around 250 AD and allegedly picked up his decapitated head and carried it for 6 miles. There you go.
By the end of the day I'd only found the muggled cache myself. My only successful find was the one found by the policeman. I was feeling a bit of a geocaching failure, but I headed home, grabbed an indulgent cream cake from the boulangerie de patisserie next to my apartment (this was to be repeated over the next few days!), and planned the next day's caching, downloading cache co-ordinates for offline use with the magnificent 50 mbps internet speed!
I was going to give this another go.
My husband, when I recounted my events of the day, exclaimed, incredulously: "You spent ALL day in Paris geocaching?!"
THE JARDINS DES PLANTES
The next morning I crossed over Pont D'Austerlitz (the same bridge Javert chased Jean Valjean and Cosette over in the book Les Miserables!) and headed into the city via the south side of the Seine.
My first, proper, successful geocache was found in the Jardins des Plantes – the main botanical garden in France. Covering 28 hectares and including a zoo (I didn't go in there) this garden was a joy to walk through, even though it was starting to rain. I thought its beauty was diminished somewhat by the addition of large brightly coloured plastic animals, but I'm sure my kids would have liked these.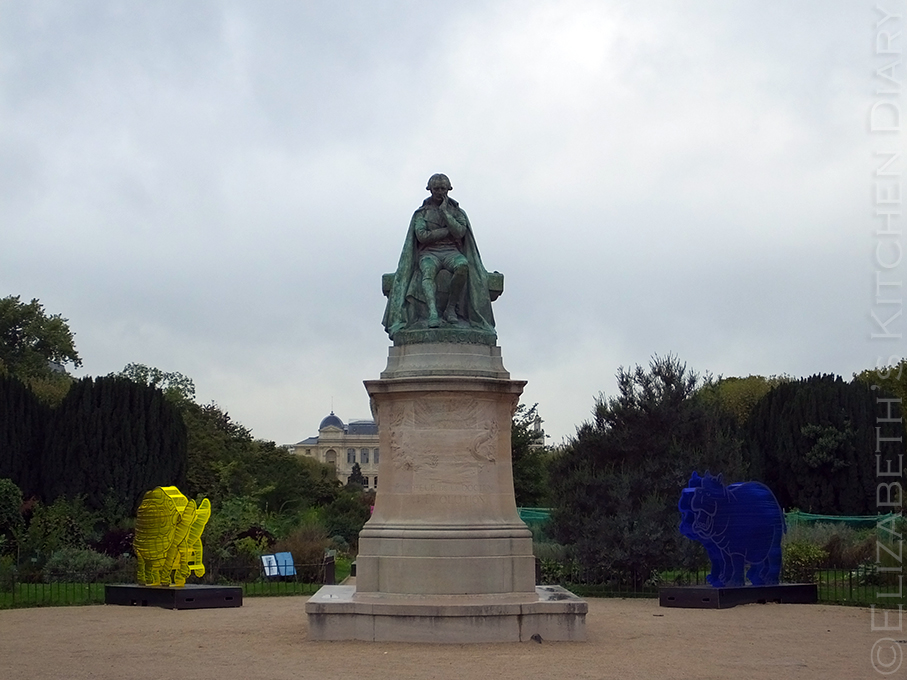 There is a labyrinthe in the gardens at the far south west end from the front gate. In the centre of this labyrinthe there is a gazebo and it was here (after finding the geocache and grabbing an adorable trackable Travel Bug) where I ate my breakfast of a pain au chocolat and bottle of water (ordered, in French, from a boulangerie I passed on the way here – small steps, I know, but it was the first time since I arrived in the city when I tried speaking French!).
If you don't already know, a Travel Bug is an item, quite often a keyring or small cuddly toy, with a unique tracking number on a dog tag. These trackables get moved from cache to cache by the geocachers, and I was delighted to have brought one from Shetland to Paris, and I was going to be able to take one home with me.
THE NARROWEST STREET IN PARIS
From here I continued on down the south side of the Seine until I reached Le Chat-qui-Pêche, the narrowest street in Paris, in the Latin Quarter (named so because of it's educational history – that's where all the students used to stay when they were attending university in the Middle Ages – and they spoke Latin).
I couldn't find the cache here (this time!), but I did find a bizarre face in the wall at the north end of the street. Further investigation revealed that this face is the work of the street artist Grego, who makes moulds of his own face (depending on his mood) and glues them to walls around the city.
I came out of the end of the street to find the Fontaine Saint Michael, a stunning sculpture with the archangel Michael standing on the devil overlooked by two dragons spouting water. The rose was a rather nice touch, I thought.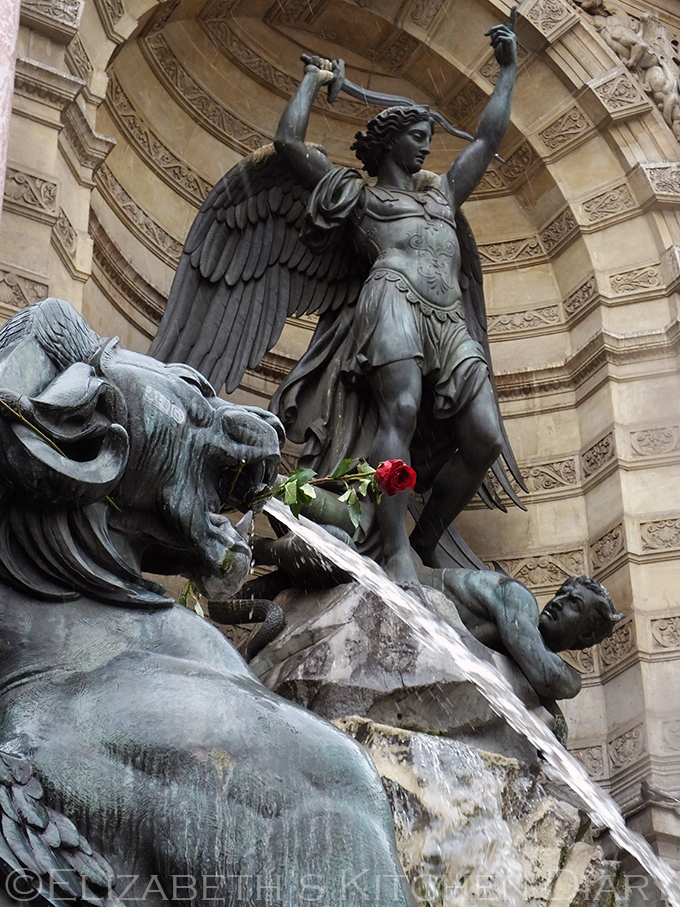 THE EIFFEL TOWER AND A RATHER NICE CUP OF COFFEE
Continuing along the south side of the Seine I could see the Eiffel Tower in the distance. My first thought – it looks like scaffolding! By this time the rain had stopped, the clouds had cleared and the sun was shining again.
As I approached the tower the magnificence of the structure began to reveal itself, until, when I found myself standing directly under it and looking up, I was in awe.
I hadn't intended on climbing the Eiffel Tower. I'd read in a fellow blogger's travel post about how long the queues were and how crowded it was up there, and it didn't sound at all pleasant, so I hadn't planned on going up.
However, when I looked at the gate to the entrance to the stairs there was no queue! None, whatsoever! There was no one standing there! Admittedly the queue to take the lift was incredibly long, but not a single soul other than the guard was at the stairs.
I paid my fee (around 7 euros), passed my hand bag through security and headed up the 704 steps to the second floor.
The view was fantastic! It wasn't crowded (I'm not a person for crowds) and much to my surprise there was a restaurant! I was hungry. I checked the menu out. Much to my relief it was written in both French and English. Up until this point I had avoided eating in any restaurants because I was afraid of not being able to read the menu (my French is terrible!) so I was living off of filled baguettes. There will be more on this restaurant story in another Paris foodie post, but lets just say the meal was fantastic and the coffee even more so.
I headed back down the stairs to find the geocaches hidden in the gardens around the Eiffel Tower.
The first one I found without any problems. I came to realise, by now, that the GPS on my phone was consistently out by 16-32 feet. I made use of the hints and photos a lot in order to find the caches.
The second one posed to be a bit more troublesome. The clue was completely off, and there I was, wandering back and forth with my phone in front of me when one of the gardeners pointed in another direction and made little digging motions with his hands. Clearly he's met us cachers before.
I couldn't, for the life of me, find it. One of the gardeners eventually came over and put me out of my misery. So there I was standing with the cache container in one hand, the paper log in the other, when this fellow approached me – his phone in hand, suitcase in tow.
"A-ha!" he said!
And that's how I met Marek from Slovakia.
MAREK AND THE GEOCACHING BLITZ
Marek was in Paris on business and he had to catch the Metro at 6 pm in order to make his flight home to his family. This meant we could team up for a whole two hours and find as many geocaches together as we could.
We quickly found the rest of the caches (and another trackable – this time from Norway!) hidden in the gardens of the Eiffel Tower thanks to his expertise (he's found nearly 6000 caches!). My favourite was one where the cache was a film canister dropped down into a hollow metal pipe. The canister fit snugly and it was located a good foot and a half down the pipe.
How to get it out?
Well, it had rained that morning and I had a half empty water bottle in my handbag. I poured my water into the pipe hoping to float it to the top. The water ran out a hole in the bottom of the pipe. Marek covered the hole with his finger and I filled the pipe, running back and forth to a nearby puddle for refills. The cache floated to the top and we logged our find.
I haven't laughed so much in ages!
Marek asked me if my family went geocaching with me, and I replied: "Yes, reluctantly…!"
Afterwards we jumped on the metro back into the city centre and Marek helped me find several of the caches I previously couldn't find, and some more I didn't know about – one at Fontaine Saint-Michel, the one at the Le Chat-qui-Pêche, my first web cache down some remote cobblestoned cul-de-sac (that photo of me – below-  was taken on my iPad by Marek – the web cam was broken so this was evidence that I'd been to the location!).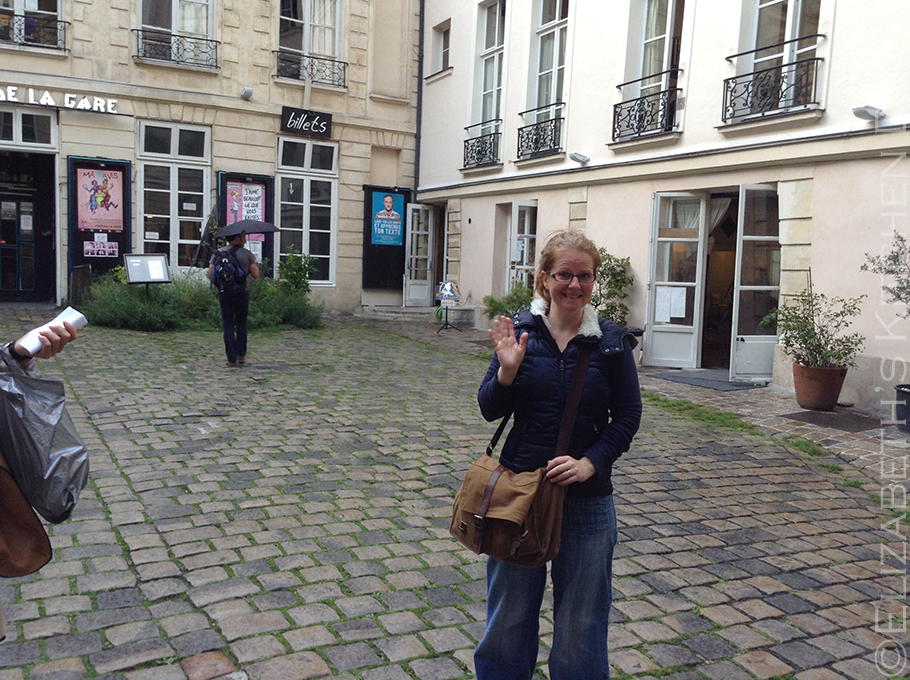 It was a positively civilised way to spend a few hours and it was one of the highlights of my Paris trip.
Shortly before 6pm I said goodbye to Marek at a Metro station, but not before giving him a trackable item I'd picked up in Muckle Roe, Shetland and I headed back to my apartment for the night.
When I recounted the days events to my husband via Skype, he confessed that he'd downloaded the geocaching app himself that day and went and found his own first geocache to see what this was all about. He's now hooked! It turns out that the first cache he found was set by myself!
I SHARE MY BREAKFAST WITH A RAT
Early the next morning snuggled in my sofa bed sipping my coffee I planned out the day's geocaches again. I wanted to visit a few locations in the city recommended to me by the waiter in the restaurant in the Eiffel Tower and so I tailored my geocaching route accordingly. I really do love the geocaching app – it makes it so simple!
After finding a nice quick cache at a busy location, I headed to the nearby market my apartment hosts had recommended (more on this in my foodie post, to follow!). I bought some fresh bread, some goats cheese, some figs and a cup of coffee and headed to the Coulée verte René-Dumont or Promenade plantée. This is a green garden area built on top of a disused railway line running through Paris. Upmarket shops are built into the old viaduct spaces, and the path on top, running for 2.9 miles, is a beautiful quiet haven away from the crowds.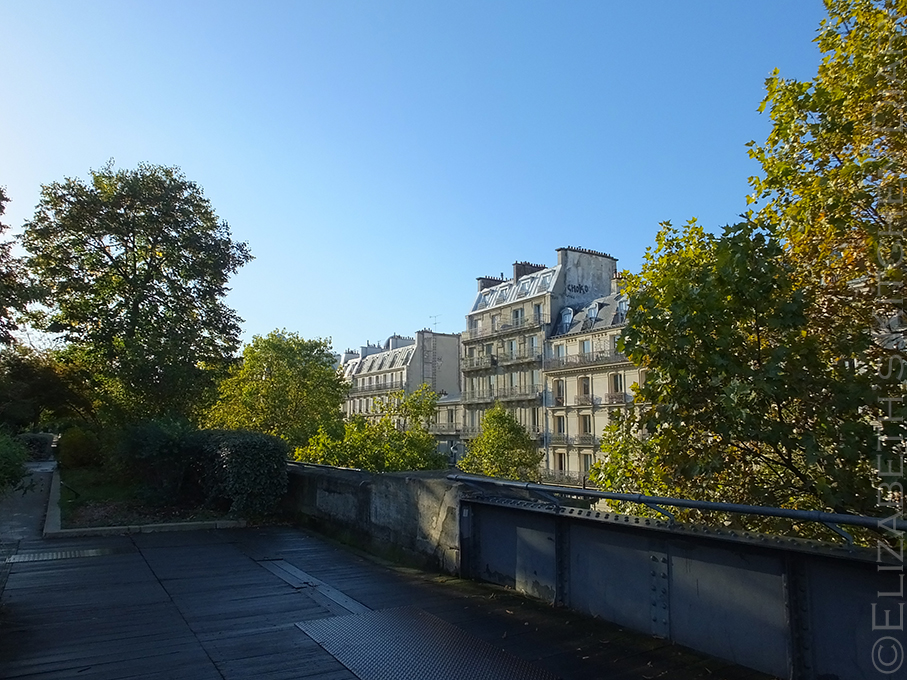 The morning sun shone through the trees as I searched for a place to have my breakfast. It had rained earlier that morning and the benches were all wet, so I found a little corner next to a bush in the sun.
The bush rustled.
A rat darted out of the bush and ran across the pathway.
Startled, I moved a few feet away from the bush.
The bush rustled again and another rat kept poking his nose out.
All I could think of was the Disney film Ratatouille, so I tossed a little piece of my bread over to it. The rat grabbed it and dashed back into the bush.
At the end of my meal I saved the rat a little bit of my cheese, figs and bread, placing them just on the inside of the bush where he'd be able to get them. A nice breakfast for a fine morning.
After breakfast I carried on along the walkway to Bastille, and continued my journey north in the city, passing by the Le Cirque d'Hiver and the Place de la République, the largest square in Paris (pictured below, covered in spray paint – that was another thing I noticed while wandering the city – there is a lot of graffiti!).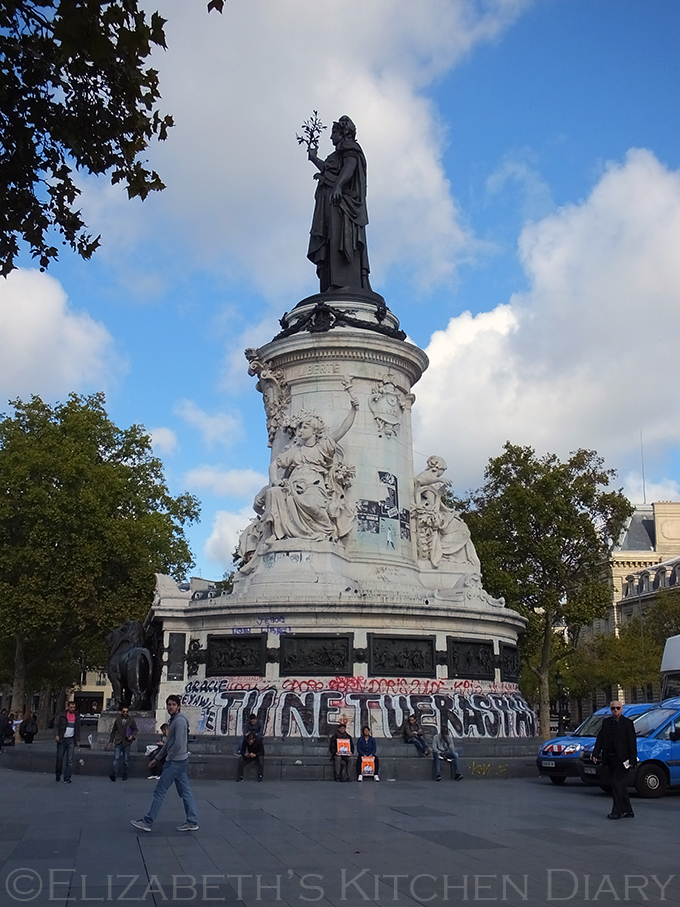 I NEARLY GET RUN OVER BY A BUS
I learned fairly quickly in Paris that the rule of the little man turning green at crosswalks, usually indicating it is safe to cross the road, does not apply in this city.
In Paris this means look both ways for the car hurtling towards you at high speeds, or to try and wedge yourself in between some Parisians and don't start crossing until they do.
Some roads even have two little men turning green. I didn't realise this in the hustle and bustle of the busy Boulevard de Clincy, after visiting La Cité du Midi, an adorable quiet little street located in Pigalle – a stark contrast to the goings-on of the boulevard I'd just come off of. Someone was practicing their piano lessons as I searched (unsuccessfully) for a geocache here (photo, below left).
After a quick visit to the Café des 2 Moulins in Montemarte, where one of my all time favourite films, Amelie, was filmed (photo, above centre), I tried to cross the road near the Moulin Rouge (photo above, right).
I waited until the little man turned green, took one step down onto the road and heard the woman next to me take a sharp intake of breath. Not turning to look I quickly stepped back up onto the curb, and a huge bus whizzed by within inches from my nose.
Yes, my dear readers, I'm on borrowed time here. There were two little green men on that road, and only the second one had turned green. The first was still red.
We'll not dwell on that, but let me advise you that if walking through Paris, just wait for everyone else to start crossing first.
THE LOUVRE
I finished my geocaching adventures at The Louvre, trying to avoid the multitude of tourists with selfie sticks. I probably should have queued to get in, but by this time I was absolutely knackered. I'd walked nearly 45 miles in my first three days in Paris (over 100,000 steps!) and was keen to get back to my apartment and relax with a glass of white wine and something from the boulangerie de patisserie. Paris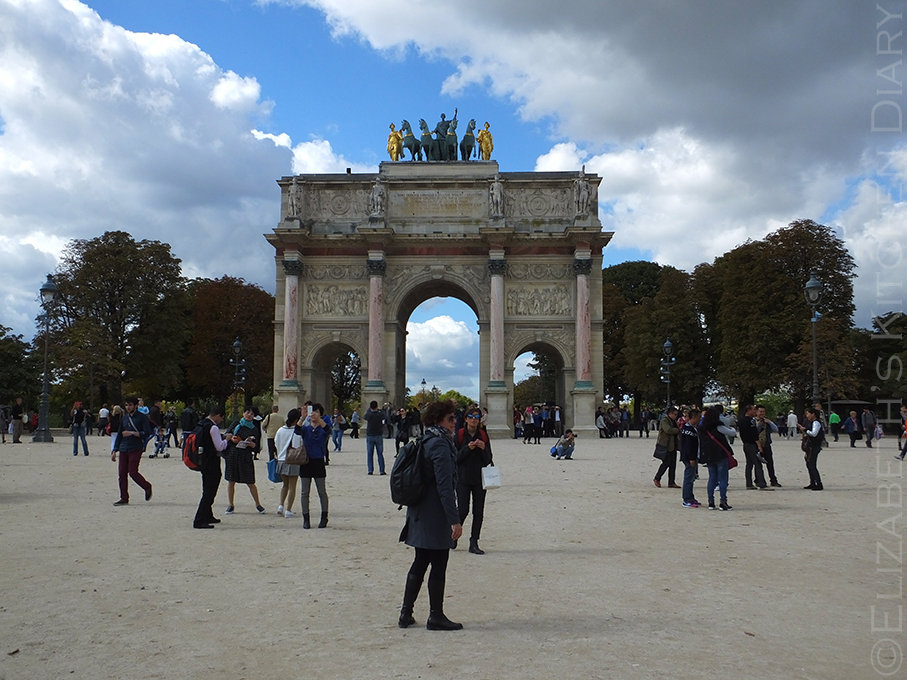 SOME THOUGHTS ON PARIS
I am in love with Paris. I could live there, I really could. It took some time to get used to city life – like not acknowledging the people around you (unlike here in Shetland where everyone greets everyone else all the time even if they know them or not).
I loved the fact that there are quality bakeries on nearly every street – fresh bread, and proper bread at that – divine!
Geocaching through Paris was, I think, a great idea, and it was my ideal way of seeing the sights of city, including places I otherwise probably never would have visited otherwise.
I also liked renting a studio apartment in the city, rather than staying at a B&B or hotel. Living among other Parisians made me feel like I was one of them, sort of, rather than a tourist.
Here's to more adventures on the horizon! Norway next!
This post is the first of three in my Paris series. Coming up…. coffee in Paris (and some other gorgeous eats!) and a review/recipe of the superb cookery class I took while in the city. Watch this space!
If you want to be kept up to date on my recipes, occasional craft tutorials, adventure stories and giveaways then please subscribe to my weekly newsletter; it gets sent out every Monday morning if there is new content. Your email address won't be passed on to anyone, you will never be spammed and you are free to unsubscribe at any time, no questions asked. Make sure you confirm your subscription or you won't receive the newsletter – if it hasn't arrived check your junk mail folder.
[wysija_form id="1″]
Disclaimer: this post contains affiliate links. This is not a sponsored post – Elizabeth's Kitchen Diary paid for this trip herself.