Plus some other rather delicious morsels in the city of lights!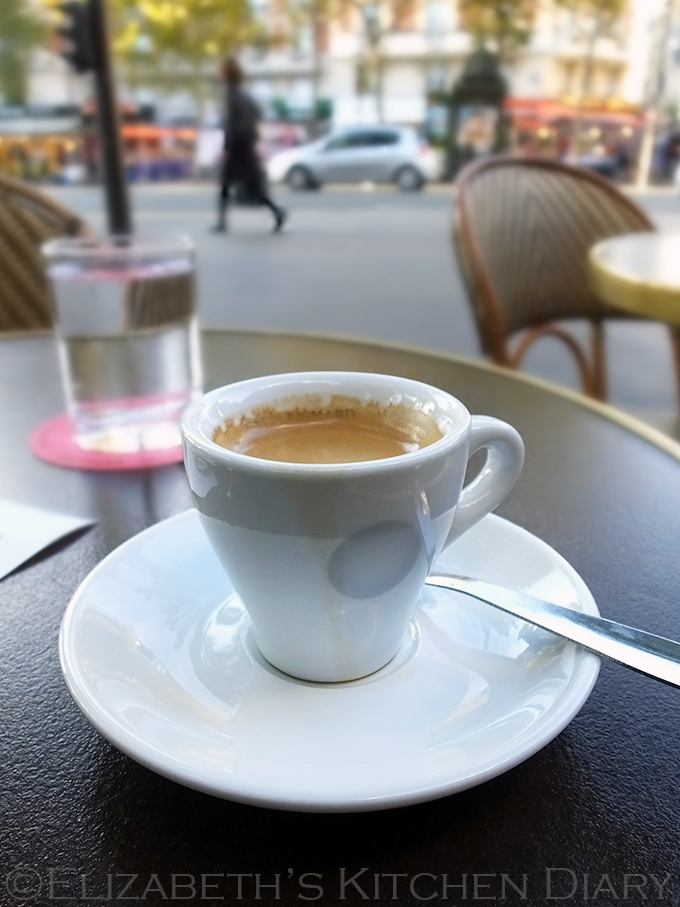 I'm going to be 40 soon, so I've compiled a list of 40 Things I'd Like to Do Before I Turn 40. Drinking coffee in Paris was #2 on this list. You know – a street side cafe, sunglasses, watching the passerbys passing by, that sort of thing. Just because. Recently, en route to the Food Blogger Connect conference in London (attending said conference is also on the list!), I took a detour via Paris. Five nights, four whole days, the city of lights… and me.
My only proper restaurant meal in Paris occurred at lunch time on my second full day in the city. I'd been avoiding eating in restaurants up until that time because, when I went to check the menu displayed outside the restaurants I'd so far encountered, I had no idea what it said.
My French, despite my Canadian upbringing with its mandatory French education lessons up until grade 10, is absolutely appalling. I had downloaded a 'learn French' app prior to my trip to France, and I was keen, but again, like I did when I was in high school, I got confused when it came to the masculine and feminine and just gave up.
I have also never eaten by myself in a restaurant before, and I was feeling somewhat daunted by the idea, especially given that most of the restaurants I'd peeked into were packed with tourists.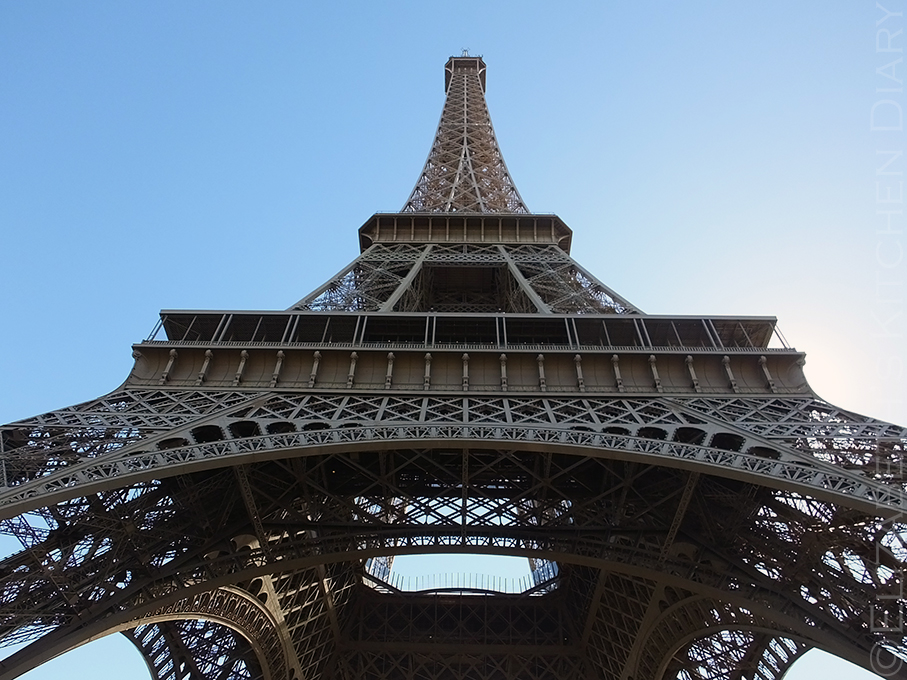 58 Tour Eiffel
When I found myself at the first floor of the Eiffel Tower, feeling rather hungry from my climb (yes, I took the stairs all the way to the second floor – have to get that FitBit step count up!) and having only eaten a pain du chocolate that morning in the labyrinthe at the Jardins des Plantes, I discovered the 58 Tour Eiffel Restaurant. I convinced myself to at least have a look at the menu.
Much to my relief it was written in both French and English! Mouth watering I decided right there on the spot what I was going to have and I went in.
Despite not having made reservations, as a single customer I was quickly shown my seat – a seat with a wall to my back so I felt like a casual observer, rather than being on display, and I could see out the window next to me to the city below.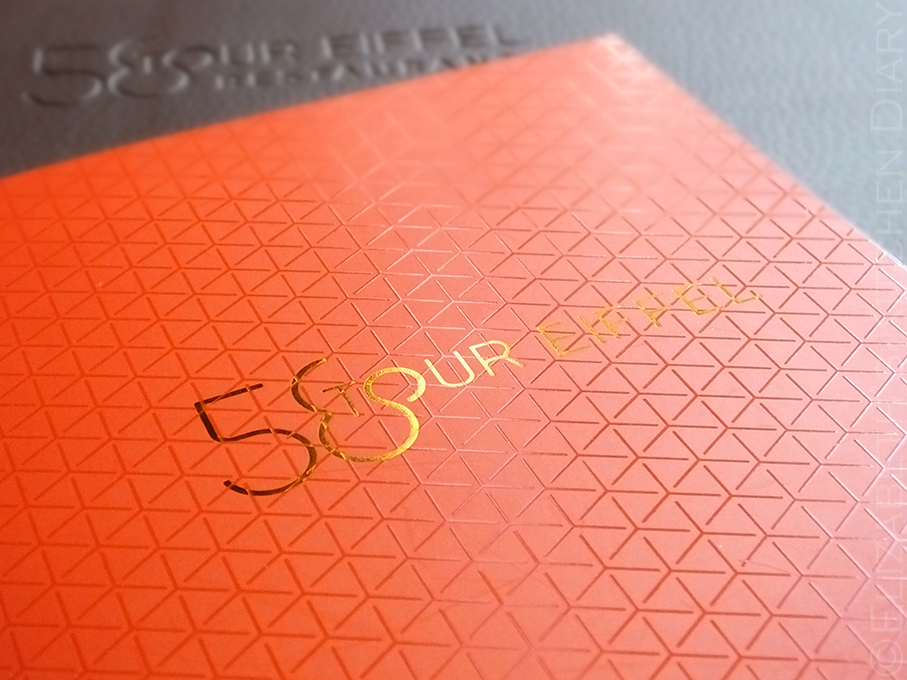 Located in the heart of Paris' most famous monument, the 58 Tour Eiffel restaurant is a spacious, family friendly establishment overlooking the city. The chef prepares your meal within view (according to the website – to be honest I didn't notice this as I was staring out the window at the city!), and for lunch, your 'chic picnic' meal is brought to you, all three courses, at once.
I ordered a glass of Vin de Pays d'Oc Chardonnay (simply because I recognized the name from the book Blackberry Wine by Joanne Harris – I'm no wine expert!) and my meal arrived swiftly.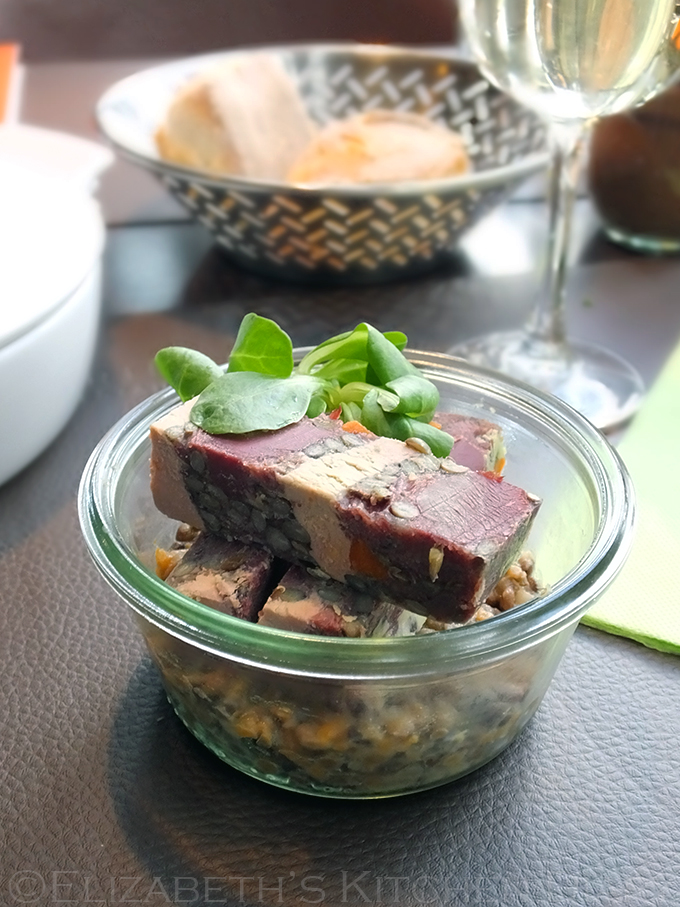 For the first course I enjoyed a Marbré de canard au foie gras, lentilles, vertes du Puy, vinaigrette à l'echalote (duck and fois gras terrine with Puy lentils and shallot vinagrette). The terrine was delicious, but oh goodness the Puy lentils were amazing – my first proper taste of French food! I'm a big fan of Puy lentils so this is a recipe I'm going to try and recreate on my blog at some time.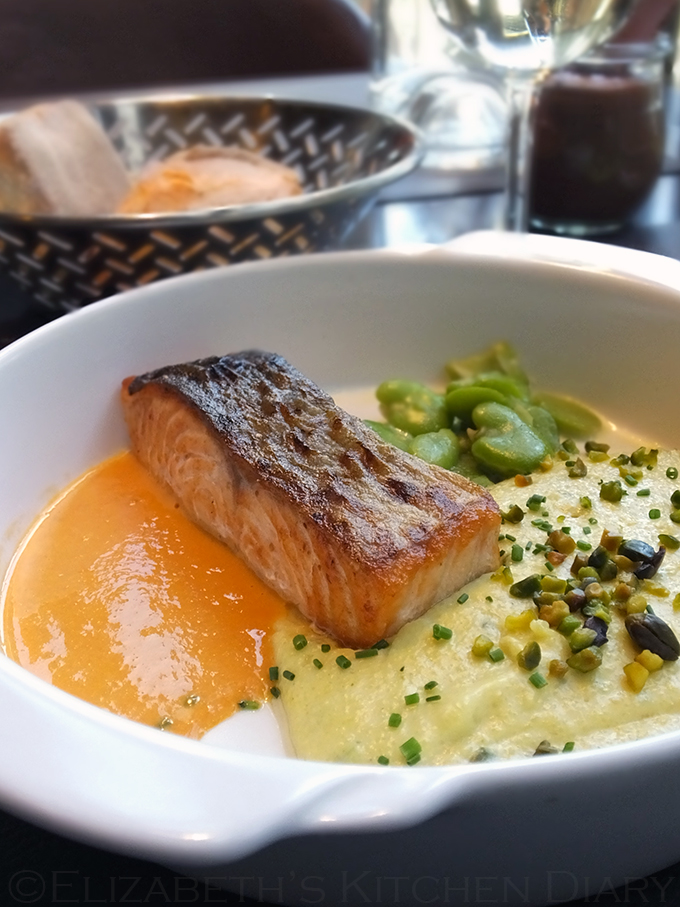 My main course was dos de saumon à la plancha, polenta crémeuse aus pistaches, beurre de tomate (salmon a la plancha with creamy polenta with pistachios and tomato butter). Doesn't everything written in French just sound that much more appetising! This dish was brought covered with a ceramic lid so it was kept warm while I ate my starter. It had cooled down a bit by the time I got to it but it was still absolutely mouthwatering. I could have licked my plate, I really could have. The salmon was perfectly tender and flaky, the creamy polenta to die for and, I have confess, I was secretly really impressed at the double podded broad beans on the side. I love broad beans! Again, that creamy polenta is something I'm going to have to attempt to recreate at home.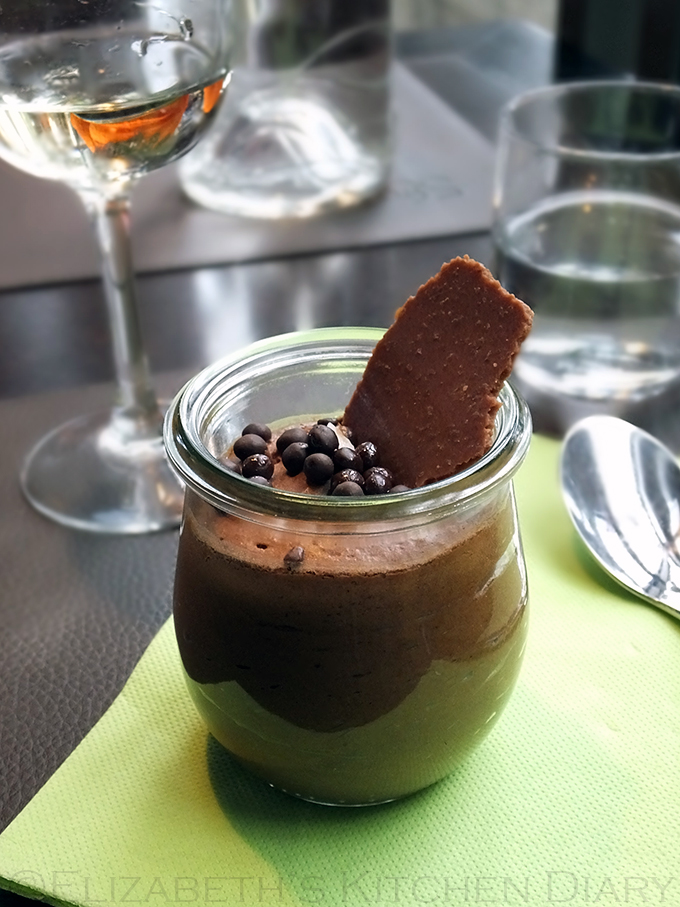 For dessert, an incredibly light and intensely chocolatey mousse chocolat Guananja, craquant praliné (Guananja chocolate mousse with praline crisps). Guananja chocolate comes from a tiny island off the shore of Honduras in the Caribbean and it has quite a gorgeous, bitter chocolate flavour. A perfect way to round off the meal without leaving you feeling overly full, just pleasantly sated.
The three course meal was €27 while the glass of wine cost €6. 
While I was there, my waiter struck up a conversation. He was the first person to properly speak to me in Paris and it was nice to engage in conversation.
"You are, er… travelling alone?" he asked, when he observed I was eating my lunch on my own.
I proceeded to tell him about my 40 Things I Want to Do Before I Turn 40 list, and how drinking coffee in Paris was #2 on the list. I hadn't yet had said coffee in Paris (I wasn't going to count the purely medicinal early morning cups of instant Nescafe I'd had).
He insisted that I visit two cafes in Paris for coffee… Café de Flore in Saint Germain des Pris, and Café d'Amelie Poulain – the location of the 2001 film Amelie, in Montemarte. That was tomorrow's adventures sorted!
My waiter wistfully said that if he wasn't working he'd offer to show me these places himself.
Just as I was preparing to leave, he appeared again with a coffee in hand. A gift. I drank it, savouring every drop. It was such a lovely gesture, a coffee strong in flavour and just the right temperature; a perfect cup. Unfortunately, I didn't photograph it!
I left the restaurant with a smile on my face.
Marche d'Aligre
The following morning I headed north to the Montemarte area of Paris, on foot, to locate the Café des 2 Moulins (cafe of the two windmills, named so because of the vicinity of the famous windmills Moulin Rouge and Moulin de la Galette.)
But first, I'd heard about the Marche d'Aligre, the Aligre Market, in the 12th arr. The inside market was closed for refurbishment, but the outdoor market was bursting with colour, flavour, scents and textures.
There were plenty of fresh fruits and vegetables on offer here and I can see how this would be a popular place to shop for locals. It was a bit of a faff to get to, not being on a main road, but it was a nice experience to stroll down the street and see people buy their day's fresh produce.
I spotted a fromagerie behind one of the fruit and vegetable stalls and I went in for a peek. Oh my goodness gracious me what a sight! Cheese after cheese laid out on beautiful display, so many varieties, plus charcuterie and wine. This was my idea of heaven!
I bought a small round of fresh goats cheese filled with figs, and headed back out into the market for some fresh fruit to go with it. The fellow running the fromagerie said I could buy some bread to go with my breakfast at the bakery around the corner – the best bakery in Paris, he claimed.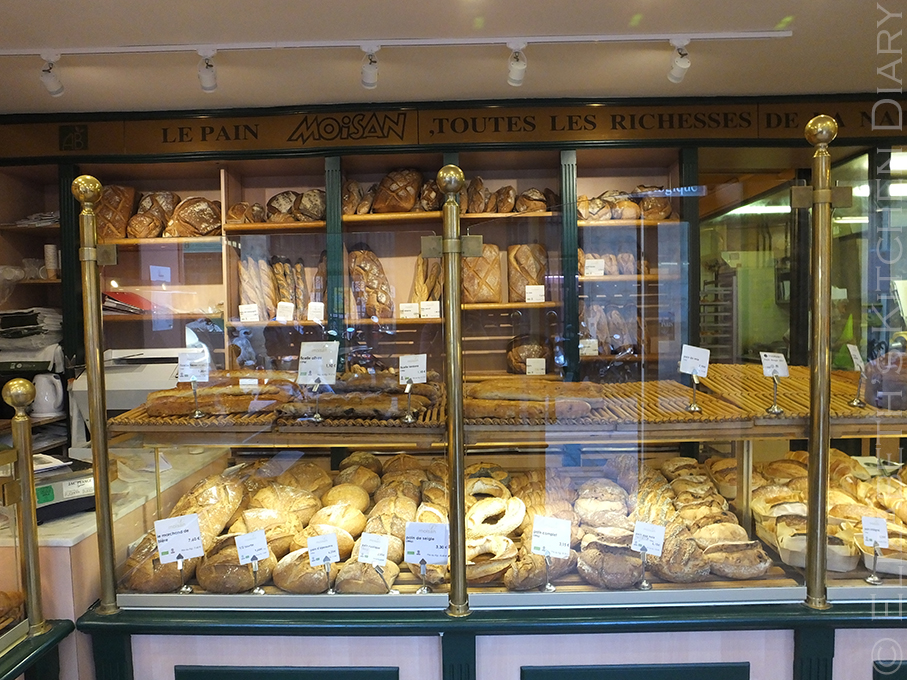 I also picked up an espresso at a tobacco counter nearby.
It was a really rather lovely breakfast, enjoyed while sitting in the Promenade de plantée, a garden area built on the top of a disused rail line running for a few miles through the city.
Café de 2 Moulins aka Amélie's Cafe
I was really excited to visit this café since it was the location of one of my all time favourite films, Jean-Pierre Jeunet's Amelie. I'd walked halfway across the city to reach it and I was really looking forward to sitting for a moment and enjoying a cup of coffee.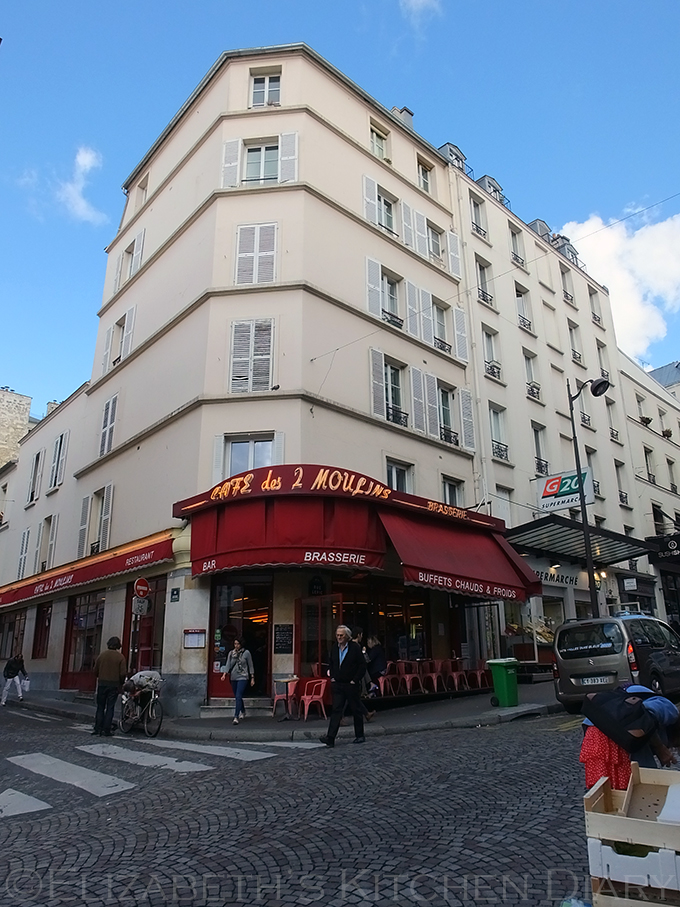 Located at 15 rue Lepic, the bright red awning of the Café de 2 Moulins invited me in, and I was breathless with anticipation.
I was cursorily shown a seat where I promptly felt uncomfortable. The tables and floor were desperately needing cleaned and the building was in need of some repairs.
I ordered the Goûter d'Amélie: your choice of coffee, hot chocolate or tea and creme brûlée à la cannelle (€8.50). These were unceremoniously dumped on the dirty table in front of me while the waiter yawned. He clearly hadn't enough sleep the night previous (in his defense, he was young, and I'm sure the nightlife in Paris is fantastic). The coffee splashed down the side of the mug so I didn't bother taking a photograph.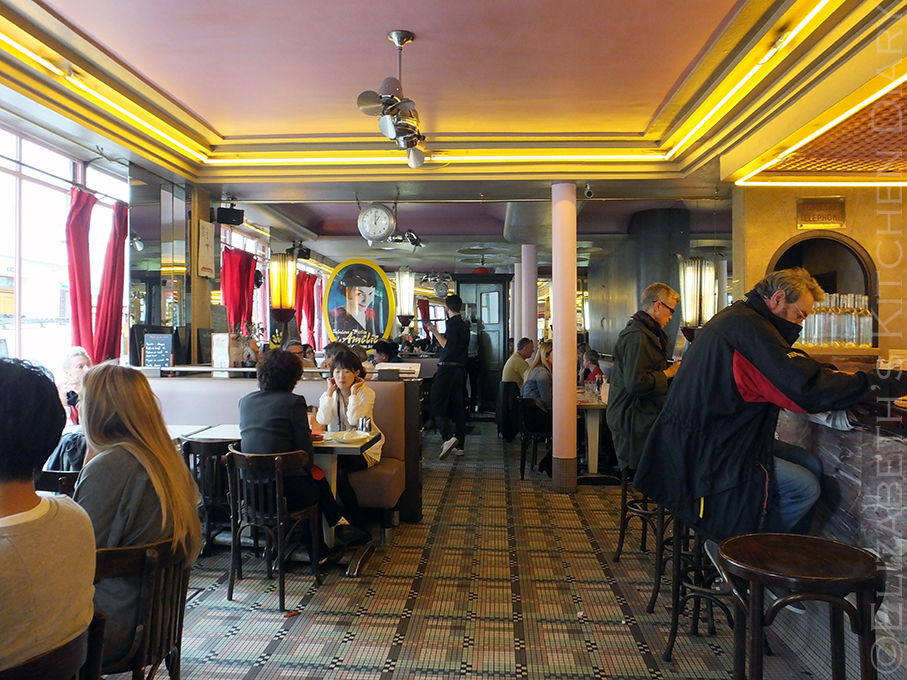 Afterwards, I went to pay the bartender (the waiter hadn't returned) who did strike up a little conversation. I told him about my 40 before 40 list. He told me that was silly. I told him I loved the film Amelie and I had named my daughter Amelie, and he told me I was crazy.
Feeling rather foolish I went to the ladies' room (which I think was also the mens' room!) and encountered a rather bizarre Amelie shrine! In the loo?
Disappointed with my visit (I really wouldn't recommend it – I think it's changed a lot since filming days. For one thing, the tobacco counter is no longer there) I headed south across the city to my next destination, the Café de Flore.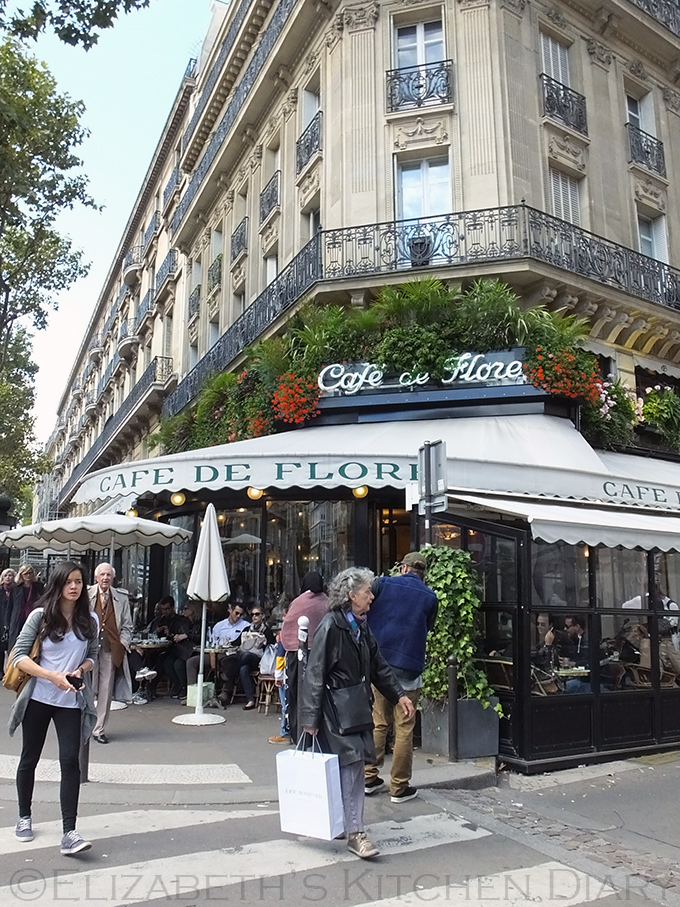 Café de Flore
The Café de Flore is supposed to be the best coffee house in Paris. The waiter at 58 Tower Eiffel told me that the best coffee there costs ten euros, and so that was the one I wanted. I would have paid twenty euros for the best coffee in Paris. I was presented with a menu and I pointed to the coffee that I wanted (I couldn't say it in French). I wanted this coffee please. Your best coffee, please.
My coffee arrived along with the bill. It was the wrong coffee! It was just an ordinary coffee. It was a nice coffee, but it was just an ordinary coffee.
The place was noisy and crowded too. Tables were spaced so that there was just barely enough room to get to your seat, and you were elbow to elbow with your neighbour. It was uncomfortable for a person who likes her space and feels uncomfortable in large crowds.
Apparently this place is famous for its clientele – celebrities and A-listers frequent this prestigious coffee house, opened in the 1880's. I quickly drank my coffee, paid and left. I had tried to explain to the waiter that he'd brought me the wrong coffee but he just blinked, uncomprehending, at me.
Ach well.
Cafe du Metro
I'd booked myself into a market cookery class on my last morning in Paris. I was to wait for my fellow classmates and teacher in front of the Café du Metro on Boulevard Saint Germain, across from the Marché Maubert, the oldest outdoor market in Paris.
Being on time for me means being at least ten minutes early, so of course I arrived a half an hour in advance. During this time I had the most enjoyable cup of coffee, outdoors, in an empty sidewalk table, watching the few passerbys pass by. Perfection! Apart from my lack of sunglasses, this is what I had come to Paris for.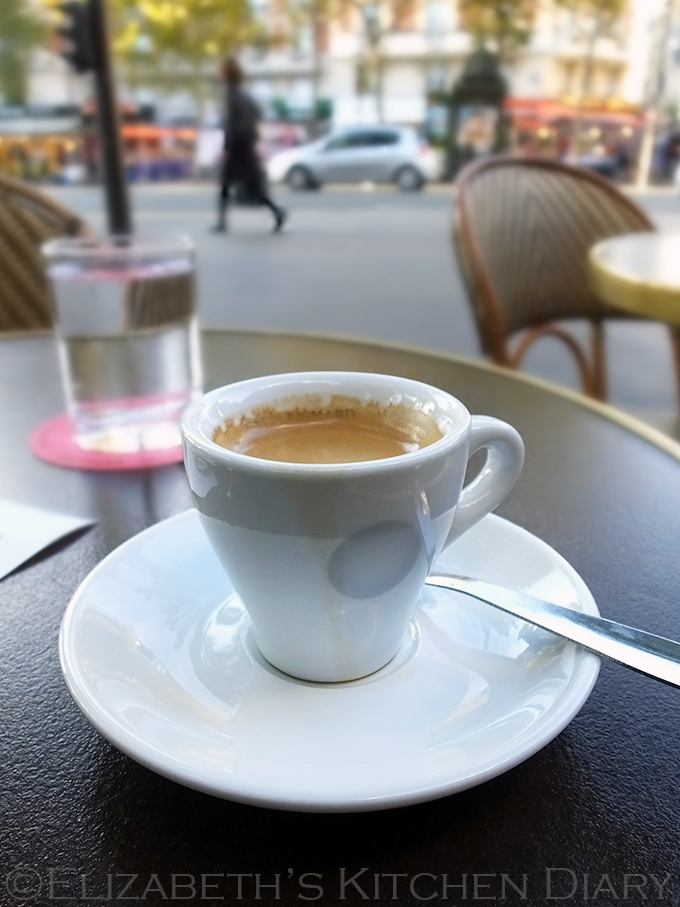 Afterwards, I met up with my fellow students for a morning/early afternoon learning how to do a French market, French style, and how to cook our purchases, French style. This story, along with one the duck recipes we cooked, can be found here.
Below (left) – coffee at the cookery school – (right) bookshelf at the cookery school.
MONOPRIX
There was a Monoprox supermarket near my studio apartment. I was really impressed with this French supermarket – the wide variety of produce available, the fact that it was all open, loose, displayed in wicker baskets and the fact that nearly every single thing was sourced in France! No green beans from Argentina or apples from Peru – everything was grown locally!
BOULANGERIE PATISSERIE
Just around the corner from my apartment there was a boulangerie patisserie and two shops down from that a wine shop. What else could anyone ask for? The boulangerie sold fantastic filled baguettes which formed several of my meals while I was in the city, and I may have indulged in a sweet treat, or two at the end of a busy day exploring the city!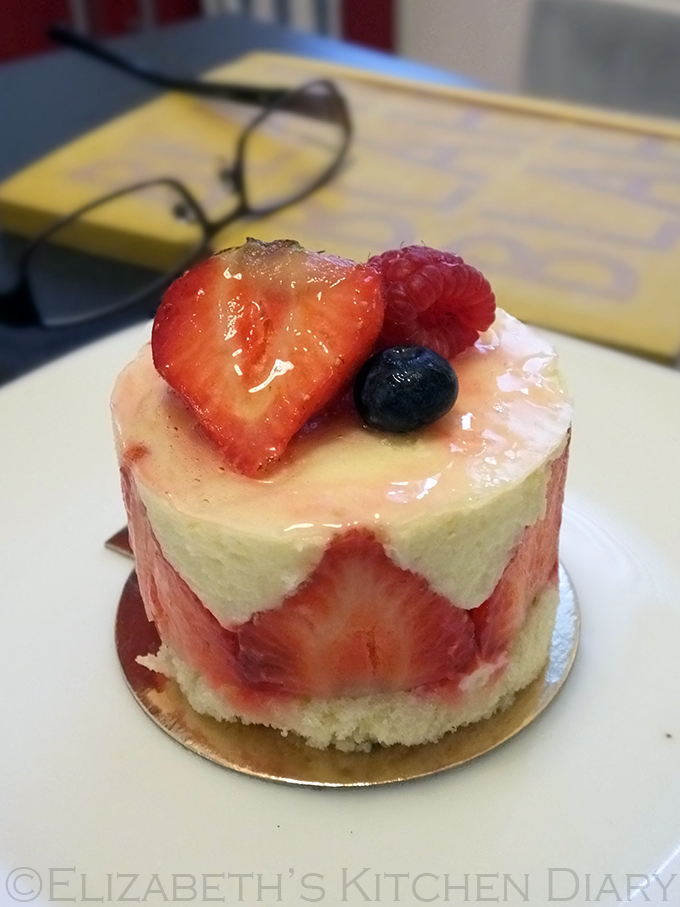 I am going to miss the cakes, breads, cheese shops and markets of Paris. There's just nothing even remotely close to it here in Shetland. I'm going to have to practise my own baking skills to try and recreate them!
Coffee in Paris was rather interesting. Coffee there is very strong and it is served in small cups – unlike the large mugs I am used to. The best coffee I had while I was in the city was definitely that coffee gifted to me by the French waiter in the Eiffel Tower. Such a lovely gesture!
I will be returning again to Paris one day, for sure, but the next time I will be bringing my husband along with me!
You might also like to read about my adventures geocaching through Paris! Geocaching is a great way to see the sights of a city.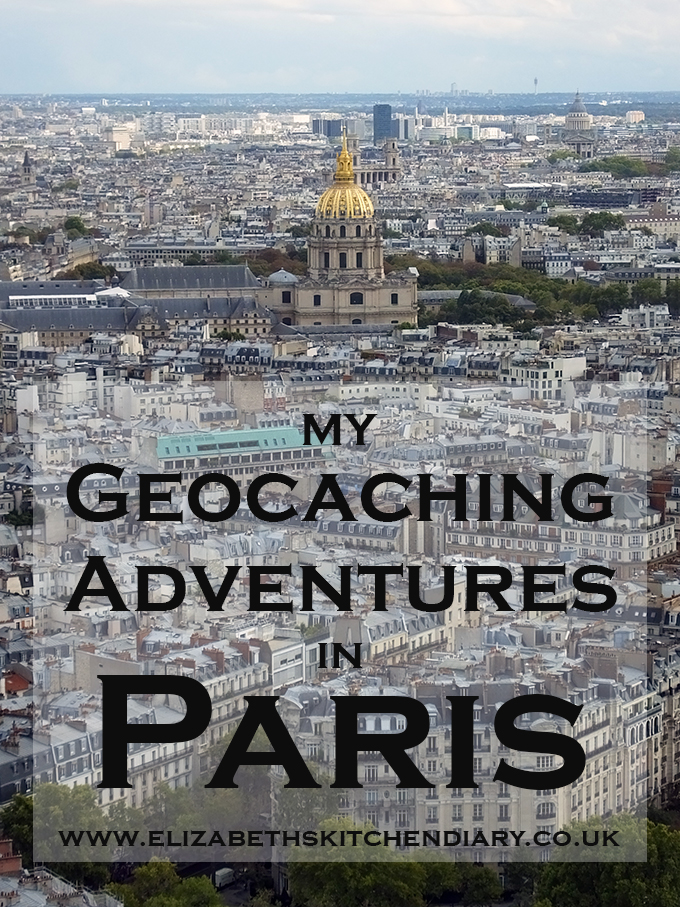 OTHER PARIS STORIES YOU MIGHT LIKE
To Paris in the Eurostar by Recipes from a Pantry
French Chocolate Mousse by Made from Pink
Angelina, Paris by Emily's Recipes & Reviews
Paris: Foodie Heaven by The Foodie Couple Blog
Gluten Free Paris by Natural Kitchen Adventures
Duck Breast with Fig Sauce by Elizabeth's Kitchen Diary
If you want to be kept up to date on my recipes, occasional craft tutorials, adventure stories and giveaways then please subscribe to my weekly newsletter; it gets sent out every Monday morning if there is new content. Your email address won't be passed on to anyone, you will never be spammed and you are free to unsubscribe at any time, no questions asked. Make sure you confirm your subscription or you won't receive the newsletter – if it hasn't arrived check your junk mail folder.
[wysija_form id="1″]
Elizabeth's Kitchen Diary funded this trip to Paris herself. All thoughts and opinions expressed are her own. This post may contain Amazon affiliate links.