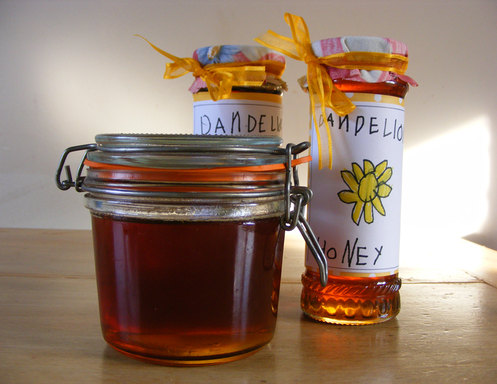 Overabundance of dandelions in your garden? Turn them into this tasty honey! It has a very unusual but pleasant taste and it's great on waffles, scones, pancakes, icecream, or whatever your heart desires. It makes a great gift too. DD (5) and I had great fun picking dandelion flowers for this recipe. I have entered this recipe into the Tea Time Treats blog challenge alternately hosted by Lavender & Lovage and What Kate Baked. This month it is Lavender & Lovage and the theme is: Get Floral in the Kitchen with Floral Flavours & Flowers.
150g dandelion petals
1 litre water
1 lemon
1 kg raw cane sugar (I just used caster sugar)
The day before:  harvest your dandelion flowers. You'll need a lot! Pluck the yellow petals off and put them in a large pan with the water. Cook briefly and leave to stew, covered, over night.
The day of preparation: Drain and reserve the liquid. Peel the lemon and slice. Add lemon slices and sugar to the liquid and bring to the boil. Boil until reduced to one third off the original volume. Test: take a spoonful out and allow to cool. It should have the consistency of honey. Sieve the honey into jars; seal and cool.
This recipe is adapted from a recipe in Alfred Vogel's Naturally fresh & Delicious recipe book.