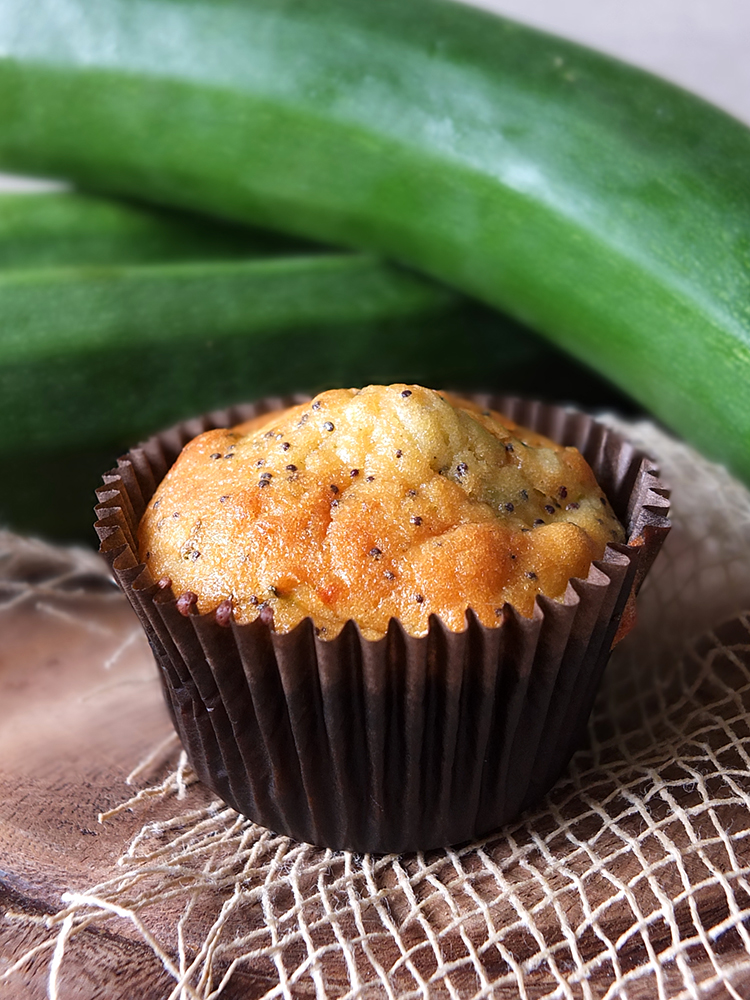 Courgettes are reproducing at pace in my vegetable crisper.
Seriously.
Every year the same thing happens. You see, I get this fantastic locally grown weekly organic box filled with all sorts of wonderful goodies – kohlrabi, fresh peas, tomatoes, spicy Chinese greens (my favourite!), last week an Indian Kheera cucumber…. and courgettes, among many other things. I think that courgettes must be a fairly easy crop to grow here in Shetland as there are two or three of them in every week's delivery, and I always struggle to find things to do with them.
One I managed to make disappear into these rather tasty courgette and poppy seed muffins. Inspired by these chocolate chip and chia seed muffins from Searching for Spice, who linked up with my No Waste Food Challenge, I got a bit creative with the ingredients I had on hand, and was rather successful too, I think!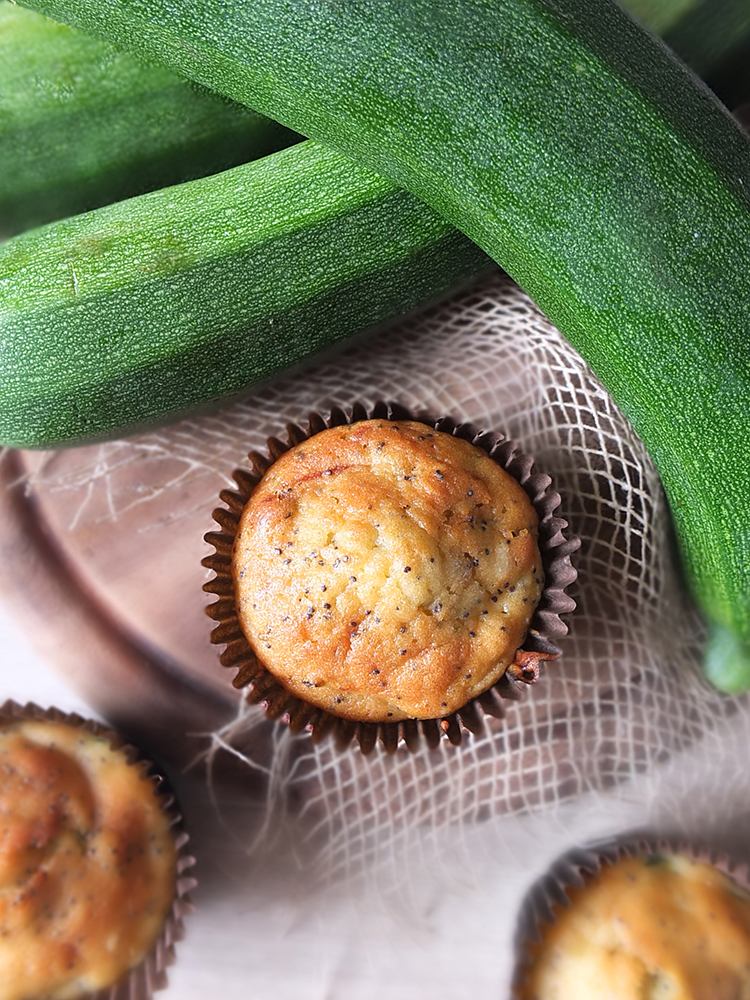 My cooking strategy right now is to get creative with the things I already have. My storecupboard/pantry is bursting with half bags of this, that and the other thing and after a summer spent adventuring, music lesson tuition, a surprise private dental bill and a less surprising garage bill (why is garage labour SO expensive!) we've decided to take on a frugal approach to things for awhile, at least until our bank balances recover.
So yes, faced with a fridge full of reproducing courgettes I grated one into a batter that I made with some lemon infused olive oil from Pomora (see the badge in the sidebar) and two rather small hen's eggs (also from said organic vegetable box). I quite fancied making courgette, lemon and poppy seed muffins based on Corina's recipe, but I had no lemons. I was loathe to walk all the way to the shop to buy one (I will not part with 35p if I don't have to! I'm on a mission!), so I used the last of the spring shipment of the Pomora lemon-infused olive oil to great effect.
I originally wasn't going to blog these as I was just experimenting, but my husband was that impressed with them he insisted I should share the recipe with you all. He says they're like eating something healthy without it tasting too healthy, if you know what I mean.
Not too sweet and almost savoury in taste, they're perfect in a packed work/school lunch or with a morning cuppa – after all, who doesn't fancy a bit of cake for breakfast?
How do you use up those courgettes lurking in the back of the fridge? Do you have any recipe suggestions? Let me know in the comments! I've got two days to make four courgettes and a marrow disappear before more appear in my veg box.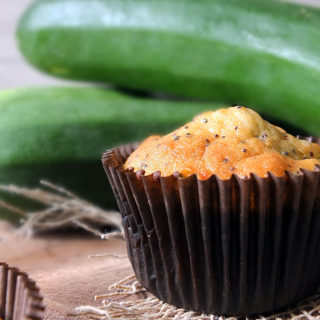 Courgette & Poppy Seed Muffins
A not-too-sweet almost savoury muffin with grated courgette, lemon infused olive oil and poppy seeds. Ideal with a morning coffee!
Print
Rate
Affiliate Links
This recipe card may contain affiliate ingredient and equipment links. As an Amazon Associate I earn from qualifying purchases.
Instructions
Preheat oven to 200 C/ 180 C fan and place 12 large muffin cases into a 12 hole muffin tin.

Wash and pat dry your courgette. Grate with the large side of a grater and spread out in between layers of paper towel to dry slightly while you prepare the batter.

Whisk together the sugar, oil and eggs until combined thoroughly.

Sieve over the self-raising flour and salt, and fold into the batter along with the milk. There might be lumps, don't worry about this.

Fold in the grated courgette and poppyseeds.

Bake in the middle of your oven for 15-20 minutes until risen and golden.

Transfer to a wire rack to cool completely. Store in an airtight container.
Notes
If you don't have lemon infused olive oil use regular olive oil with the zest of one lemon and the juice of half. Alternatively, if you find the taste of olive oil too strong you could substitute with sunflower or canola oil.
Environmental Information
OTHER COURGETTE RECIPES YOU MIGHT LIKE
Chocolate Courgette Loaf by Elizabeth's Kitchen Diary
Courgette, Potato & Onion Bake from Foodie Quine
Courgette Spaghetti Alfredo by Elizabeth's Kitchen Diary
Cheesy Courgette Omelette by Fab Food 4 All
Broad Bean & Courgette Soup with Gouda by Elizabeth's Kitchen Diary
Vegan Zucchini Quinoi Sushi Rolls by The Petite Cook
Spiced Tomato & Courgette Chutney by Elizabeth's Kitchen Diary
Roasted Courgette Salad with Lemon, Chilli, Basil and Crispy Shallots by Recipes from a Pantry
Broad Bean & Courgette Salad by Elizabeth's Kitchen Diary
Spiralized Courgette with Garlic Mushrooms by The Lovely Appetite
Pete's Courgette, Blue Cheese & Cherry Tomato Quiche by Kavey Eats
SHARING WITH SOME BLOG LINKIES
Love Cake by Jibber Jabber UK
Treat Petite by Cakey Boi (host) and The Baking Explorer
Cook Once, Eat Twice by Searching for Spice