In collaboration with the RNLI – the charity that saves lives at sea.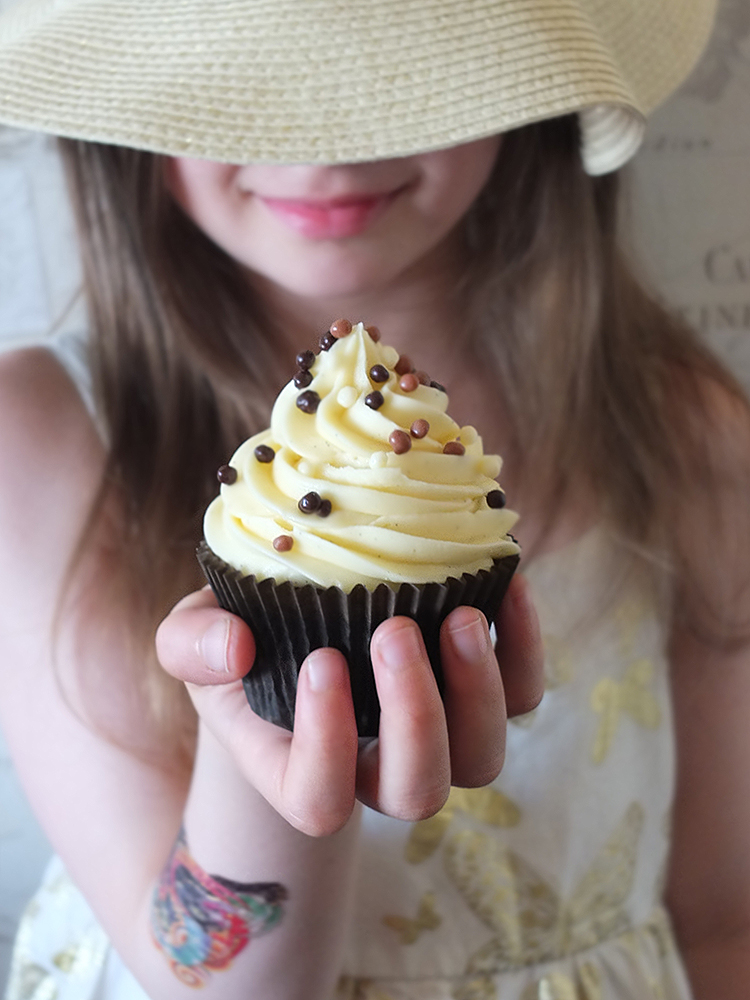 This is my husband's most favourite cupcake recipe. They are super simple to make and never last very long in our house. I made them for my husband as a, um, well, "I'm sorry" for actually swooning over a real life bonafide Viking the other day.
I'm not sure he realises they were apology cupcakes made in a bid to sweeten him up a bit, but I felt a bit better afterwards and he was delighted that there were cupcakes so all is well.
You see, the Draken Harald Hårfagre, the world's biggest Viking ship in modern times, was in town the other day doing some minor repairs on her mast before carrying onwards with her #ExpeditionAmerica2016 journey to North America via Faroe, Iceland and Greenland.
At the same time the ship was in harbour my family and I were in town. I had been invited to a gin tasting session with Shetland Reel Gin and my husband drove me into town to attend (so he could drive me home). He was going to take the kids to see The Jungle Book at the cinema (perfect timing) while I was gin tasting.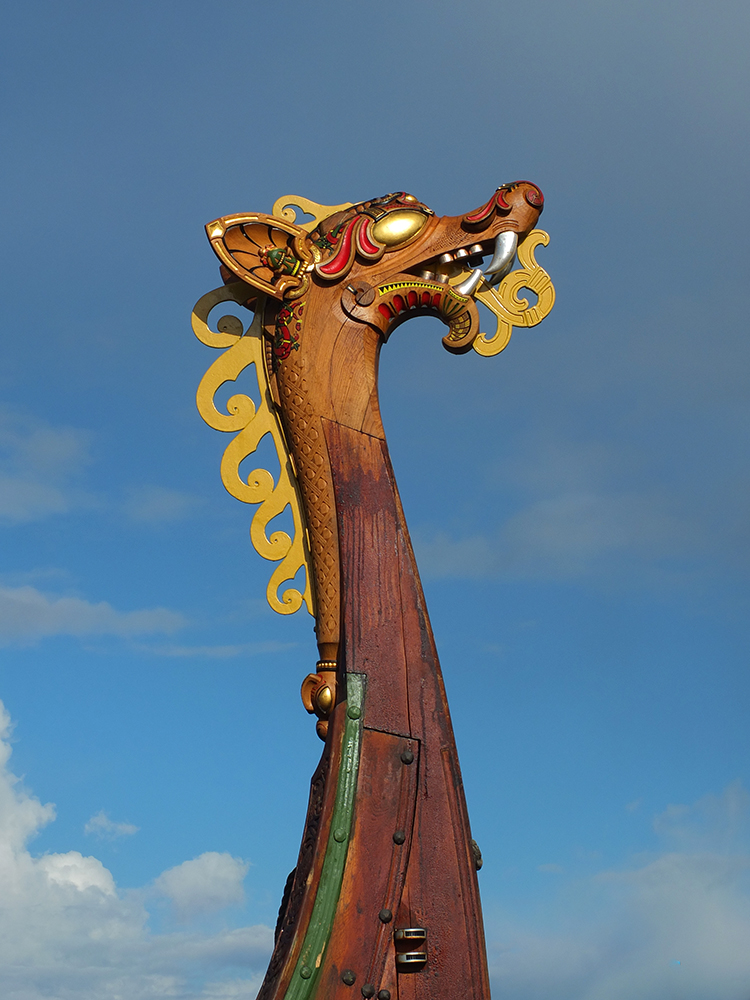 So yes, as we don't get into town often we all had a few errands to run. Me, I was looking for some preserving jars for jam while my husband and daughter were off to the music shop to buy her a new half size electric guitar and amp.
While I was in the department store I spotted one of the Draken crew searching for something, unsuccessfully, with the shop assistant. I didn't know what he was after but I overheard the shop assistant recommend he check a nearby motorcycle shop.
The department store didn't have what I wanted, so I went to check another nearby shop, and I spotted said big burly bearded viking walking back from the motorcycle shop empty handed.
Impulsively I stopped him and asked what he was looking for. "A five litre container for water," replied with his dreamy Nordic accent, "to put water into the engine." I assumed it was for the Draken Harald Hårfagre support vessel Vikingfjord. Given that it was 15 minutes until all the shops on the street closed I thought it was unlikely he'd find what he wanted, but I suggested the local charity shop nearby as you never know what you might find there.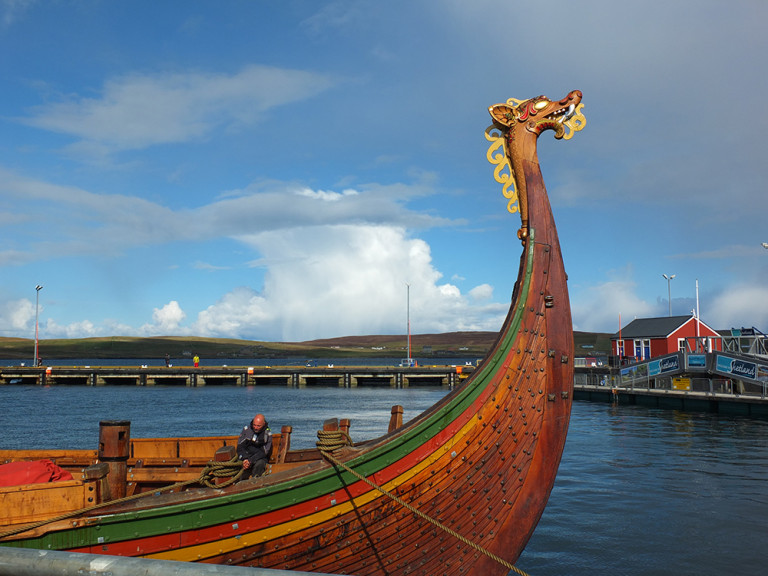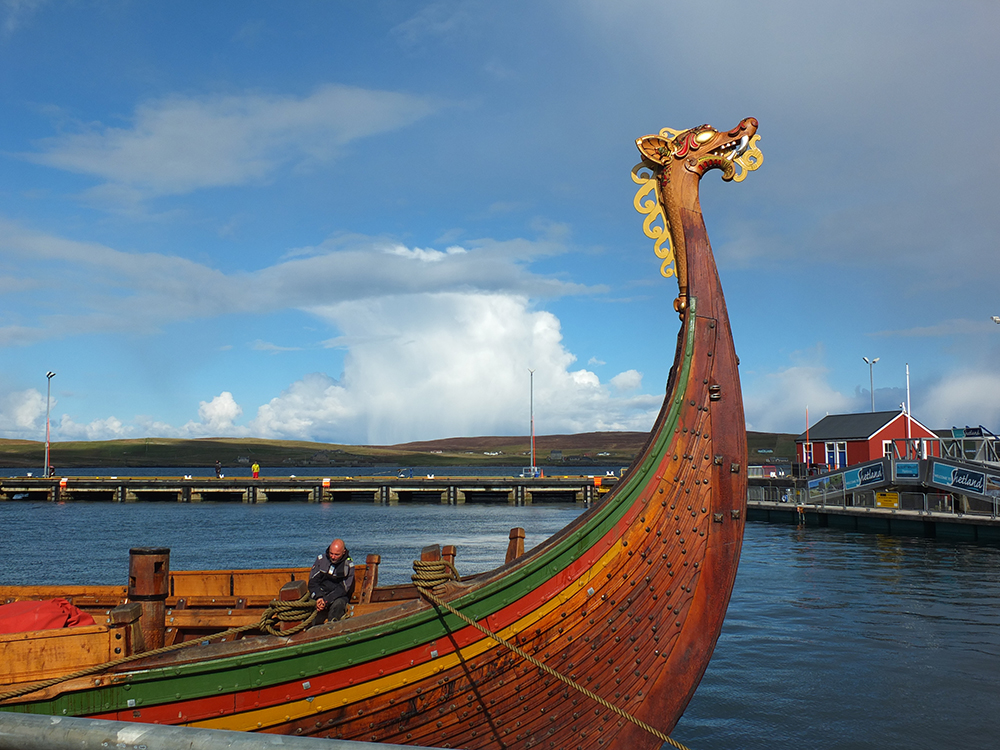 I carried on to the next shop to search for what I was looking for, then realised, as I was looking for preserving jars, that perhaps this shop might have what he needed. They didn't. They didn't have what I wanted either, so I headed back to the music shop to meet up with my husband.
Just outside the front door of the shop I bumped into a friend I hadn't seen in awhile. I asked her if she knew where I might find a five litre container (I was determined to find said object – I had no idea if the ships were setting sail for America in 15 minutes or not) and she suggested a DIY shop on the waterfront I'd completely forgotten existed. I had 7 minutes until it closed, so I legged it. They had what he wanted! So I bought it, and tracked said Viking down on the pier.
"You are marvelous!" he said, blue eyes glinting in the sunlight.
I swooned.
"But we've already found a container," he continued.
"No worries, I can use this at home then," I replied, "Safe travels!"
I headed back to the music shop again and exclaimed to my husband with great enthusiasm: "Ragnar Lothbrok has just told me I was marvelous!" (Vikings fans will know who I am talking about).
"You are marvelous!" he replied, and he gave me a kiss as we parted – I was rushing to get to the gin tasting session.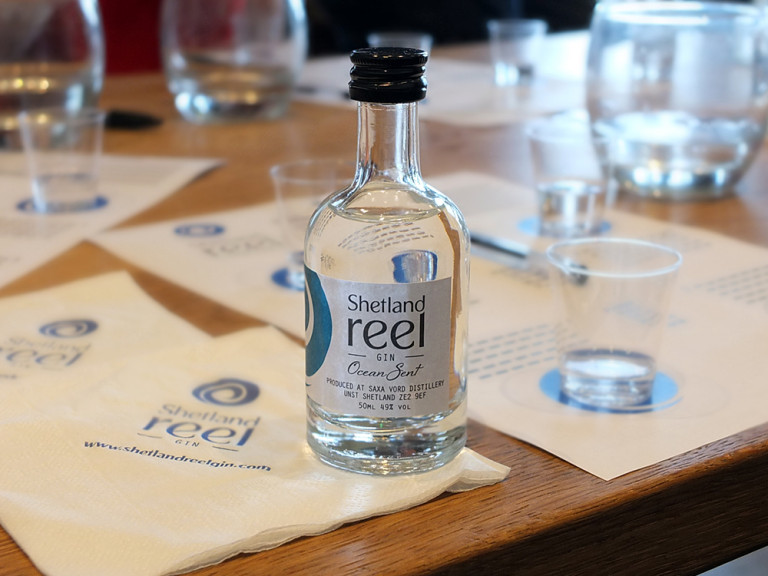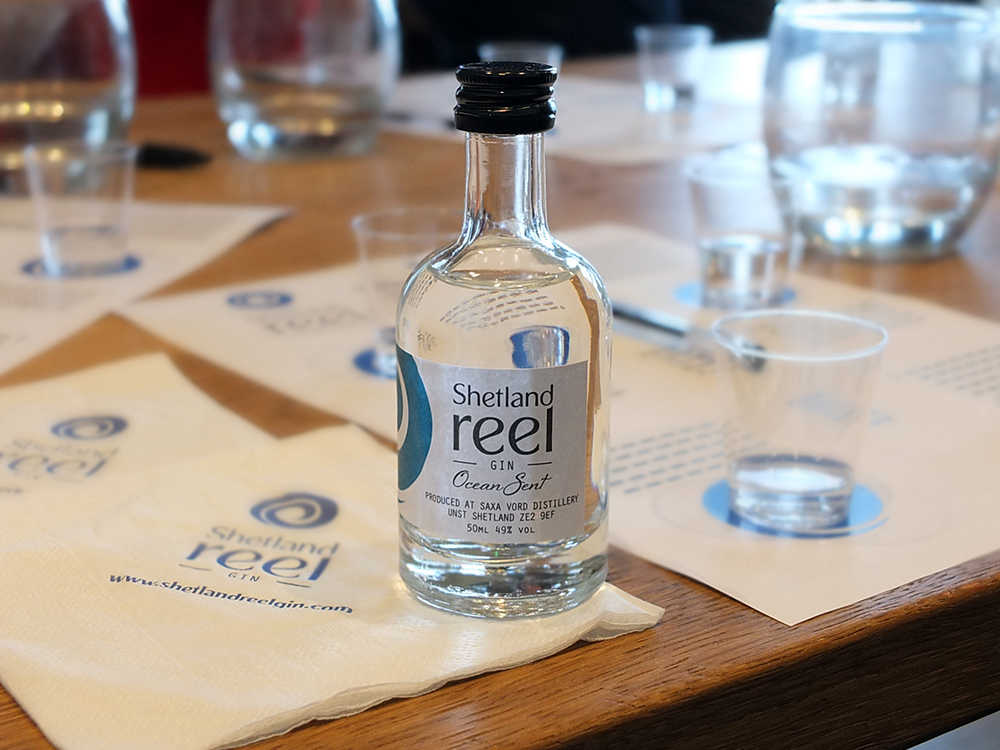 The gin tasting session was rather a pleasant experience. We were given four different samples to try to feed back what our favourites were. This information will be used to help the company decide which new gin to launch this summer at the Edinburgh Gin Festival on the 10th of June. Exciting times!
So yes, after the gin tasting session (might I advise never to attempt to do a grocery shop after a gin tasting session on an empty stomach while waiting for your husband to come and collect you?) on the drive home my husband asked what I was on about with this Ragnar Lothbrok comment. So I recounted the tale.
He drove, silent and somewhat stony faced. I suppose husbands don't particularly like to hear when their wives have been swooning over other men, even if they're big burly bearded Vikings on a grand sailing adventure from Norway to North America, but we're all allowed to look, right?
So the next day I made him his favourite cupcakes. My way of making it up to him.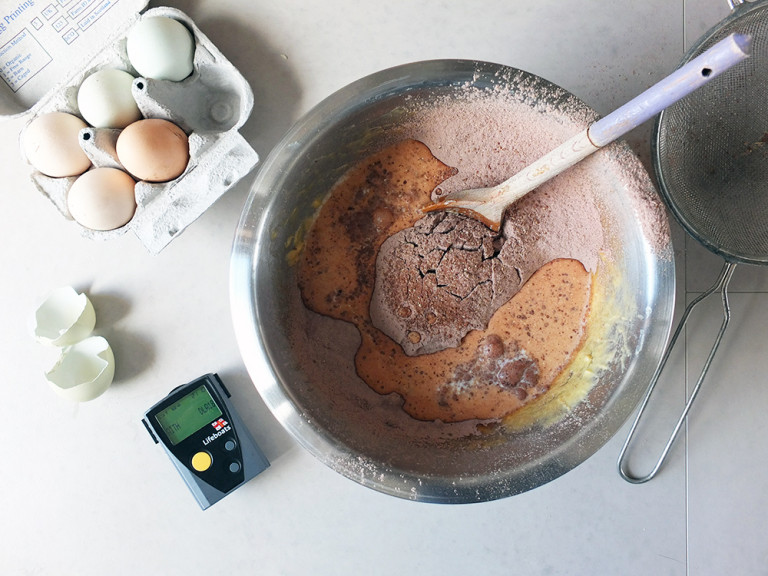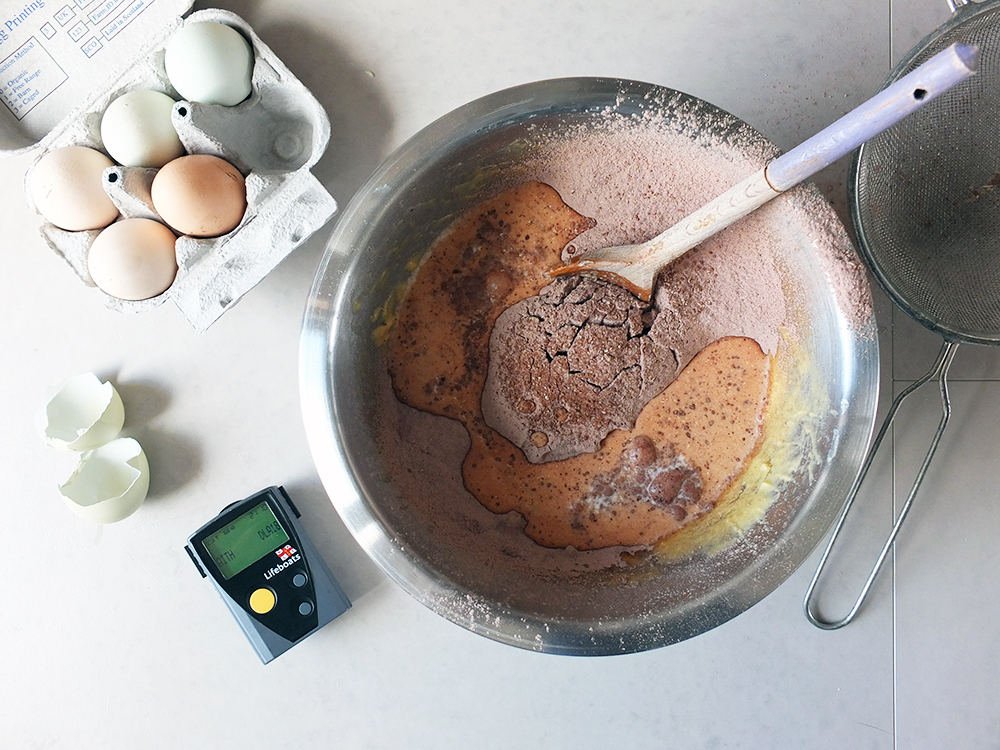 MAYDAY!!!
Press the play button, below, to get the full effect of what I'm about to say.
MAYDAY! MAYDAY!
ALERT: Elizabeth has been called away. Her pager has just gone off. (if you've pressed play you'll be hearing the piercing sound it makes when a Launch Lifeboat alert has been issued – I recorded this a few years back just before we headed out on a rescue).
I am an RNLI volunteer at Britain's most northerly lifeboat station. At any given moment my pager could go off alerting us that there is someone in need out at sea.
How often are you asked to drop everything in an instant to go and save someone's life? RNLI crew members can be called away at any time, day or night. Whether they are about to get married, go to a concert or are out with friends, they drop everything as soon as the Mayday distress call comes in.
Do consider supporting these volunteer men and women this Mayday to raise vital funds to keep the charity and its 237 lifeboat stations operating.
For more information about Mayday and to see how you can get involved visit RNLI.org/Mayday.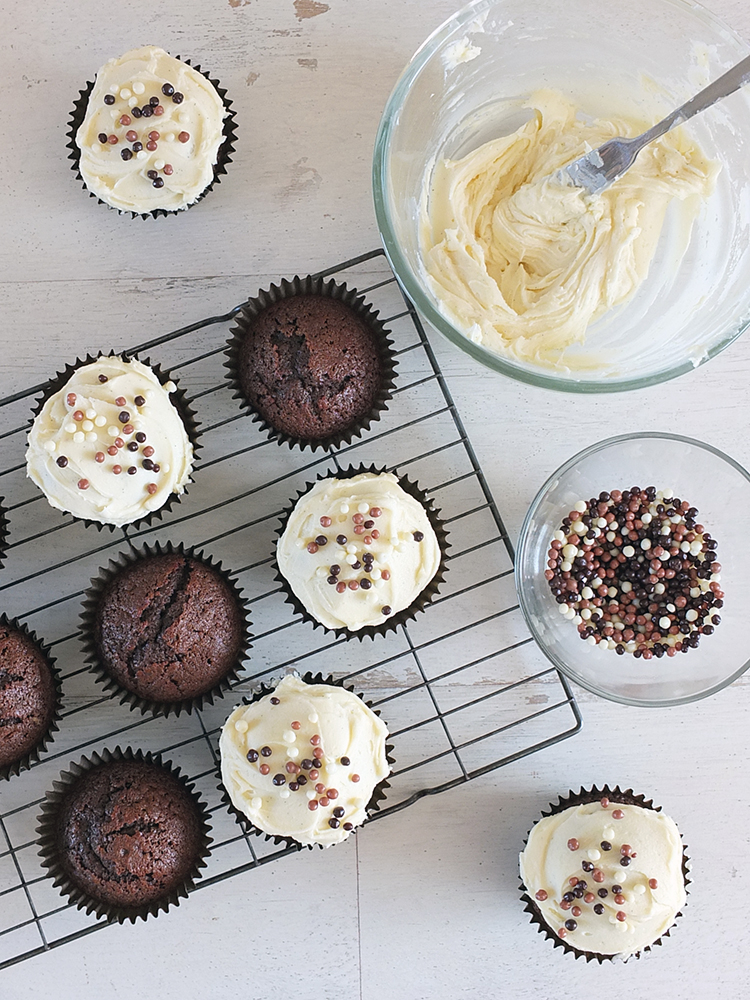 Ok, on this particular occasion my pager didn't really go off, but in between baking these cupcakes and frosting them I went for a 17 mile mountain cycle ride – training for the epic 250 mile mountain bike ride I am going on this June. I may not be going on grand trans-Atlantic sailing adventures on Viking ships, but I am living my own little adventurous life. I am fundraising for the RNLI with this trip – you can sponsor me online or there's a paper form in my village shop for those of you who know me in person.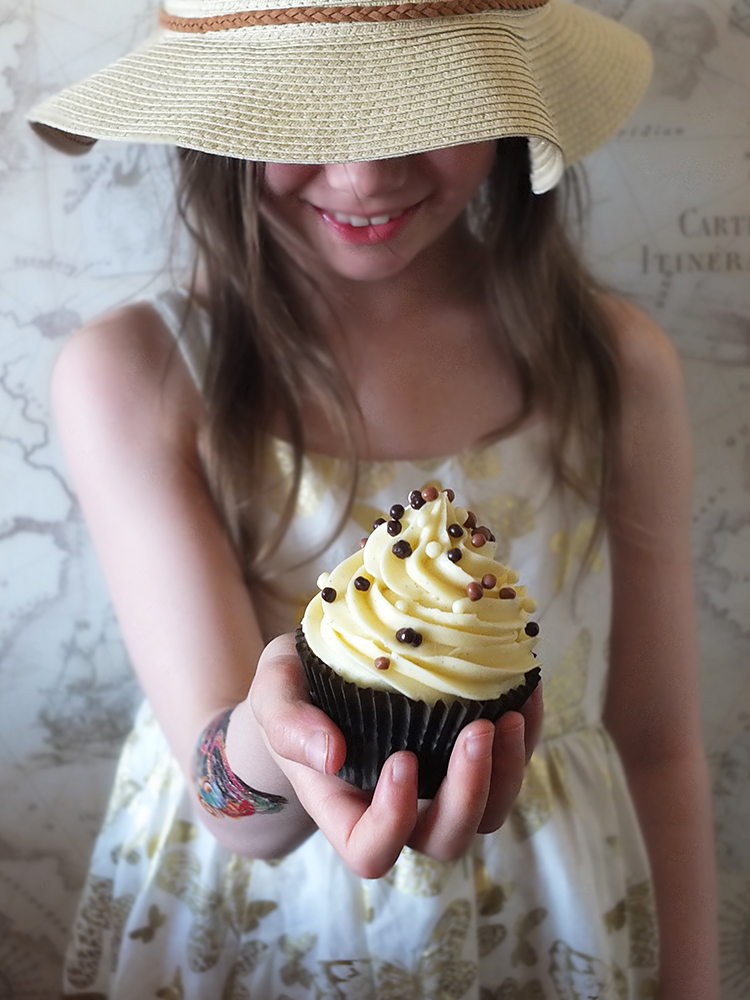 In the meantime, here is a seriously awesome chocolate and vanilla cupcake recipe if you ever find yourself needing to sweeten your husband up a bit, for whatever reason. 😉
At the time of writing the Draken Harald Hårfagre has just set sail from Lerwick harbour en route to Iceland. I might be continuously refreshing the Marine Traffic page to see what route she's going to take as she sails by the west side of Shetland – might have to take a little drive to the coast to see if I can catch a glimpse of her in full sail!
You can follow their adventures on Twitter, Facebook and Instagram.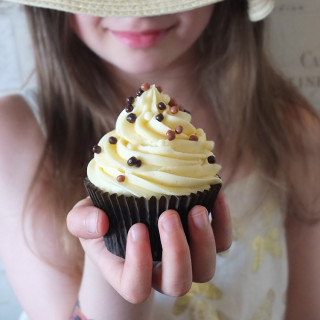 Chocolate & Vanilla Cupcakes
A delicious chocolate cupcake topped with vanilla buttercream frosting.
Print
Rate
Ingredients
for the chocolate cupcakes
for the vanilla buttercream
Affiliate Links
This recipe card may contain affiliate ingredient and equipment links. As an Amazon Associate I earn from qualifying purchases.
Instructions
Preheat the oven to 180 C/160 C (fan)/350 F/Gas 4 and line a 12 hole muffin tin with large cupcake cases.

Cream together the butter and sugar until light and fluffy. Add the eggs and beat well.

Sift in the flour, salt, bicarbonate of soda and cocoa powder. Pour in the milk and and beat to combine well.

Spoon into the prepared cupcake cases and bake for 12-15 minutes until a skewer inserted into the centre comes out clean.

Cool in the tin for five minutes before transferring to a wire rack to cool completely.

To prepare the frosting beat the butter and vanilla in a bowl until soft, sift in the icing sugar and beat well. Add the milk if the frosting is too stiff. Alternatively, place all the ingredients into an Optimum Thermocook and blend for a few seconds, scrape down, and blend again and again until the frosting is light and fluffy.

Frost your cupcakes and sprinkle with the chocolate crispies, if desired.
Notes
Recipe adapted from a chocolate and vanilla cupcake recipe found in Delicious Cupcakes Made Easy by Best Baking (2012)
Environmental Information
Click here to view the nutritional information for this recipe.
OTHER RECIPES TO SWEETEN YOUR SPOUSE UP WITH
Raspberry & Almond Cake by The Hedgecombers
Bailey's Baked Doughnuts with a Bailey's Glaze by Recipes from a Pantry
Indulgent Chocolate Salted Caramel Cake by Munchies & Munchkins
Bounty Full Chocolate Biscuit Birthday Cake by Tin & Thyme
Raspberry and White Chocolate Cupcakes by The Lovely Appetite
Dairy Free Raspberry Chocolates by Eats Amazing
Chocolate Fudge Cake with Raspberries by Citrus Spice
Cinnamon Doughnuts, Baked not Fried by Coffee & Vanilla
BLOG LINKIES
How to Sundays by Monkey and Mouse
Recipe of the Week by A Mummy Too
Love Cake by Jibber Jabber UK
Treat Petite by Cakeyboi and The Baking Explorer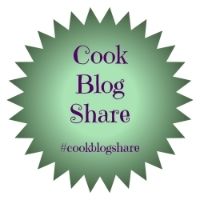 In other news… some of you lovely folk have very kindly nominated me for a BritMums Brilliance in Blogging Food Award and I've made it to the Shortlist! Thank you, thank you! If you like my recipes, photography and random meandering adventure stories I'd really love it if you cast your vote for the Finals. You can help me become an award winning blogger! Click here or on the image below to take you to the voting page! 🙂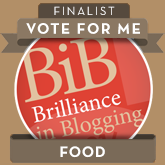 [wysija_form id="1″]