In collaboration with Tasty, Easy Lamb.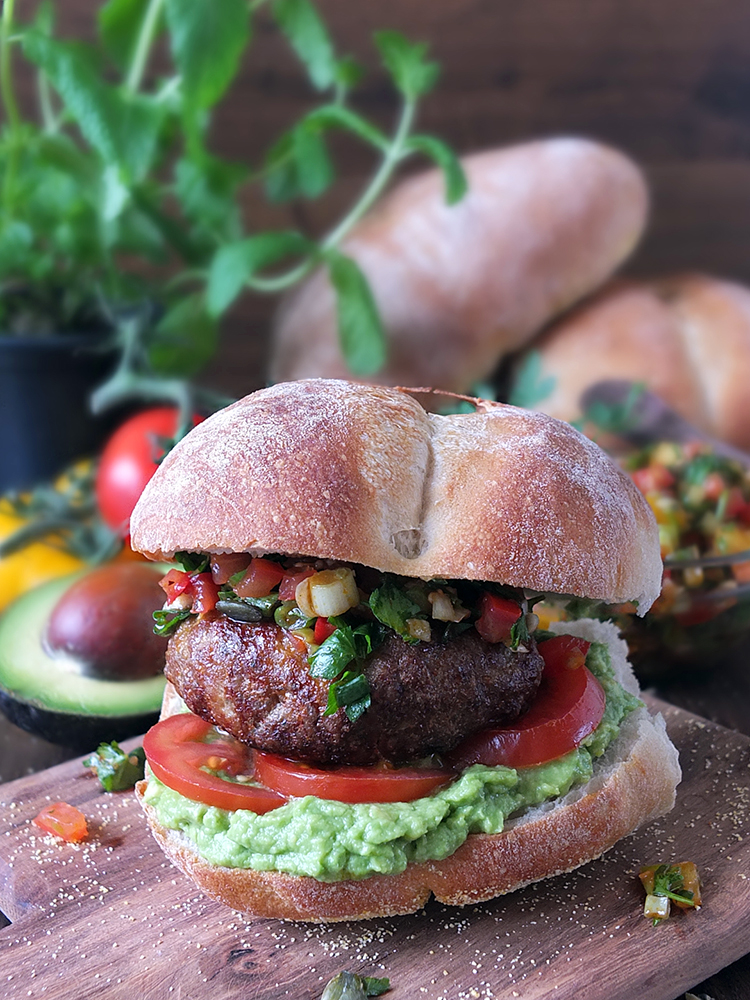 It's very nearly BBQ time again! With the longer, sunnier days starting to make an appearance I'm beginning to think about new and interesting ways to jazz up our summer barbeques. I love going on culinary journeys from my own kitchen, exploring the tastes of far off places using locally available ingredients. For this recipe, I'm travelling to Chile, in South America, with a succulent paprika-spiked lamb burger served with pebre, a popular Chilean condiment and Marraqueta bread rolls, a yeasty bake that appears on many kitchen tables throughout Chile.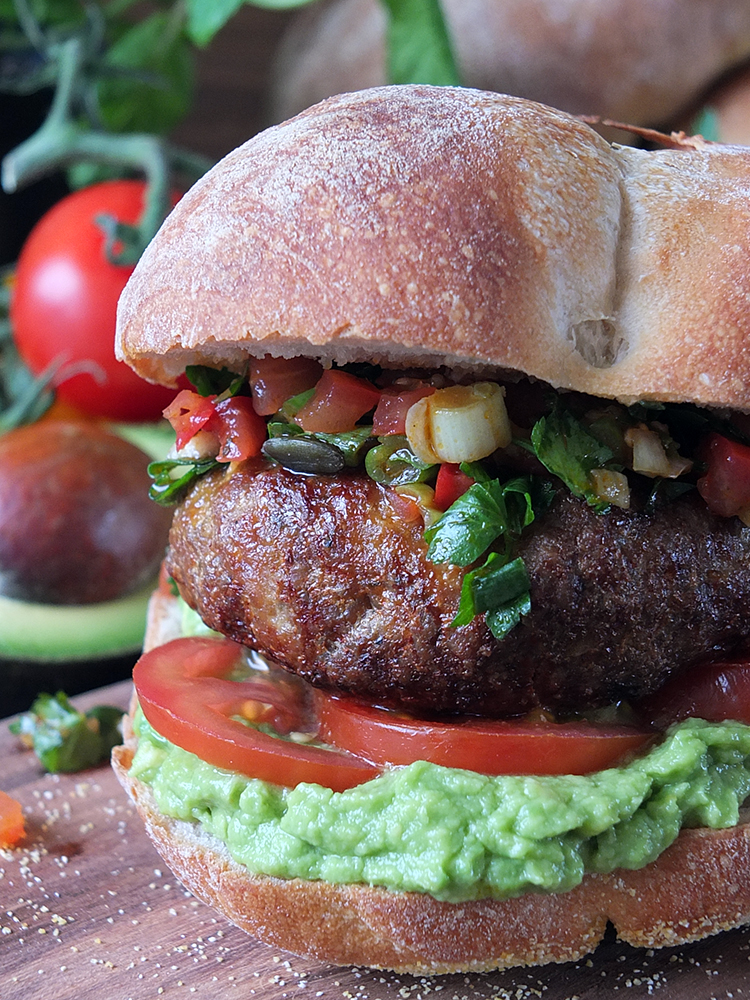 The tender, succulent and juicy lamb burger is seasoned simply with smoked paprika and a touch of cumin and oregano. Loaded with the mashed avocado, tomato slices, pebre and, of course, a little sprinkling of pumpkin seeds, this Chilean-inspired burger tastes quite the thing, and it's something a little different from a typical British bbq sauce glazed burger for the summer.
Lamb is an incredibly versatile ingredient with a unique and delicious flavour that works really well with summer barbecues.
Lamb raised in the European countryside is among the most sustainable in the world – it comes down to the temperate climate and varied terrain.  From mountainous regions to deep valleys and vast grasslands, sheep farming thrives in areas often not viable for cultivation, so it doesn't take land away from valuable crop production. – Tasty, Easy Lamb
I have noticed recently that lamb mince is not as readily obtainable at supermarkets like it used to be. In fact, one of our Shetland islands supermarkets informed me they no longer stock it, and suggested that I turn to my local butchers instead. When shopping at your local butchers you can be sure of purchasing a high-quality product.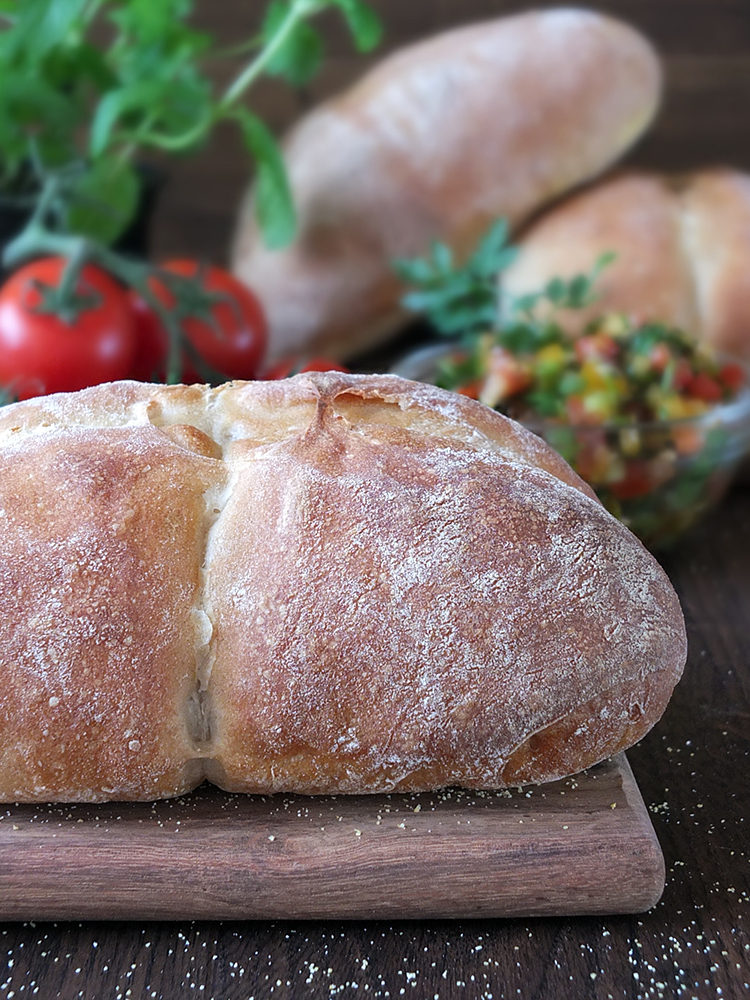 The marraqueta is a crispy bread roll with a crunchy outer and a soft, fluffy interior and slightly salty taste. Its origins are from the late 19th early 20th century Chile where two French baker brothers immigrated to the area and created the extremely popular roll. In fact, it is the most popular bread eaten in Chile.
There is much controversy over whether one marraqueta is one bread roll, or in fact four, as the handle of a wooden spoon is used to press a cross shape into the dough before baking, thereby dividing the dough into four pieces.
For the purposes of using these as burger buns, I use one-half of a marraqueta per person, also known as pan batido. You could, if you wanted, prepare the dough into six separate burger buns pressing the cross shape into each individual bun. I also cheated a bit and made my dough in the bread machine, but I've provided the recipe to make it by hand too if you wish.
The baking of these bread rolls is significantly improved by the use of a pre-heated pizza stone, if you have one. If not, just make sure your oven is at the highest setting for the initial 15 minutes of baking.
The accompanying salsa, pebre, is a staple condiment found on many Chilean tables. Prepared mostly from coriander, it's a zingy cross between Argentinian chimichurri (see recipe here) and Mexican Pico-de-gallo (see recipe here), and it's got a lovely hit of chilli to really get those taste buds going.
I used a Mexican smoked chilli paste in my recipe, but feel free to substitute with a dash of sriracha or a freshly chopped red chilli.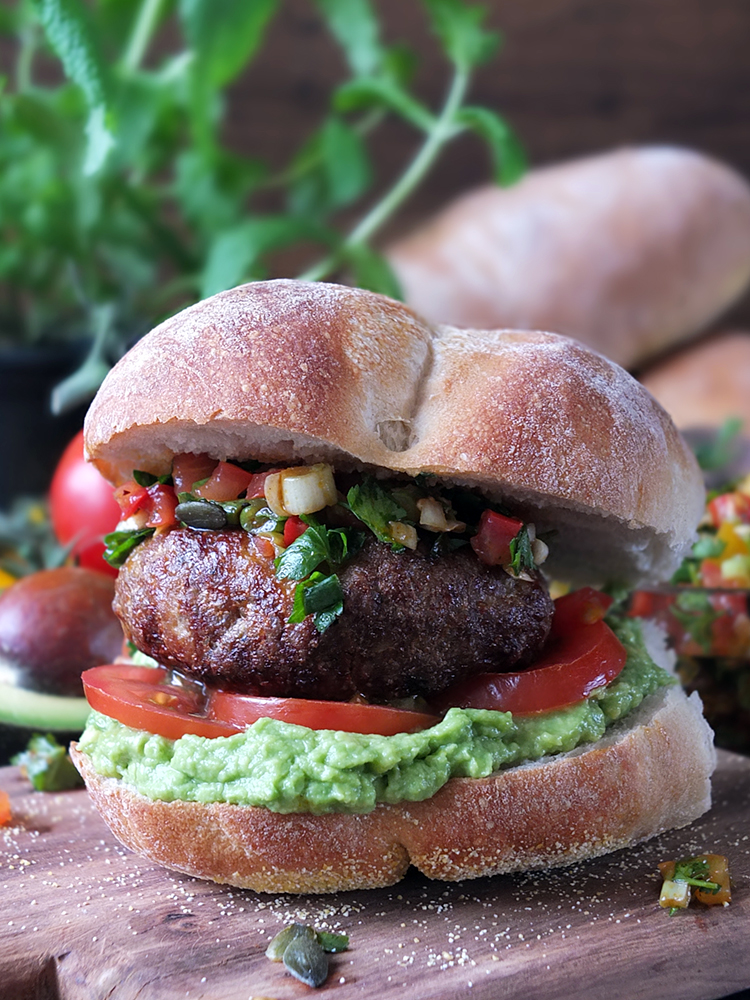 Do you have any favourite summer bbq lamb recipes? Let me know in the comments!
For more lamb recipe inspiration visit the Tasty Easy Lamb website, and follow them on Facebook, Twitter or Instagram.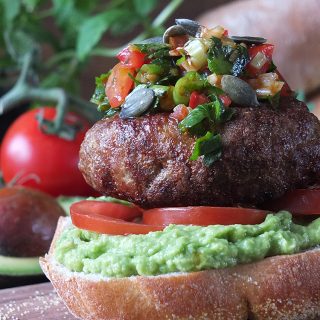 Chilean-Inspired Paprika-Spiked Lamb Burgers with Pebre (Chilli Salsa) & Marraqueta Buns
This South American-inspired recipe features a succulent and juicy paprika-spiked lamb burger (ideally cooked on the bbq outdoors!) topped with pebre, a Chilean chilli salsa served on a Marraqueta bun (a traditional Chilean bread). Garnish with mashed avocado, tomato slices and pumpkin seeds.
Print
Rate
Ingredients
Affiliate Links
This recipe card may contain affiliate ingredient and equipment links. As an Amazon Associate I earn from qualifying purchases.
Instructions
First, prepare the salsa by chopping all the ingredients finely, placing in a bowl and stirring in the vinegar, oil and chilli sauce. Refrigerate for a few hours to allow the flavours to develop and then bring to room temperature before serving.

To prepare the bread (bread machine method): place all the ingredients into your bread machine in the manufacturer's recommended order and select the dough cycle. When the dough cycle has finished, knock the dough back and divide into three even pieces.

To prepare the bread (by hand): place the flours, yeast, sugar and salt into a bowl and make a well in the centre. Add the water and mix with a wooden spoon until a dough begins to form. Turn out onto a floured board and knead for 10 minutes until smooth and elastic. Place the dough into a lightly oiled clean bowl, cover with a tea towel and leave to rise until doubled in size (about 90 minutes). Knock back and cut into three even pieces.

To shape the dough, carefully knead and stretch each piece into an oblong shape. Using the handle of a wooden spoon make a cross in the centre of each oblong. Place on baking tray lined with a piece of baking paper that has been sprinkled with coarse polenta. Leave the dough to rise for 30 minutes, or pop the tray into the fridge and leave overnight. Bring the dough to room temperature for one hour before baking.

Preheat your oven with a pizza stone in it to 230 C and place a shallow pan of hot water onto the very bottom of the oven.

Sprinkle each of the marraquetas with a little cold water and slide the baking paper onto the pizza stone. Bake for 15 minutes at 230 C, turn the heat off and bake for a further 5-10 minutes until the bread is well risen and golden.

Allow to cool completely before eating.

To prepare the burgers, mix all the ingredients together and shape into six burgers. Grill for 6-8 minutes on each side, ideally on a barbeque.

To serve, cut each of the three marraquetas in half to form six burger buns, and slice. Serve the burgers with mashed avocado, sliced tomato, the pebre sauce and some pumpkin seeds.
Notes
If you can't source smoked chilli paste replace with 1 tsp sriracha or 1 small red chilli, finely chopped.
OTHER LAMB RECIPES YOU MIGHT LIKE
Brazilian-inspired Lamb Feijoada with Mango Salsa
Slow Cooker Lamb Chilli with Pasilla Peppers
Argentine-inspired Lamb Chops with Chimichurri
Lamb Casserole with Ale
Lamb Tagine with Pomegranate
Pistachio & Orange Crusted Mini Roast
Mediterranean-inspired BBQ Koftas, Couscous Salad & Baharat Yogurt Dip
Greek Lamb Shepherd's Pie with Feta Mash
Slow-cooked Shetland Lamb Casserole with Creamy Herbed Polenta
Pastitsio – Greek Macaroni Pie
Moroccan-inspired Slow-cooked Lamb
Yiouvetsi – One Pot Greek Lamb with Orzo
Lamb Keema 
SHOP THIS POST
Gran Luchito Smoked Chilli Paste
The Pizza Steel (for baking the bread)
This is a commissioned recipe for Tasty, Easy Lamb, although all thoughts and opinions expressed are our own. Thank you for supporting the brands who make it possible for me to do what I love: mess up my kitchen and share recipe stories.