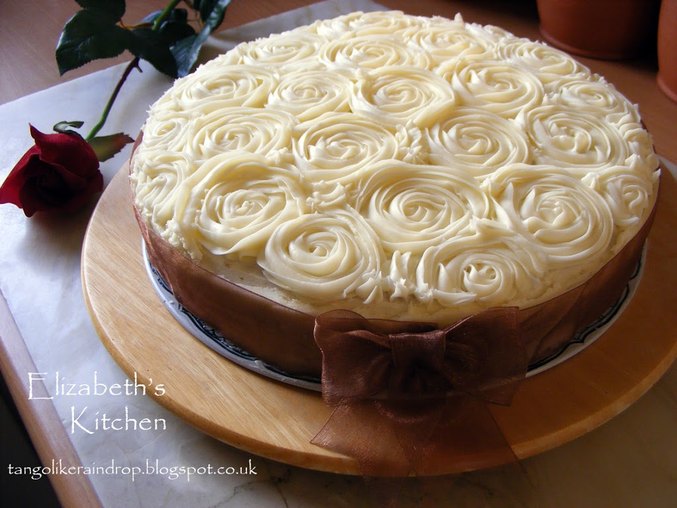 This cherry pound cake recipe comes all the way from Cape Breton Island in Canada. Mrs. Pyke submitted it to a recipe collection printed in a little booklet by the folk who attend the Glenview Campground in the summer months. My grandmother submitted several recipes for the booklet and she posted a copy overseas to me. I wonder what Mrs. Pyke would think to know that I've made her recipe for my elderly neighbour's 77th birthday cake!
There is no liquid milk in this recipe. Instead, it uses cream cheese which imparts a very interesting and pleasant texture and taste to the cake. The cherries add gorgeous flecks of colour and sweetness throughout.
Using my trusted buttercream frosting I tried a new cake decorating technique I recently learned. Using a large star nozzle (or 1M) pipe 'rose' swirls. Applying gentle pressure start in the centre of the swirl and work your way out by piping in a single go one swirl rose. Fill the gaps in between each 'rose' with a short strip of icing going in the same direction as the adjacent rose. I ran out of icing sugar and the local shop was out, so I improvised the sides by cutting a strip of ribbon and fastening it together with a small strip of double sided craft tape over a single layer of flat buttercream. The join was hidden with a small bow made out of the same ribbon.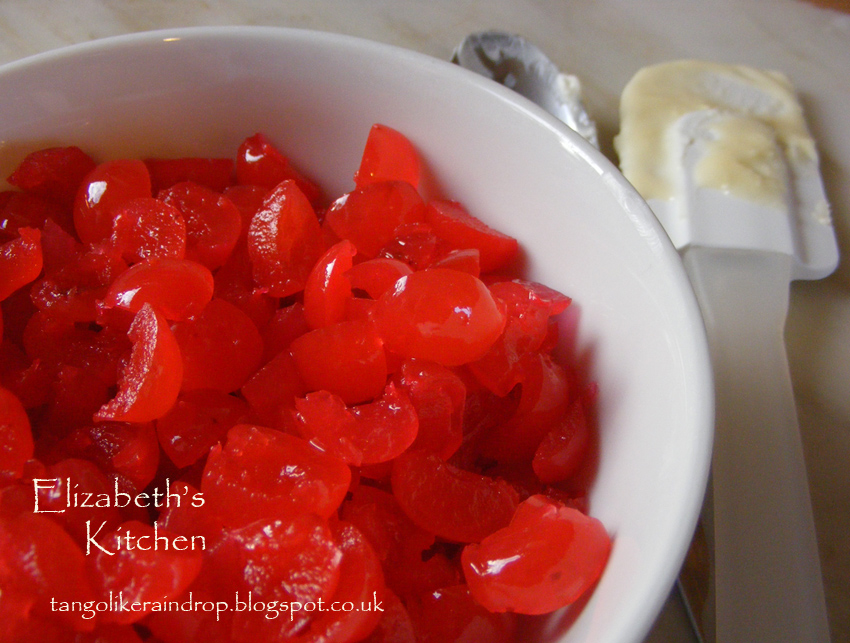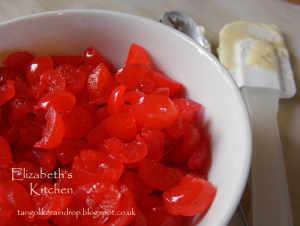 1 cup (225g) unsalted butter
8 oz (226 g) full fat cream cheese
1 1/2 cups caster sugar
1 1/2 tsp vanilla
1 1/2 cups drained maraschino cherries, quartered
3 tsp baking powder
4 large eggs
2 1/4 cups plain flour
Preheat oven to 160 C/325 F
Cream butter, cream cheese, sugar and vanilla together. Add eggs one at a time, beating well after each addition. Sift the baking powder and 2 cups of the flour together and add to the liquid mixture, combining well. Mix the remaining 1/4 cup flour with the quartered maraschino cherries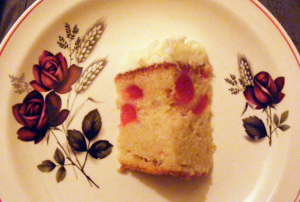 and fold gently into the cake batter.
Pour into a prepared bundt or tube pan, or into a 23cm spingform cake tin.
Bake for 1 hour and 20 minutes, or until golden and a skewer inserted comes out clean. Cool for 5 minutes in the tin before removing.
Frost with buttercream frosting or serve plain.