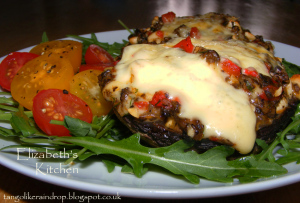 Best. Lunch. Ever!
serves 1
2 large Portobello mushrooms (or any large, flat mushroom), reserve stems
1 tablespoon extra-virgin olive oil, plus more for brushing
2 large chestnut mushrooms
1/2 red pepper, finely chopped
1 banana shallot, finely chopped
1 Orkney smoked garlic clove, finely chopped
1/2 cup coarsely chopped roasted salted cashews
1 tbsp finely chopped basil
pinch of cayenne pepper
30g Gouda, shredded plus a few thin slices
Brush the top of the mushrooms with olive oil and put under a grill, on medium, for about 5 minutes.
Meanwhile, heat 1 tbsp olive oil in a small pan and saute the pepper, shallot and garlic until tender. Chop the portobello stems and the chestnut mushrooms finely and add to the pan. Saute until the juices evaporate and remove from heat. Stir in the grated cheese, cashews, basil and cayenne. Turn the portobello mushrooms over and give them a quick blast (2 minutes or so) under the grill. Fill the mushrooms with the stuffing and arrange a few slices of Gouda on top. Pop back under the grill until the cheese is melted and bubbling.
Serve with some fresh tomatoes and salad.