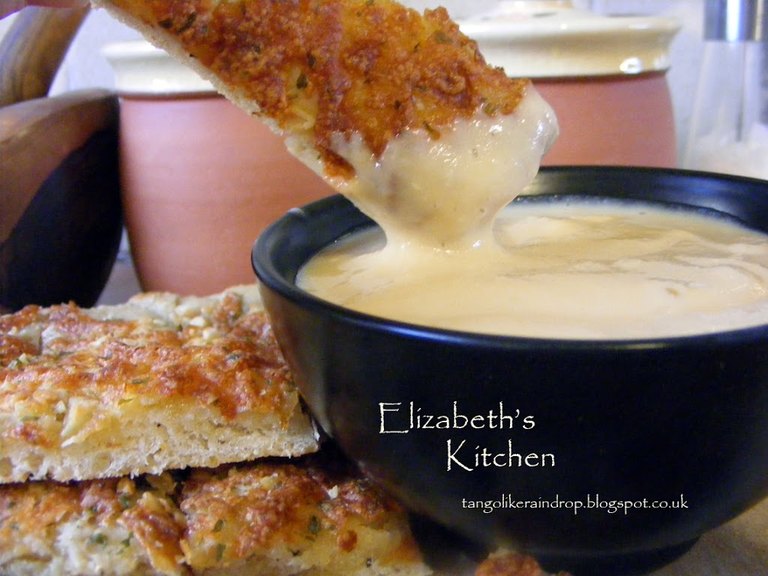 One of the biggest things I miss from living on the East Coast of Canada is the garlic fingers. You can order these at any pizza shop (the best, I recall, being available at Pizza Corner in Halifax, Nova Scotia!) with donair sauce to dip. Alas, such a delectable morsel has not made it's way across the pond, so I have to make my own.
I found this fabulous recipe (modified slightly) from ChowTown which, in my opinion, tastes just as good as I remember!
Base:
1 cup warm water
1 tbsp fast action yeast
1 tsp salt
1 tsp freshly ground black pepper
1 tsp sugar
1 tbsp garlic powder or granules
2 1/2 cups strong bread flour
Topping:
2 heads of garlic, peeled and finely chopped
2 tbsp butter, melted
1 1/2 cups grated mozzarella cheese
1/4 cup grated Parmesan cheese
1 tsp dried parsley
Sauce:
1 can evaporated milk
1 cup caster sugar
1/2 tsp garlic granules
1/3 cup white vinegar
Mix flour, yeast, salt, pepper, sugar and garlic together in a bowl with a whisk. Make a well in the centre and pour in the warm water. Stir with a spoon until just combined. Turn out onto a floured surface and knead for 10 minutes, or until smooth and elastic. Place dough in a lightly greased bowl and leave, covered, in a warm place, for half an hour to rise.
Meanwhile, finely chop your garlic and grate your cheeses. Preheat oven to 220 C/ 425 F.
To prepare the donair sauce, stir the milk and sugar together until the sugar dissolved. Leave to sit for a few minutes and then give it another whisk. Stir in the garlic granules. Get a good movement on with the liquid and pour in the vinegar all at once. Stir once or twice (that's it!) just so it thickens, and then put it in the fridge until you need it. Stir before serving. Do not overstir it or it'll separate!
Punch down dough, knead briefly and press into a large baking tray. Brush with melted butter. Sprinkle with the garlic, the mozzarella, the Parmesan, and finish with a light sprinkling of parsley.
Bake for 15 minutes, or until golden on top. Cut into fingers and serve with plenty of donair sauce to dip.