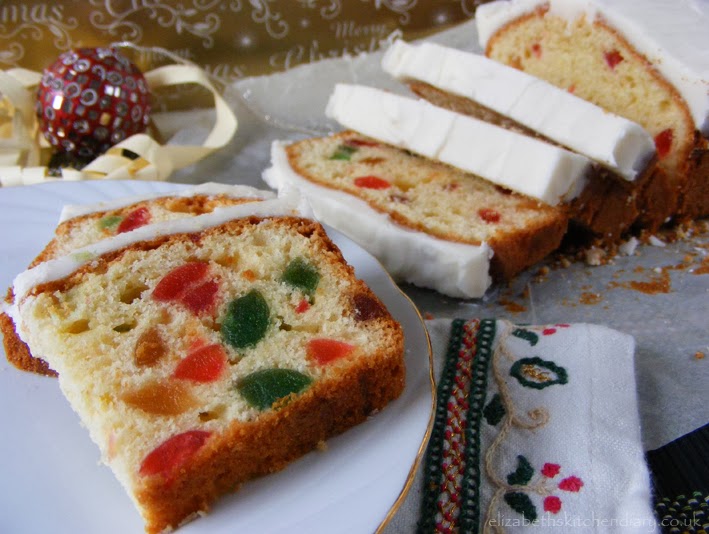 Pound cake always reminds me of being a child. When I used to have a little extra pocket money (usually after selling picked wild berries to the neighbours) I'd head to our little village shop and buy a pound cake. This cake was yellow and moist and had a thick layer of vanilla frosting on the top, and it was utterly delicious. It wasn't a large cake, so it wouldn't last very long, but I could easily cut off thick slab after slab and eat the entire cake myself in a day.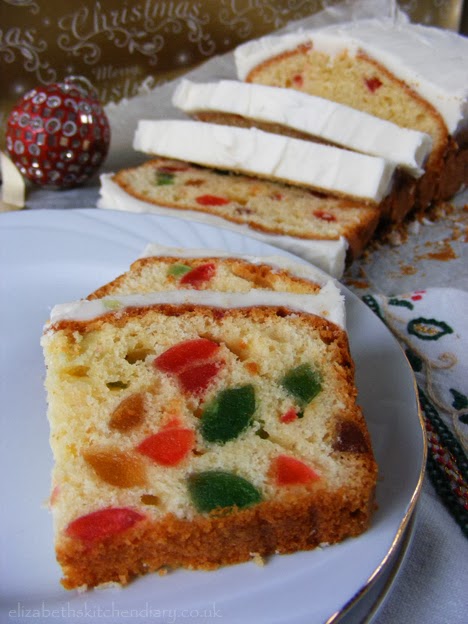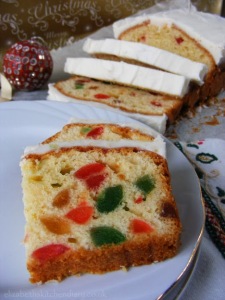 Last year I discovered a fantastic little recipe in a cookery book my grandmother sent over from Canada for an unfrosted cherry pound cake, so for this recipe I halved the original recipe, converted it into UK measures, used some delightful red, green and yellow coloured candied cherries I picked up at our local whole foods shop and made a frosting which reminds me very much of the icing that used to be on top of those pound cakes.
This cake is very simple to make and would be ideal to bring to gatherings of friends and family; Christmas parties and the like. It slices really well, and keeps for a few days in an airtight container. It also freezes very well. Plus, it tastes fantastic and looks quite impressive, I think, with the coloured cherries in it. You could, if you wish, use naturally coloured glacé cherries if you wanted to avoid the food colourings.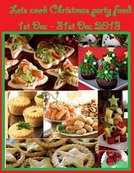 As this would make such a great Christmas party food I am linking up with Nanya's 'Let's cook Christmas party food' linky over on her blog simply.food
I'm also sharing it over at Delicieux with the Four Season's Food challenge co-hosted by Anneli (at Delicieux) and Louisa at Eat Your Veg. The theme for the Winter challenge is party food.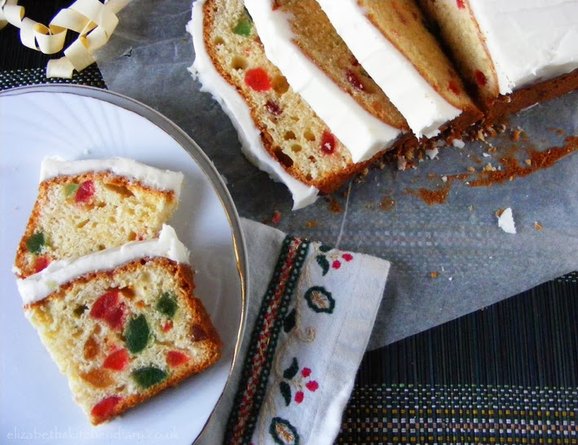 Iced Cherry Pound Cake
Deliciously moist and colourful, an ideal Christmas tea cake for a gathering of family and friends.
Ingredients
For the Cake
115 grams unsalted butter
115 grams full fat cream cheese
175 grams caster sugar
170 grams candied cherries, cut into 1/8ths
1.5 tsp baking powder
2 large eggs
3/4 tsp vanilla extract
200 grams plain flour
For the Icing
250 grams icing sugar
6-7 tsp milk
1/2 tsp vanilla extract
1 tbsp butter
Instructions
1. Grease and line a 2 lb loaf tin with baking paper. Preheat oven to 160 C
2. In a large bowl cream butter, cream cheese and caster sugar together until light and fluffy.
3. Add eggs, one at a time, beating well after each addition.
4. Add vanilla.
5. Sift together flour and baking powder in a medium sized bowl.
6. Mix a spoonful of the flour with the chopped candied cherries, making sure they are coated well.
7. Using a wooden spoon stir the flour mixture into the wet ingredients.
8. Fold in the candied cherries until well combined and spoon into a prepared loaf tin, smoothing over the top.
9. Bake for one hour until a skewer inserted in the centre comes out clean and the top is golden. Check after 45 minutes to make sure it isn't browning too much, if so, place a piece of tin foil over the top to stop it browning further.
10. Leave to cool for ten minutes before transferring cake from the tin to a wire rack to cool completely, but keep the baking paper on for now.
11. To prepare the icing, sift the icing sugar into a bowl and add the vanilla, butter and enough to milk to make a not-too-runny but easily spreadable frosting.
12. Keeping the baking paper on, spread the icing over the top of the loaf. Leave until the icing hardens, preferably overnight.13. Remove baking paper, slice and serve! This cake freezes well.
Details
Prep time: Cook time: Total time: Yield: 1 large loaf