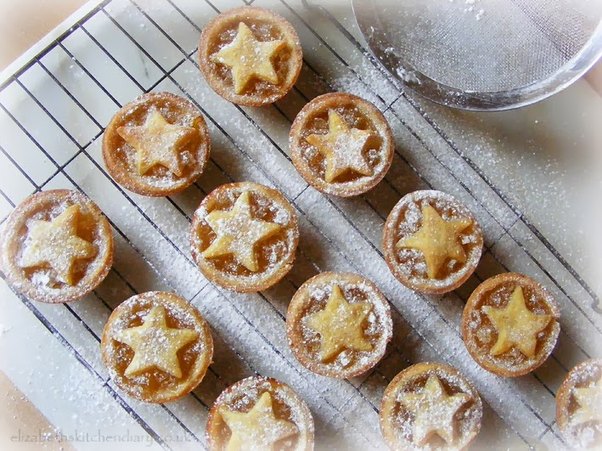 At the end of this summer I was presented with the opportunity to guest review a jam recipe book, which I accepted with delight. I have very fond memories of my mother's home made jams, with the neat little rows of labelled Mason jars containing delicious treasures such as wild strawberry, blackberry and blueberry jams, wild Indian plum jelly and (my least favourite) wild mint jelly. All of these jams and jellies were made from foraged fruit which grew wild near our home in rural Cape Breton, on the east coast of Canada.
While waiting for the book to arrive I bought some fancy Kilner canning jars from a local retailer (£2-50 a pop!!) and waited patiently for my book to arrive.
It eventually did, and although the book was filled with quite a variety of recipes it would have cost a fortune to make the jams because I would have needed to buy all the fruit from the supermarket, and supermarket fruit isn't exactly inexpensive. I have an aversion to ruining all that perfectly good fruit with the amount of sugar called for in jam recipes too. It just seems wrong.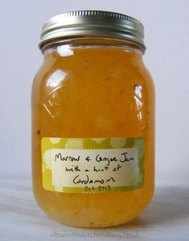 However! I am not adverse to improving a marrow with copious quantities of sugar! I am not a fan of the bland flavourless marrow, so I never used to buy them, but when I started receiving delivery of a fortnightly organic vegetable box marrows started appearing regularly in my house. I have to confess my heart sunk a little each time one arrived, but I did welcome the challenge. Surely something nice could be made out of a marrow? I had to investigate!
The jam book had a recipe for marrow and ginger jam, which I scaled down to use a single marrow (people buy more than one!?) and adapted by adding a little green cardamom seed for flavour.
I was so chuffed with myself as this was the first time I'd ever made jam, and it tasted fantastic (I taste tested the cooled jam left in the preserving pan)! The following day it appeared that the jam had set, so I labelled it up and tucked it away in the pantry for awhile so the flavours could develop, quite pleased with my accomplishment.
Imagine how disappointed I was when, two months later, I took the jars off the shelf to find that the jam had crystallized! Apparently this is due to the fact the sugar had not dissolved completely before the mixture was brought to the boil. A beginner's error. Lesson learnt!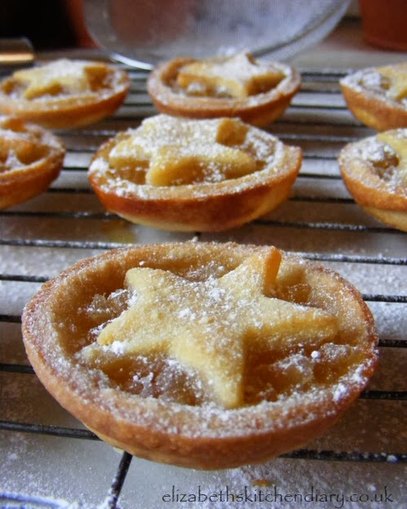 Not to be defeated I defrosted some sweet shortcrust pastry leftovers and made these adorable little jam tarts with the failed jam.
The heat from baking the tarts finished dissolving the sugar so you couldn't tell that they were made from an otherwise ruined jam. They'd just cooled and been decorated with icing sugar when my partner returned from work with a work colleague and they were greedily scoffed by adults and children alike with a hot drink on a cold Winter's day. No one guessed there was a marrow in there!
As these jam tarts contain some lovely warming spice I am sharing them with Cooking with Herbs by Karen over at Lavender and Lovage. This month's theme is Christmas Spice.
Happy Holidays!
Lemon, Ginger & Cardamom Jam Tarts
A jam tart with a bit of lemon and spice!
Ingredients
For the Jam
850 grams marrow, peeled, seeded and cut into 5 mm dice
875 grams granulated sugar, divided
30 grams fresh ginger root
1 lemon, zest and juice
5 green cardamoms, seeds only
40 grams stem ginger, finely chopped
For the Tarts
Instructions
For the Jam
1. Place marrow in a large bowl and sprinkle with 225 grams of the sugar. Cover and leave overnight.
2. Bruise the root ginger with a rolling pin and tie it up in a square of muslin with the lemon zest.
3. Place marrow along with the juices that have been extracted overnight, the lemon juice and the square of muslin in a large preserving pan.
4. Simmer gently for 20-30 minutes until the marrow is very soft.
5. Add the remaining sugar and gently heat until the sugar is completely dissolved, stirring occasionally.
6. Bring to the boil and boil gently until the setting point is reached and the marrow looks transparent.
7. Stir in the chopped stem ginger and allow to cool a few minutes before potting in sterilized jars.
For the Tarts
1. Roll out sweet shortcrust pastry to 5 mm thickness and cut out 2.5 inch circles and 1.5 inch stars.
2. Press pastry circles into lightly greased muffin tin holes.
3. Spoon 1 tbsp jam into the tart and top with a small star.
4. Brush pastry with a little milk and bake at 180 C for 15-20 minutes, until the pastry is golden.
5. Transfer to a wire rack and allow to cool completely before dusting with icing sugar.
Details
Prep time (for the tarts): Cook time: Total time: Yield: Makes 24 tarts