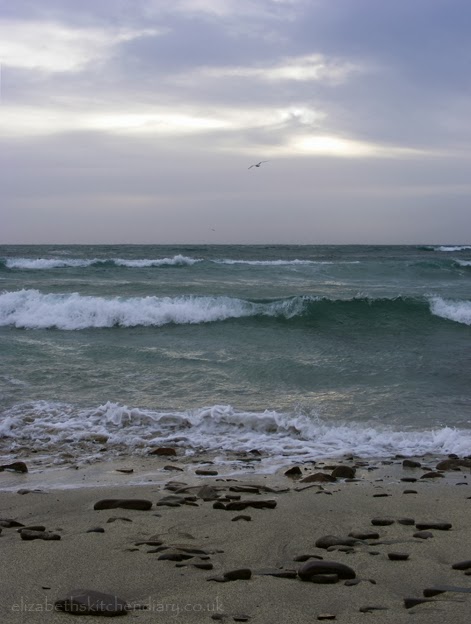 I went for a beach walk yesterday, the last day of 2013. I hadn't planned on going for a beach walk that day – my day was supposed to be spent blogging and tidying the house for visitors, but the evening prior my elderly neighbour telephoned to ask if I was free, could drive her down to the south mainland of Shetland (about a 50 minute drive) so she could visit elderly relatives and lay a Christmas wreath on a grave. She tries to do this every year, but last year she was unable to get someone to take her (she doesn't drive – and I didn't know she was wanting to go or I would have offered!). I couldn't think of any acceptable non-selfish reasons to decline, so I thought why not – this could be an adventure, and it's a nice good deed to end the year on – and away we went.
It was cold yesterday. The thermometer in the car read 3 degrees Celsius when we set off and I had to defrost the windscreen first. It was also very, very windy.
My neighbour wanted to visit quite a few houses (understandable since she doesn't get down there very often) and I wanted to give her some privacy for her visits, so I thought I'd drop her off at the first house and head to the West Voe Sands beach, a beach I had never before set foot upon. I've passed by this beach many a time en route to the airport or to the lighthouse at Sumburgh Head, but I've never had the chance to actually walk on it. I got close once, as far as the car park with a birdwatching group while we were spying on seabirds, but that was it.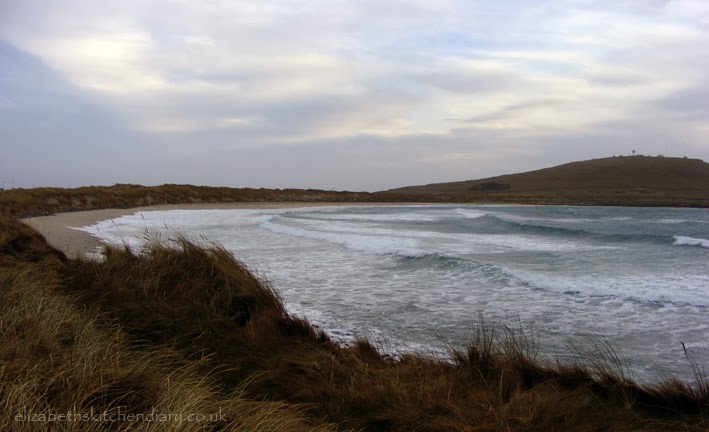 Normally the sand on this beach is white, but it had been raining so the sand was darker and the waves were wild and dramatic. The wind was biting. There wasn't much light even though it was mid-day; the sun was behind the clouds low over the horizon. I put on several layers of clothes, tucked my hair up tight under my hat (those of you with long hair know how painful the wind can whip it!) and started walking.
As I knelt to take the photograph above a dog approached me – a friendly black and white fellow who decided that he was going to be my companion on the beach. Every time I knelt to take a surf shot he was in my face snuffling, eager to play. I couldn't help but laugh and immediately I fell in love with him.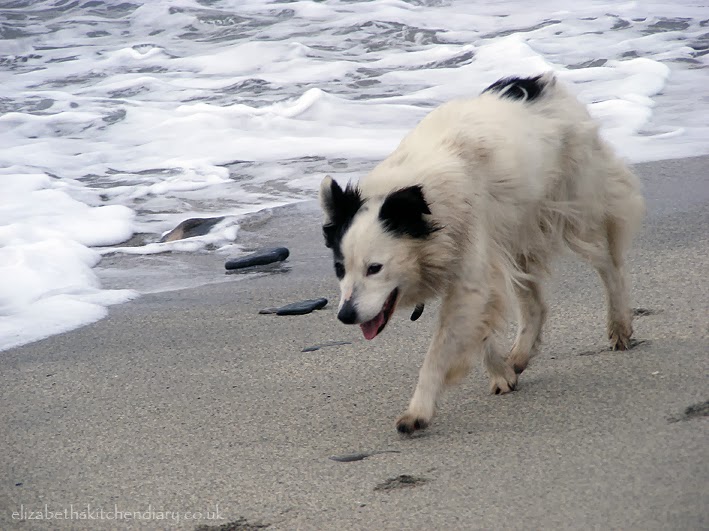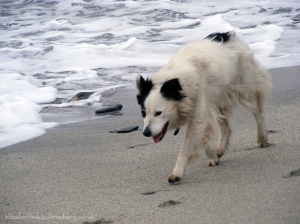 I'm usually not a fan of dogs. I'm a cat person. Don't get me wrong, as a child I had plenty family dogs and I know well the feeling of loving and losing them, but as an adult… there's something about the barking, and the chewing and the endless faeces that really doesn't appeal to me.
This dog, however, changed my mind about dogs for a short while. I have to confess that come evening time when I was snug up on my couch with my glass of champagne taking in the New Year, I kind of missed my walking companion from earlier in the day!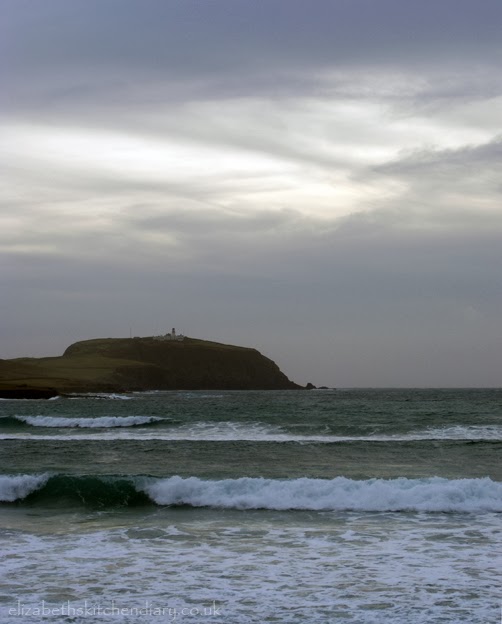 As I walked I had plenty of time to think about the events of the previous year and ponder what adventures 2014 might bring. Gazing west over the Atlantic I remembered being a young girl growing up on the east coast of Canada. We lived inland on Cape Breton Island. It was kind of inland – we lived on the shore of the Bra's D'Or Lake which is a sort of invaginated bit of sea, a salt water 'lake' directly connected to the sea, but there were no views of the horizon. It was a big thing to visit the proper coast where all you could see was sea dotted with mini icebergs. I'd look east and wonder what adventures were over the horizon.
Here was me, quarter of a century later, looking west over the same sea and remembering the adventures I had on the other side. My how life changes. In the photograph below you can see two structures – the closest one is the ruins of a 16th century laird's house built on the site of a prehistoric and Norse settlement: Jarlshof. History here goes back to the late Bronze Age, Iron Age, Pictish era, Norse era and the Middle Ages. My story pales in comparison! The second structure is the Sumburgh Lighthouse, designed by Robert Stevenson in 1821 (Treasure Island Robert Louis Stevenson's grandfather!) which will be opening sometime soon to visitors, newly refurbished. There's some great wildlife watching opportunities from here – from puffins to whales!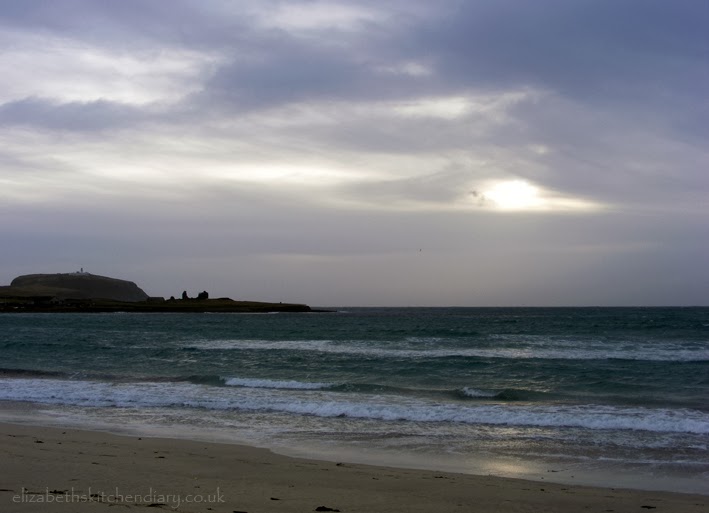 2013 has been a very good year to me. Events set in motion years ago have come to their natural, successful end, like a trail of dominoes where all the little tricks put into place work as they are supposed to. After eight years of part time study I graduated with a First Class (Honours) BSc in Life Sciences from the Open University. My blog, which started as a private hobby, ended up forcing me to register myself as self-employed with the tax man. I've even managed to get a few photos accepted by Foodgawker! Many new doors have opened to me this year and much will be revealed in the coming weeks. My children, partner and I are all healthy and well – what more can one ask for?
Visiting with my neighbour's elderly relations and hearing their stories of war-time rations, making due and growing their own vegetables made me realise how grateful I am for what I have. I complain when I shouldn't and I often have a tendency to focus on the negative, a trait I seek to change in myself. As such, I've placed a gratitude jar on my spice shelf – a jar I will fill with all the positive things that happen in 2014, a jar of notes I will open and read on December 31st 2014. I wonder what will end up in there…
Wishing you all the best for a Happy New Year and an adventurous 2014 xx