Our House of Spice – an authenic Indian masala curry spice blend with a medium spiced tomato and onion sauce.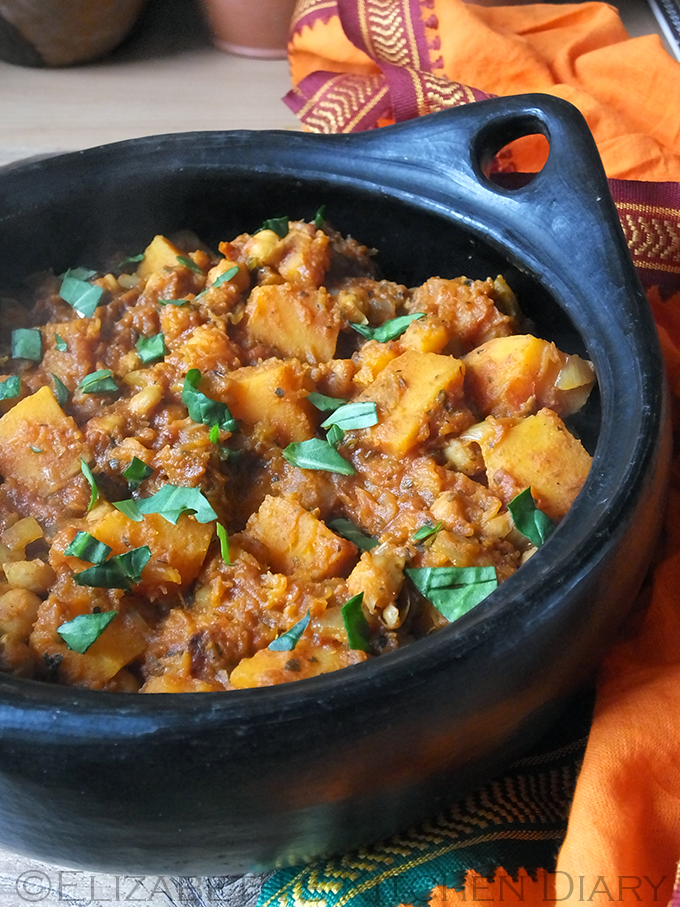 I absolutely love spicy food; not too spicy that you can't taste the flavours in the dish, but spicy enough to get those taste buds going and warm up the cockles on a cold, windy Shetland day.
Cumin and coriander are two of my favourite spices, and I use them liberally in many of my dishes. My experience with Indian cuisine is somewhat limited. Ready made sauces in the shops don't have a powerful enough kick, and all the thickeners and additives put me off trying many brands. Spice wasn't something particularly used in my childhood meals, so I've no experience to fall back on – my own blends can be somewhat of a hit or miss, as my taste testing family can attest to!
Our House of Spice comes to the rescue!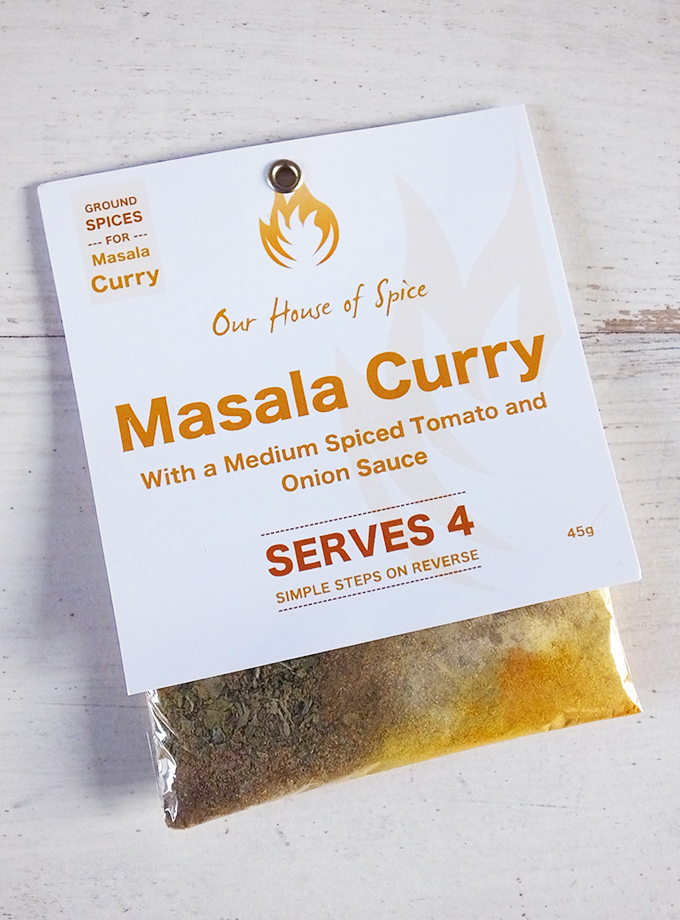 I received this gorgeous little sachet of spices in the post this week from Cambridge-based small business Our House of Spice. What immediately struck me about this packet was its simplicity. Simple, quality herbs and spices with a handy little recipe included on the back of the card to try out. I love that the spices aren't completely blended either – the little splotches of colour in the bag really appeal to me.
Our House of Spice is owned by two sisters: Nadia and Julia Latif. Using spice blends and recipes passed down through the generations their aim is to bring authentic Indian cooking into the home. They believe that great food tastes even better when shared, so each of their packets will feed four hungry people. Step-by-step instructions are included using easily obtainable ingredients found in the store cupboard and fridge.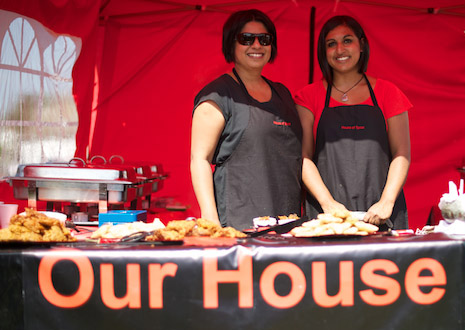 Nadia and Julia take great pride in keeping their products free from artificial colours, flavours and preservatives, and they care about the environment: their packaging is fully recyclable.
As soon as the masala spice blend arrived in the post I wanted to try it out immediately, so for lunch I scanned the contents of my fridge – there was one large butternut squash in there calling my name. That, the masala spice blend combined with a tin of chickpeas in water made for one absolutely fantastic lunch!
Our House of Spice also produce a tarka dhal blend, a seasoning mix for baked chicken (their family take on tandoori chicken), a Bombay potatoes blend and a seasoning for Raita.
The masala blend retails for £2 and can be purchased online from their website. Find Our House of Spice on Twitter and Facebook too!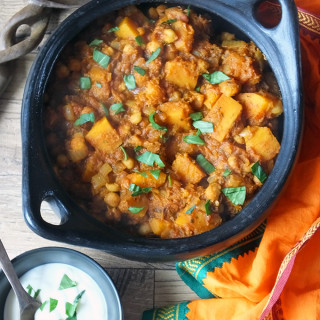 Butternut Squash & Chickpea Masala Curry
A delicious and warming vegan vegetable masala curry.
Print
Rate
Affiliate Links
This recipe card may contain affiliate ingredient and equipment links. As an Amazon Associate I earn from qualifying purchases.
Instructions
Add the oil to a large saucepan and heat over a medium low heat for two minutes.

Add the onions and cook until they are slightly browned at the edges, approximately 20 minutes.

Add the contents of the spice packet, the tinned tomatoes, tomato puree and water. Stir and cook for four minutes.

Add the cubed butternut squash and cook over a medium heat for about 20 minutes, adding more water if required.

Add the drained and rinsed chickpeas for the final five minutes of cooking, just to heat through. Season with salt and pepper, to taste.
Notes
Our House of Spice masala spice blend contains their own unique family blend of fenugreek, coriander, garlic, ginger, garam masala, turmeric, cumin, salt and chilli.
Calories per serving: 292
Environmental Information
Linking up with The Spice Trail food blogging challenge by Vanesther over at Bangers & Mash. This month the theme is Temple Food.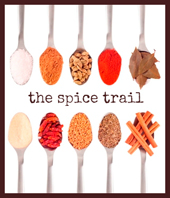 If you want to be kept up to date on my recipes, occasional craft tutorials, adventure stories and giveaways then please subscribe to my weekly newsletter; it gets sent out every Monday morning if there is new content. Your email address won't be passed on to anyone, you will never be spammed and you are free to unsubscribe at any time, no questions asked. Make sure you confirm your subscription or you won't receive the newsletter – if it hasn't arrived check your junk mail folder.
[wysija_form id="1″]