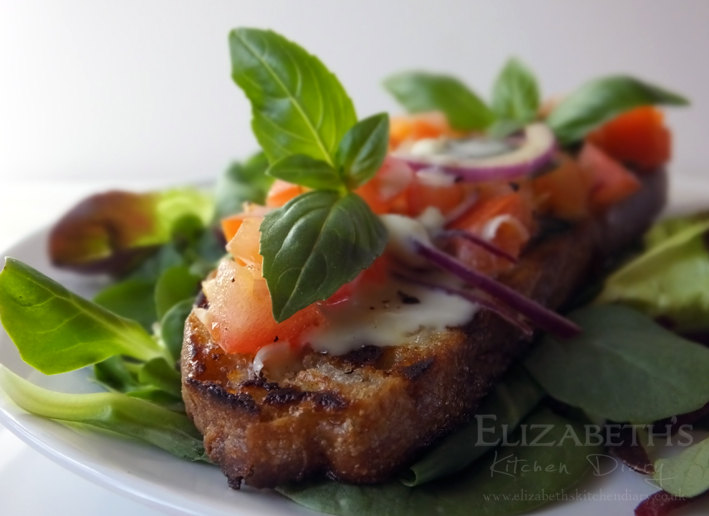 I recently had the pleasure of attending a Cheesemaking Day at the premises of the most northerly UK cheese producer – Shetland Cheese Ltd. on the west side of Shetland. It was a thoroughly enjoyable experience which you can read all about on my Taste of Shetland post.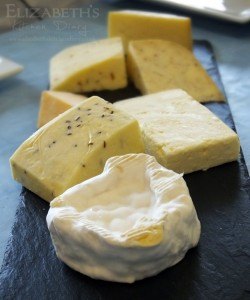 Lunch was provided on the day and this is where I tried their award winning St. Ninians soft cheese for the first time. What a superb, creamy delicious cheese it is too. This cheese won the Bronze award in the British Cheese Awards 2013. I couldn't leave their premises without taking one home with me (and some of their Monterey Mild for grilled cheese sandwich purposes!)
A few days later, come lunch time, I found I had some two-day-old home made sourdough bread needing used up. A quick inspection of the refrigerator contents came up with the ingredients for bruschetta, and I thought I'd experiment with the St. Ninians cheese and some smoked Maldon sea salt I'd recently been sent to try out.
This recipe is what I came up with. The combination of ripe, juicy tomatoes, garlic, red onion, basil and St. Ninians cheese is absolutely wonderful and the smoked sea salt takes it to a whole new level. I know this smoked sea salt is going to feature quite frequently in my future recipes. I love the depth of flavour it imparts to a meal. I'm going to have to convince our local wholefoods shop to start stocking it!
Maldon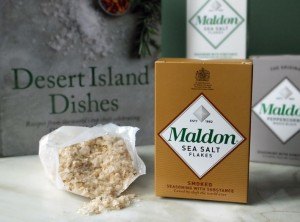 was hosting a #FlavourofSpring competition in March and they were sending out samples of their products for bloggers to play with. Unfortunately mine didn't get delivered until well after the competition closed, but here's my Flavour of Spring post nonetheless.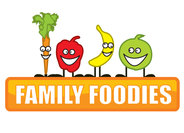 I am sharing this recipe with four blogging challenges this month. First there's April's Family Foodies, co-hosted by Louisa over at Eat Your Veg and Vanesther over at Bangers & Mash. This month's theme is all about healthy snacks, and this recipe certainly would make a healthy snack or quick lunch.
Secondly

there is Veg Box, co-hosted by Tina at The Spicy Pear and Nanya at Citrus Spice UK. This month's theme is onions.
I'm also linking up with my own No Waste Food Challenge, as this is a great way to use up several day old sourdough bread. This month the challenge is hosted by Ness over at JibberJabberUK.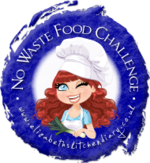 Lastly, I am linking up with Javelin Warrior's fantastic Made with Love, Monday's challenge, a round up of made-from-scratch and made-with-love recipes.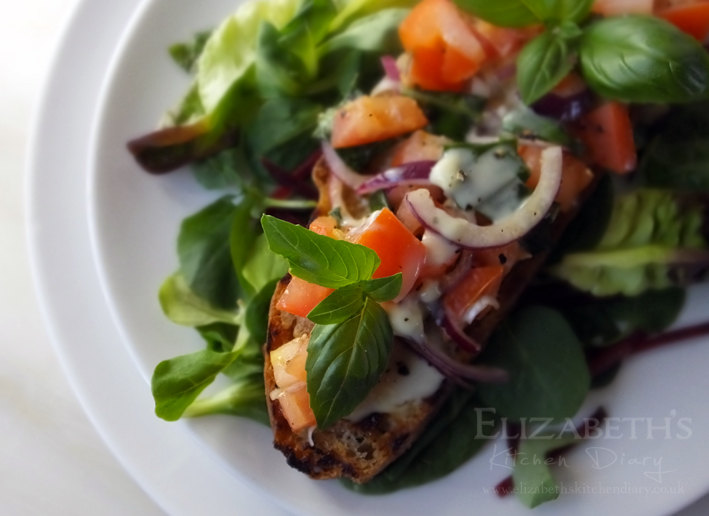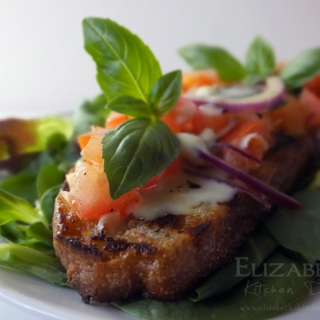 Bruschetta with St. Ninians Soft Cheese & Smoked Sea Salt
Gorgeously ripe tomatoes, red onion, garlic, basil and St. Ninian's soft cheese on sourdough toast, enhanced with the flavour of Maldon smoked sea salt.
Print
Rate
Affiliate Links
This recipe card may contain affiliate ingredient and equipment links. As an Amazon Associate I earn from qualifying purchases.
Instructions
Combine tomatoes, red onion, garlic, olive oil and torn basil leaves together in a small bowl. Season with smoked sea salt and freshly ground black pepper. Set aside.

Lightly toast the sourdough bread and lightly butter one side, or if you have a grill like the Tefal Optigrill, butter both sides of the bread and grill until toasted, about 4 minutes.

Top each slice of sourdough bread with 1/4 of the tomato mixture.

Arrange small slices of the St. Ninians soft cheese over the top of the tomato mixture and pop under a grill until it starts to melt.

Garnish with basil leaves and serve with a fresh babyleaf salad.
Notes
For a little extra kick for garlic lovers, you could always cut a garlic clove in half and rub the top of the toast with it before piling on the toppings.
Environmental Information
Elizabeth's Kitchen Diary was sent a selection of Maldon Sea Salt products to include in two #FlavourofSpring posts. All opinions are our own. This is not a paid post.