A delicious creamy green soup showcasing the humble broad bean!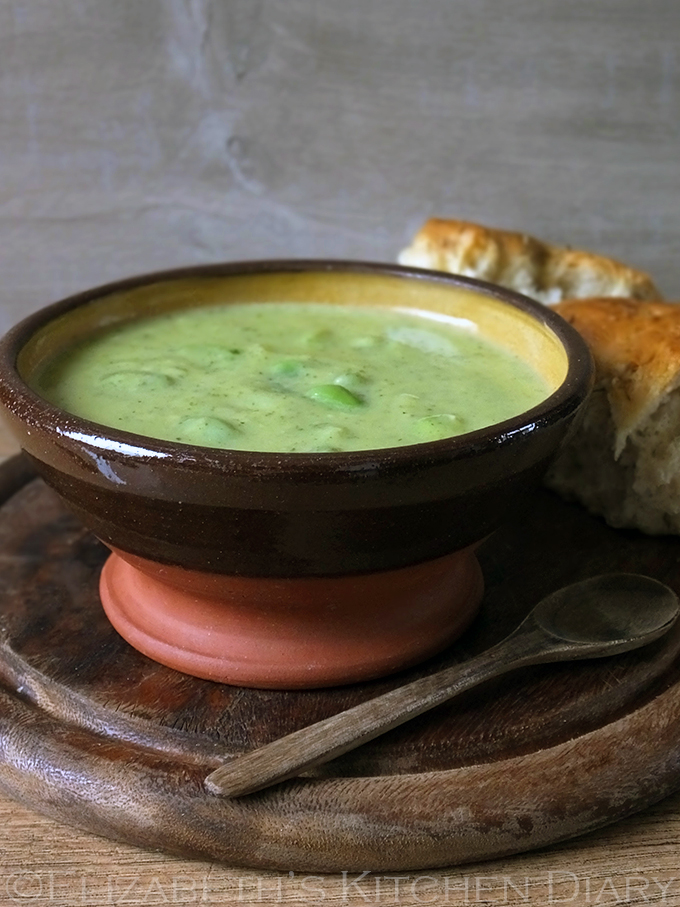 The first time I'd ever tried broad beans was in a Moroccan inspired chicken tagine recipe some years ago. The only broad beans I could find at the time were frozen ones – and they were awful; tough, rubbery, inedible. These supermarket brand frozen broad beans put me off the notion of broad beans for some time.
That was until a few years ago when fresh broad beans began appearing in my veg box. These lovely gigantic beans are so much fun to work with! I've since learned that broad beans should be double podded. The whole family come out of their respective hiding places to pod the giant beans for the first go, and then I'm left to finish them off, simmering them for four minutes, draining and then plunging the beans into cold water. The second layer of pale green slides right off, revealing a gorgeous vibrant green bean with a tiny tail.
Fridays are veg box days, and so Fridays have been designated Smorgasbord Friday and I get a day off from cooking. We get a fresh loaf of something in our veg box from a local start up bakery – either a rosemary and sea salt focaccia, or a gorgeous beremeal loaf made with a heritage six-row barley brought to Shetland and Orkney by the Vikings way back when. Sometimes we get a surprise loaf, depending on what they've baked.
On Fridays I lay out a spread of cheese, cold meats, olives, olive oil with balsamic to dip, and as much fresh produce from our veg box as I can – peas straight from the pod, mixed salad leaves, cucumber slices, tomatoes, etc. It's all really rather lovely, and involves very little work. It's a lot healthier than popping a frozen pizza in the oven too.
Last Friday I bought some lovely Gouda cheese for our meal. The leftovers of which were needing used up and so I grated it and made this lovely green soup which, I have to say, I am really rather pleased with – a perfect comfort food for a rainy summer's day. Alternatively, if you store leftover Parmesan or Grana Padano rinds in the freezer like I do, you could pop one into this soup instead of the Gouda.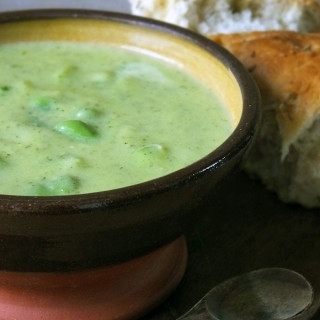 Broad Bean & Courgette Soup with Gouda
A deliciously creamy, thick green soup. Serve with crusty bread.
Print
Rate
Affiliate Links
This recipe card may contain affiliate ingredient and equipment links. As an Amazon Associate I earn from qualifying purchases.
Instructions
Heat oil in a medium soup pot over a medium heat.

Gently saute the onion for five minutes, until it softens but does not colour.

Add the garlic and courgettes and cook for a further two minutes, stirring occasionally.

Add the vegetable stock and pop the lid on the pot. Leave to simmer for 15 minutes, or until the vegetables are tender.

Meanwhile, boil the broad beans for four minutes. Drain and plunge them into some cold water. Remove the pale green skins and set the vibrant green broad beans aside.

A few minutes before the end of the cooking time add the chopped mint and torn basil to the soup pot. Leave the soup to cool for a few minutes and then puree with a hand blender until smooth.

Stir in the grated Gouda and the broad beans and reheat the soup. Do not allow to boil.

Season to taste and serve with plenty of crusty bread.
Notes
Use two large courgettes or three small.
Instead of Gouda why not add a Parmesan or Grana Padano rind along with the stock. It will dissolve as it cooks, imparting a lovely cheese flavour to the soup. Store rinds in the freezer until needed!
Environmental Information

LINKING UP WITH A FEW FOOD BLOGGING CHALLENGES
No Croutons Required by Tinned Tomatoes
Tasty Tuesdays by Honest Mum
Cooking with Herbs by Lavender & Lovage
Eat Your Greens by Allotment 2 Kitchen
Extra Veg by Fuss Free Flavours and Utterly Scrummy, guest hosted by Jen's Food
No Waste Food Challenge & Shop Local by Elizabeth's Kitchen Diary
OTHER BROAD BEAN RECIPES YOU MIGHT LIKE
Broad Bean & Courgette Salad by Elizabeth's Kitchen Diary
Bób – Fava Bean Snack Polish Way by Coffee & Vanilla
Freekeh, Broad Bean, Broccoli, Thyme & Soft Cheese Broth by Kellie's Food to Glow
Broad Bean Crostini by Cook Sister
Minted Bulgur Wheat With Fennel & Apple by The Veg Space
Summer Green Soup with Parsley & Almond Pesto by Tin & Thyme
Broad Bean Risotto by Penelope's Pantry
Moroccan Lamb Stew by Elizabeth's Kitchen Diary
If you want to be kept up to date on my recipes, occasional craft tutorials, adventure stories and giveaways then please subscribe to my weekly newsletter; it gets sent out every Monday morning if there is new content. Your email address won't be passed on to anyone, you will never be spammed and you are free to unsubscribe at any time, no questions asked. Make sure you confirm your subscription or you won't receive the newsletter – if it hasn't arrived check your junk mail folder.
[wysija_form id="1″]