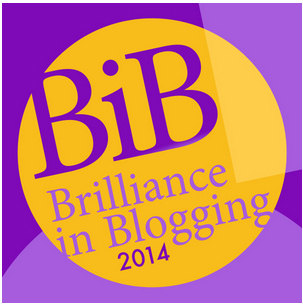 This evening I am celebrating with a glass (or two) of red wine as today I found out I'd not only been nominated (I had no idea I'd even been nominated!) but that I've been shortlisted in not one, but two different categories in the BritMums Brilliance in Blogging awards 2014!
In the blogging world this is….. A Very Big Thing!
BritMums is Britain's biggest collective of lifestyle bloggers and social influencers. It consists over over 4000 UK bloggers from all different walks of life.
I've never been nominated let alone shortlisted for anything like this before and I just want to say a great big massive thank you to everyone who nominated me! Thank you, thank you, thank you!
Now is the second step: voting. 16 bloggers have been selected for each category, 11 have been nominated by fellow bloggers and members of the public and 5 have been chosen by the BritMums judges. Voting is open now and runs through to midnight on Friday May 16th. The Voting Form has been created to allow one vote per person.
The finalists will be announced on 23rd May.
I would really appreciate it if my readers would vote for their favourite blogs in each category (I'd love it if it were mine, but please be honest!). You can only vote once, and multiple votes will be discounted. Only 6 bloggers will go through from the 16 in each category to be Finalists. These 6 will be made up of 4 with the top votes and 2 selected by BritMums.
BritMums will toast the Finalists at the BiBs party on Friday 20 June at BritMums Live and announce the winners at the ceremony that night.
Best of luck to all the shortlisted bloggers, and thank you again to everyone who nominated me! You have made my year! 🙂