In collaboration with Tasty, Easy Lamb.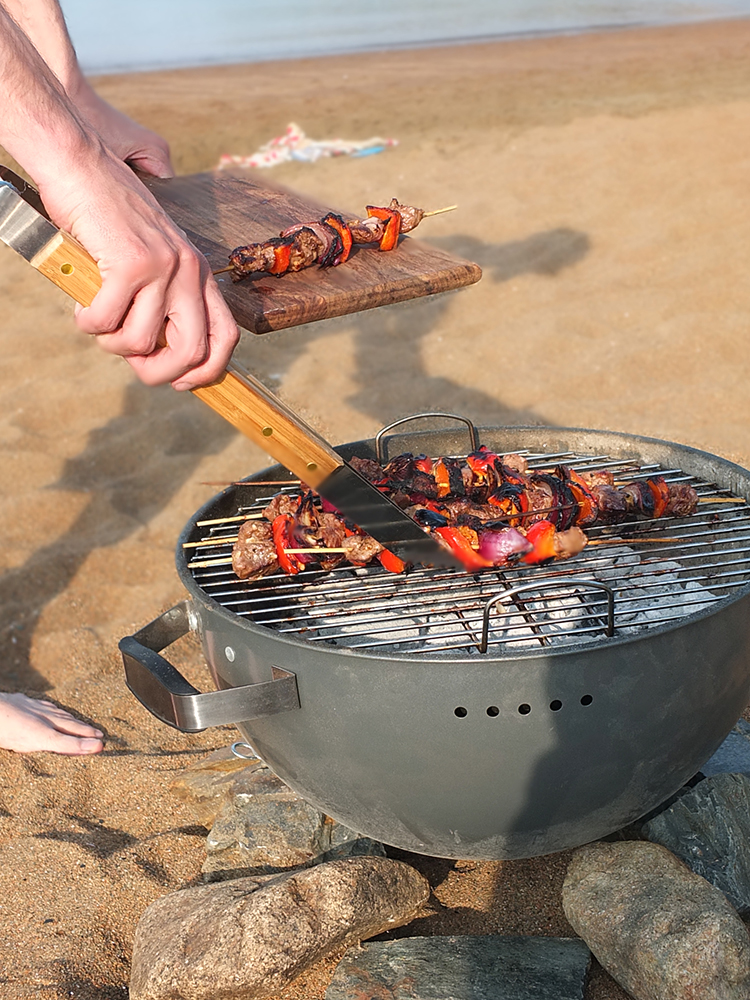 Every now and again the sun comes out in Shetland and it's all systems go to make the most out of it while it lasts. I confess I don't live on this wild and remote island archipelago for its Mediterranean-style weather. Most of the time it's windy and overcast, but when the sun comes out and that wind dies down we are reminded of why we choose to call these islands home.
These lamb souvlaki skewers were created for such occasions. We've got a rather nifty BBQ (picked up on offer at our local supermarket last summer) which can relocate to the nearest sandy beach, no problem, and these skewers are super easy to prep and assemble on site, unlike many BBQ recipes.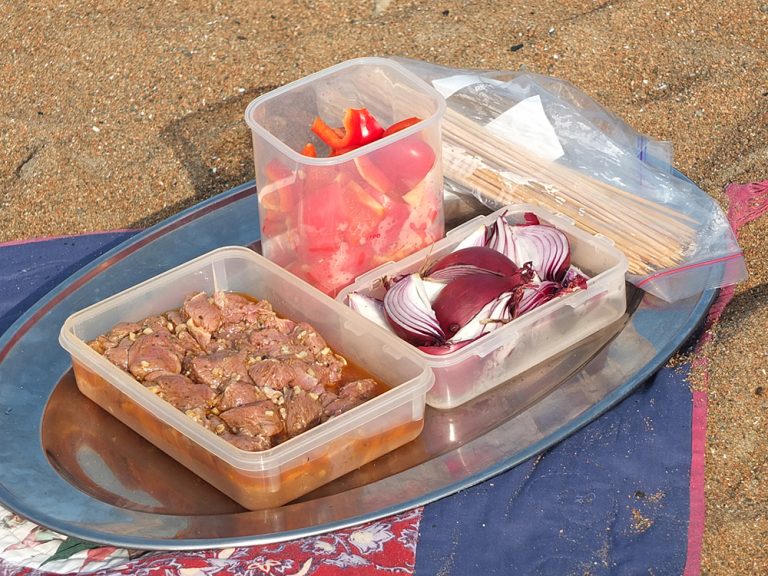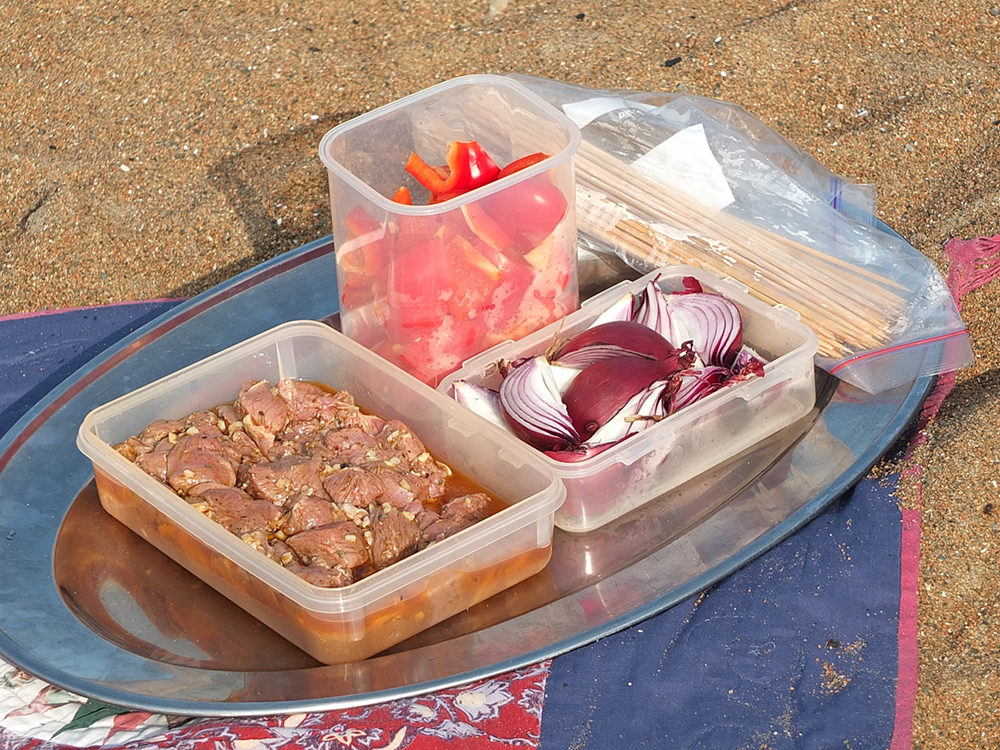 First, you need to make your marinade and coat your cubed lamb shoulder with it. Ideally, it should be left overnight to marinade in the fridge, but if you're planning a BBQ later on in the afternoon prepping it by midday would be sufficient.
Cut your red pepper into bite sized pieces and pop them into a container, and quarter your red onions, leaving them unpeeled and keeping the roots on to hold them together. This makes it a lot easier to halve the onion segments and add them to the skewer when assembling at the beach.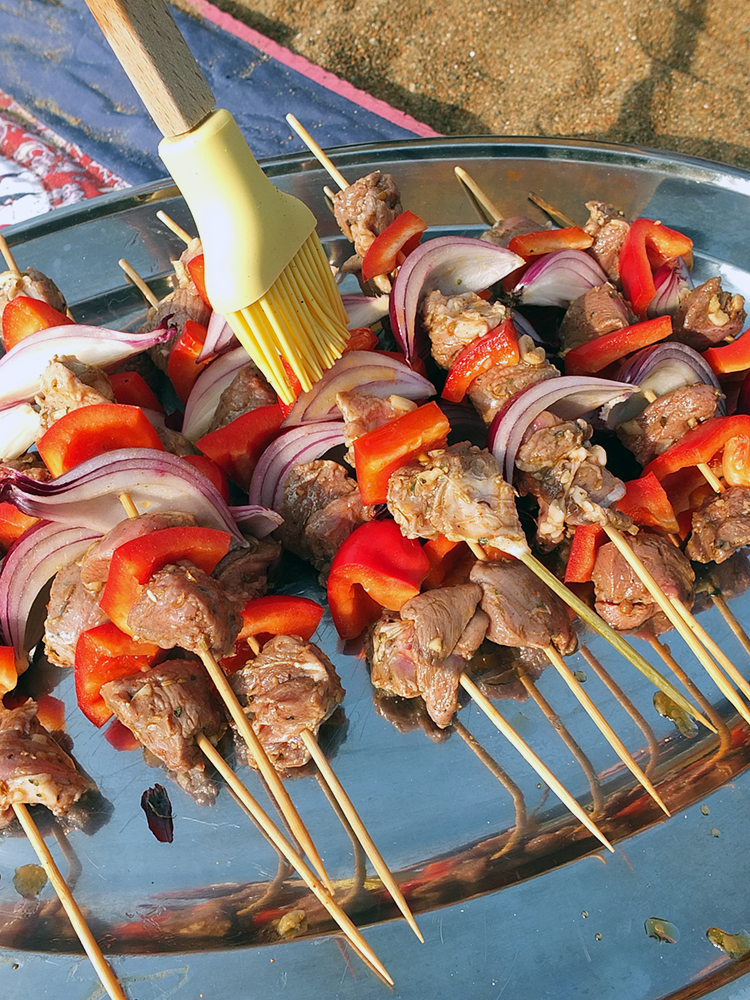 Don't forget to soak your skewers for at least twenty minutes too, so they don't burn, and bring a serving tray to lay your assembled skewers on. Brush any remaining marinade over the onion and red pepper and get cooking!
Lamb skewers take between 12-16 minutes to cook, and remember to turn them frequently so that they don't burn.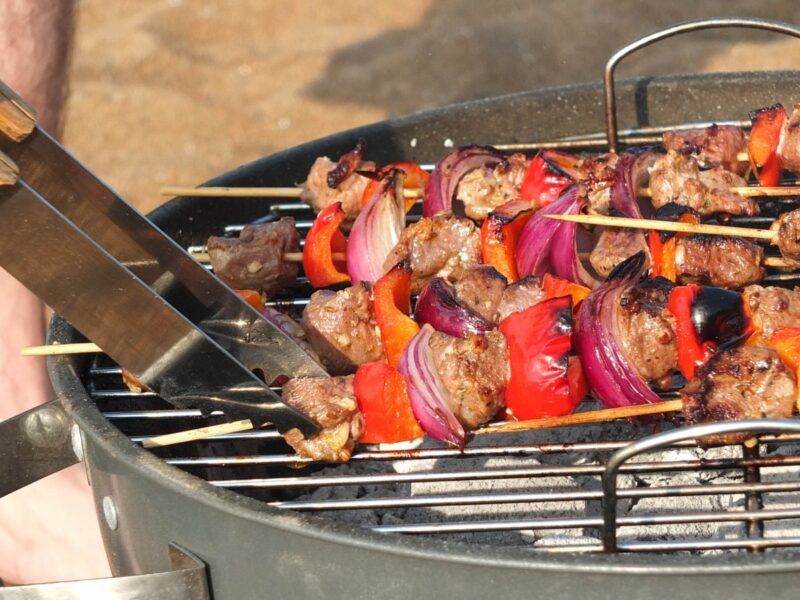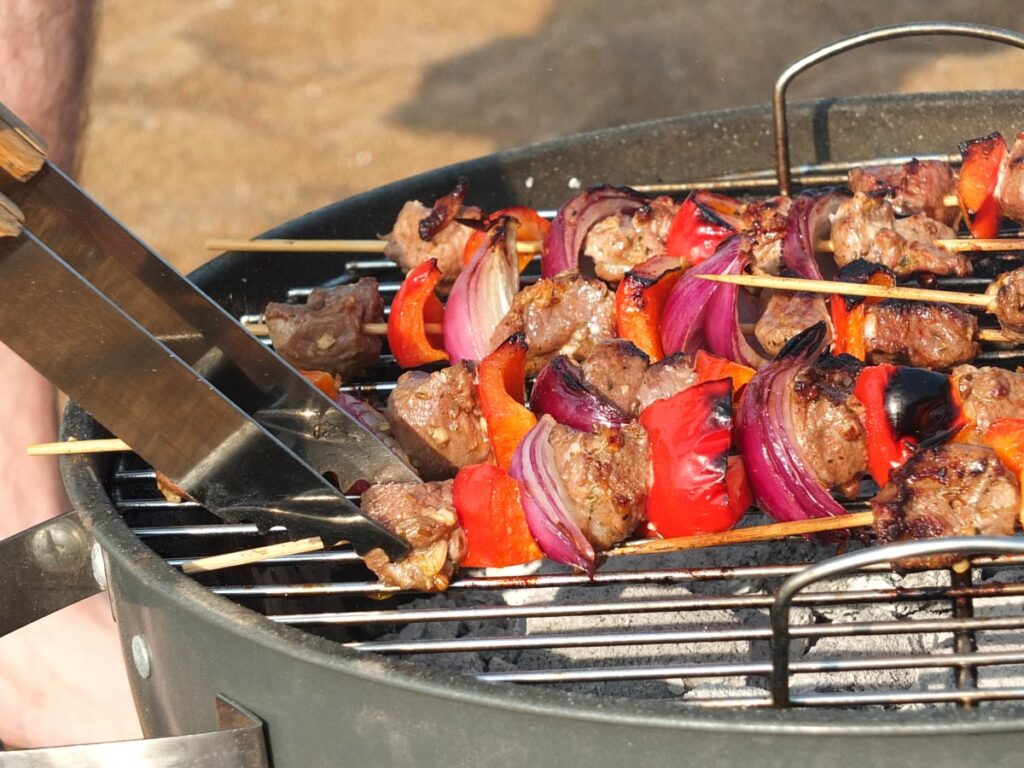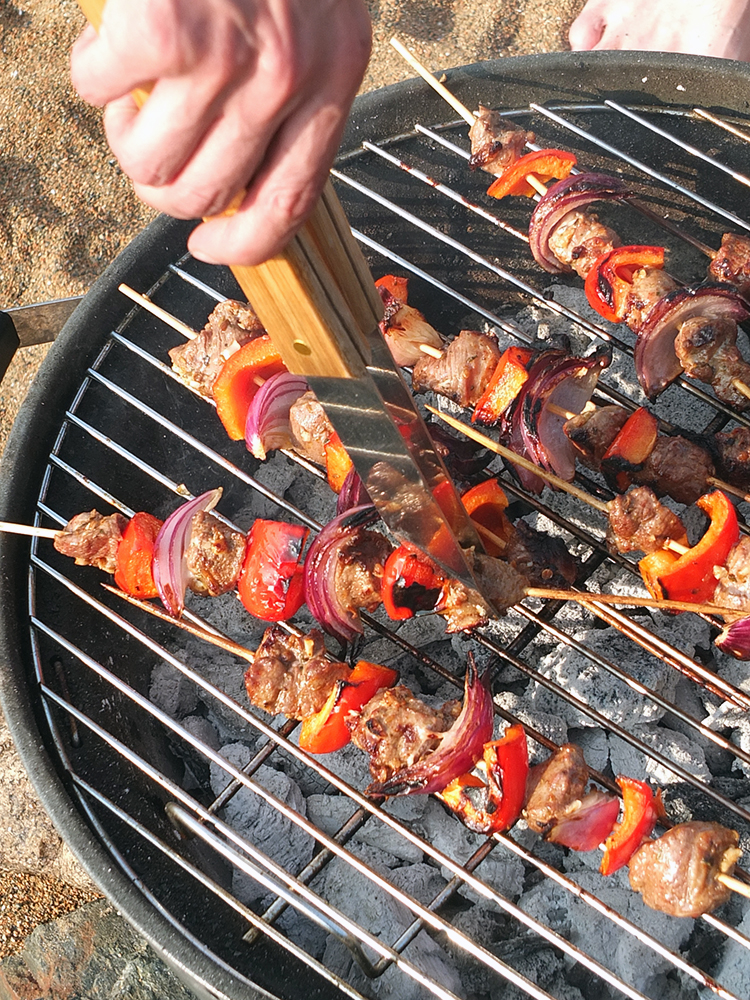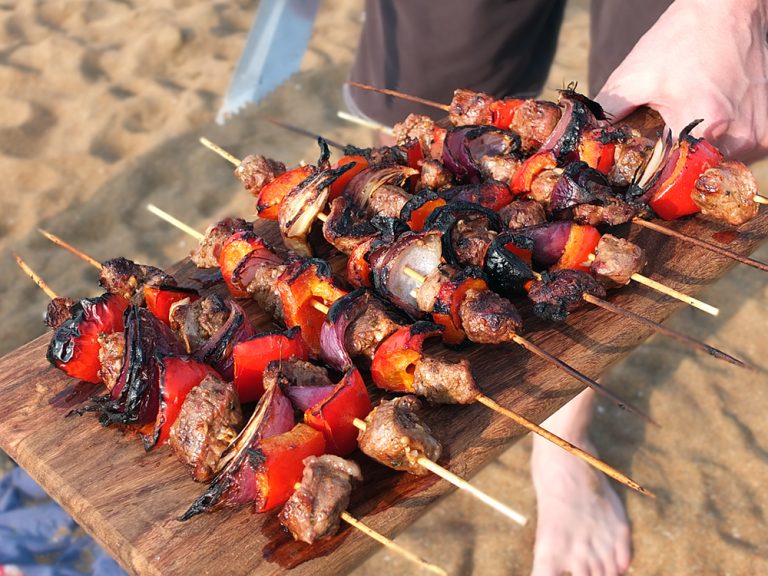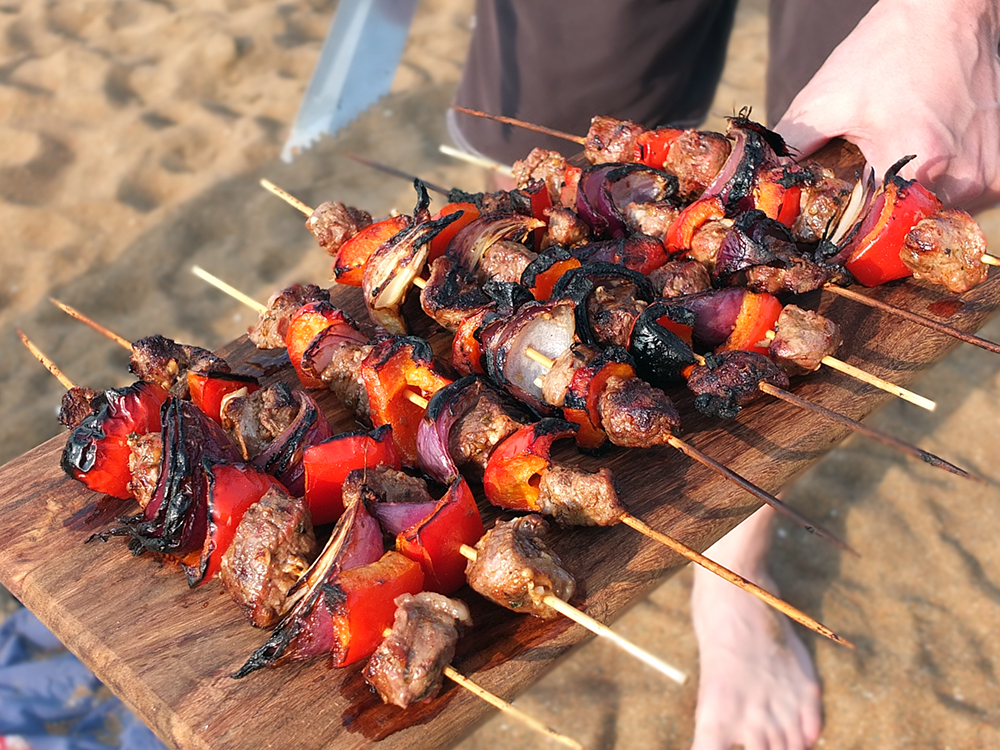 Serve your lamb skewers once they've rested for five minutes after cooking with some flatbread, salad and a dollop of plain natural yoghurt. You could, if you want, prepare a yoghurt garlic dip by adding a few finely chopped garlic cloves to the yoghurt, but for portability issues, it's just easy enough to pick up a small tub of yoghurt and keep it in a chiller until needed.
Ready made flatbreads work just fine if you're short of time, but I do have a rather fantastic recipe for flatbreads in my East Coast Style Donair Kebab recipe if you fancy making your own. It's definitely worth the effort to make your own.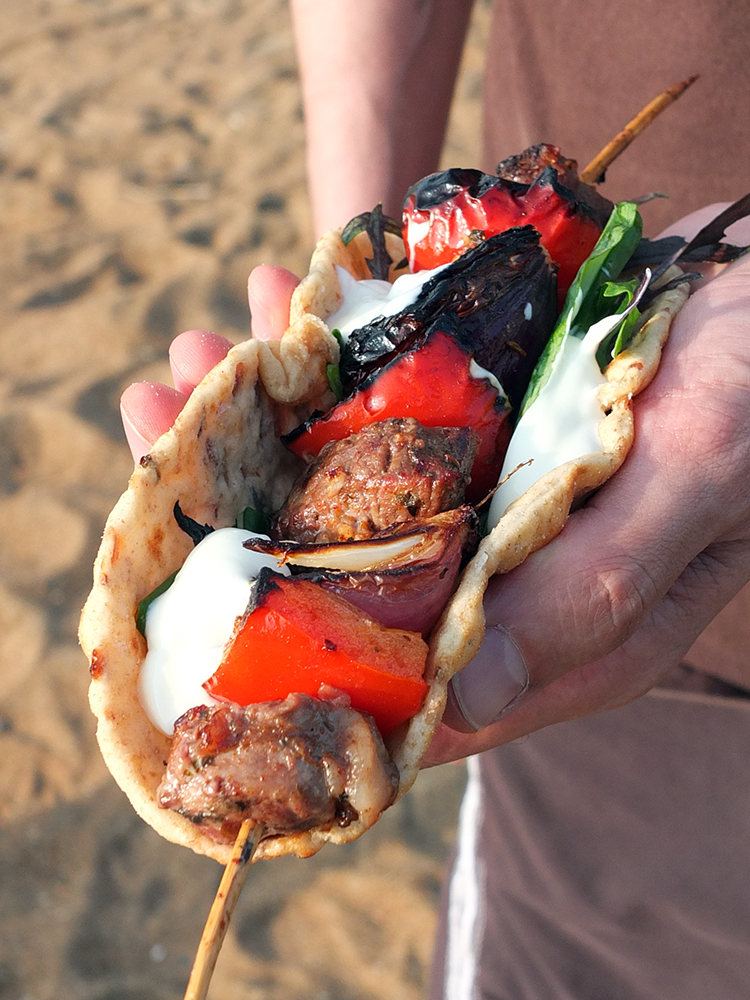 The perfect beach dinner, no? What's your favourite beach BBQ recipe? Let me know in the comments!
For more lamb recipe inspiration visit the Tasty Easy Lamb website, and follow them on Facebook, Twitter or Instagram.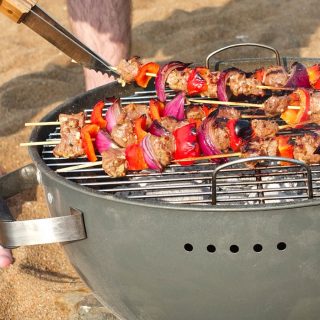 BBQ Lamb Souvlaki Skewers
Simple enough to assemble outdoors these lamb skewers taste extra special grilled over the coals under the hot sun.
Print
Rate
Affiliate Links
This recipe card may contain affiliate ingredient and equipment links. As an Amazon Associate I earn from qualifying purchases.
Instructions
Combine the olive oil, garlic, lemon juice and spices in a bowl and add the cubed lamb shoulder. Coat the lamb well, cover and leave to marinade for as long as you can, ideally overnight, but at least for four hours.

To assemble the skewers alternate the cubed, marinated lamb (3-4 pieces per skewer) with red bell pepper and half of a quartered onion (about 3 layers). Arrange on a platter until ready to cook, brushing any remaining marinade over the skewers.

BBQ for 12-16 minutes, turning frequently until cooked to the desired doneness. Leave the skewers to rest for five minutes before eating.

Serve with flatbread, salad and plain natural yogurt, if desired.
Environmental Information
OTHER LAMB RECIPES YOU MIGHT LIKE
BBQ Lamb Leg Steaks with Harissa & Mint
15-Minute One-Pan Lamb & Quinoa Midweek Supper
Street Food: Brazilian-Style Lamb Kibe
Chilean-inspired Lamb Burgers with Pebre & Marraqueta Buns
Brazilian-inspired Lamb Feijoada with Mango Salsa
Slow Cooker Lamb Chilli with Pasilla Peppers
Argentine-inspired Lamb Chops with Chimichurri
Lamb Casserole with Ale
Pistachio & Orange Crusted Mini Roast
Mediterranean-inspired BBQ Koftas, Couscous Salad & Baharat Yogurt Dip
Slow-cooked Shetland Lamb Casserole with Creamy Herbed Polenta
Pastitsio – Greek Macaroni Pie
Moroccan-inspired Slow-cooked Lamb
SHOP THIS POST
Portable Charcoal BBQ
Bamboo Skewers
This is a commissioned recipe for Tasty, Easy Lamb, although all thoughts and opinions expressed are our own. Thank you for supporting the brands who make it possible for me to do what I love: mess up my kitchen and share recipe stories.