Post sponsored by Volkswagen.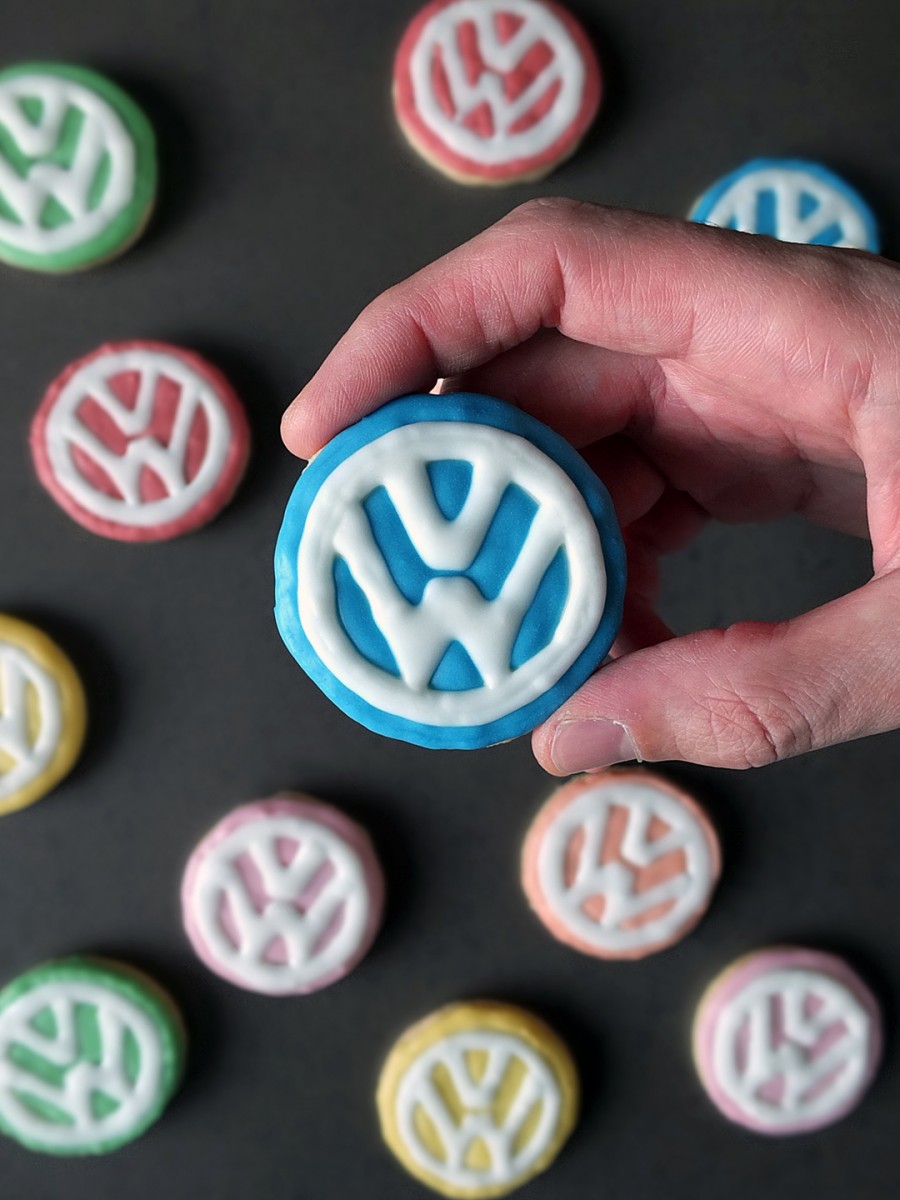 I have fallen in love with the art of decorating sugar cookies!
It is remarkably easy to mix ready made Royal icing powder with water and a little bit of food colouring to decorate the tops of your favourite sugar cookie recipe, and, I have learned recently, the sky is the limit when it comes to technique and what can be done with sugar and water.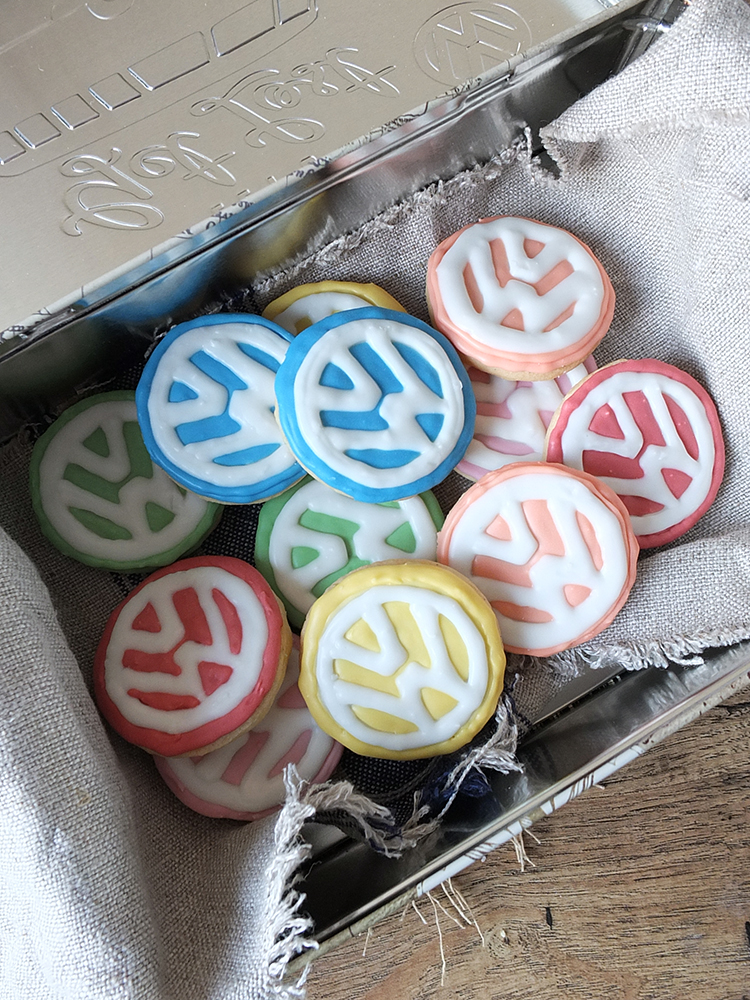 Now I don't claim to be an expert when it comes to decorating cookies, in fact, I am very much a beginner, but I just had to share with you how easy (and fun!) it is!
When it comes to decorating sugar cookies with Royal icing, you want to start with a cookie base that isn't too terribly sweet as you're going to be piling loads of sugar on the top. This sugar cookie base is the perfect base to transport the frosting – it's sweet, sturdy, and it bakes wonderfully without spreading; a problem found with a lot of sugar cookies.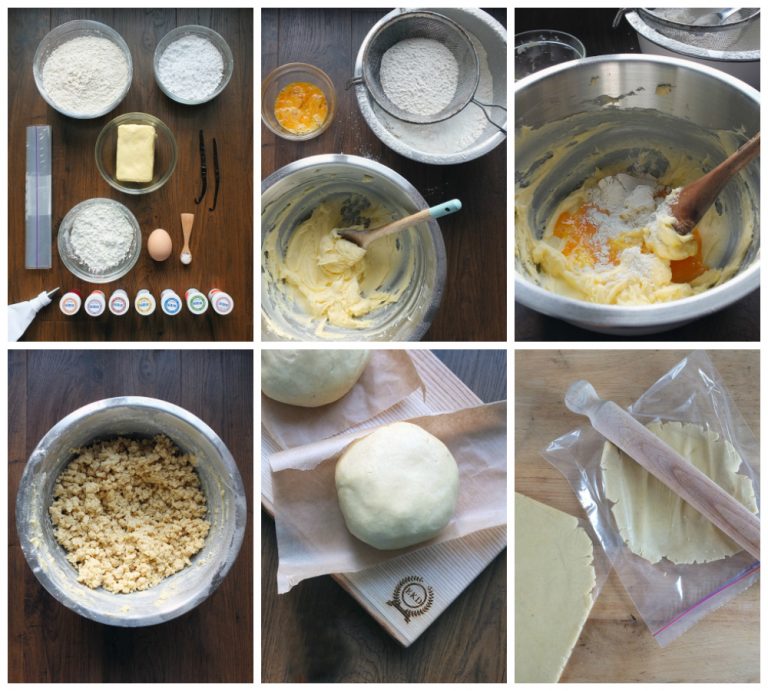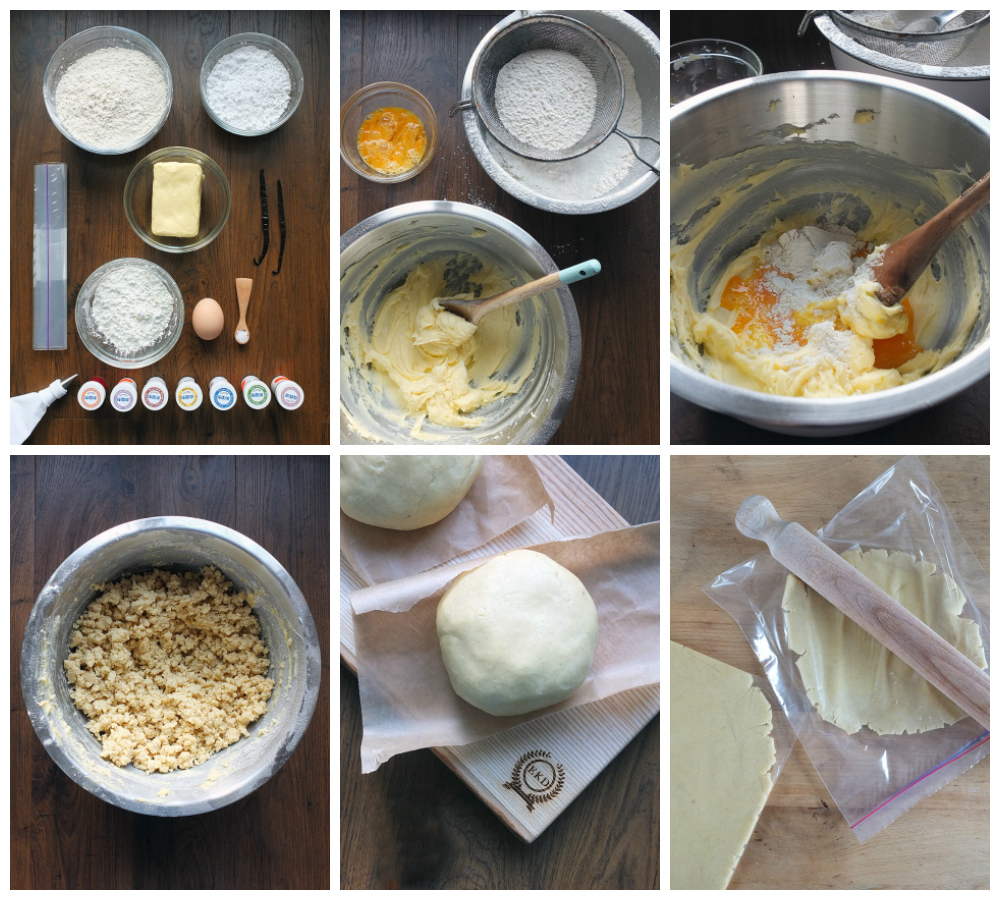 I've added seeds of vanilla pods to the dough to give a lovely flavour and little flecks of seed.
Don't throw the vanilla pods out, though! When you've finished scraping the seeds into the mixture, pop the empty pods into a jar and cover with caster sugar. Stick the jar on a shelf for a few weeks/months and then you'll have a gorgeously aromatic scented vanilla sugar to work with.
Another clever trick is to freeze the dough before cutting and cooking the cookies. This keeps the dough from spreading, making for the perfect base that can be stored for months if needed.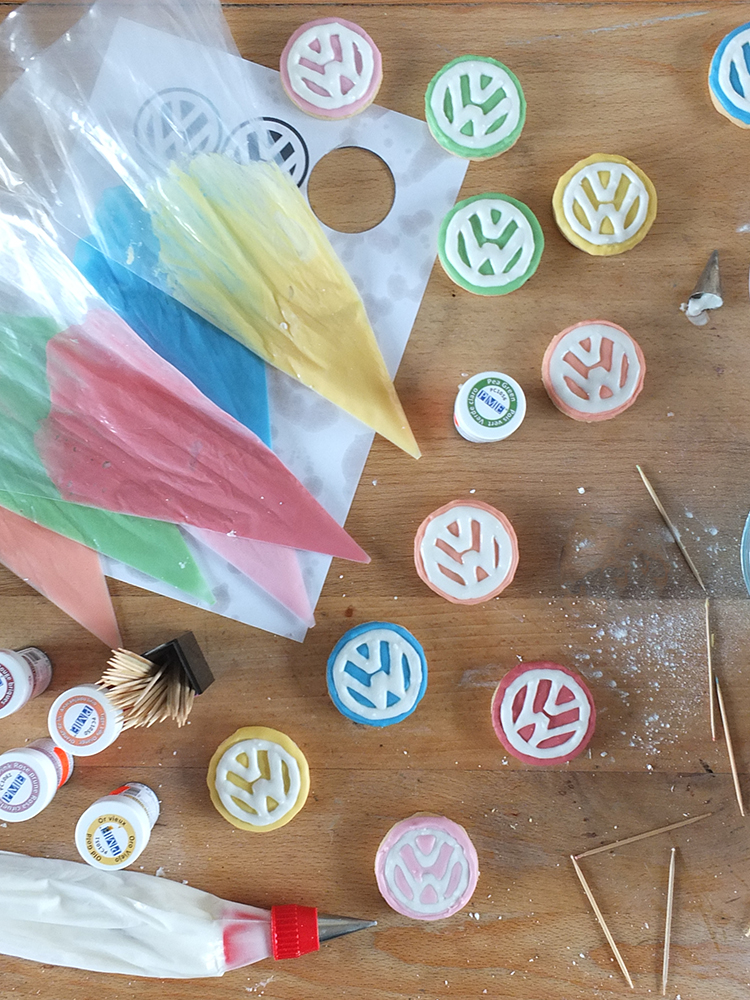 The fun bit of making sugar cookies is the decorating bit. Invest in some good quality gel colourings as these create some beautifully rich colours. You could go through the effort of making your own Royal icing from scratch – by mixing egg whites with icing powder, but you can just as well buy ready made Royal icing powder which just needs to be mixed with water.
For my Volkswagen set I used six different pastel colours similar to the traditional Volkswagen colour charts I found online. I printed off a Volkswagen logo I'd found online and cut out the middle sections with a Stanley knife so that only the white VW and circle were left. I used this as a template and drew onto the top of the cooled cookie top with a black edible ink pen.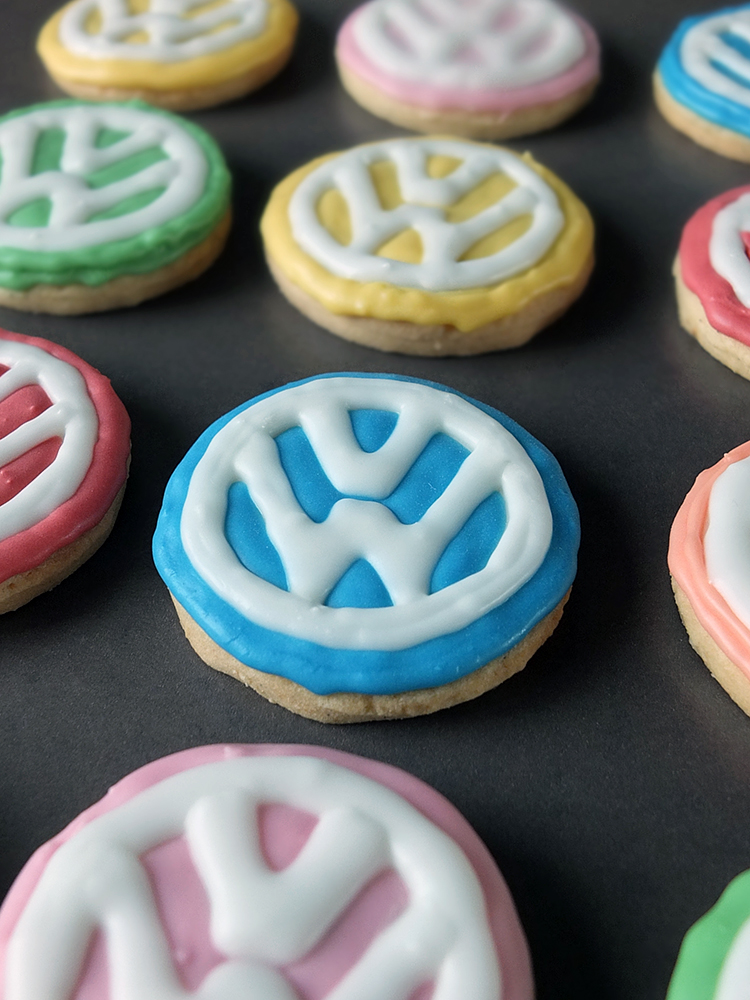 I do confess that the piping took ages. I spent a good four hours decorating a dozen cookies, but it was a very relaxing and therapeutic four hours.
I started with piping the white logo itself, tracing the black edible ink outline. After this dried, I filled the middles with my chosen colours, as well as piping around the outer edge of the logo.
To make the logo pop out I piped over the white logo again, and I feel this worked rather well. Excuse the lumps and bumps – like I said, I really am a beginner when it comes to sugar craft!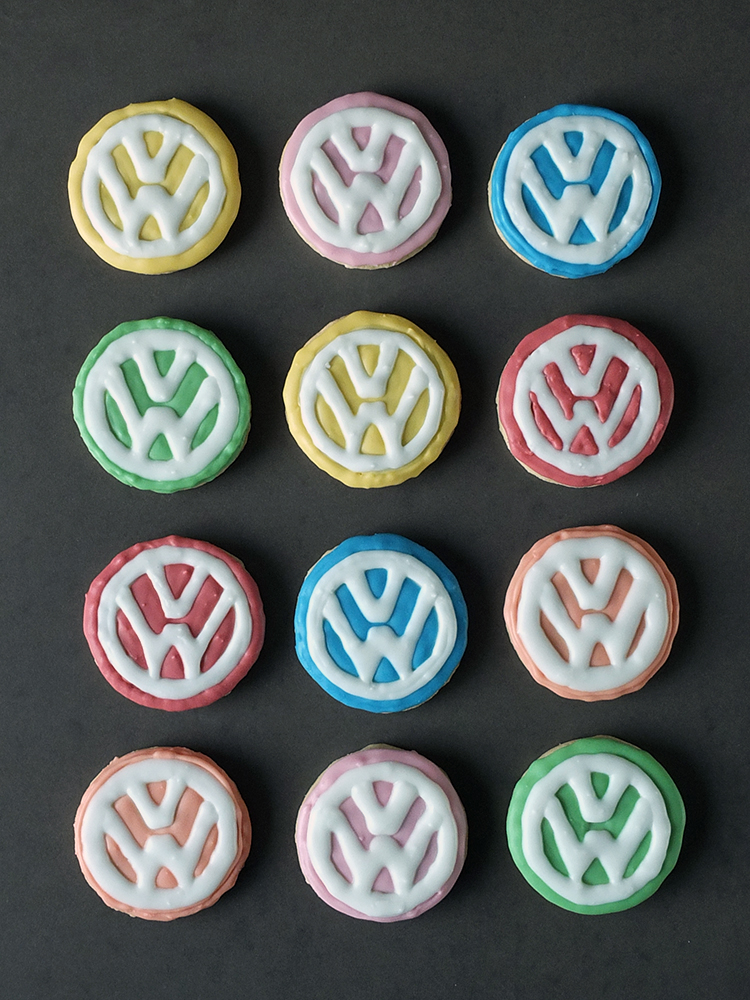 Still, I'm really rather pleased with how well they turned out. I reckon these would make great edible gifts for any Volkswagen enthusiast. This lot – my children are going to devour them!
For more travel-inspired recipes please visit the Volkswagen Pinterest community board – Food Bloggers for Volkswagen.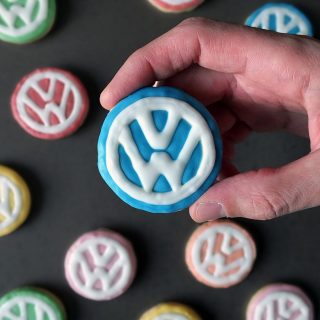 Volkswagen Logo Sugar Cookies
A Volkswagen logo sugar cookie recipe - an ideal gift for the Volkswagen enthusiast in your life!
Print
Rate
Ingredients
equipment needed
2

large

airtight food bags

10" x 14" with a grip seal

disposable piping bags

for each icing colour

1

Number 2 piping nozzle

1

black edible ink pen

1

paper Volkswagen logo template

1

sharp knife

1

round cookie cutter

cocktail sticks
Affiliate Links
This recipe card may contain affiliate ingredient and equipment links. As an Amazon Associate I earn from qualifying purchases.
Instructions
Sift the flours and salt together and set aside.

Mix the butter, sugar and seeds from the vanilla pods together until thoroughly incorporated, but do not cream the mixture. You don't want to add extra air to the dough.

Add the beaten egg to the butter and sugar mixture along with a tablespoonful of the flour. Beat with a wooden spoon until combined.

Add half of the flour mixture. With a hand mixer set on the lowest setting, mix until the flour is incorporated. As soon as the flour is mixed in add the rest and mix well, stopping as soon as you can't see any more flour and the dough clumps together. Over mixing will create tough and flaky cookies.

Form the dough into a ball and cut into half, forming two discs. Place each half in a grip seal bag and leave in the fridge for 30-60 minutes.

Roll out each of the discs to 1/4 inch thickness inside the grip seal bags and place in the freezer, keeping them flat. An ice bank drawer is the perfect size to keep them flat, if you have one. This can be done well in advance.

Preheat a fan oven to 155 C and cut circle shapes from the frozen dough. If your cookie cutters are weaker plastic ones, or 3D printed ones, allow the dough to soften for ten minutes before cutting the dough. Place the cut shapes back into the freezer for at least ten minutes to firm up again before baking.

Bake the tray of frozen cookies for 15-20 minutes, depending on their size. Mine were 5 cm circles and took 20 minutes. They cookies are ready when their edges turn lightly golden. Transfer to a wire rack to cool completely.

To decorate, find a Volkswagen logo online and print off a copy the same size as your cookies. Using a sharp knife (I used a Stanley knife), cut out the inner pieces of the logo so that you can trace the template onto the top of the cookie.

Mix the Royal icing powder with a little water to reach a smooth, thick consistency. You don't want it too runny or it won't hold the shape of the logo, but you don't want it too thick either or it won't smooth out enough.

Place a few spoonfuls of the white Royal icing into the piping bag fitted with the #2 nozzle and carefully trace out the Volkswagen logo design onto the cookies, following the black edible ink pen template.

Add a few more spoonfuls of the white icing to the bag, and set aside.

Divide the remaining Royal icing into small bowls depending on the number of colours you want to use.

Using a cocktail stick, add the gel food colouring a drop at a time to the Royal icing until the desired colour is reached. Cover each bowl in clingfilm so the icing won't dry out while you work with the rest.

Place the colour you are working with into a disposable plastic piping bag and snip off the end leaving a 2 mm sized hole (alternatively, fit with a clean #2 nozzle) and fill the centre pieces of the Volkswagen logo with your desired colour. Pipe a line on the outside of the logo too. Leave to dry for half an hour.

Repeat the white Volkswagen logo layer, so it pops out from the cookie. Using a cocktail stick you can make the corners and edges of the logo sharp.

Leave overnight to harden completely before gifting.
Environmental Information
This is a sponsored recipe post commissioned by Volkswagen, although all thoughts and opinions expressed are our own. Thank you for supporting the brands who make it possible for me to do what I love: mess up my kitchen and share recipe stories. 
[color-box]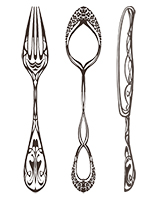 Have you made this recipe?
Take a photo and tag @tangoraindrop or use the hashtag #elizabethskitchendiary and share on Instagram and Twitter. It would make my day to see your creations!
[/color-box]