My first North American press trip took me to Georgia, USA, along with a select group of European bloggers and social media influencers. We were invited on an American peanut education tour to learn all we could about American peanuts. This trip was hosted by the American Peanut Council.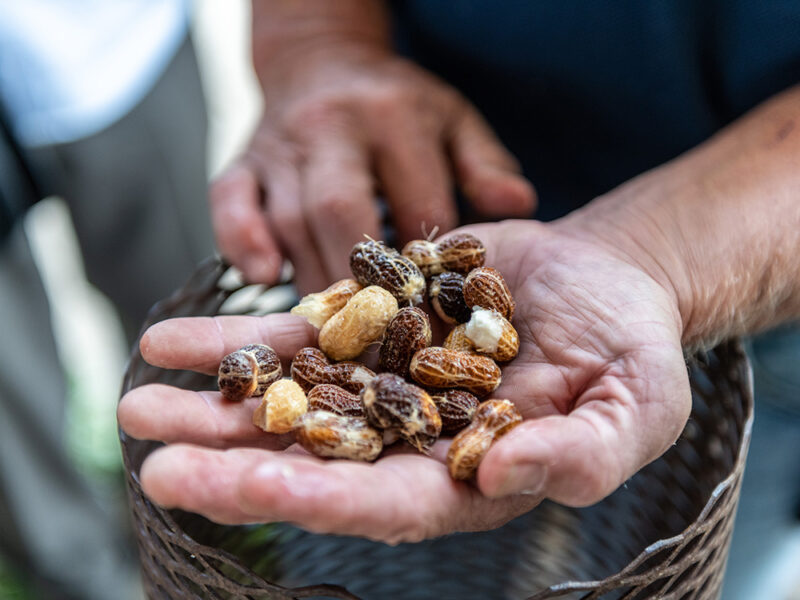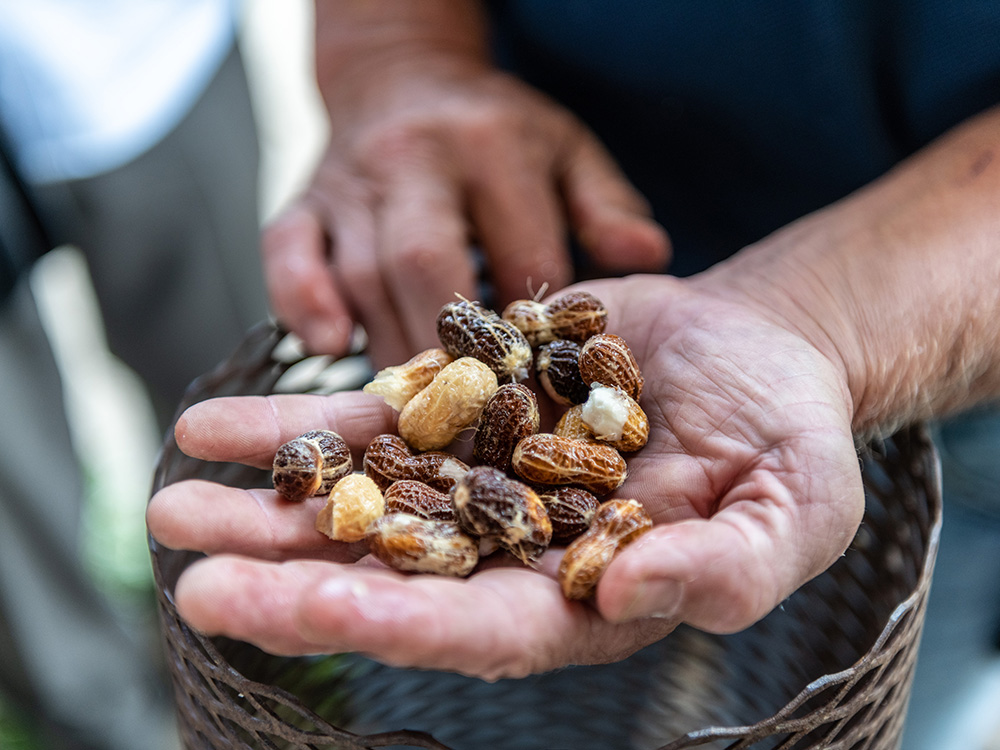 American Peanuts Education Tour
Did you know that President Jimmy Carter had a Shetland pony named Lady when he was a boy growing up in Plains, Georgia?
She had to work, just like the rest of the family, to earn her keep on the family farm. This is one of the many things I learned about President Jimmy Carter as I read his autobiography, A Full Life: Reflections at Ninety, on the first passenger flight of a brand new A330-900 Airbus from Amsterdam to Atlanta, Georgia last Autumn.
I confess I knew very little of the 39th American President, but I wanted to do my homework as I had pencilled in my planner to meet the man, in person, for breakfast.
True story. I never would have expected that after eight years of food blogging, I'd be flying overseas to have breakfast with an American President in the land of pick-up trucks, honey-dripping slow southern drawls, grits, cotton fields, sweltering skies and peanuts.
In case you're wondering why I was having breakfast with Jimmy Carter – he's also the most famous peanut farmer in the world.
In Atlanta, I met up with a small group of other European-based food bloggers and social media influencers for a four-day American Peanut Education Tour with the American Peanut Council. Our visit included us joining up with the 33rd annual Georgia Peanut Tour for a field visit to a peanut farm, a buying point, shelling plant, research lab and tour of a peanut butter factory.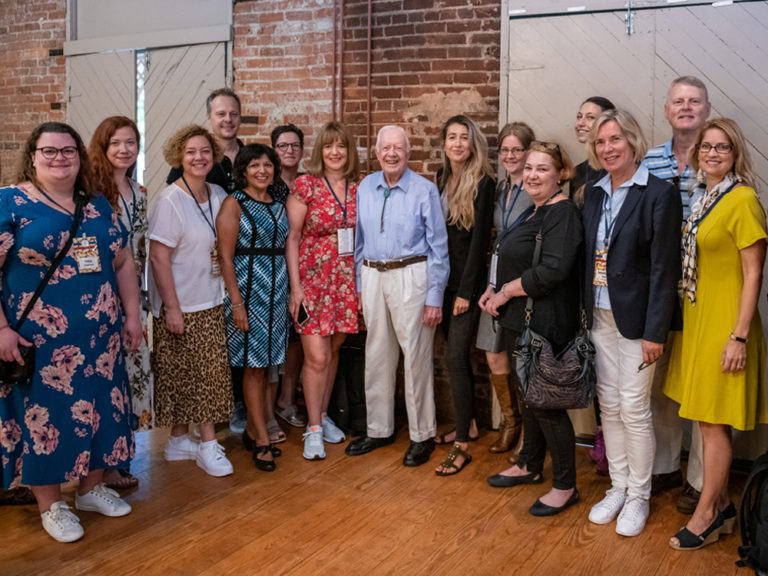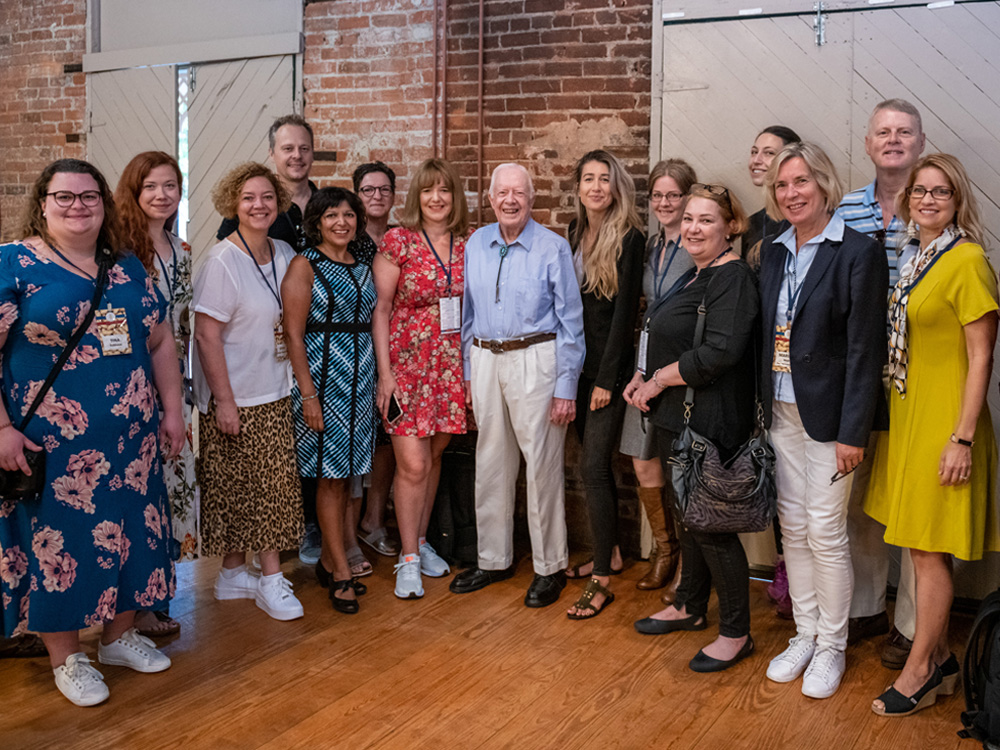 From L-R: Tina (Lecker & Co), Ina (Ina eats), Steffi (Kochtrotz), Oliver (Living BBQ), Azmina (Azminanutrition), Gabriela (USA Kulinarisch), Victoria (BestRecipesUK), President Jimmy Carter, Sanne (Living the green life), myself, Michaela (Herzelieb), Emily (A Mummy Too), Marina (Moinmoje), Patrick Archer (American Peanut Council) and Sherry Colman Collins (dietician/nutritionist).
Breakfast with President Jimmy Carter, Plains, GA
On our first morning in America, we boarded the bus early from our hotel in Americus to head to Plains, the birthplace and home of Jimmy Carter. We gathered in the Plains Community Centre, an unassuming, crumbling red-brick building constructed in 1926 as a dance hall for the community.
President Jimmy Carter greeted and shook each of our hands, thanking us each by name for making the overseas trip to his home to learn about peanuts. After prayers and a short speech by the President (which you can watch below), we tucked into our all-American breakfast.
A speech by President Jimmy Carter before breakfast in Plains, Georgia where he talks about his time growing up on a peanut farm.
It was here I had my first taste of grits, a boiled cornmeal porridge originating in the Southern American States (I quite liked it!). Breakfast also included an American-style breakfast casserole – a baked layered pasta, meat and cheese dish – as well as fried potatoes and sausages, and not forgetting grape jelly and peanut butter on toast.
This was followed by a series of educational presentations by dietician/nutritionist Sherry Coleman Collins, nutritionist scientist Samara Sterling and 6th generation farmer Casey Cox. This was followed by a trolley tour of Plains, Georgia, which I will write about in a separate blog post.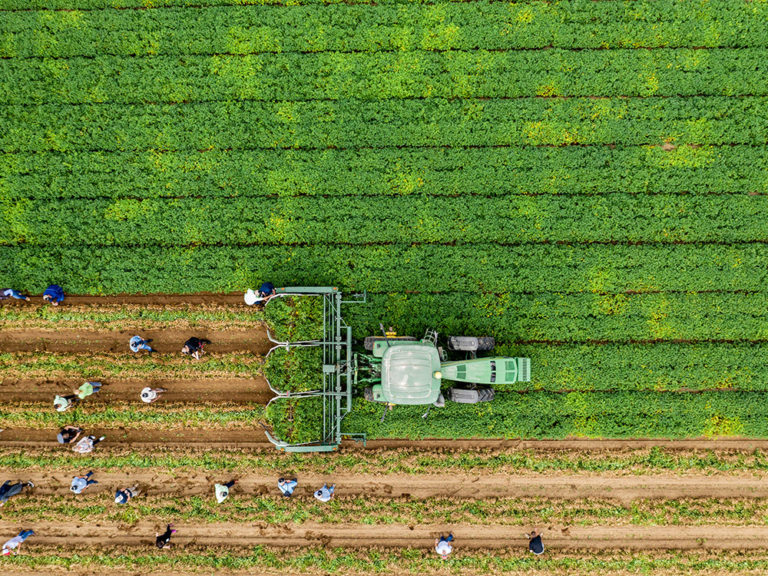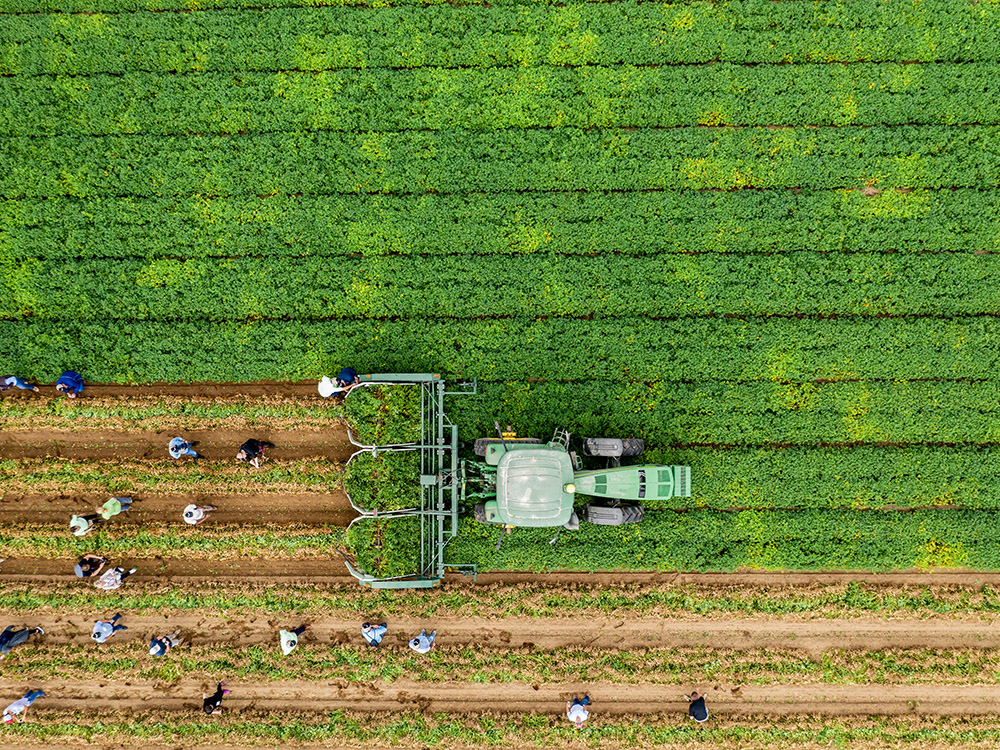 A field visit to Chase Farms, Oglethorpe, GA
The most interesting part of the Peanut Education Tour, for me, was the visit to Chase Farms in Oglethorpe.
We were greeted by father and son team Glen Lee and Donald Chase who grow peanuts, field corn and sweet corn as well as rearing poultry. It was here where we learned all about peanut growing and harvesting.
Are peanuts a pea or a nut?
Cultivated peanuts (Arachis hypogaea) are classified botanically as a legume (pea & bean family) but nutritionally they have a profile similar to tree nuts such as walnuts and almonds. Unusually, for a pea species, they grow underground. The word hypogaea means 'under the earth'.
When are peanuts grown?
Peanuts grow in sandy, loamy soils from April to October, depending on what variety they are, and require 120-160 frost-free days. Peanuts are planted after the last frost in April.
How do you know when peanuts are ready to harvest?
Knowing when to harvest peanuts is a learned skill – if the harvest is too early or too late, up to 500-700 pounds per acre of land could be lost. Farmers use a hull scrape method or pod blasting and a Peanut Profile Board to determine whether the crop is ready to harvest. The colour of the inside of the peanut pod indicates its level of ripeness; the veins will be prominent and the inside of the peanut pod will be very dark. When 70% of the samples taken are ripe enough, the harvest begins.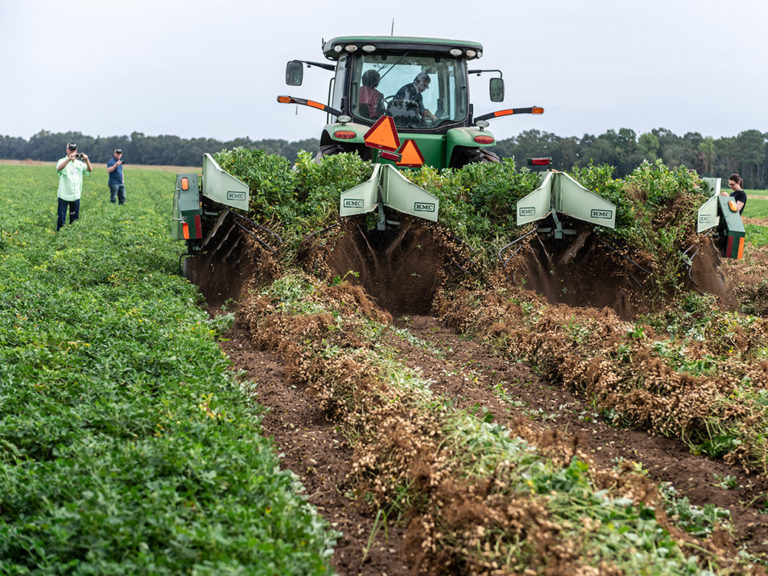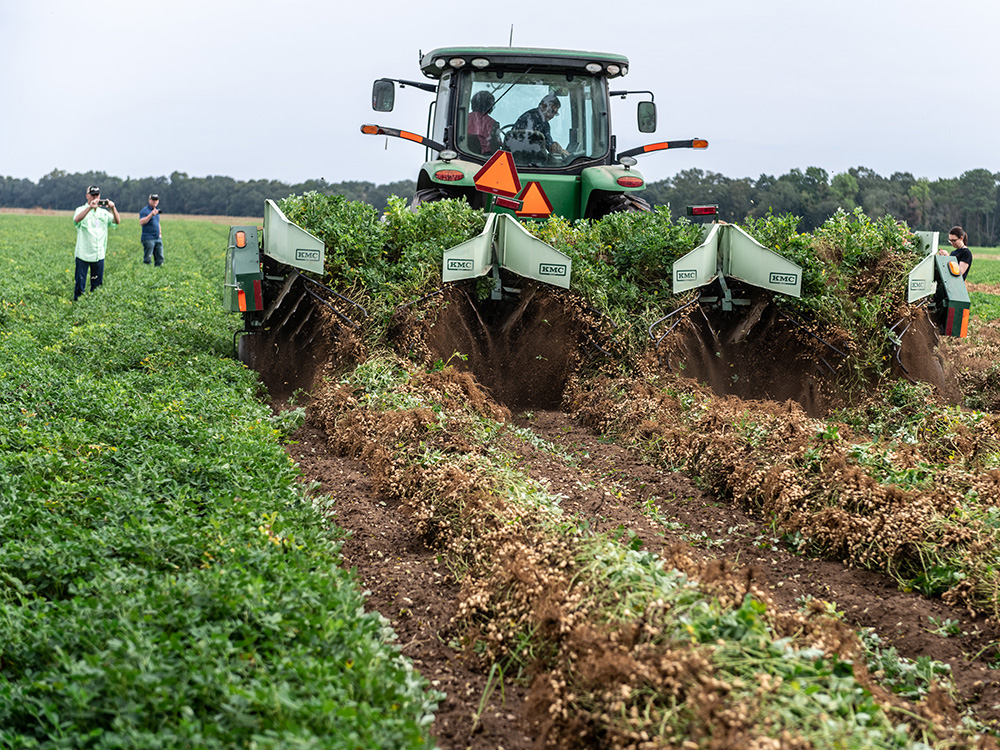 How are peanuts harvested?
Peanuts are harvested using a machine that cuts through the loamy soil just below the level of the peanut pods. The machine lifts the peanut "bush" up from the ground, shakes, inverts and leaves plant peanuts up and leaves down in a windrow. This allows the peanuts to dry slowly over the next few days.
Where do the peanuts go once they are harvested?
Once the peanut plants have dried enough, they are threshed to remove the peanut pods from the rest of the bush. From here, they are taken to a buying point where they are dried, graded and stored.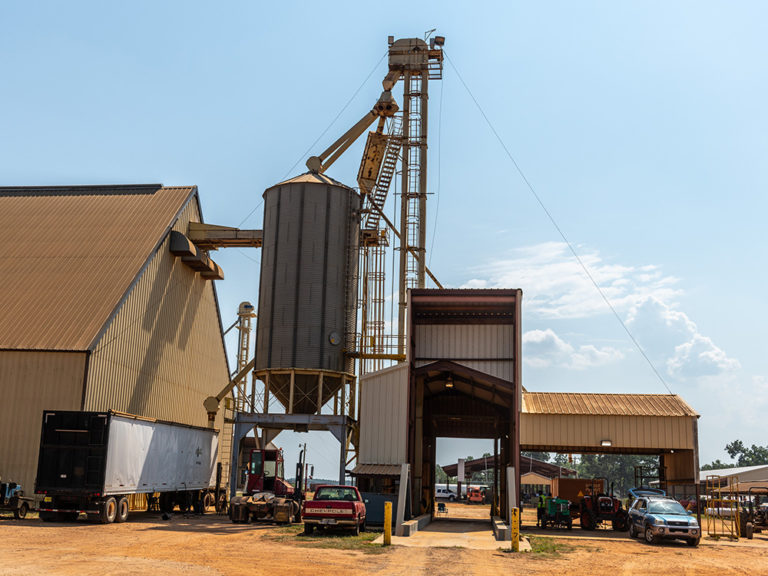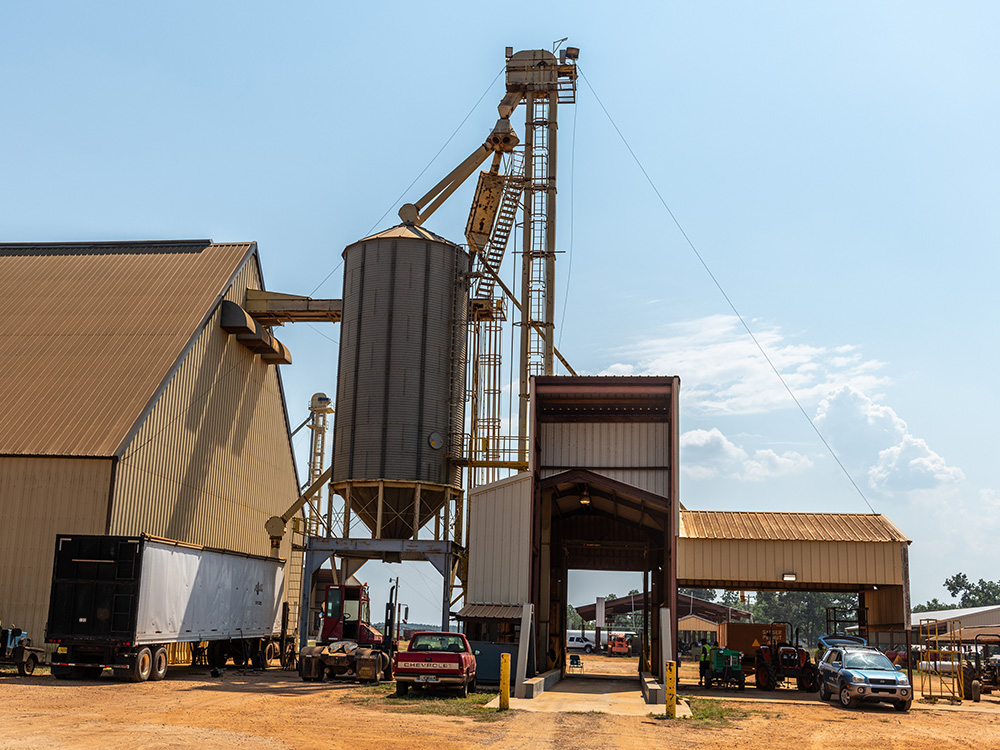 The Sasser 520 Peanut Buying Point, Dawson, GA
After the harvest, the peanuts are transported to a buying point in wagons which allow the peanuts to dry further.
Here, the peanuts are graded and then stored in warehouses until they are hauled to shellers for further processing.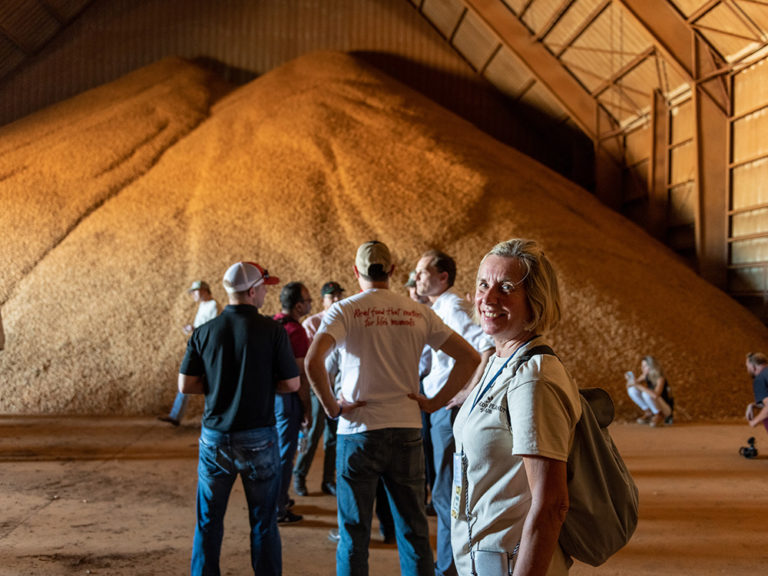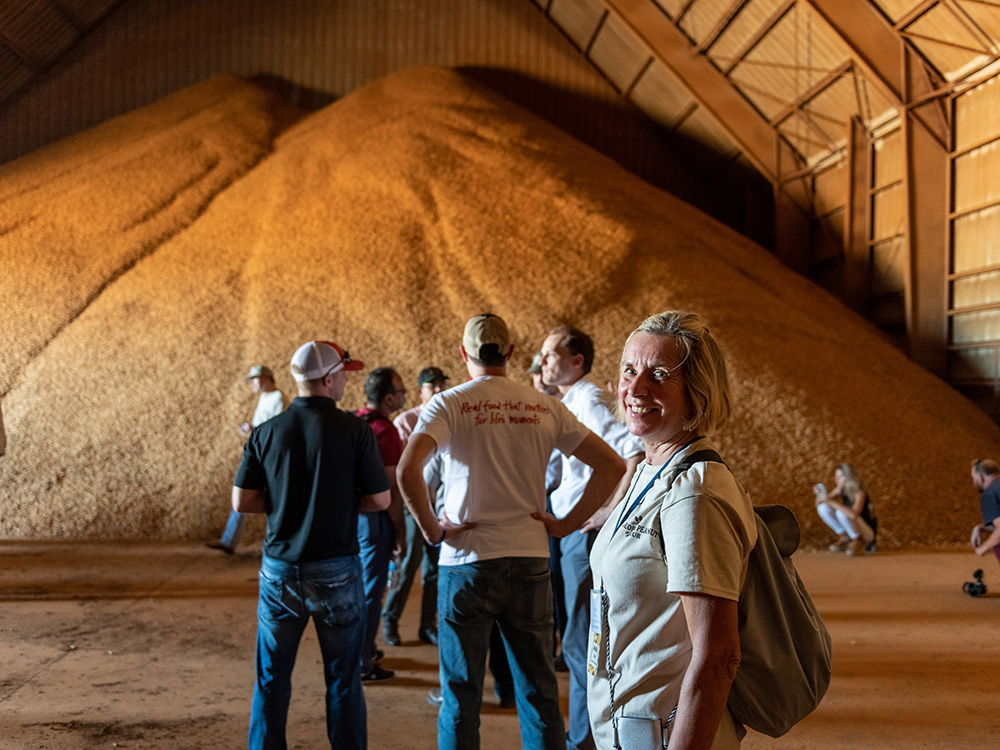 A tour of the Golden Peanut Company Shelling Facility, Ashburn, GA
The majority of peanuts grown in Georgia are of the runner peanut variety, and most of them end up as peanut butter or in confectionary, so they must be shelled and further processed before heading to their respective factories.
The shelling machinery at the Golden Peanut Company Shelling Facility separates the peanut kernels from the hulls using a gravity separator, dropping the heavier peanut through a mesh grid to be collected on a conveyor belt for sorting. Photographs were not permitted inside this facility, so you'll just have to take my word for it that it was a rather interesting (albeit noisy!) experience.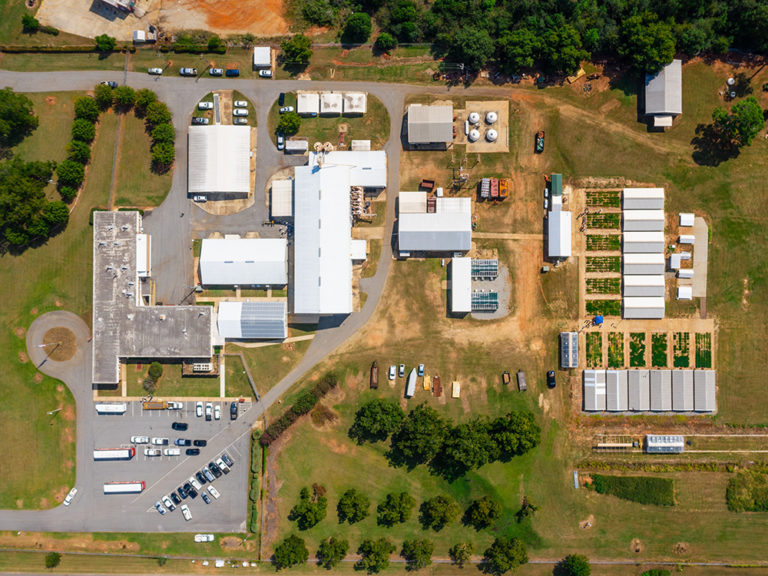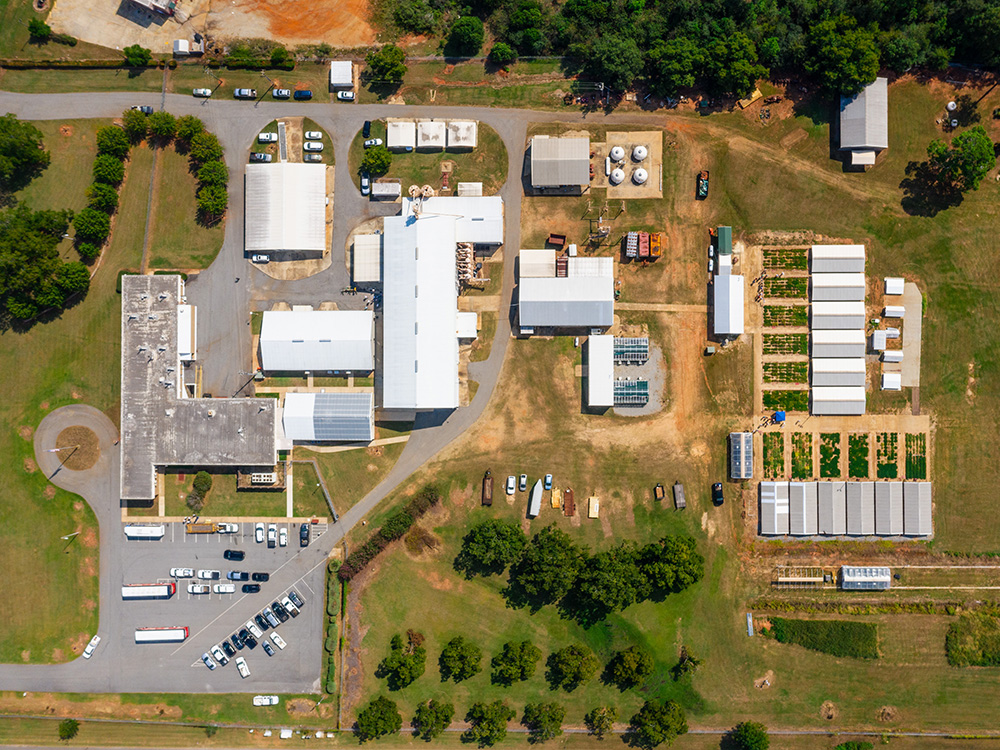 A tour of the National Peanut Research Lab, Dawson, GA
Established in 1965 to help improve farming practices, scientists at the National Peanut Research Lab in Dawson, Georgia research ways to improve harvesting methods, irrigation practices and storage methods. They are one of the only USDA ARS labs solely dedicated to peanut research.
Scientists at the lab are also focusing effort on chemistry, genetics, and molecular biology, looking at natural defence mechanisms for peanuts as well as ways to improve drought tolerance and to improve peanut varieties for the industry.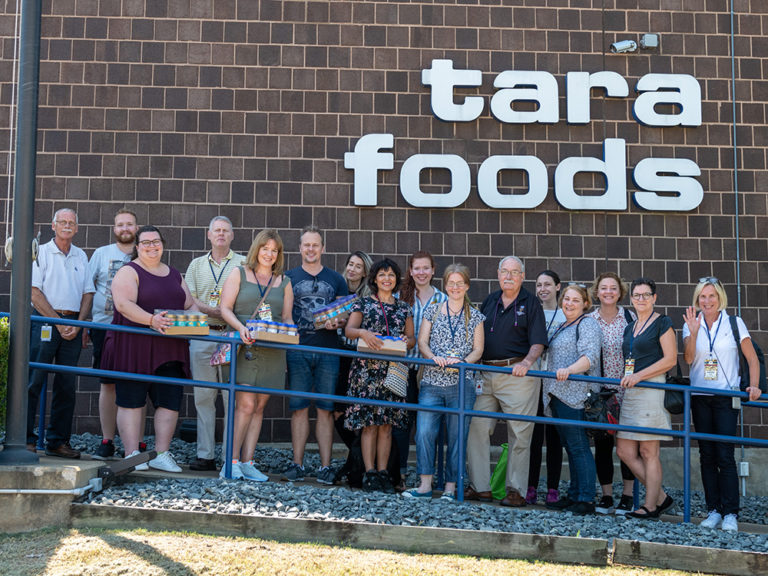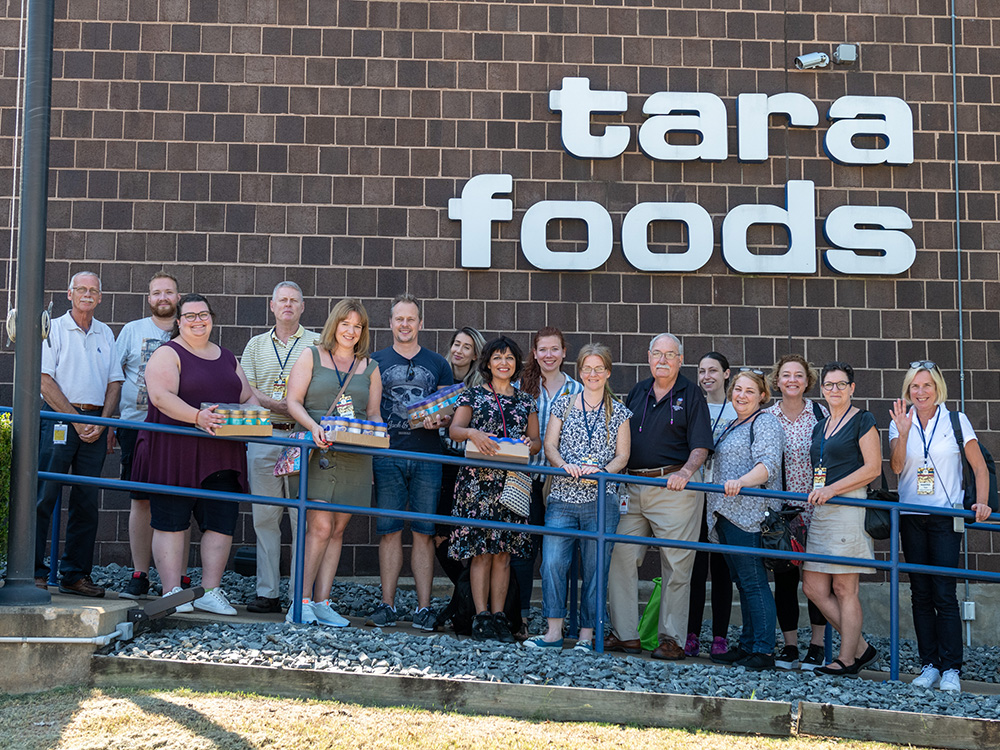 A visit to the Tara Peanut Butter Plant, Albany, GA
No peanut education tour would be complete without a visit to see, first hand, how one of the most popular ways to consume peanuts is made – we learned how peanut butter is made!
The Tara peanut butter plant in Albany, Georgia, makes a wide variety of peanut butter for the North American and Mexican markets. Unfortunately, we were not permitted to take photographs inside the factory, but we did get to taste warm peanut butter straight from the machines!
How is peanut butter made?
After the peanuts are grown, harvested, processed and delivered to the peanut butter factory, the peanuts are roasted and cooled and the red skin is removed. The peanut kernel is then split open and the bitter peanut heart is removed. Afterwards, the peanuts are ground with ingredients such as salt, sweetener and stabilisers.
The peanut butter is then packaged, labelled and shipped to wholesalers where it finally ends up on your supermarket shelves, and then in your peanut butter and jam sandwich.
How to know if you're buying American peanuts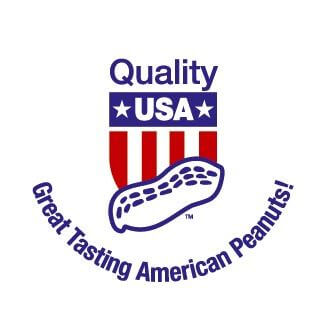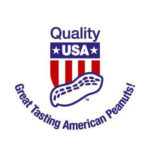 When buying products containing peanuts, look out for the Quality USA labelling which ensures that the product is made with at least 90% American peanuts.
Did you know that new research has explored the environmental and nutritional benefits of peanuts? I've written an article on this topic for Learning with Experts. You can read the article here.
Where we stayed in Georgia, USA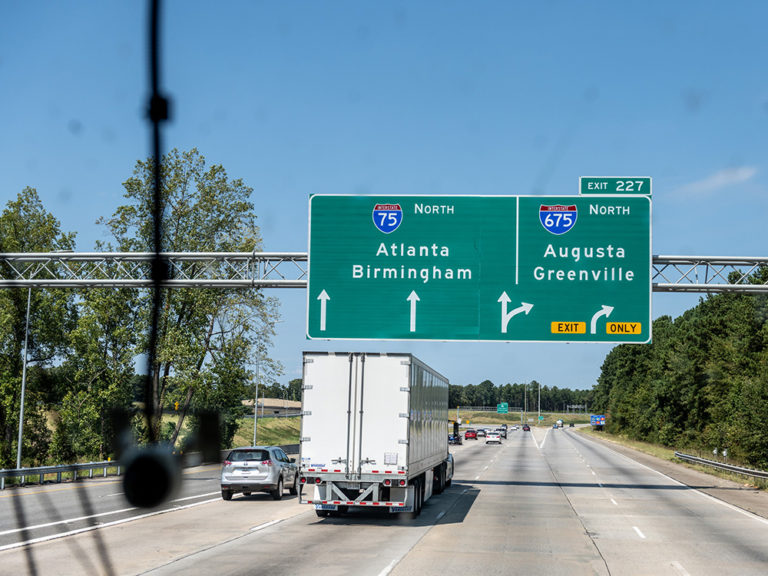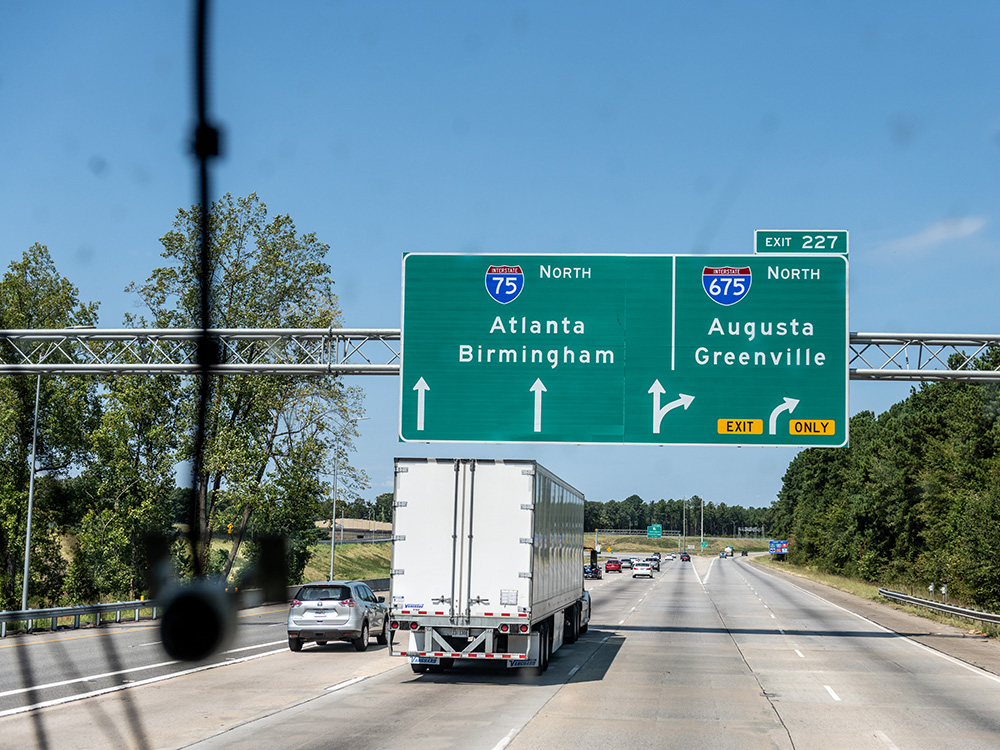 All in all, this visit to Georgia was an incredible experience that I am very grateful to have had. As far as press trips go, this one ranks right up there as one of my favourites – I learned loads, met some amazing people and discovered a little more about the United States of America (and myself!) on the way.
With special thanks to…
Patrick Archer, President of the American Peanut Council for being our guide and organiser
Tessa Byrd from Southern Coaches for driving us all over Georgia with a cheery smile always on her face
East River PR for putting my name forward for this extraordinary press trip!
Florian from Elitepix.de for being our official press photographer. All the photos in this post are his.
Pin this American peanuts post for later
Elizabeth's Kitchen Diary was a guest of the American Peanut Council for the purposes of this American peanuts education tour. All thoughts and opinions expressed are our own.