Leftover roast turkey is a remarkably versatile ingredient. If you can't face another turkey meal this season, freeze your leftover turkey for later and then why not try one of these 96 delicious recipes.

96 tasty recipes to use up leftover turkey
I can't believe we're just a few short weeks away from Christmas Day, again! Already! Where has the time gone? Here in Shetland, we're battening down the hatches for Storm Caroline's 90 miles per hour winds (fingers crossed the electricity lasts long enough for me to publish this blog post!) and we're in full 'dark season'. Six hours of daylight, if we're lucky.
It's got me thinking about Christmas dinner, and more importantly, Christmas leftovers. I thought I'd create a round-up of food blogger's most favourite recipes to use up leftover roast turkey, and this is what came of it: a collection of no fewer than 96 recipes!
You might also like my post about 16 ways to jazz up your Christmas leftovers and turkey masterclass: how to cook a perfect turkey (as taught to me by Jamie Oliver himself, in the flesh!)
There's something for every taste in this roundup. Happy cooking!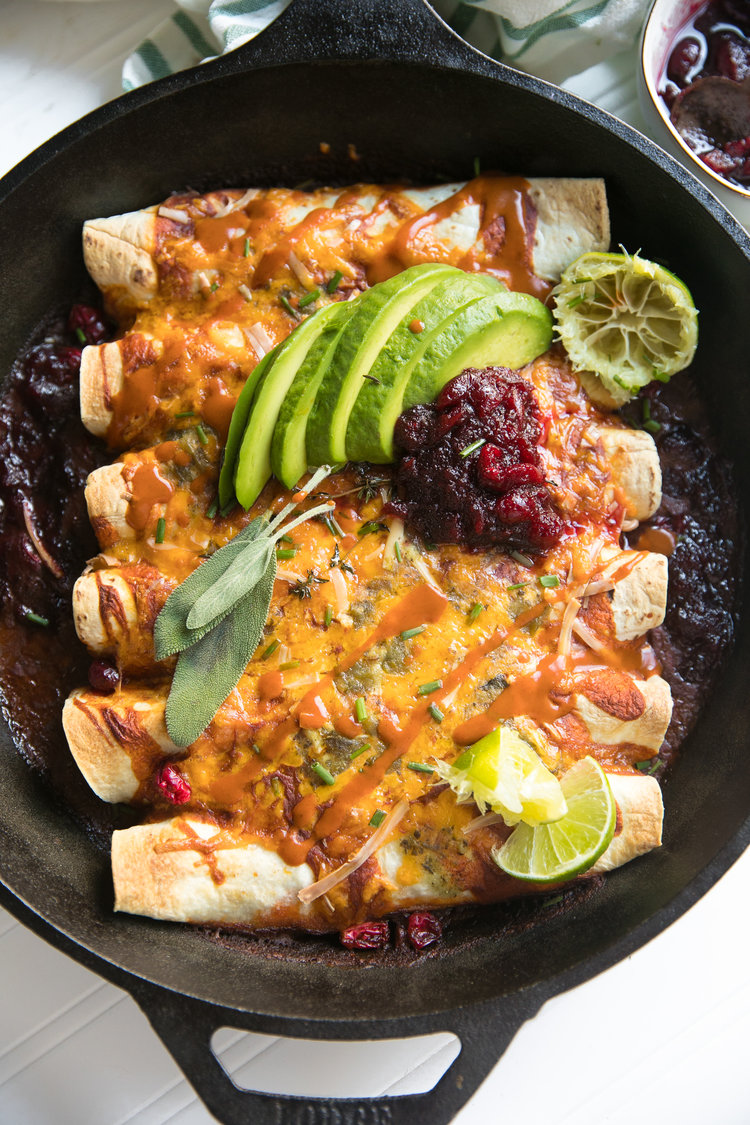 Leftover turkey enchilada recipes
1. Roasted Turkey Enchiladas Verde – made with leftover roast turkey, cheesy and a slow-roasted Verde (green) sauce.
2. Roasted Turkey Enchiladas – oven-roasted shredded turkey, stuffed into a tortilla, topped with homemade enchilada sauce & cheese! Weight Watchers friendly- 9 SmartPoints!
3. Cheesy Turkey Enchiladas – a family-friendly dinner recipe that's easy to make, and packed with Mexican flavours.
4. Easy Leftover Turkey Enchiladas – if you still have a house full of company and a plate full of leftover turkey, check out this delicious and easy leftover turkey enchiladas recipe.
5. Thanksgiving Leftovers Enchiladas – Way better than a leftover turkey sandwich, these Thanksgiving Leftover Enchiladas are definitely a favourite way to use up all those Thanksgiving leftovers. Easy, cheesy, and exploding with all the flavours.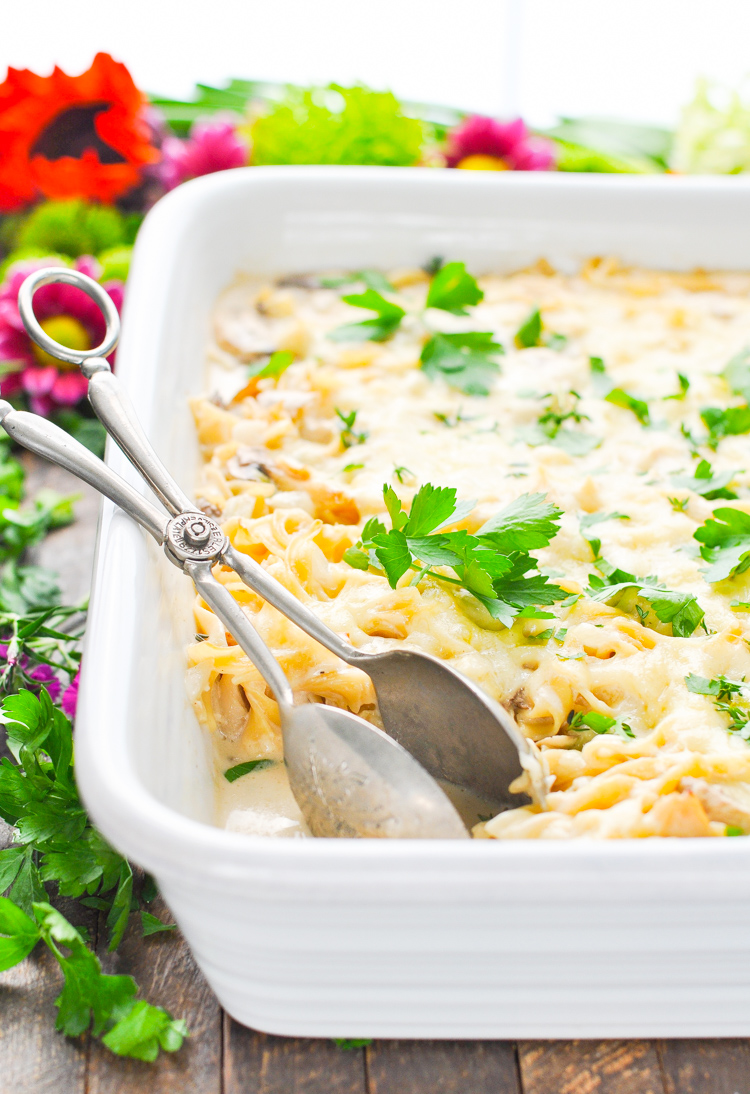 Turkey casserole recipes
6. Thanksgiving Dinner Casserole – a very easy dish to put together using up all of your leftovers from Thanksgiving or Christmas dinner.
7. Cheesy Turkey Noodle Casserole – creamy, hearty, and full of all kinds of deliciousness! With veggies, pasta, leftover turkey and cheddar, this yummy meal is on the table in less than 30 minutes!
8. Turkey, Broccoli & Stuffing Casserole – a great way to use up what you already have on hand for a tasty, quick next day meal!
9. Dump-and-Bake Turkey Tetrazzini – an easy dinner casserole with just 10 minutes of prep. You don't even have to boil the pasta — just stir everything together and pop it in the oven!
10. Aunt Bee's Leftover Turkey Casserole – everything that a post-Thanksgiving or Christmas dinner should be: quick, easy, and delicious!
11. Six-Ingredient One-Pan Stuffing Bake – green beans and stuffing mix round out this dairy-free dish (with a gluten-free option.) A one-pan dinner makes for fast cleanup.
12. Easy Leftover Turkey Casserole with Mayonnaise – common ingredients & 10 mins prep!
13. Low-Carb Leftover Turkey Casserole – boasts loads of bacon, broccoli, and blue cheese!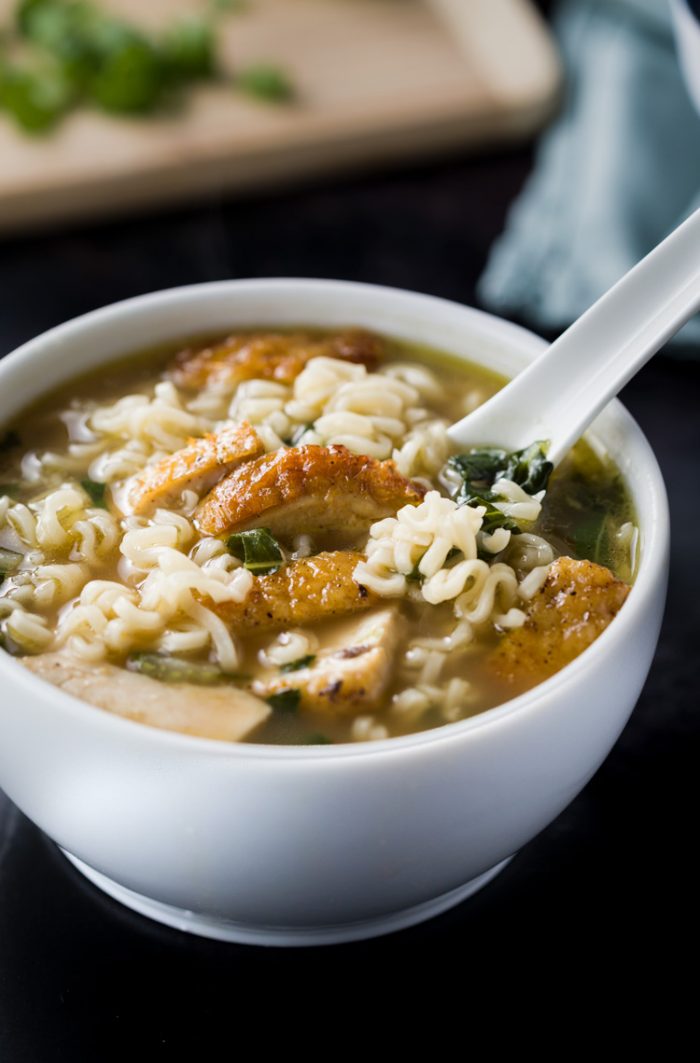 Leftover turkey soup recipes
14. Kale & Butternut Squash Turkey Soup – With homemade stock, butternut squash, potatoes, kale, turkey, sage and thyme, it's an easy and healthy dinner that will satisfy all winter long!
15. Leftover Turkey & Kale Soup – hearty, healthy, and gluten dairy free.
16. Leftover Turkey & Wild Rice Soup – perfect to make with your leftover turkey because it has all the things in it that you probably already have on hand from your cooking extravaganza: carrots, onion, celery, garlic, and fresh herbs.
17. Rainbow Holiday Detox Soup – a detox soup bowl filled with colourful veggies and a few noodles to detox from all that gravy and sweets we've had over the holidays. Simple, healthy and yummy!
18. Spicy Turkey & Sweetcorn Soup – the perfect recipe to use up your holiday leftovers for a light and healthy meal ready in just 15 minutes!
19. Wild Rice & Leftover Turkey Soup – The soup keeps well in the refrigerator for at least a few days, so you can enjoy leftovers for lunch.
20. Slow Cooker Turkey Dumpling Soup – a simple crock pot meal that is the perfect way to use up leftovers from Thanksgiving and turn them into the ultimate comfort food!
21. Turkey & Wild Rice Soup – an easy a delicious winter meal, perfect for using Thanksgiving leftovers!
22. Five Spice Turkey Noodle Soup – this is not your average turkey noodle soup.
23. Instant Pot Turkey Corn Chowder – a tasty potato chowder with corn and turkey stirred in at the end.
24. Tuscan Turkey Tortellini Soup – This might be the best way to eat turkey… with a savoury broth and pillowy cheese-filled tortellini!
25. 30-Minute Leftover Turkey and Hatch Chile White Chilli Soup – an easy turkey and fire roasted hatch chile white chilli soup.
26. Turkey Ramen Noodle Soup – juicy turkey is heated in sesame oil with a splash of soy sauce, then immersed in a savoury turkey stock with Bok Choy and classic Ramen Noodles.
27. Easy Leftover Turkey Soup – fast, simple, and healthy. Full of veggies and flavour!
28. Gobble-Good Roasted Turkey & Rice Soup – this roasted turkey and brown rice soup is the best indulgence.
29. Leftover Turkey Miso Ginger Coconut Noodle Soup – leftover turkey gets a serious makeover into this easy yet delicious miso ginger coconut noodle soup.
30. Leftover Turkey Soup – a breeze to make and works for low-carb, keto, Whole-30, Atkins, Paleo, diabetic, gluten-free, dairy-free, and nut-free diets.
31. Cream of Turkey & Wild Rice Soup – a true comfort food, this warming and delicious homemade soup is a great, all-natural way to use up that wonderful leftover Thanksgiving turkey!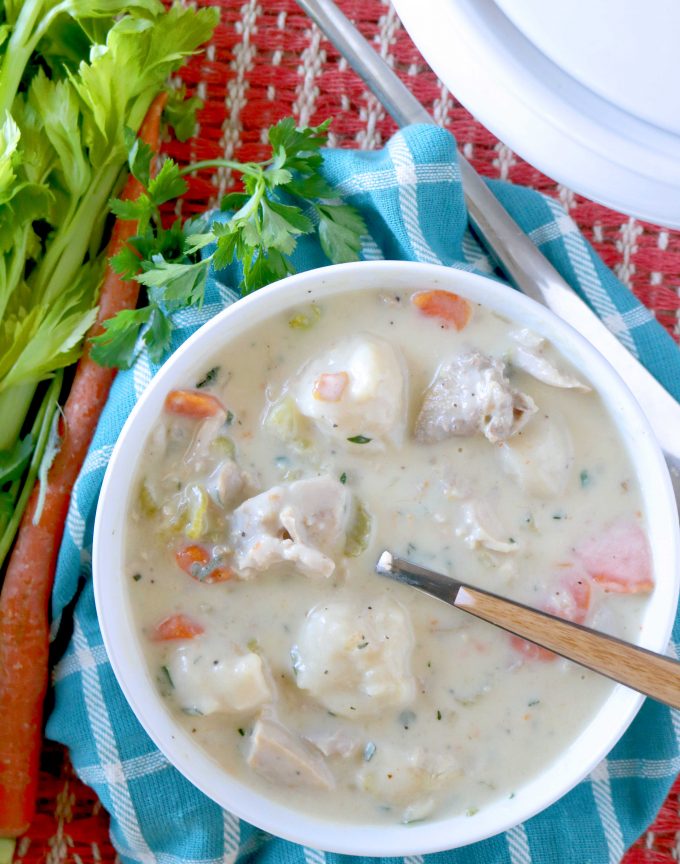 More soup & some turkey stew recipes
32. Leftover Turkey Stew in the Crock Pot – Not sure what to do with all the turkey leftovers? Why not make a yummy leftover turkey stew in the slow cooker crockpot!
33. Leftover Turkey Stew & Dumplings – a recipe featuring leftover turkey, carrots, celery, and homemade dumplings.
34. Turkey Quinoa Pumpkin Soup with a Bone Broth Base – a nourishing cold-weather soup making use of your leftover turkey.
35. Leftover Turkey Carcass Broth – this easy and classic turkey carcass broth is loaded with healing benefits.
36. Turkey & Butternut Squash Stew – a hearty and flavorful stew that is a great way to use leftover turkey!
37. Leftover Turkey & Wild Rice Soup – take those Thanksgiving or Christmas leftovers to the next level with this leftover turkey and wild rice soup with mushrooms, carrots and sage.
38. Turkey Broth from Leftover Turkey – it's easy to make this turkey soup stock and pop it into the freezer to have at a later date.
39. Authentic Turkey Wonton Soup – a delicious way to eat leaner and healthier, and a fantastic way to use up your leftover turkey carcass from Christmas or Thanksgiving.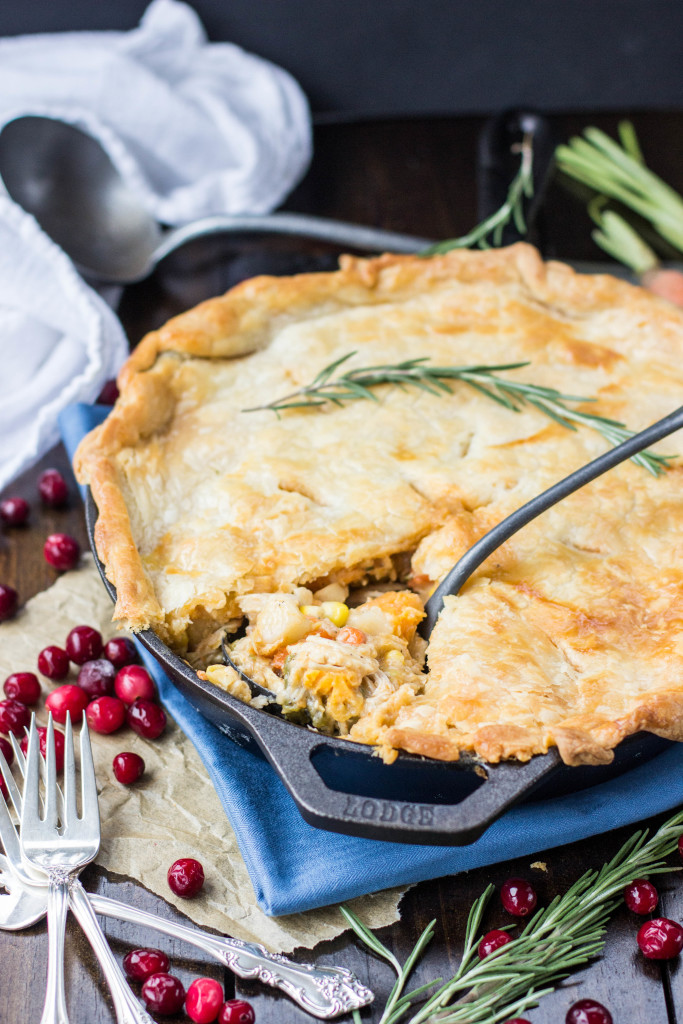 Leftover turkey pie recipes
40. Leftover Turkey Pot Pie – this classic, creamy pot pie uses leftover turkey, vegetables and buttery rosemary biscuits to take you back down your childhood memory lane.
41. Leftover Turkey Shepherd's Pie – forget those leftover Turkey sandwiches; here's a dish that will feed a crowd!
42. Turkey, Bacon & Leek Pie – A hearty and filling pie with a tarragon sauce.
43. Another Leftover Turkey Pot Pie Recipe – this one has a potato topping.
44. Leftover Turkey Shepherd's Pie Freezer Meal – if you've had enough turkey for a few days, pop a few of these in the freezer and thaw them out when you're short on time and looking for some quick and delicious comfort food!
45. Mini Turkey Pot Pies with Puff Pastry – Puff pastry helps you make the most of your holiday leftovers with these easy bite-sized turkey pot pies.
46. Leftover Holiday Pie – a perfect solution for using up the little bits leftover from your holiday meal.
47. Easy Curried Turkey & Potato Hand Pies – these easy turkey hand pies with potatoes can be made in less than 30 minutes and a recipe for homemade pie dough is included.
48. Turkey Pot Pie – made in a cast-iron skillet with seasonal sweet potatoes, fresh rosemary and a hint of smoked paprika.
49. Turkey Shepherd's Pie – juicy turkey tossed with a medley of vegetables and gravy. All topped with cheesy mashed potatoes and baked to golden perfection.
50. Turkey Pot Pie – turn Thanksgiving or Christmas leftovers into a delicious turkey pot pie with carrots, parsnips, peas and a delicious and easy puff pastry crust.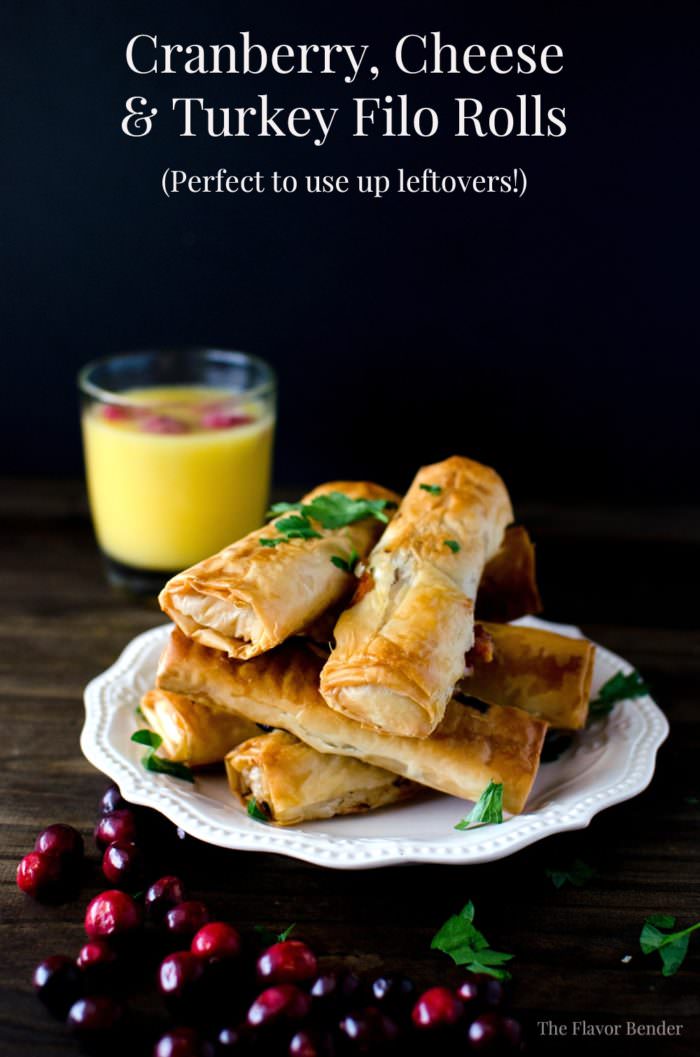 Turkey roll recipes
51. Thanksgiving Leftover Eggrolls with Cranberry Dipping Sauce – everything you love about Thanksgiving or Christmas dinner stuffed into an egg roll wrapper, and fried to perfection.
52. Easy Leftover Turkey Egg Rolls – Crispy and delicious, Easy Leftover Turkey Egg Rolls with cranberry dipping sauce is the answer to the age-old question, what to do with the leftover turkey?
53. Cranberry, Cheese & Turkey Filo Rolls – transform your leftover turkey and cranberry sauce into these delicious rolls!
54. Turkey Gouda Party Rolls with Honey Mustard Glaze – these will be a massive hit at your next gathering!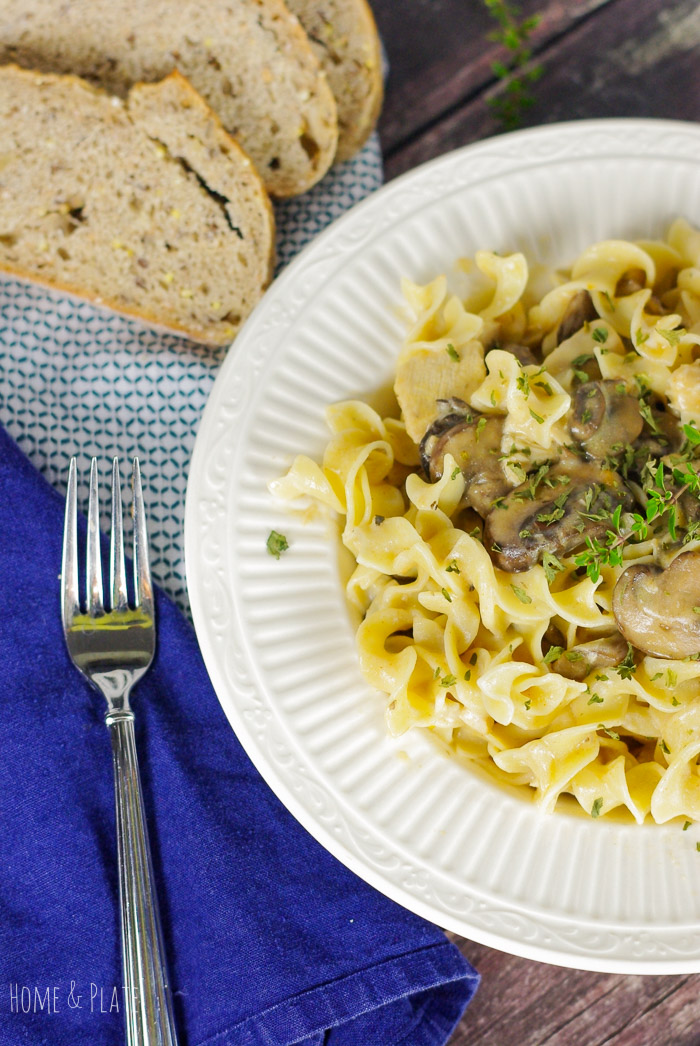 Leftover turkey stroganoff recipes
55. Turkey Stroganoff with Mushrooms – shredded turkey meat with sliced mushrooms in a creamy sour cream sauce served over egg noodles.
56. Leftover Turkey Mushroom Stroganoff – leftover turkey is an excellent protein alternative to beef in this recipe.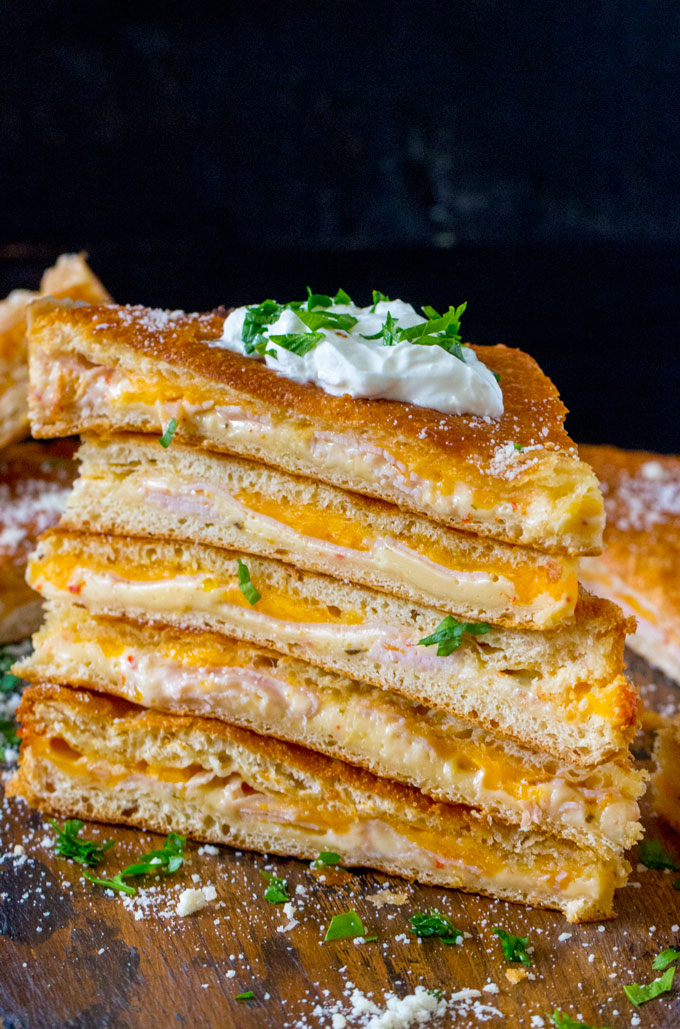 Turkey sandwich recipes (& wraps!)
57. Ultimate Leftover Turkey Breakfast Sandwich – holiday turkey layered over a patty of mashed potatoes and stuffing, melted provolone, and topped with a fried egg. Perfection!
58. Turkey, Cheddar & Cran-Apple Sliders – crispy rolls, smoky turkey and cheese, with tart apples and sweet cranberry sauce come together harmoniously here.
59. The Best Turkey & Cranberry Sandwich – Turkey, cranberry sauce and cream cheese create the base of this amazing sandwich. Put it all on a croissant and you have the BEST sandwich ever.
60. Southwest Turkey Wrap – this recipe with a tangy homemade sauce is a great way to spice things up a bit.
61. Leftover Turkey & Cranberry Sandwich – this crispy skillet sandwich is loaded with leftover turkey, cranberry sauce, and mashed avocado.
62. Grilled Turkey & Cranberry Cream Cheese Sandwich – creamy and tart on the inside, toasty on the outside. It's worth cooking turkey for all on its own!
63. Turkey Tzatziki Wrap – these paleo turkey tzatziki wraps make for a healthy lunch that's easy to pull together.
64. Turkey Salad Tea Sandwiches with Dried Cherries – dried sour cherries add a pop of sweet-tart flavour to the turkey filling in this simple yet elegant tea sandwich recipe. Perfect party food!
65. Turkey Croque Monsieur or Croque Madame – a glorious turkey variation of a classic French sandwich.
66. Turkey, Cranberry & Brie Sandwich – a great way to use up those Thanksgiving or Christmas leftovers!
67. Turkey Grilled Cheese – easy to cook in a large batch using crescent dough sheets. Delicious and fit to feed a crowd with minimum effort!
68. Turkey Waldorf Wraps – loaded with tender roasted turkey, shredded cheese and a light, fruity Waldorf Salad rolled up in a simple Lavash flatbread.
69. Cheesy Cranberry Bacon & Turkey Sliders – These festive and flavorful little sliders are the perfect party food for your holiday potluck – and also a great way to use up those holiday leftovers!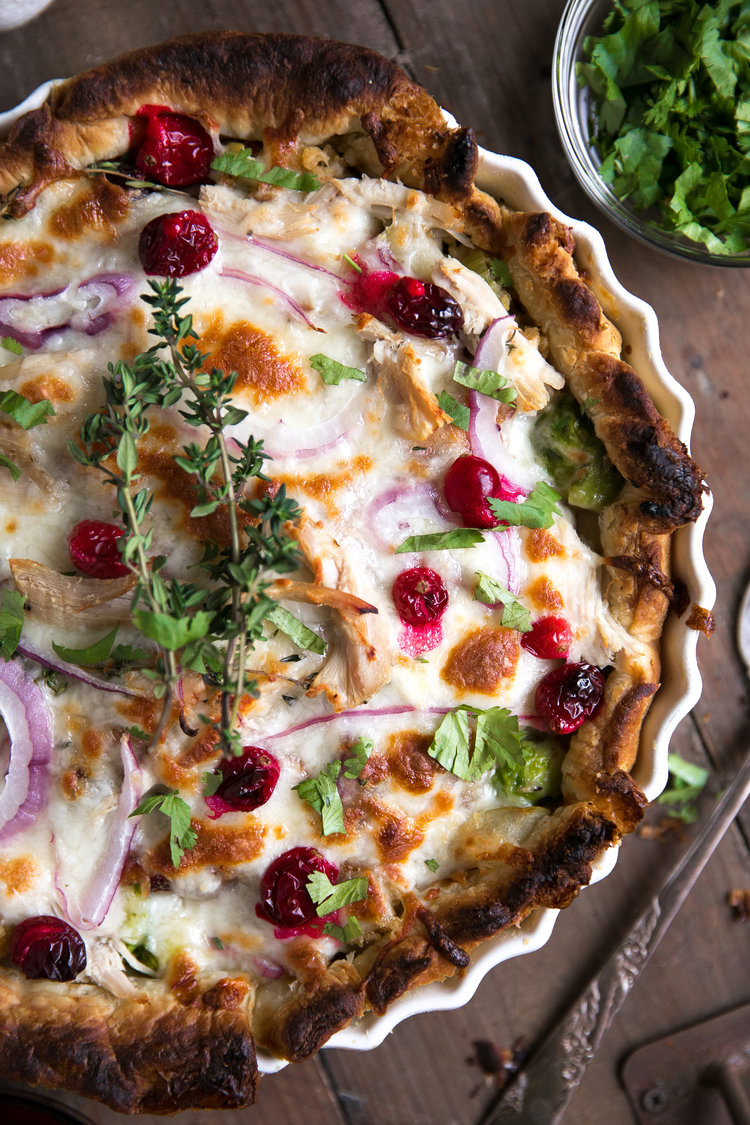 Turkey pizza recipes
70. Turkey Pot Pie Slab Pizza – filled with extra cheese, vegetables and leftover roast turkey, this pizza tastes exactly like a delicious pot pie!
71. Mini Buffalo Turkey Pizzas – a quick and easy way to use up the leftover turkey for a delicious 15-minute dinner idea or crowd-pleasing recipe for game day!
72. Cranberry Chipotle BBQ Pizza – Leftover cranberry sauce is transformed into the perfect sweet and spicy base for a BBQ chicken (or turkey) pizza.
73. Cranberry BBQ Thanksgiving Leftovers Turkey Pizza Pie – when Thanksgiving leftovers, bbq pizza and pie make a baby…
74. Deep Dish Thanksgiving Leftovers Pizza – Thanksgiving or Christmas leftovers (turkey, cranberry, stuffing and sides) tucked under a blanket of Colby jack cheese for a deep-dish pizza version of the traditional leftover bake.
Easy leftover turkey salad recipes
75. Leftover Turkey Winter Cobb Salad – this salad is a nice change from your typical Cobb Salad, it pulls in some flavours of winter to fill you up but still be light in calories
76. Chopped Turkey Salad – guaranteed to take to take your turkey leftovers to a whole 'nother level.
77. Turkey Wild Rice Salad with Tarragon and Grapes – an incredibly flavorful dish to serve any time of year for lunch, dinner, or a beautiful side dish!
78. Leftover Turkey Salad Recipe – transform your leftover turkey into something amazing and totally different!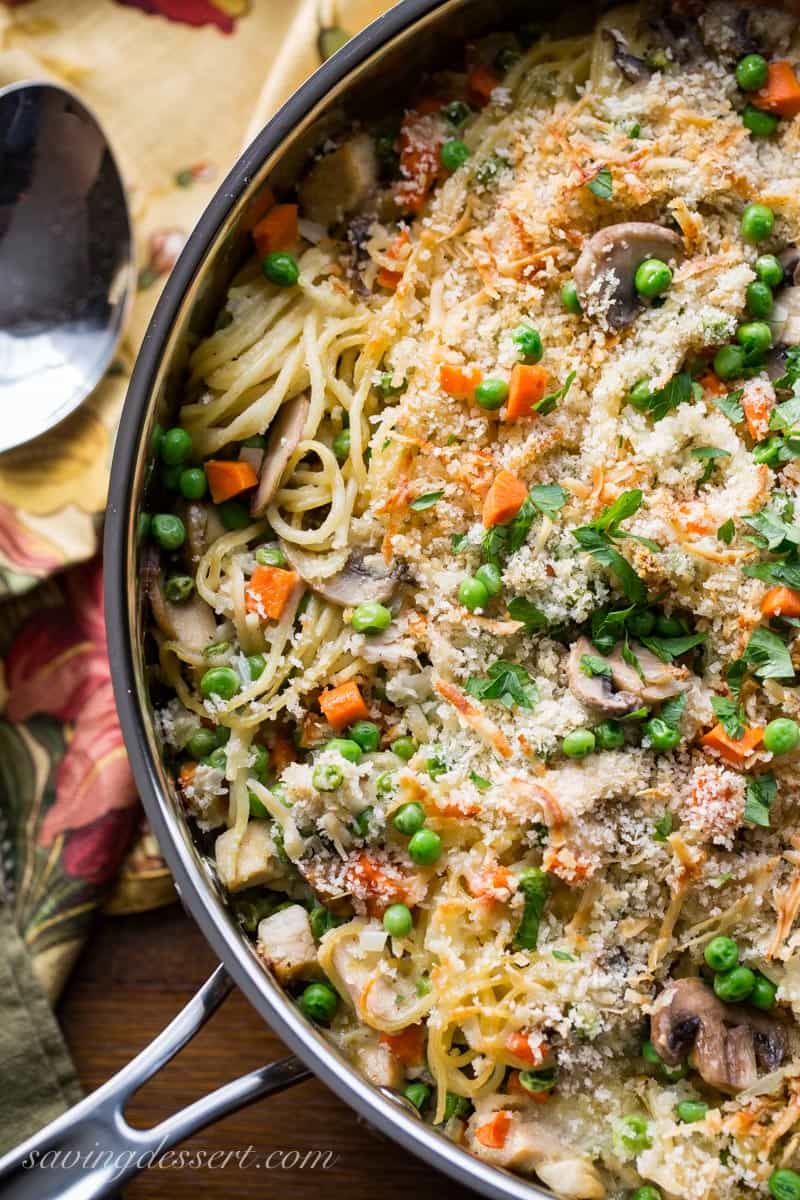 Leftover turkey pasta recipes
79. Leftover Turkey Pasta Skillet – a healthy, fast and easy leftover turkey or chicken skillet recipe, perfect weeknight or weekend meal.
80. Turkey Pasta Skillet with Cranberry Cream Sauce – all your favourite holiday flavours rolled into one. It's so totally different that they'll never guess it's leftovers!
81. Leftover Turkey Tetrazzini – put your leftover turkey to work in this creamy, hearty casserole loaded with peas, carrots, Parmesan cheese and plenty of mushrooms.
82. One-Pot Turkey Tetrazzini – pure, delicious comfort food. It's fast, easy, and the perfect way to use up turkey or chicken leftovers.
83. Easy Creamy Leftover Turkey Pasta Recipe – the perfect way to use up your Thanksgiving turkey leftovers! Ready in only 20 minutes.
84. Orzo with Leftover Turkey & Sweet Potatoes – Sweet potatoes combined with savoury turkey and cheese in a delicious orzo pasta dish.
Easy leftover turkey curry recipes
85. Quick & Easy Leftover Turkey Curry – healthy and quick to make so perfect for the busy holiday season!
86. Turkey & Sweet Potato Cashew Curry – a velvety, sweet-sour-spicy, umami-rich turkey and sweet potato cashew curry.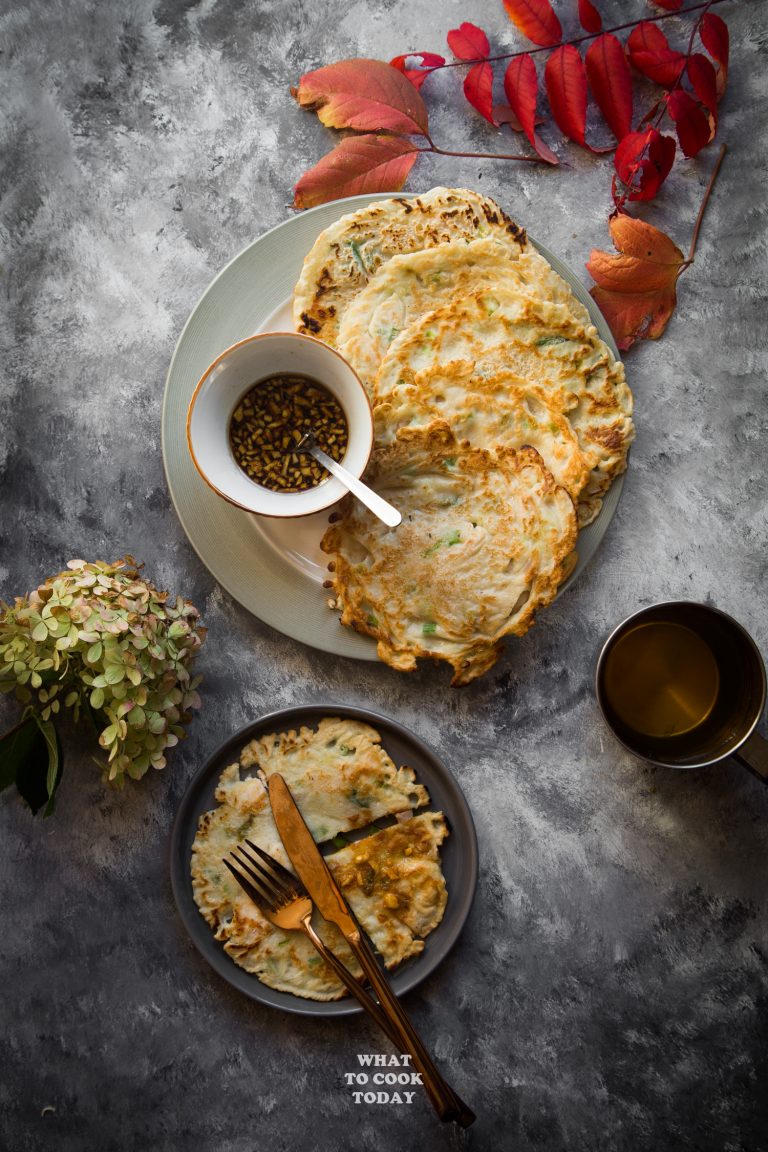 Other turkey recipes you might like
87. Holiday Leftover Breakfast Puff Pastry Tart – as simple to make as it is to eat!
88. Roasted Turkey & Black Currant Brie Appetizer – this turkey brie appetizer was the Runner-up Winner in the 2015 E.D. Smith Holiday Share Contest!
89. Thanksgiving Leftovers Galette – use up that leftover turkey, cranberry sauce and stuffing.
90. Perfect Loaded Nachos – a football party classic.
91. Turkey Vol-au-vent Shells – a great way to use up that leftover turkey – particularly the little bits left over after you have used the nice breast meat for sandwiches with mayo and cranberry sauce!
92. Leftover Turkey Scallion Pancakes and Soy Ginger Sauce – crispy on the edge and soft in the middle, these leftover turkey scallion pancakes are ones of our favourites.
93. Creamed Turkey for Two – a simple weeknight dinner that can be made with leftover turkey or chicken.
94. Leftover Turkey Tacos – spicy and delicious!
95. Leftover Turkey Stuffed Cajun Sweet Potatoes – nutritious and super satisfying as well as gluten-free, grain-free, dairy-free and easily made Paleo and Whole30 compliant.
96. Pot Pie Potatoes – how can you go wrong with a tender baked potato loaded with a creamy pot pie filling?