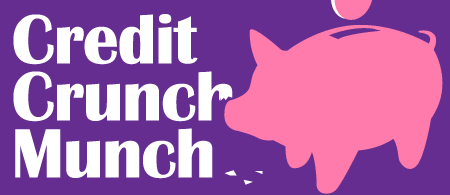 Last month I had the honour of guest hosting Credit Crunch Munch – THE frugal food link up from Helen at Fuss Free Flavours and Camilla from Fab Food 4 All. The aim of the challenge is to share our frugal money saving recipes, and I'm delighted to announce that this month there's been a bumper crop of inspiration!
So pour yourself a cuppa, pull up a chair and enjoy these fantastic frugal feasts!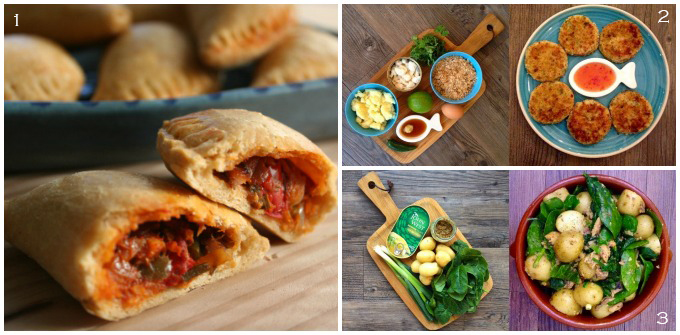 TINNED FISH – Experts recommend we eat at least two portions of fish per week, with one of these portions from an oily fish. Tinned fish can be a very affordable way to do this.
1. Sardine Empanadillas by Tortilla for Tea.
2 & 3 Thai Crabcakes and Warm Herring Salad recipes from Foodie Quine.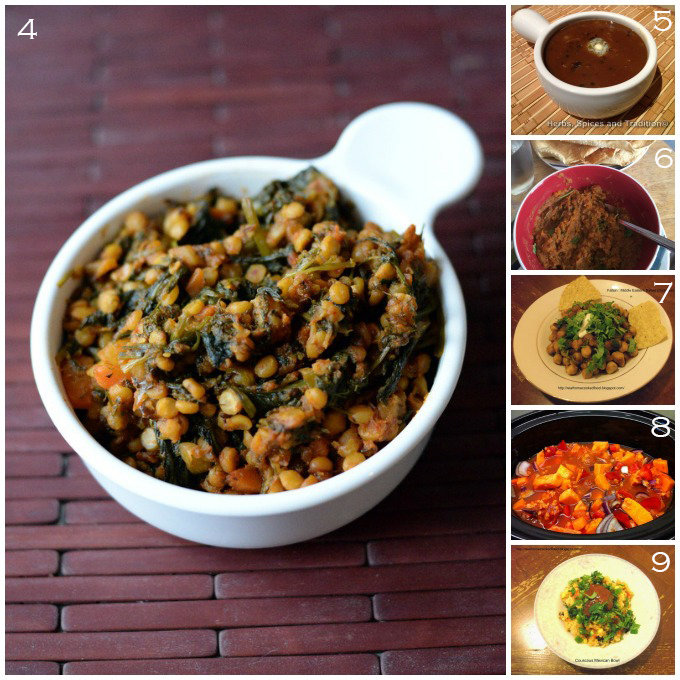 DRIED PULSES – a bag of dried pulses can be very inexpensive and versatile.
4 Yellow Split Chick Peas with Spinach by The Taste Space.
5 Whole Black Lentil Curry by Herbs, Spices & Tradition.
6 Butternut Squash and Red Lentil Curry by Frugal Fine Fresh Food.
7 Middle Eastern Baked Chickpeas by Real Home Cooked Food.
8 Slow Cooker Lentil Bolognese by The Baking Queen.
9 Couscous Mexican Bowl by Real Home Cooked Food.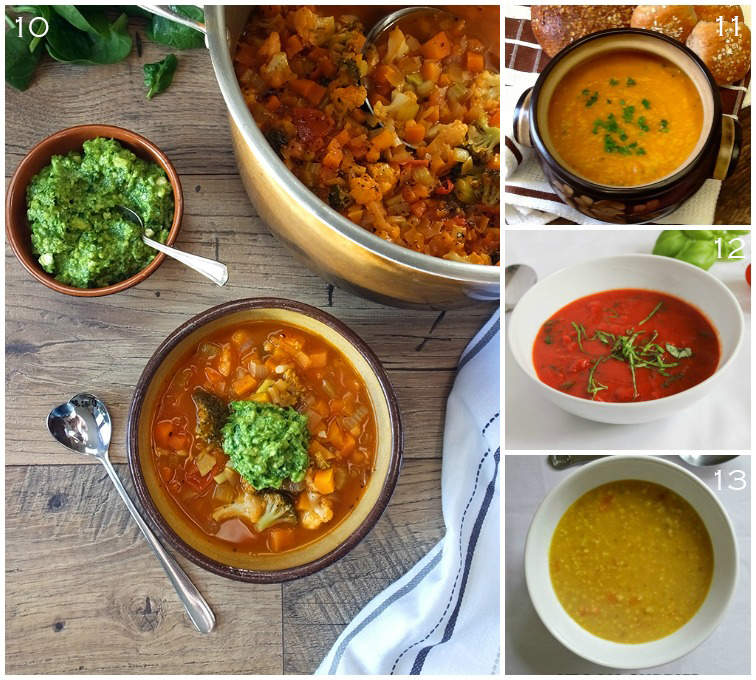 SOUPS- a hearty and warming soup can hide a multitude of neglected vegetables and ingredients which might be hovering past their best before date.
10 Chunky Vegetable Soup with Cashew-Spinach Pesto by Elizabeth's Kitchen Diary.
11 Roasted Carrot & Leek Soup by Tales from the Kitchen Shed.
12 Tomato & Basil Soup by Eat Like You Love Yourself.
13 Vegan Curried Lentil & Millet Soup by Jen's Food.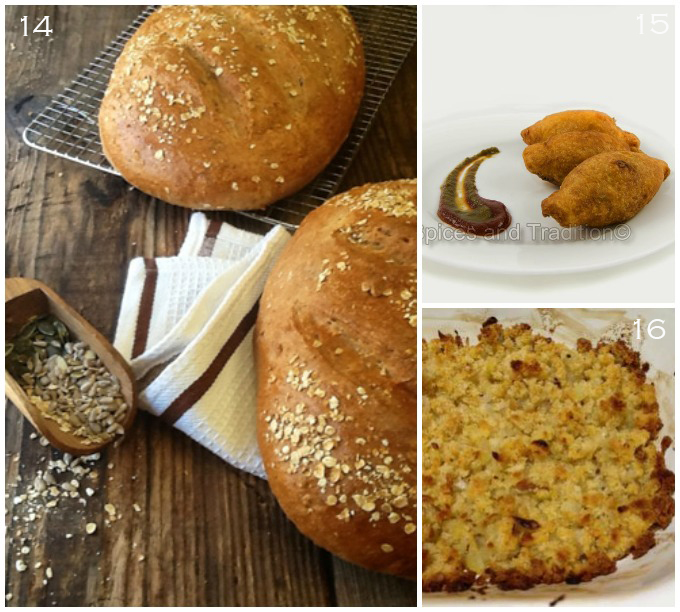 BREAD – stale leftover bread can be made into other delicious dishes – have a look!
14 Homemade Multigrain Bread by Tales from the Kitchen Shed.
15 Bread Rolls by Herbs, Spices & Traditions.
16 Lemon & Garlic Stuffing by Mint Custard.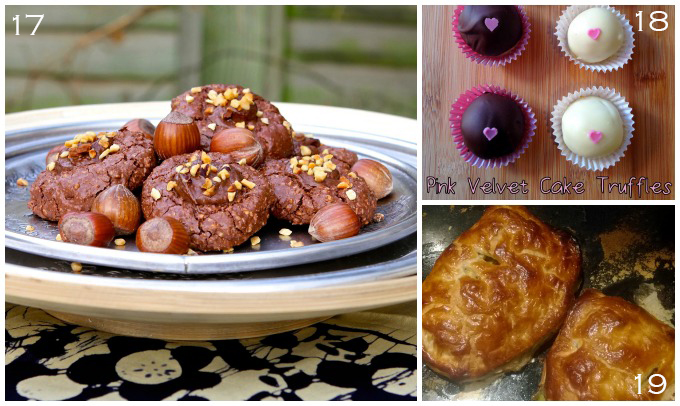 LEFTOVERS – don't bin them, get creative!
17 Leftover egg white gets used up in these Hazelnut-Chocolate Thumb Print Cookies by the Gluten Free Alchemist.
18 Leftover cake! Pink Velvet Cake Truffles by The Baking Explorer.
19 Leftover Roast Chicken Pasties by Roast Chicken and a Country Walk.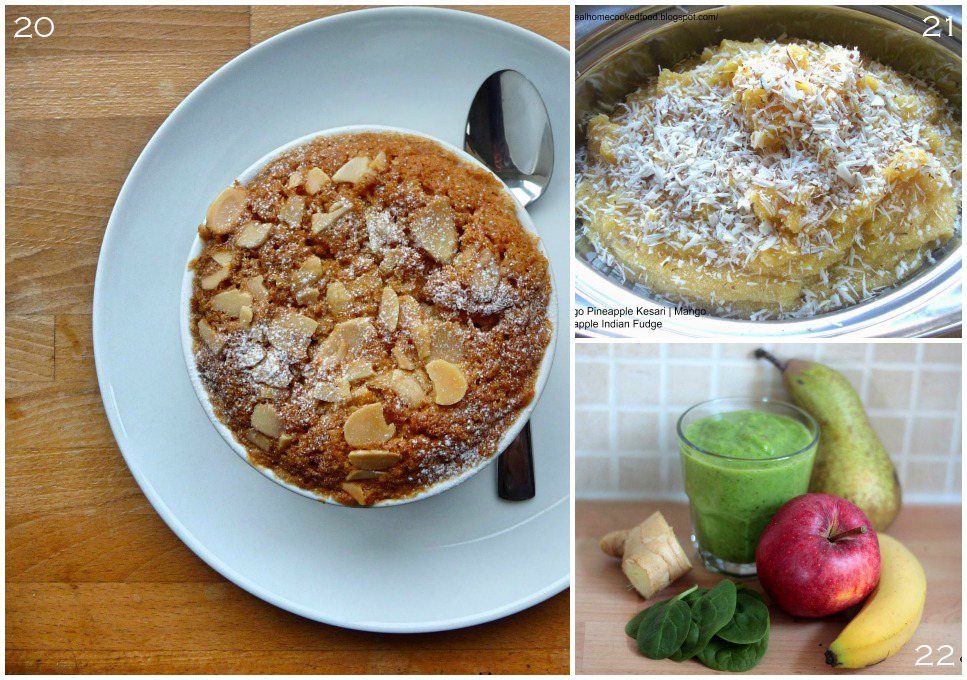 FRUIT – fresh fruit is absolutely delicious, but sometimes it's gone past that point where you want to eat it. Transform it!
20 Almond Sponge Topped Apple Pots by Lancashire Food.
21 Mango Pineapple Indian Fudge by Real Home Cooked Food.
22 Avocado, Spinach and Fruity Green Smoothie by Slice Off Me.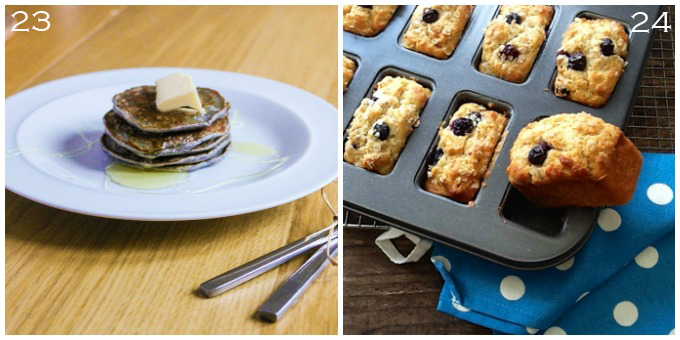 FROZEN FOOD – again, frozen food is often available at a fraction of the cost of its fresh counterpart, saving pennies!
23 Blueberry Pancakes by Eat Like You Love Yourself.
24 Healthy Blueberry and Orange Muffin Bars by Tales from the Kitchen Shed.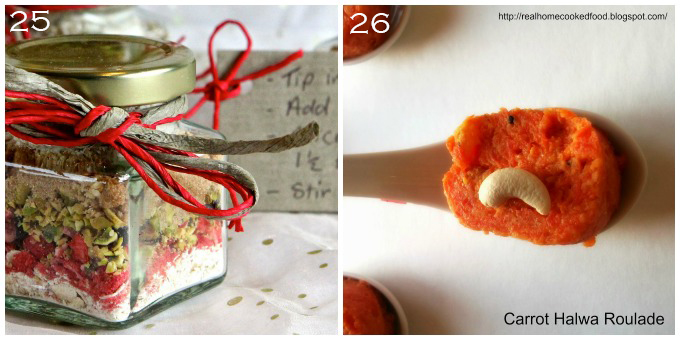 MICROWAVE COOKING – saves time and energy – and pennies!
25 Instant Fruit & Nut Porridge Pots by the Gluten Free Alchemist.
26 Carrot Halwa Roulade by Real Home Cooked Food.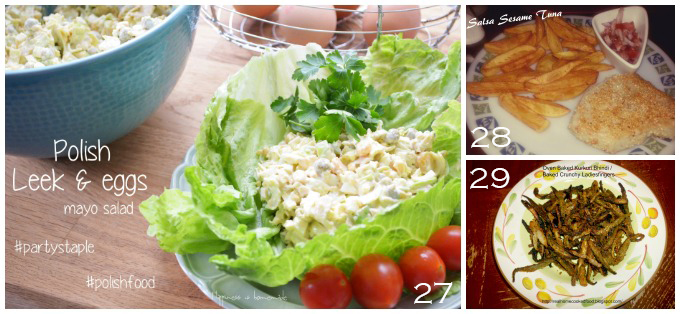 VEGETABLES – versatile and good for your health and pocket book!
27 Polish Leek & Eggs Mayo Salad by Happiness is Homemade.
28 Salsa Sesame Tuna by Wheelie Good Meals.
29 Oven Baked Kurkuri Bhindi / Baked Crunchy Ladiesfingers (Okra) by Real Home Cooked Food.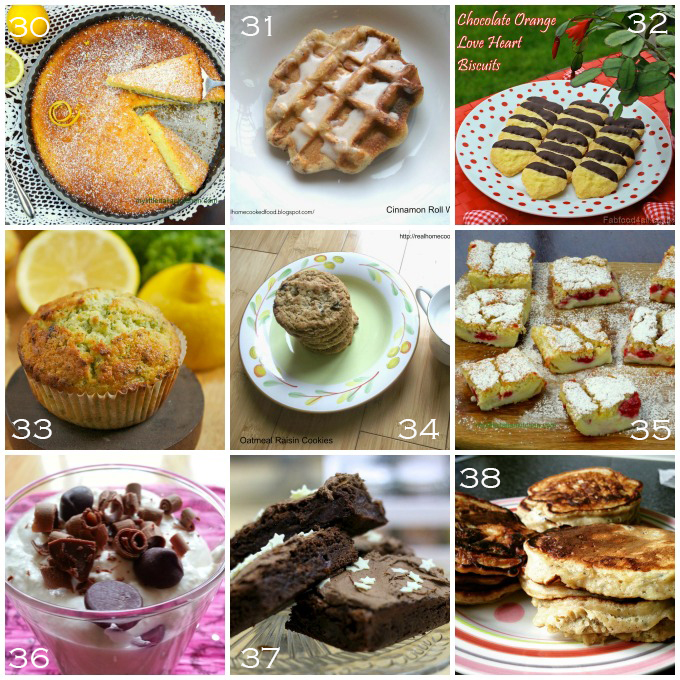 FROM SCRATCH BAKING – home bakes needn't cost the world to make and enjoy! Have a look at these frugal recipes!
30 Lemon Coconut Yogurt Cake by My Little Italian Kitchen.
31 Cinnamon Roll Waffle by Real Home Cooked Food.
32 Chocolate Orange Love Heart Biscuits by Fab Food 4 All.
33 Kale and Lemon Muffins by Veggie Desserts.
34 Oatmeal Raisin Cookies by Real Home Cooked Food.
35 Custard Cake with Raspberries by My Little Italian Kitchen.
36 No Bake Cannoli Cheesecake by Real Home Cooked Food.
37 Black Forest Brownies by The Crafty Larder.
38 Banana, Sultana and Chia Drop Scones by Anne's Kitchen.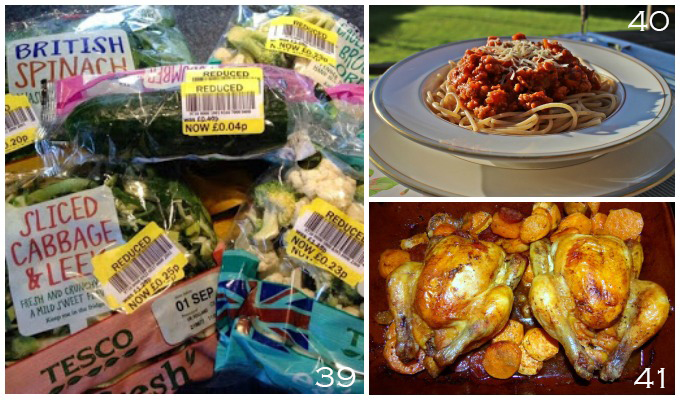 REDUCED PRICE/ CHEAPER ITEMS – keep an eye out for offers in the supermarket or use cheaper cuts of meat.
39 Lurking at the Reduced to Clear Shelf at the Supermarket ( and a Haggis Toastie recipe!) by Foodie Quine.
40 Turkey Bolognese by Fab Food 4 All.
41 Allspice and Paprika Poussins by Food Glorious Food.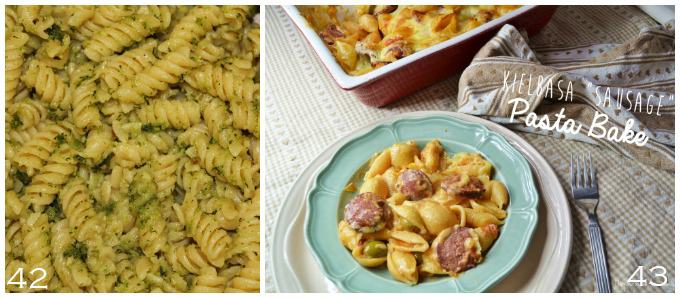 PASTA – affordable and versatile!
42 Basil Almond Pesto Pasta by JibberJabber UK.
43 Kielbasa Sausage Pasta Bake by Happiness is Homemade.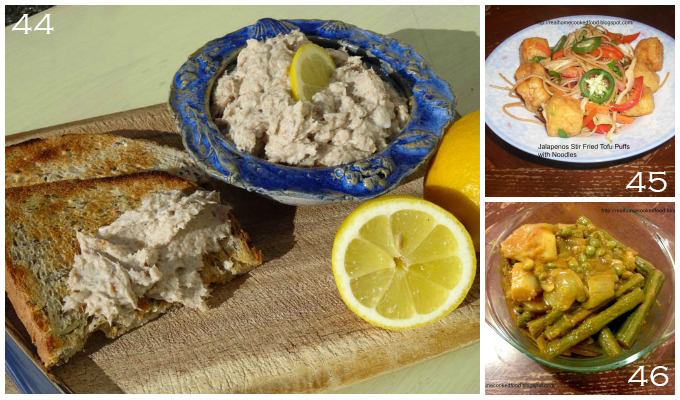 OTHER FRUGAL RECIPES
44 Smoked Mackerel Pate by Farmersgirl Kitchen.
45 Jalapenos Stir Fried Tofu Puffs with Noodles by Real Home Cooked Food.
46 Drumstick Curry by Real Home Cooked Food.
A great big thank you to everyone who took part this month – without you these challenges wouldn't happen! If you're feeling inspired and would like to participate this month, the March 2015 linky can be found over on Jo's Kitchen.
Don't forget you can also follow the Credit Crunch Munch Pinterest board!
If you want to be kept up to date on my recipes, occasional craft tutorials, adventure stories and giveaways then please subscribe to my weekly newsletter; it gets sent out every Monday morning if there is new content. Your email address won't be passed on to anyone, you will never be spammed and you are free to unsubscribe at any time, no questions asked. Make sure you confirm your subscription or you won't receive the newsletter – if it hasn't arrived check your junk mail folder.
[wysija_form id="1″]