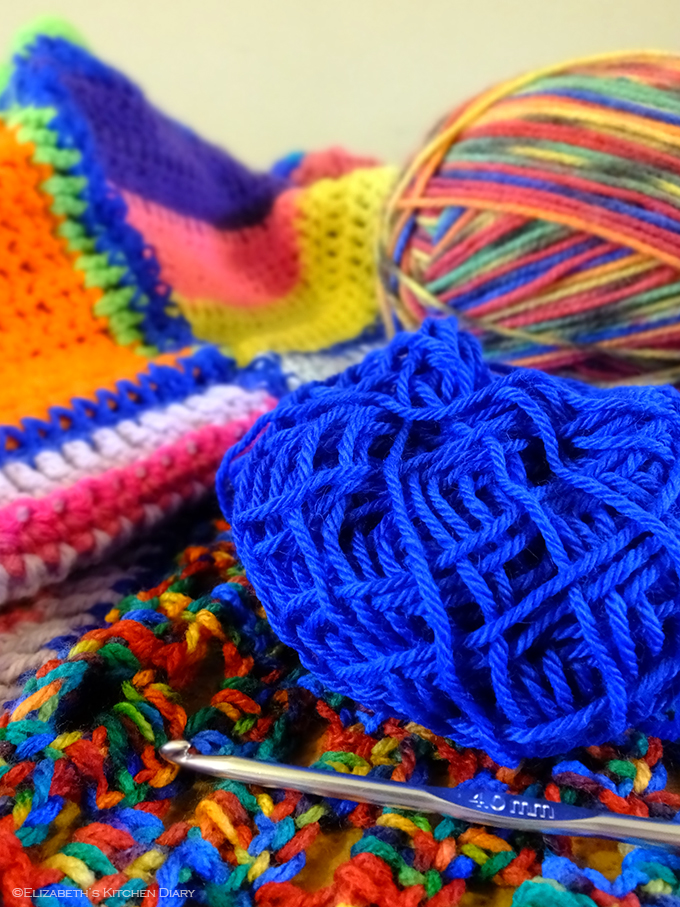 It's been an incredibly busy week. I've had quite a few freelance deadlines to meet and I've been feeling rather uninspired when it came to last week's Alphabet Photo Challenge hosted by Charly over at PODcast. It was the letter Y. Yellow? Yell (my photo was nearly the photo of the haunted Wind House on the Shetland island of Yell, but I ended up turning that into a Taste of Shetland post for Halloween! Click here to read all about sheep's head broth, a haunted house and other spooky stories from Shetland). Youth? Nah. I couldn't come up with anything I could (or wanted to) photograph.
Then, last night I picked up my crochet.
A collection of crochet squares has been sitting in my craft drawer for years, after I had a notion to make a crochet blanket with bibs and bobs of coloured yarns donated to the local charity shop. Each week I'd check the yarn basket to see what had arrived and add it to the blanket. I liked the idea of practicing various crochet techniques with bits of unloved yarn discarded by other crafters. That and buying new yarn is an expensive hobby!
I pulled out these unfinished squares a few weeks ago and ventured back to the charity shop to find the yarn basket was empty. So, I finished up with what I had and sewed them together (20 different coloured squares in total). I picked up a ball of multicoloured yarn from the local craft shop and I'll crochet a simple edge all the way around the outside of the squares until I run out. I might add another ball, who knows. I plan on wrapping the finished blanket up for a Christmas present for my daughter.
I like sitting there in the evening watching television (quite often The Big Bang Theory with my teenage son) absently crocheting away, so to finish a blanket with a crochet stitch you don't have to think about is ideal.
Last week, for the Alphabet Photography Project, Y is for Yarn, taken while I was playing with the vivid colour settings on my camera.
A is for… Adventure
B is for… Brave
C is for… Coast
D is for… Derelict
E is for… Education
F is for… Fishing Industry
G is for… Green
H is for… Helicopter
I is for… Iron Age
J is for… Jelly Sweets
K is for… Kohlrabi
L is for… Lynn
M is for… Marmoset
N is for… Noise
O is for… Orangedale
P is for Puffin
Q is for Quarry
R is for… Ruins
S is for Sculpture
T is for… Time
U is for… Up Helly Aa
V is for… Valhalla
W is for… Winkles
X is for… χάρτης khartēs
If you want to be kept up to date on my recipes, occasional craft tutorials, adventure stories and giveaways then please subscribe to my weekly newsletter; it gets sent out every Monday morning if there is new content. Your email address won't be passed on to anyone, you will never be spammed and you are free to unsubscribe at any time, no questions asked. Make sure you confirm your subscription or you won't receive the newsletter – if it hasn't arrived check your junk mail folder.
[wysija_form id="1″]