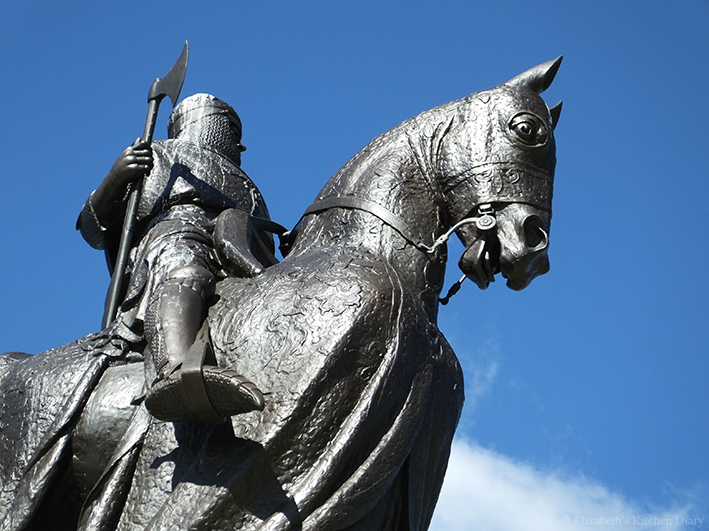 Look at the detail in this sculpture, isn't it stunning?
This is the sculpture of Robert de Bruce located in Bannockburn, Scotland. It's been there since 1964 when the Queen unveiled it for the 650th anniversary of the Battle of Bannockburn.
Sculptor Charles d'Orville Pilkington Jackson designed the sculpture using measurements of Bruce's skull re-discovered at Dunfermline Abbey in 1818 to model his work on. A plaque on the side of the sculpture declares P. Jackson as the sculptor.
Do you know who actually sculpted this cast bronze equestrian monument featuring Bruce on his war horse carrying an axe?
My great-grandfather.
Thomas Taylor Bowie was born in Linlithgow and moved to Edinburgh where he apprenticed himself to a studio owned by Pilkington Jackson. Jackson had the contacts to get some really high profile contracts and when he was asked to design this statue he knew the only person with enough talent to sculpt it was my great grandfather. By this time Bowie was the Director of Sculpture at the Ontario College of Art and he was flown back to Scotland for the summer to complete the work.
Much like architects and builders the designer gets all the credit but the person who does the work is forgotten about.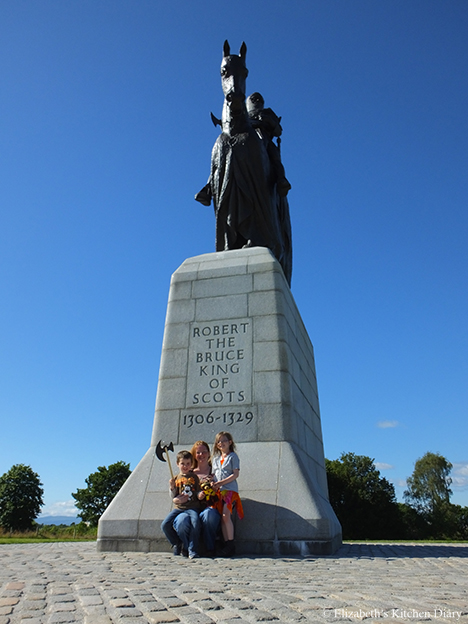 This summer we went on our very first family summer holiday to the mainland. This was the first time our youngest had ever left Shetland (and only the second time for DD – who had only left the island for the first time earlier this year to accept an award in Plymouth on behalf of her classmates).
We covered 1500 miles through Scotland and England in our heavily loaded Rav4, and the only place I insisted we stopped was at the Battle of Bannockburn site. I wanted my children to see the statue their great-great-grandfather had sculpted 50 years after it had been unveiled (but to be honest they were more interested in the cuddly toys and wooden axes in the gift shop!).
The friendly assistant in the gift shop said he had heard there was another name associated with the statue – not just Pilkington Jackson. The name is Thomas Taylor Bowie and I want people to know that!
I spent some time several years ago researching my great-grandfather and I have a folder filled with newspaper clippings, magazine articles, photographs and family history. One of these days I will write a comprehensive post on him as I believe he did not get the credit he deserved while he was still alive.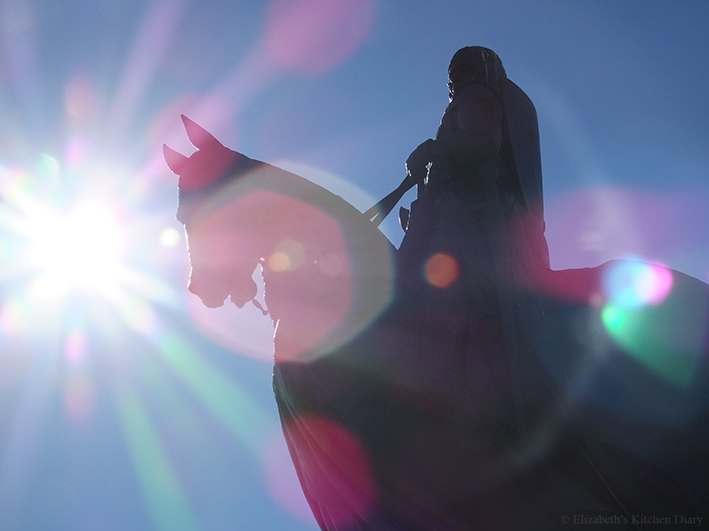 This week for PODcast's Alphabet Photography Project S is for Sculpture.
A is for… Adventure
B is for… Brave
C is for… Coast
D is for… Derelict
E is for… Education
F is for… Fishing Industry
G is for… Green
H is for… Helicopter
I is for… Iron Age
J is for… Jelly Sweets
K is for… Kohlrabi
L is for… Lynn
M is for… Marmoset
N is for… Noise
O is for… Orangedale
P is for Puffin
Q is for Quarry
R is for… Ruins
If you want to be kept up to date on my recipes, occasional craft tutorials, adventure stories and giveaways then please subscribe to my weekly newsletter; it gets sent out every Monday morning if there is new content. Your email address won't be passed on to anyone, you will never be spammed and you are free to unsubscribe at any time, no questions asked. Make sure you confirm your subscription or you won't receive the newsletter – if it hasn't arrived check your junk mail folder.
[wysija_form id="1″]