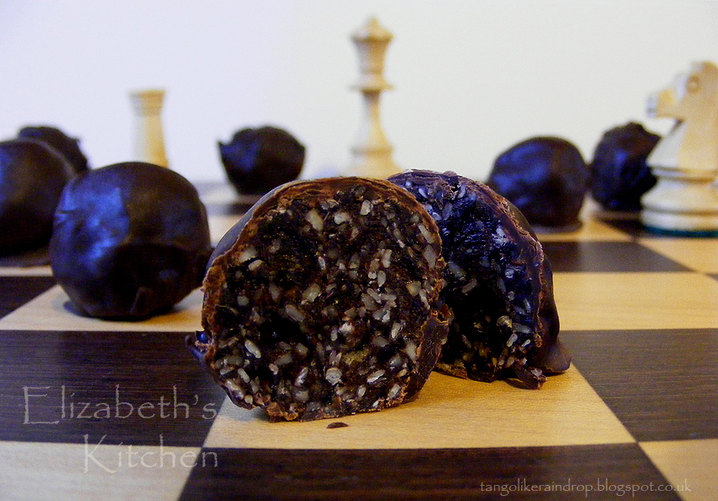 Last night I was in the mood for chocolate. We're talking serious chocolate indulgence here. I had a rummage around the cupboard and found a bar of sugar free Plamil chocolate I'd bought back in November 2012 when I was on a sugar-free kick (that lasted 16 days) but that wasn't going to cut it. I found a scant half cup of dates left in the fridge in a nearly empty packet, a half empty pack of flaked almonds and a few hazelnuts leftover from Christmas' Chocolate & Chestnut Torte base (you have to try this torte – it's amazing!). I'm having a store-cupboard clear out – trying to finish off those nearly empty packets – and inspiration hit. Choclette over at Chocolate Log Blog recently shared a fabulous recipe for raw chocolate truffles but unfortunately I didn't have most of the ingredients. So I went searching on the internet and found this recipe by The Rawtarian for some more raw chocolate truffles. I set to tweaking with what I had and this is what I came up with. I blitzed everything together and tasted it in the food processor bowl – delicious! But I was needing a little bit more chocolate, so I thought I'd coat them in a nice thick coating of dark chocolate – 72% cocoa solids dark, to be specific, sweetened with xylitol.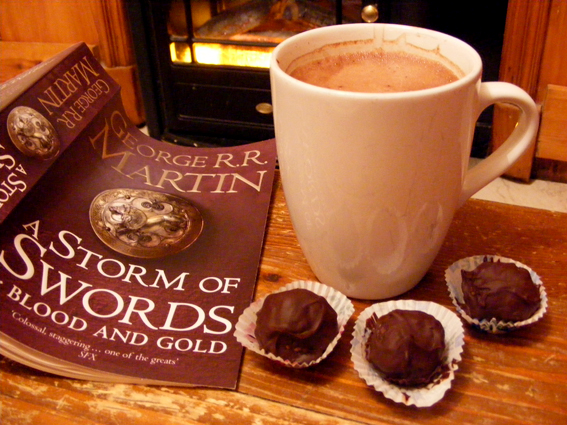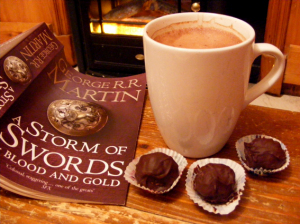 Win!
Utterly, utterly fabulous. I made myself a hot chocolate (milk, 1 heaped tbsp cocoa powder and 1 tsp agave syrup), dished up a few chocolates (still slightly molten but who cares!) and sat in front of the fire to read my book in my cosy flannel pjs.
A perfect evening in.
Vegan Chocolate Truffles (Sugar Free)
Delicious, healthy and incredibly moreish chocolate truffles.
Ingredients
1/4 cup sesame seeds
1/4 cup whole hazelnuts
1/2 cup flaked almonds
1/2 cup pitted dates
pinch of salt
4 tbsp cocoa powder
2 tbsp agave syrup
100 grams sugar free dark chocolate (72% cocoa solids)
Instructions
1. Place sesame seeds, hazelnuts and flaked almonds in a food processor and process until fine, but still nobbly.
2. Add the dates, salt, cocoa powder and agave syrup and process until it starts to clump.
3. Roll into balls 1 inch in diameter and set aside on some greaseproof paper.
4. Break the chocolate into pieces and place in a heatproof bowl suspended over a pan of barely simmering water. Stir until melted.
5. Roll the fruit and nut balls into the chocolate mixture. Place on the greaseproof paper or in petit four cases to harden.
Details
Prep time: Cook time: 5 mins Total time: Yield: 18 truffles
I have entered this recipe into Mrs. M's Recipe Link Party for January 2013.