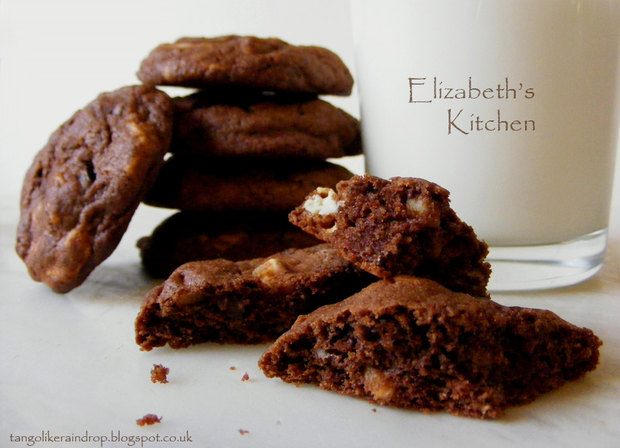 In a bid to save pennies I am very lovingly preparing packed lunches for the OH to take to work. He's perfectly capable of making his own packed lunches, but you know what, if left to his own defences he conveniently forgets to and then ends up spending a fortune on ready made meals in the local shops.
I'm also trying to save pennies this month, after last month's big Christmas spend, by using up store cupboard and deep freeze ingredients and only buying fresh fruit, veg, milk, eggs and butter to top up what we've already got.
There were a lot of chocolate remnants in my store cupboard. Bits of this and bits of that leftover from baking, so I thought I'd make the OH some double chocolate cookies for his lunch box and use up the scraps. I also found 6 very sad, lonely little glace cherries all by themselves in the back of the cupboard. Not many recipes only use 6 glace cherries and then I remembered I still had some lovely naturally flavoured cherry cocoa powder sent to me by Sugar and Crumbs to sample. Ah-ha! An idea was born!
There's a fabulous double death by chocolate cookie recipe in The Great British Bake Off: How to Turn Everyday Bakes into Showstoppers cookery book (an Xmas gift from my children) and this is how I adapted it to use up what I had.
Oh my goodness gracious me, well let's just say that not many of these delights are going to be left for the lunch box. I'm going to have to come up with something else!
Best. Cookie. Ever!
Triple Death by Chocolate Cherry Cookies
Rich, dark, cherry flavoured chocolate heaven.
Ingredients
150 grams self-raising flour
25 grams cherry flavoured cocoa powder
fat pinch salt
fat pinch bicarbonate of soda
60 grams caster sugar
60 grams light brown muscovado sugar
115 grams very soft unsalted butter
1 large egg
1/2 tsp vanilla extract
65 grams walnuts, chopped
155 grams mixed chocolate (dark, milk, white), coarsely chopped
6 glace cherries, cut into 8ths
Instructions
1. Preheat the oven to 180 C.
2. Beat the egg and vanilla with a fork until frothy; set aside to reach room temperature.
3. Sift the flour, cocoa powder, salt, bicarbonate of soda and sugars into a bowl.
4. Add the softened butter (if, like me, you never remember to take butter out in advance, give it a quick 20 second blast in the microwave and then stir it up with a fork first). I find rubbing it in with your fingertips until it resembles coarse breadcrumbs works well.
5. Stir in the room temperature egg mixture along with the chopped nuts, chocolates and cherries. Stir with a wooden spoon until well combined.
6. Using your fingers pinch off bits of dough the size of a walnut. Roll gently to form a ball and flatten slightly on a lined baking sheet, spaced well apart.
7. Bake for 10-12 minutes, until just set. Allow to cool on the baking tray for 5 minutes before transferring to a wire rack to cool completely.
Details
Prep time: Cook time: Total time: Yield: 24 cookies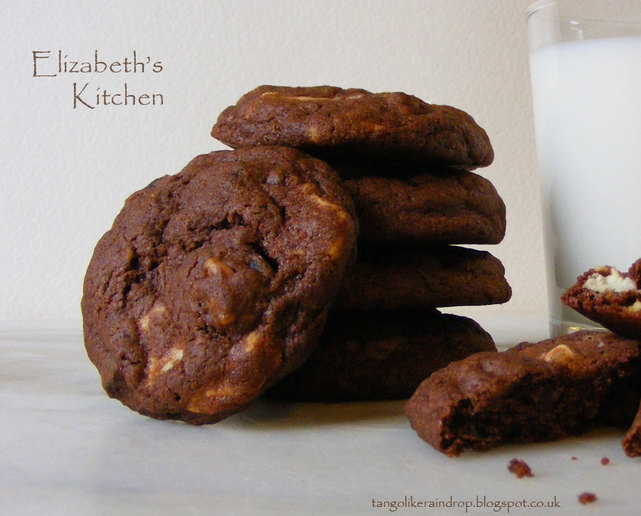 I have submitted this recipe to the Foodie Friends Friday Linky Party at Cindy's Recipes & Writings, go on, pop over and have a look at all the fabulous creations people from around the world have been making!