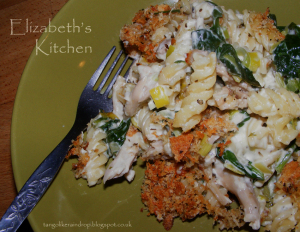 There are times when one needs a proper rich, fat filled, carbohydrate packed feast. If the middle of a winter with very little daylight isn't one of those times, I don't know what is. This is winter comfort food at its best. Creamy pasta, succulent roast chicken and green vegetables topped with a crunchy, golden cheesy topping. Delicious!
I fancied a creamy pasta bake of some sort to use up some leftover roast chicken from the night before, but I didn't have any cream. A quick search online found a recipe from Cooks.com for a creamy cream-less sauce and since I had the ingredients I improvised improved it with some other ingredients hidden in the vegetable crisper which desperately needed using up before the monthly supermarket shop the next day.
You could substitute the milk for cream for an even richer sauce, or, if you are watching the calories, use Lighter than Light mayo and skimmed milk. Change the vegetables for whatever you happen to have on hand or prefer. We prefer green things.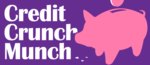 This is frugal cooking using up leftovers, the ends of bits in the fridge and store cupboard ingredients. This recipe was created with a nearly empty fridge – once I'd used up the veg for this recipe all that was left was a single courgette and a half tin of cat food. There's only 30 grams of cheddar cheese because that's all that was left; the bag of spinach was starting to wilt and the leek was starting to yellow as it had seen better days. As this is a frugal recipe I am entering it into Fuss Free Flavours' (alternately hosted by FabFood4All) revamped Credit Crunch Munch food blogging challenge, which asks us to share our frugal cooking recipes and tips. This is a Blog Hop, so scroll down to the bottom of this page to see what other foodies are making.
Creamy Chicken Pasta Bake
The ultimate winter comfort food – using up leftovers!
Ingredients
300 grams fusilli pasta
200 grams fresh spinach leaves, trimmed
1 large leek, trimmed and sliced
20 grams + 1 tbsp butter, divided
300 grams leftover roast chicken, shredded
230 grams mayonnaise
250 ml full fat milk
25 grams + 2 tbsp grated parmesan, divided
2 tsp dried parsley, divided
1 tsp dried basil
2 tsp garlic granules, divided
2 generous handfuls breadcrumbs
30 grams mature cheddar, grated
salt
freshly ground black pepper
Instructions
1. Preheat oven to 200 C.
2. Cook pasta in a large pot of boiling water until al dente, about 7-8 minutes.
3. Meanwhile, whisk together the mayonnaise, milk, 25 g parmesan, 1 tsp parsley, basil and 1 tsp garlic granules together in a bowl until combined. Set aside.
4. Heat the butter in a pan and saute the leek until it begins to soften.
5. Drain pasta; stir in the leek, spinach, chicken and sauce. Season with salt and pepper and transfer to a large casserole dish.
6. To prepare the crumble topping, combine remaining parmesan, parsley, garlic granules, breadcrumbs and cheddar with a fork, season well and sprinkle over the top of the pasta.
7. Bake for 25-30 minutes until golden and bubbly.
Details
Prep time: Cook time: Total time: Yield: Serves 4